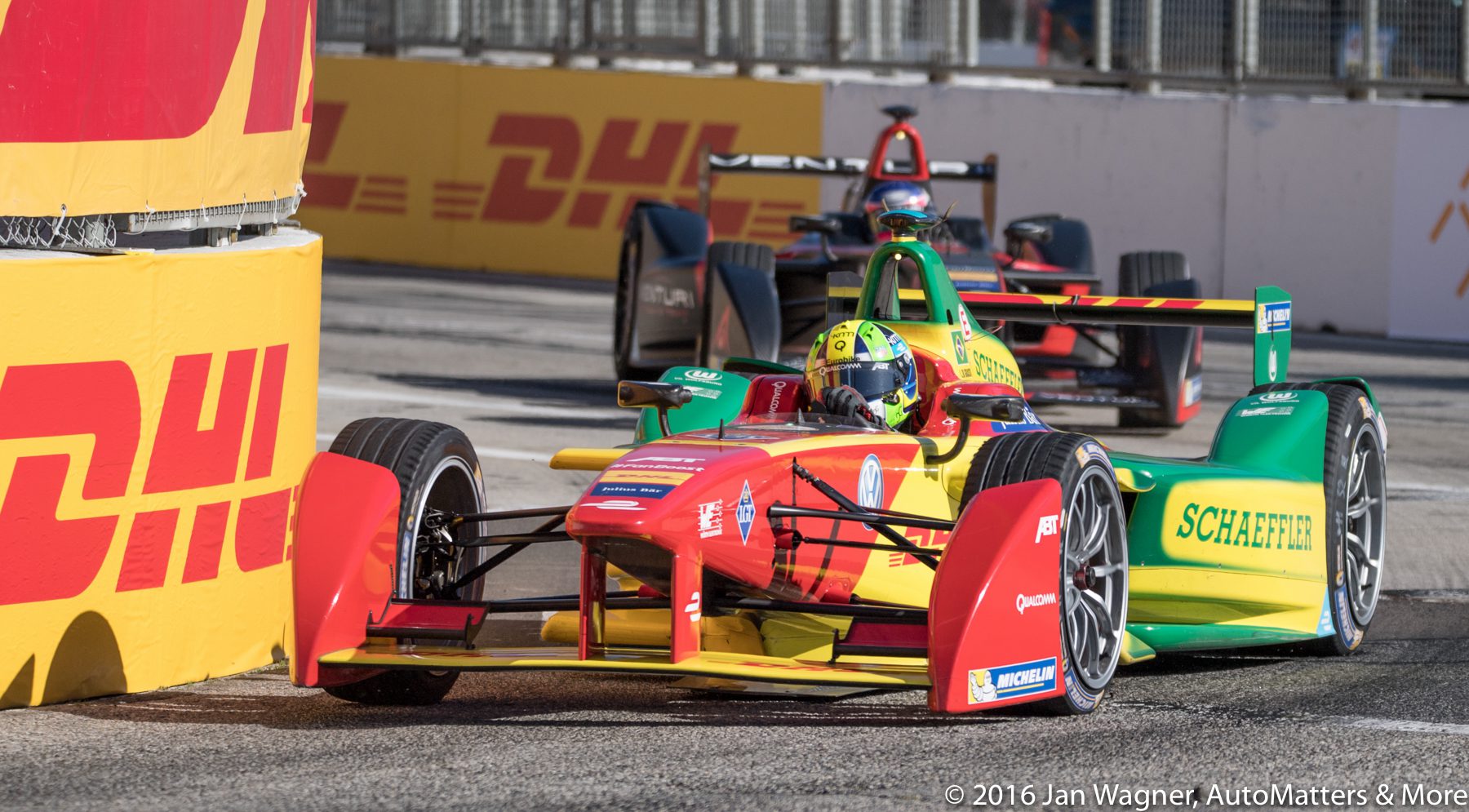 Formula E: Accelerating the Future of the Automobile
For the second year in a row, electric formula car racing returned to a modified Long Beach street circuit on an absolutely beautiful Southern California day. Over the years this iconic track has hosted Formula One, IndyCar, sports cars and more. Now add to those the global, urban auto racing series called Formula E.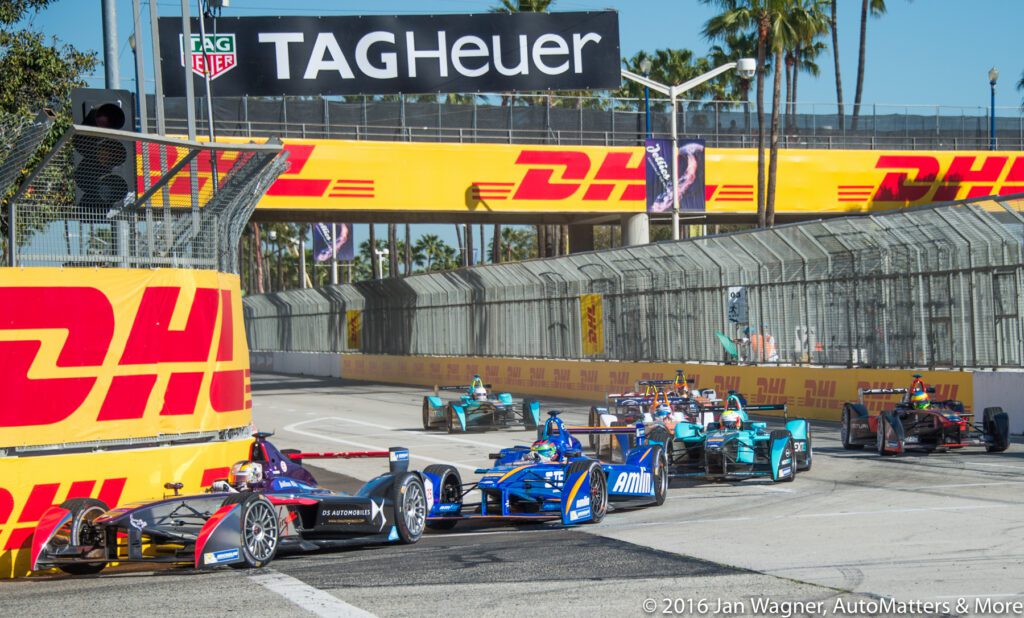 We fans of motor racing are used to the near-deafening sounds of powerful racecars at full song, so Formula E is a radically new experience for us. Its wheel-to-wheel racing is every bit as exciting, but it is quiet. There is no need to wear annoying hearing protection and have to shout at people to be understood. It is so nice to quietly discuss the racing while we are watching it, even from trackside in between taking photos. The muted gear whine is the sound of the future.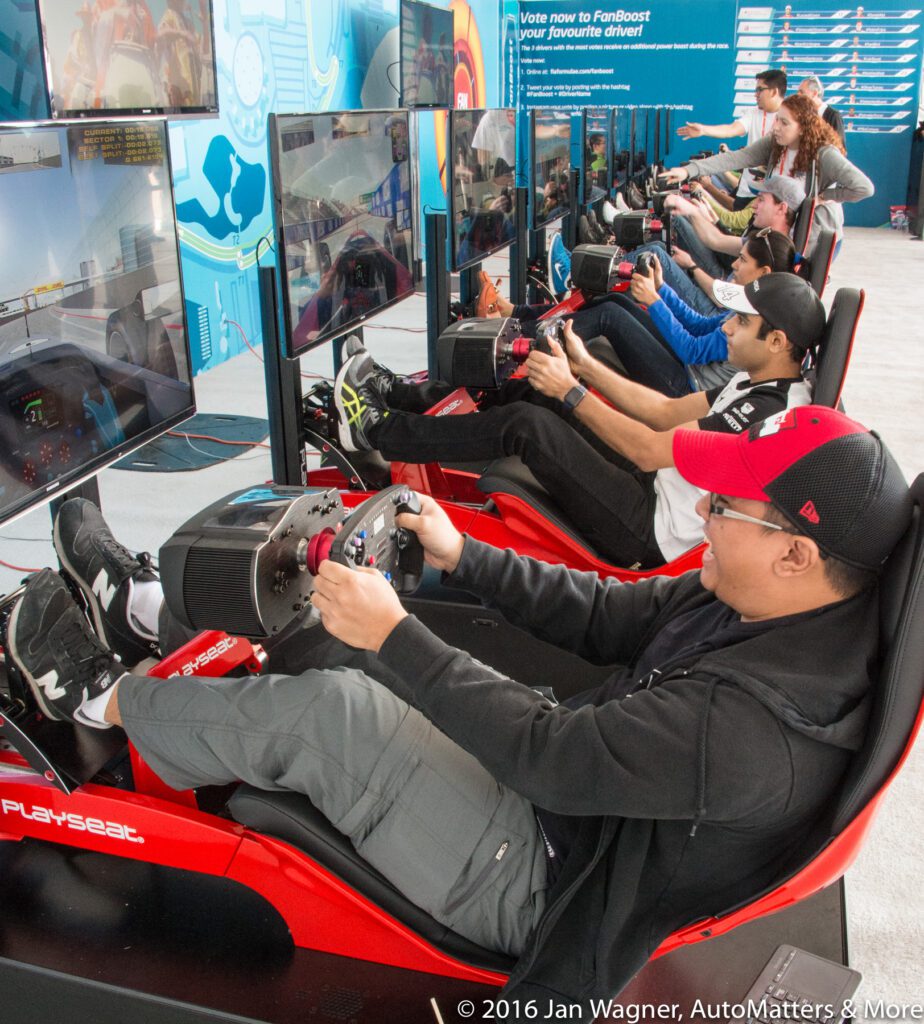 Practice, qualifying and racing are all done on one day. Lucas di Grassi, driving his bright red, yellow and green Team Abt Schaeffler Audi Sport racecar, won the exciting, closely contested race.
While it is certainly unusual to change to a second car in a race, that is necessary in Formula E to enable sustained energy output for high performance driving, due to the limitations of current battery technology. However it is also a neat new twist on racing. The drivers enjoy the added challenges, and so do the spectators.
Of course, the longer-term goal is to have sufficient electrical energy to be able to race longer, even if the car change mid-race is retained. Founding series sponsor, and San Diego's own Qualcomm, is doing pioneering work on making that a reality.
Several years ago, when Formula E was first introduced at the Consumer Electronics Show, we learned of plans to recharge the cars while they race, as they pass over inductive chargers imbedded in the racetrack. That technology is getting nearer, as can be seen in the stationary inductive charging of Bruno Correia's BMW i8 Formula E safety car, using Qualcomm's innovative inductive charging system called halo. He parks above a charging pad as he stands by near the track, charging the car wirelessly.
The technology being developed for Formula E will greatly accelerate not only the development of electric cars, but also driverless technologies that will lead to revolutionary changes in urban mobility, as Formula E CEO Alejandro Agag explained. A new, second series in the ecosystem that is Formula E will be called ROBORACE. This series for driverless cars will be a fusion of Artificial Intelligence and cutting edge automotive engineering, and it is coming very soon. The first of these breathtakingly beautiful racecars has been designed and is already being built. Their shape will be uniquely different from what we are accustomed to, since no accommodation needs to or will be made for drivers.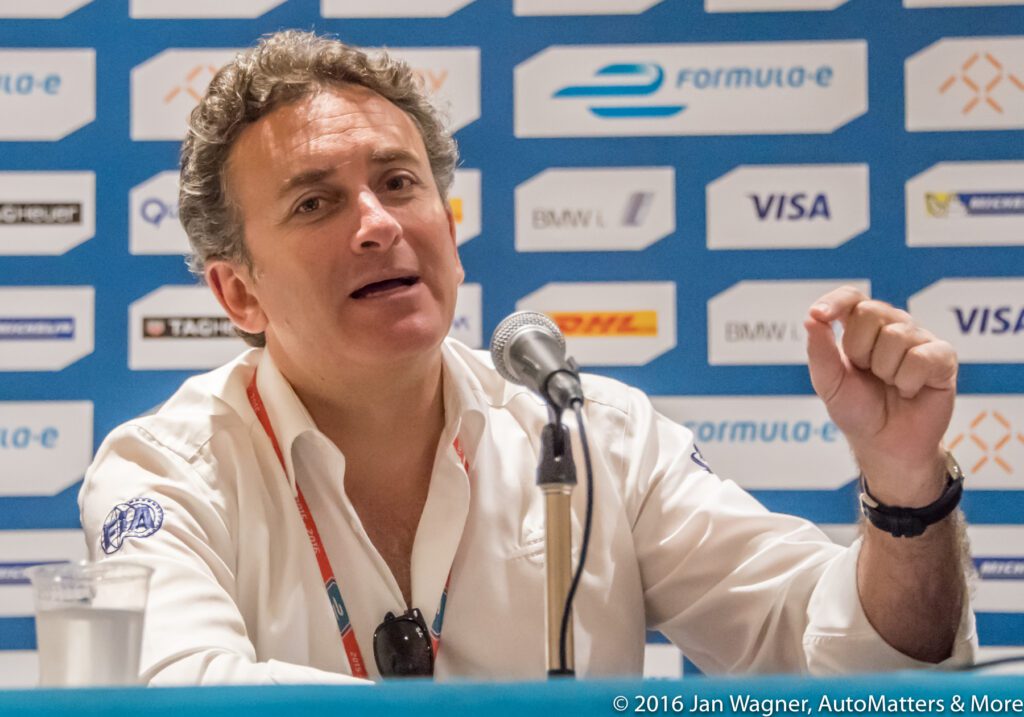 There are many real-world advantages to driverless cars – built to comfortably accommodate passengers, of course. To more efficiently utilize our roadways for increased speed of travel, driverless cars could drive much closer to each other, and they will be safer since they will be in constant communication with each other, electronically connected car-to-car and to the traffic system – red lights and all. They could also drive backwards and forwards.
ROBORACE will drive the technology of driverless cars forward much more quickly, not only enabling today's drivers to sit back and let their cars do the tedious work of driving, but also opening up automotive mobility and newfound independence to people who are unable to drive.
I will continue this conversation later but, in the meantime, I will leave you with these words from Long Beach ePrix winner Lucas di Grassi: "ROBORACE is great for new technologies – technologies that will make the roads safer with less traffic. I don't like to drive cars in the city. I'm a racing driver. If I could go jump in my car and say to the car 'go to the supermarket and park yourself,' I would do it, of course, because I don't like to drive ten miles per hour, stopping at the lights and stopping again. ROBORACE will focus on this technology."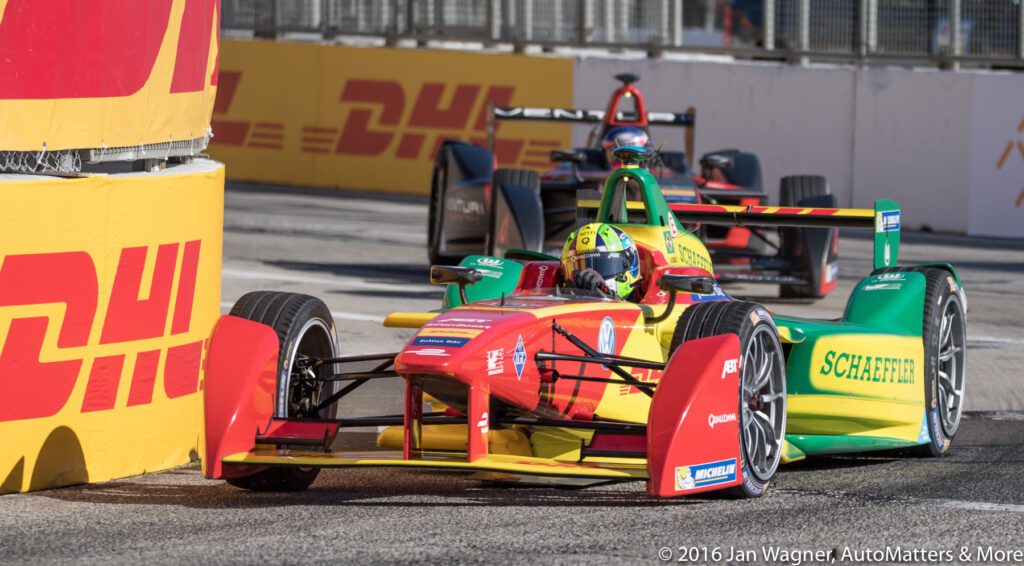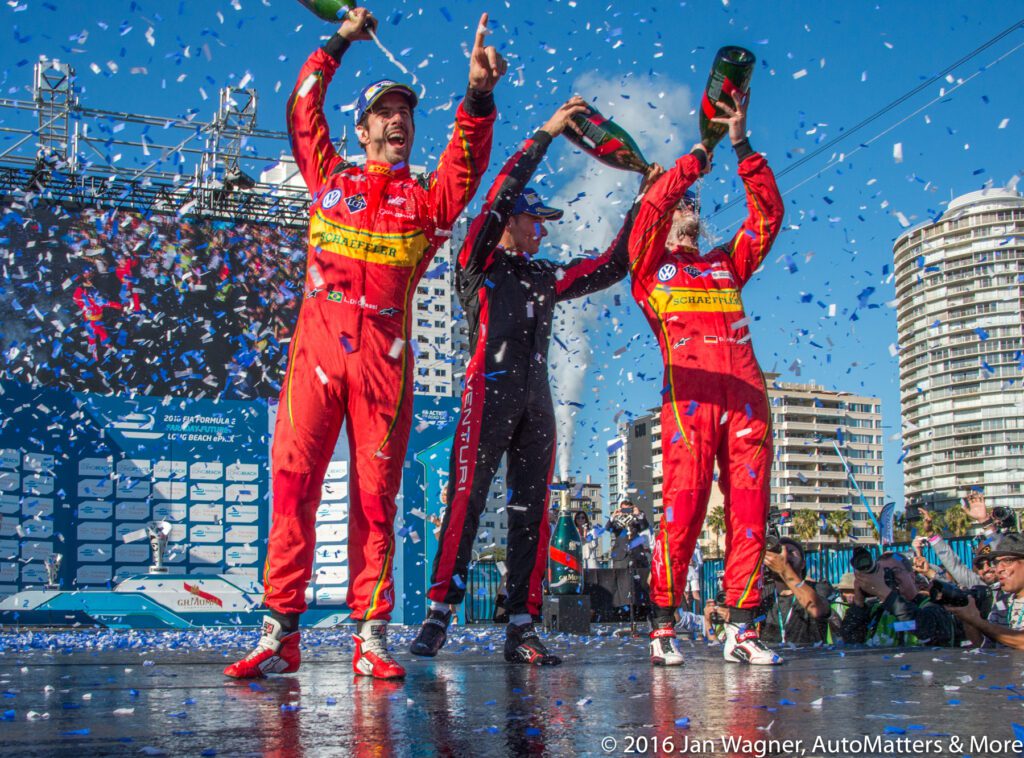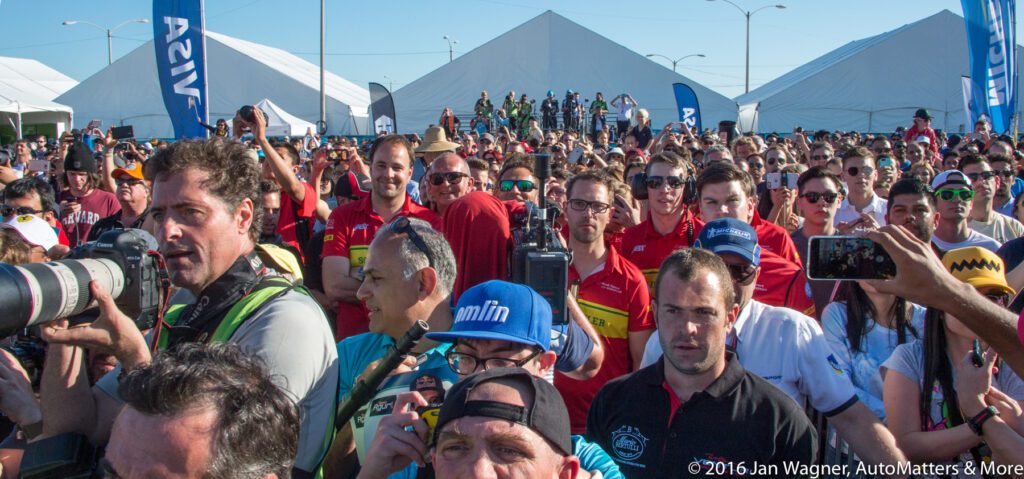 For the next round of Formula E, the series moves to the streets of Paris, France. If all goes according to plan, I will be there to cover that race for you, too!
Copyright © 2016 & 2021 by Jan Wagner – AutoMatters & More #432r1