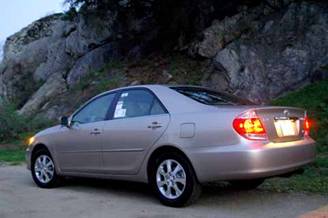 The subject of today's column is one of my "Real World Road Tests" of a car, but it begs for some discussion of a broader subject: cars as Point A to Point B transportation devices versus cars that also target the joy of driving.
For many years and through all of its generations, Toyota's Camry has proven to be a very popular car. My dad owned one and my former mother-in-law is now the happy owner of her third. A Camry can be counted on to safely transport its occupants from place to place for tens of thousands of miles with little more than routine maintenance and the addition of fuel.
It has ample room for five occupants and their stuff. It is comfortable and can be very well equipped. It is nothing if not rock-solid reliable. It is reasonably affordable and has good resale value. Its looks neither offend – nor particularly excite. For many people, those characteristics are all that they seek in a car. They need and want solid, reliable transportation. The Camry fills that bill very well.
Buyers of the Toyota Camry, Honda Accord and other comparable cars in this category probably do not share my admittedly irrational love affair with the automobile. They do not base their automotive buying decisions on emotional issues such as whether or not their cars have a strong personality, are fun to drive, have gorgeous good looks or possess some other especially unique characteristics that make them stand out from the crowd. They will not pay much of a premium, if any, for those traits, and certainly are not inclined to select high priced specialty vehicles like exotic two-passenger sports cars; all-wheel-drive, boulder crawling, capable off-roaders or cars on the extreme cutting edge of technology. We are very fortunate to have so many different, good vehicles to choose from. There is truly something out there for everyone, even me.
In its class, the latest iteration of the Toyota Camry may well represent the most successful and ongoing realization of the pursuit of automotive perfection. It truly is, for lack of a better description, an excellent transportation device.
Now is a particularly good time to review this car, since it is about to be replaced by a brand new generation of the Camry. It will be interesting to see if Toyota addresses my concerns, few as they are. It might also be an especially good time to make your best deal if you are interested in buying one.
I borrowed my test car from Mossy Toyota in San Diego (www.mossy.com). It was an XLE V6, and came complete with standard leather interior, 5-speed automatic transmission, JBL audio system, DVD navigation system, power moonroof and more. Suffice to say it was loaded.
I took it for a long test drive. From my home in coastal San Diego, I drove inland out of the urban area and along isolated country roads. On my drive I had the opportunity to see how it performed under a variety of conditions, from stop and go urban driving, to cruising on the freeway and negotiating twisty, narrower country roads.
The verdict? The 3.0 liter V-6 is a superb engine. It offers up plenty of power on demand. The only weak link, and it is not much of a problem, is that the 5-speed automatic transmission hesitates momentarily on acceleration. That really is more of a minor annoyance than anything, and perhaps it will be addressed in the new Camry. I've heard rumors that car will get an additional forward gear ratio in its automatic transmission.
The interior on my XLE was very well appointed, with leather seating surfaces, wood grain accents, easy-to-read instrumentation and plenty of electronic bells and whistles. The seats are comfortable. The controls are where I expected them to be.
Listening to music on the JBL audio system was a pleasure. There were plenty of speakers throughout the car and it was easy to modulate the sound.
The trip back to San Diego gave me a good opportunity to test the car's DVD navigation system. By the time I was ready to leave it was dark and, thanks to my driving around looking for some good photo ops, I was lost. After I figured out the user interface, which was somewhat difficult to do, I entered my home address and away I went. It was a good thing I used the navigation system because at the first T-intersection that I came to I was about to turn left, thinking that was the way I had come. Wrong. The navigation system told me (verbally) to turn right. I did as I was told and eventually I returned to familiar roads. I was home shortly thereafter. What did we ever do before the advent of these GPS navigation systems? I can't imagine going back to using paper maps.
The suspension damping over bumps was good. When going around sharp corners, I found the ride was a little on the soft side for my tastes, but then I am inclined towards sports car handling and this car was clearly not designed for that. Kids in car seats will be able to sleep soundly.
The trunk is huge, with easy access. It can easily be extended by folding down the rear seatbacks.
My other concern was fuel economy. At an EPA rated 20 MPG city and 28 MPG highway, this Camry doesn't come close to turning in the numbers of some other five-passenger cars – say Toyota's Prius, for example, with which I average 45 MPG. The good news is that concern will probably be addressed soon. I heard that by summer the new generation of Camry will also come in a hybrid, gas/electric version like the Prius. Toyota seems to have all its bases covered.
This luxurious test car carried a very reasonable MSRP of $25,805. Adding in the DVD navigation and JBL audio systems, additional airbags, mats, delivery and so forth brought the total to $28,671 before any discounts.
While not quite sewing machine smooth, due to the slight lag in the automatic transmission, the 2006 Camry XLE V6 offers comfortable seating for five, excellent acceleration, a roomy trunk and, of course, Toyota's traditional reliability. It addresses safety with front and optional side and curtain airbags, excellent visibility all around, a standard anti-lock brake system with electronic brake-force distribution and enough power to get out of the way quickly, if need be. It is a great family car. With the new models coming in soon, this might be a good time to head over to Mossy Toyota and strike a deal on a remaining '06.
Drive safely and do join me again next time.
Copyright © 2006 & 2021 by Jan Wagner — AutoMatters & More #176