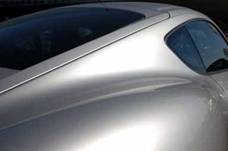 I don't think that I have ever written back-to-back auto reviews before but after Pioneer Centres in San Diego (www.pioneerporsche.com) offered me an opportunity to drive their newest model of Porsche for a day, I felt compelled to tell you about the experience as soon as possible.
The beautiful 2006 Porsche Cayman S is a truly high performance sports car. It ranks right up there with the Corvette Z06 that I drove recently, as well as my heavily modified Datsun 240-Z and Porsche 914-6 autocross cars – both of which I no longer own.
With most automobiles it is easy to find their limits of adhesion and overall road-holding capabilities well within legal road speeds – be they in terms of cornering, braking or accelerating. Going into a turn a bit too quickly, hitting the brakes a bit too late or nailing the accelerator a little too aggressively is usually all that it takes to break traction in a turn or overshoot an intended stop. While those experiences can certainly be exciting, it would be a mistake to confuse less than wonderful handling characteristics and the excitement which comes from them, with the sense of joy one can experience when driving a truly great handling car.
When I drove the Cayman S for the first time, I must confess that I was somewhat disappointed. My trip was not particularly exciting. That was because no matter what driving challenges I encountered, the Cayman S responded to my inputs by doing exactly what I wanted it to, every time – no muss, no fuss.
While the Cayman S can easily be driven in a sedate manner, it is in its element at speed on twisty roads. I took it out again on one of my favorite sections of twisty two-lane highway, but this time it was late in the evening when traffic was light. So, instead of being forced to poke along in traffic I could open it up. Now that was more like it. Finally I could begin to appreciate the Cayman S and get a sense of its awesome road-holding capabilities. Its race-inspired engine comes gloriously to life under hard acceleration, with a deep, throaty roar. Zero to 60 comes quickly, in 5.1 seconds. Yes, I had to back off way too soon every time due to the speed limit, but the car was clearly very able, ready and willing to continue.
This particular Cayman S was equipped with PASM and the Sport Chrono Package. PASM stands for Porsche Active Suspension Management. It lowers the car for even better road holding, and continually adjusts the suspension to optimize handling based on road conditions and the demands put on the car, moment by moment.
The Sport Chrono Package allows the driver to "reprogram the electronic driver's aids and engine management system" "at the touch of a button." Simply press "SPORT" and the car's demeanor becomes much more aggressive. Cancel the setting or hit a bump in the road and the ride softens appropriately. It is that easy. You can select PASM by itself, if you prefer, or shut the system off.
The standard equipment brakes are massive, vented, cross-drilled discs with four pistons per lightweight, aluminum monobloc caliper. The bottom line is that the braking is remarkable. The 6-speed manual transmission – even in its stock form without the optional short shifter, shifts beautifully every time. A Tiptronic S transmission is available for those who prefer the option of letting the transmission do the shifting.
The Cayman S is a thoroughbred – the culmination of decades of Porsche's participation at the highest levels of professional motorsports. I could find absolutely no handling vices. Never once did I experience any oversteer (tendency to spin) or understeer (tendency to plow straight ahead in turns). It was rock solid stable in sequences of quick left-right-left turns, and did not dive under hard braking or lift during hard acceleration. I would love to drive this car on a race track or in an autocross. This was one "Real World Road Test" that ended far too soon. I didn't want to return this car.
I have hinted at another major benefit of the Cayman S. That is the extensive options list. Unlike many vehicles, which are only available with a few option packages that invariably contain some items that you don't want or need, the Cayman S can be ordered just like you want it. Its option list is a very comprehensive 58 pages long and goes well beyond the usual items like navigation and audio choices, body color and power seats. It includes the truly exotic, like ceramic composite brakes reinforced with carbon fiber. They're especially hard, resistant to high heat and much lighter than metal disc brakes. My options choices would mostly include performance enhancements but you might order your Cayman S optioned more towards comfortable, high speed touring, with all the high tech conveniences. It's about choices, just like when buying a new home.
As of this writing the 2006 Cayman S starts at an MSRP of $58,900. While it is fairly well equipped at this price, the long list of options can take it well beyond that.
Oh, one more thing: owning a Porsche – any Porsche, opens up the opportunity for membership in the Porsche Club of America (www.pca.org). As a past member of its San Diego Region, I can tell you that membership in the club is a wonderful and long lasting benefit of Porsche ownership. The local club has great people, year-round social and track events, and a monthly, award-winning glossy magazine called the "Windblown Witness." "Panorama," the national PCA magazine, is also a membership benefit. Once a year members can participate in a week-long event called the Porsche Parade. Hosted by a different PCA region around the country every year, these events include a wide variety of fun activities, with something for every member of the family.
Sales representative Chris Huck is a very active member of PCASD and can tell you all about it. You can find him at Pioneer Centres in San Diego (9020 Miramar Road, just west of I-15). I once bought a new car there and was very satisfied.
Drive safely and do join me again next time.
Copyright © 2006 & 2021 by Jan Wagner — AutoMatters & More #177