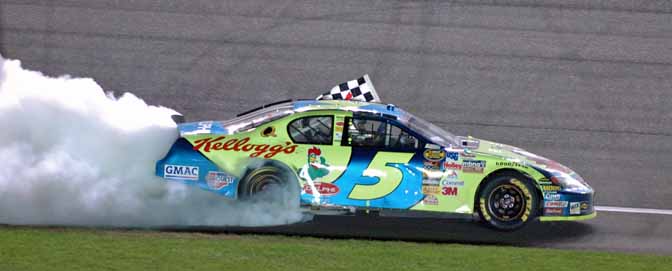 A Changing of the Guard in NASCAR
I thought about the drivers as I watched the Sony HD 500 NASCAR NEXTEL CUP race at California Speedway. Many years ago, when I first became a fan of NASCAR racing, its stars included Richard Petty, Bobby Allison, Cale Yarborough and the rest of the elder statesmen of the sport. Dale Earnhardt wasn't quite famous yet.
Now it's 2005, and even Kyle Petty – Richard's son, has begun to look older, and two of the sport's remaining greats announced that this year will be their final chase for the series championship. Rusty Wallace will be leaving for sure, and Mark Martin would like to leave too – although he may actually stay for one more year, due to the unexpected lack of a replacement for his driving services at Rousch Racing. It has also been rumored that Ricky Rudd may be leaving this season. In all likelihood, there will still be a few of the veteran drivers remaining in competition next year, but for how much longer?
In their place is a bunch of youngsters – and they're good. By winning this weekend's feature event, Kyle Busch – at only 20 years, four months and two days of age, became the youngest man ever to win a Cup race.
Even though Dale Jarrett just won a race, as did Mark Martin, the future is in the hands of younger drivers. Sure, strategy and experience count for a lot, but so does the energy, stamina and probably the lack of fear of youth. Case in point: after he won his recent race, Dale Jarrett (at around age 50) almost looked ready to collapse in the post-race interviews. In contrast, after his recent race victories Tony Stewart had enough energy left in reserve to climb all the way up the flagstand to collect the checkered flag and salute his fans. Carl Edwards, another young driver, has become famous for his back-flips after he wins races. Yes, times are changing.
As usual, the California race was full of excitement. The fact that it would finish at night meant that spectators didn't have to suffer through the uncomfortably high daytime heat common to Fontana.
I got wonderful access at the track for taking pictures.
Drive safely and do join me again next time.
Copyright © 2005, 2006 & 2021 by Jan Wagner — AutoMatters & More #161r2