BREAKING NEWS: ACURA GRAND PRIX OF LONG BEACH POSTPONED DUE TO CORONAVIRUS, PLUS THUNDERBOLT 3 DOCKS FROM OWC
March 18, 2020 UPDATE: Today this event was officially CANCELLED
Next month the streets of Long Beach, California were to have come alive with the thrilling sights and sounds of racecars in a multitude of race series, a days-long party at the beach and more. Until earlier today, according to the event's official website and despite the widening coronavirus pandemic, the Acura Grand Prix of Long Beach was still a go, with "no changes planned to the regular operation of our event this April 17 – 19," but that precautions will be taken "to ensure the health, safety and well-being of our attendees which is our top priority." I had already written a preview of that event – with photos, and had submitted an "AutoMatters & More" column to several publications. One such version is already printed in a newspaper.
Now, at best, the Acura Grand Prix of Long Beach might be rescheduled for later this year. Fortunately, in that newspaper version I had written about the threat that the virus posed.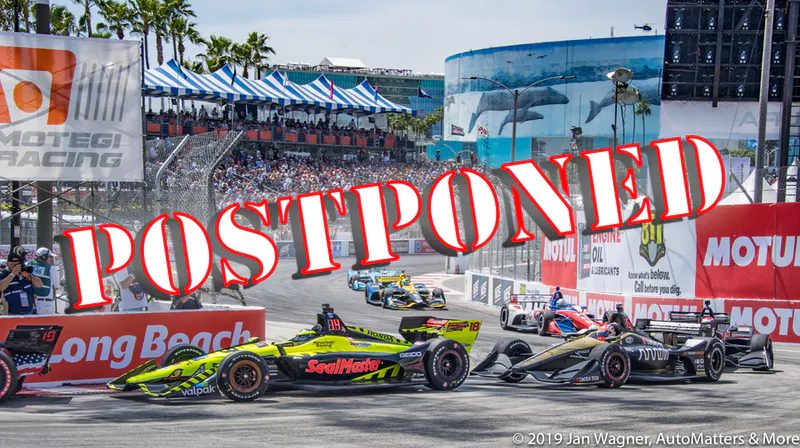 This postponement does not come as a surprise. Major events – some of which I had been planning to cover – are being cancelled or postponed across the country, and around the world. NASCAR recently announced that they would be racing without fans (we'll see if they even do that). Today I received official notification that WonderCon Anaheim "will be postponed until a later date." Their statement went on to say that "No decision has been made regarding the rescheduling of (San Diego) Comic-Con slated to take place this summer." The Disneyland Resort and Universal Studios Hollywood just announced that they will be closing on March 14th. The list goes on and on, yet closures, cancellations and postponements pale in comparison to the extent of the crisis that is taking place in Italy right now. Hopefully it will get better there soon, and it will not get that bad here, too.
The unprecedented loss of the Acura Grand Prix of Long Beach represents a major blow to motorsports, and it will have a huge economic impact in terms of money already spent or committed, and in terms of lost revenue that will not be recovered, unless the situation with coronavirus miraculously improves in time to reschedule. Several weeks ago, the enormous annual process of transforming the streets of Long Beach into a racetrack had begun. Now what will happen with what was already done is uncertain.
Speaking for myself, I was planning to cover this event, but at age 66 and thus particularly vulnerable to coronavirus-related complications if I catch it, I do not know if I would have done so. Now that difficult decision has been taken out of my hands.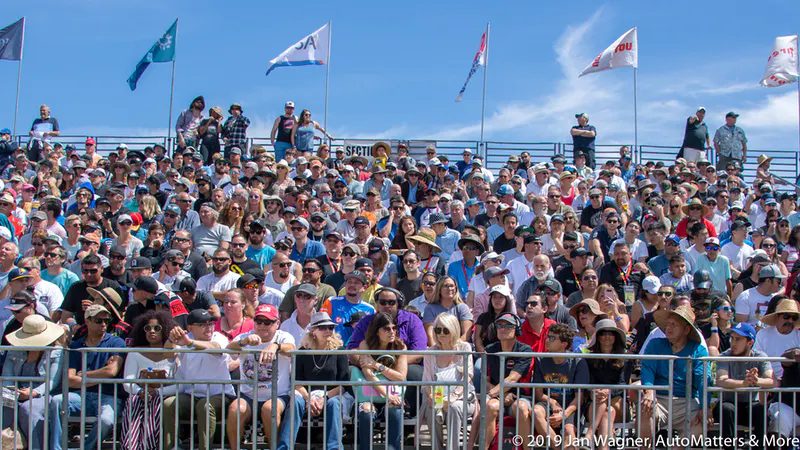 For more information, and to enquire about ticket refunds, visit GPLB.com
THUNDERBOLT 3 DOCKS FROM OWC
To write this column and edit its photos every week, I depend on reliable, high-speed computer equipment, including high-end Mac computers, enterprise-class external hard drives and more. I am ever on the lookout for superior computer gear. Since I do not have an IT department to turn to for help, I also depend on companies for excellent, by-telephone technical support.
With that in mind, while at CES 2020, I visited the hospitality suite for Other World Computing (OWC). Like Apple, they too have a long reputation for high quality computer products and a high level of technical support.
I was very impressed with their products, product knowledge and especially their can-do attitude.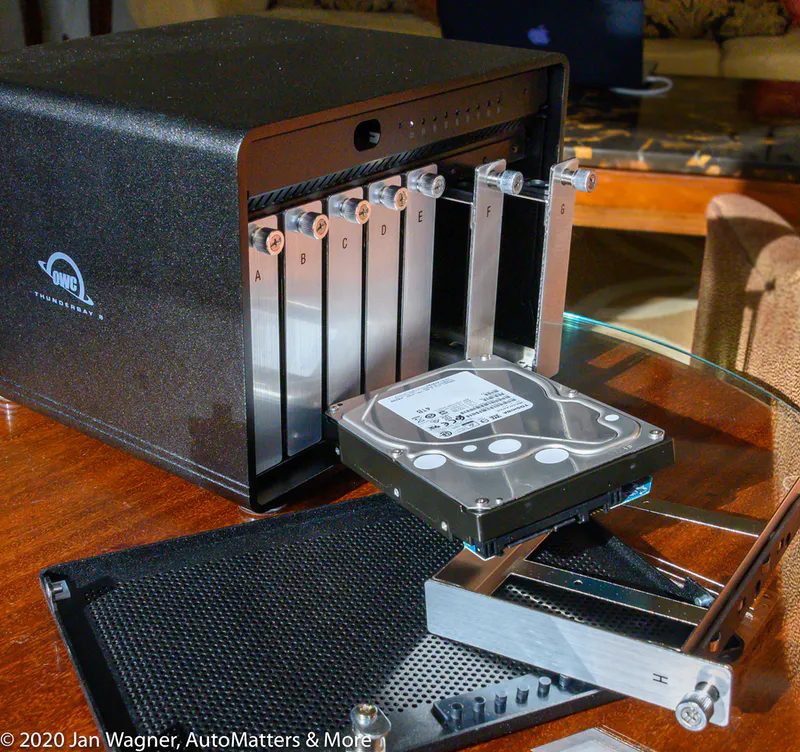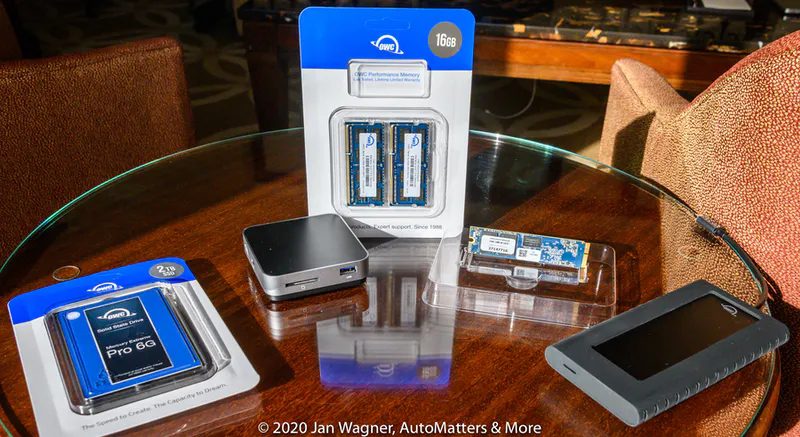 As a result, I asked them to send me some products for review.
The latest products that they have shipped to me for review are a pair of versatile, high-speed Thunderbolt 3 docks.

Docks can connect your peripherals to your computer. Prior to receiving these from OWC, I had been using an accumulation small, old, plastic hubs and camera memory card readers – most of which had their own bulky power supply. Since these hubs were so light, and the cords plugged into them so springy, they were often falling from my desk and getting in the way.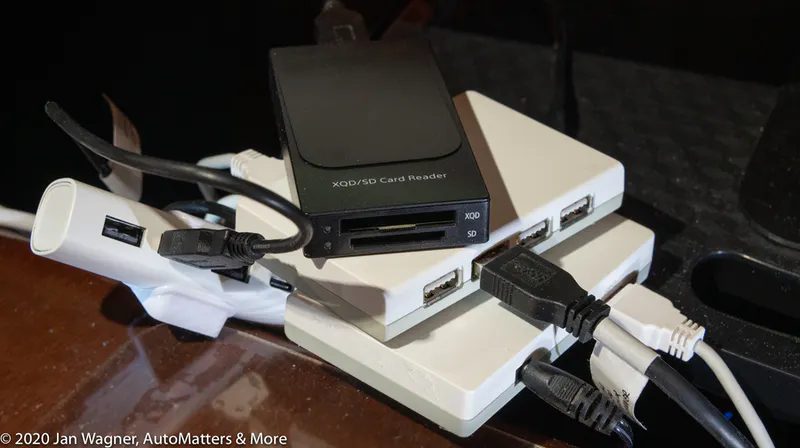 Thunderbolt 3 is, as OWC says, "the most advanced and versatile interface available … to provide the highest speed and most connection options." According to Apple, Thunderbolt 3 "combines data transfer, video output, and charging capabilities in a single, compact connector. It offers speeds "up to 40 Gbps with a Thunderbolt 3-compatible cable," supports "USB 3.1 Gen connectivity at up to 10 Gbps, and can supply 15 W of power per port to external devices."
OWC sent me review samples of their Thunderbolt 3 Dock and Thunderbolt 3 Pro Dock, for Mac and Windows computers with Thunderbolt 3 capability. Attractively encased in metal, they visually complement high-end computers and are just heavy enough to stay put and tame those springy cables.
Each dock includes a few ports that the other does not have, so I've installed both of them, daisy-chained to each other, and to my Mac via a single Thunderbolt 3 connection. Everything worked perfectly the first time, permanently replacing my hodgepodge of small plastic hubs.
Up front, the Thunderbolt 3 Dock is optimized for portable devices, with microSD Card and SD Card readers, combo in/out audio jack, and high-powered USB 3.1 Gen 1 (to charge your devices) and high-speed USB 3.1 Gen 2 ports.

Ports around back are USB 3.1 Gen 1 (four, one high-power), S/PDIF Digital Audio (output), Thunderbolt 3 (two) and Mini DisplayPort.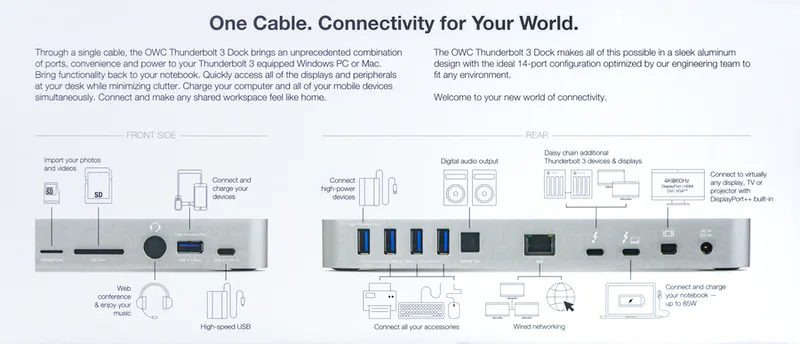 The Thunderbolt 3 Pro Dock enables "high-bandwidth and flexibility for demanding hi-res workflow needs." You'll find 10Gb Ethernet, CFast and SD Card readers, Thunderbolt 3 (2), USB 3.1 (3), eSATA and DisplayPort, plus a fan switch and security slot.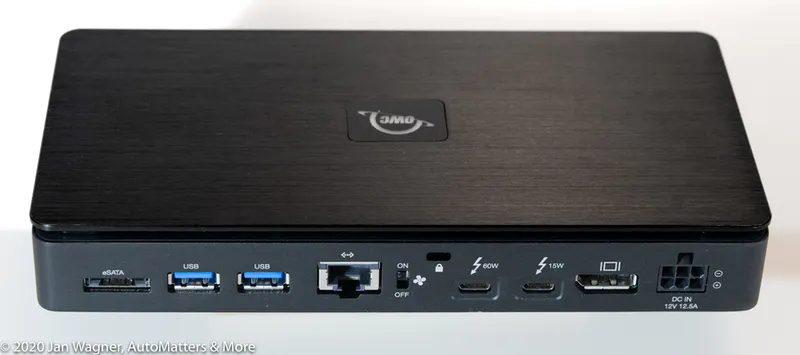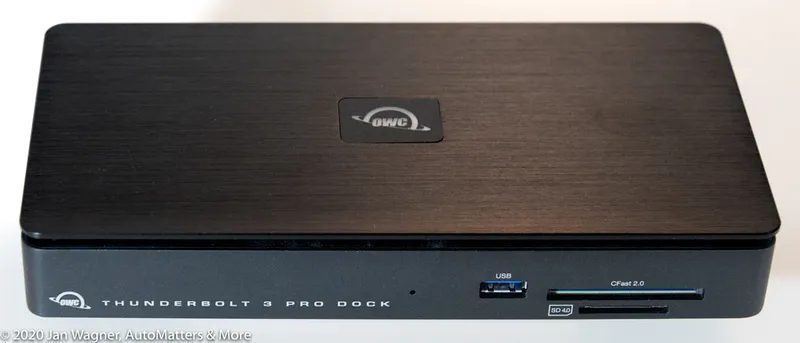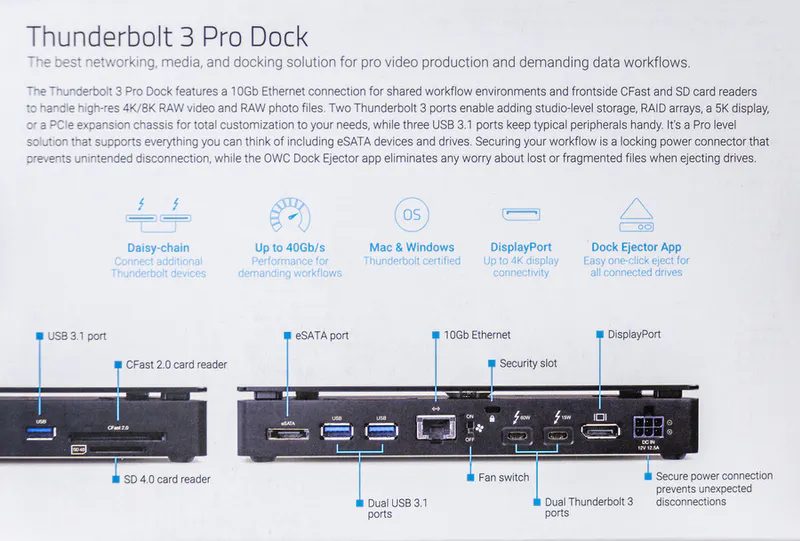 For more information, and to order these and other OWC products, visit eshop.macsales.com/
MY LATEST THOUGHTS REGARDING CORONAVIRUS/COVID-19
Unfortunately, it is likely impossible to completely avoid exposure to coronavirus when out in public, in part because some people are still sneezing or coughing in public without covering up with a tissue, and then immediately and safely disposing it. That spreads the virus to people and to surfaces, including food. Some people just do not take the importance of personal hygiene seriously. You probably already know, through your visits to public restrooms, that some people often leave without washing their hands. That's been the case for as long as I can remember.
As one person in particular has told me from time to time over the years, I should stop washing my hands so often, so that I will build up a natural resistance to germs. Unfortunately, that is the mindset of some people, and they absolutely do believe it. I think that contributes to why these things spread so rapidly.
Draconian, authoritarian, enforced quarantine measures like those imposed by China in the past few months — and culturally all but impossible here in the United States, even if our government was so-inclined — may nevertheless offer the greatest likelihood of slowing the spread of viruses like this one, and the next one that the medical experts tell us will inevitably follow at some point in the future — until vaccines and cures hopefully and eventually become available to effectively treat them.
I think that my preventative strategies are common sense, but people must first acknowledge the very real danger that coronavirus does pose. Instead, some people stick their heads in the sand and, in so doing, put everyone else's safety and well-being in jeopardy.
Think about other threats, besides direct medical consequences, of coronavirus to you, your friends, associates and loved ones, and potentially to society as a whole. What will happen in the longer term if essential services workers stay home too? Think about your electricity and water utilities, police and fire departments, ambulances, medical professionals and hospitals, financial institutions, phone companies, news organizations, governments, grocery stores and others that we all need and may take for granted.
Recently I was shopping for groceries at a large store, while trying to stay three to six feet away from everyone. As I was walking down a main aisle heading to the checkout area, a man walking in my direction had almost reached me. Precisely as he did so, and without any warning, he turned his head in my direction and coughed sharply towards me and my cart full of groceries. He did not make any effort to cover his mouth, and just kept walking. Who knows what, if anything, he had?
So, what can and should we do, especially if we are at particularly high risk due to our advanced age or underlying medical conditions?
I am 66 and, due to my age, at increased risk regarding coronavirus.‬ These days I am especially careful to avoid being in close proximity to people in large crowds. I am staying away from movie theaters, conventions and major sporting events that I look forward to covering all year. Sitting with hundreds, let alone thousands, of strangers in massive ballrooms or grandstands is probably a really bad idea.
I also try to avoid standing in lines of people – including at buffets, where a contagious but asymptomatic person could have coughed or sneezed on the food or into the bins containing the knives, forks and spoons. I avoid sitting down to eat at restaurants, in case one or more people seated next to me – or the server – are contagious. Instead, when I do eat out, I take the food home, where I then heat it up in the microwave to hopefully kill any virus that might have hitched a ride on it or on its packaging. I have also begun to stock up on canned and packaged foods that have a long shelf life, if things get really bad.
People reasonably might not (should not?) automatically assume that if they occasionally cough or sneeze, that they have coronavirus. Everyone sneezes and coughs occasionally. I have done so today. Something might catch in one's throat or tickle the inside of their nose. However we do not really know, at least in this country, because the vast majority of the population has not been tested for the presence of coronavirus. There are not nearly enough test kits, nor is there sufficient lab capacity to process them. Therefore, we do not know where the hot spots are. The testing process should have been sufficiently planned and prepared for long ago, when news of coronavirus in China was first reported.
Since it is an undisputed fact that many people do actually have coronavirus before showing symptoms (they are considered asymptomatic), and since the experts tend to agree that wearing face masks can at least diminish the spread of the virus by infected people when they do cough or sneeze, common sense suggests to me that to protect uninfected, and potentially at high-risk people, everyone – even those who do not show symptoms – should be required to wear a face mask. I understand that common face masks will probably not prevent the wearers of those face masks from catching the virus. That is not why I am suggesting their use. I also appreciate that face masks are in short supply, and are desperately needed by medical personnel. However, since everyone's wearing of these masks might reasonably stop some of the transmission of coronavirus to healthy people by asymptomatic people, perhaps we should indeed all be wearing those masks. This is something that we all could easily do. Surely enough masks can be manufactured to meet increased demand.
I'd like to end this by looking for something positive to emerge from the coronavirus crisis. If we change our behavior and increasingly stay home until this subsides – and eventually it will – perhaps this will be a good opportunity to finally work on projects that we may have been putting off for years. I know that if I have to stay home more, perhaps I can finally build my long-planned "AutoMatters & More" website. I can also continue writing my columns, since I have plenty of material, including photos, that I've gathered over the years while covering events, but have not used in any of my columns.
No matter who or where we are, we are all in this together. I wish you well.
COPYRIGHT © 2020 BY JAN WAGNER – AUTOMATTERS & MORE #633R4