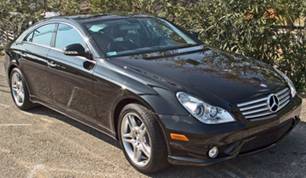 First Drive: 2006 Mercedes-Benz CLS500
I was invited by Mercedes-Benz to a working lunch near my Southern California home. The occasion was an introduction to their new, luxurious CLS-Class. I took the scenic coastal route to the upscale Bayside restaurant in Newport Beach.
They call their beautiful new look "the revolution of coupe design, combining the best attributes of coupes and sedans." You will probably recognize the CLS500 by its gracefully sloping roof section over the rear passenger doors. Think of it as a four-door coupe.
The roomy interior features a front-to-rear console, which accentuates the coupe-like look and feel by dividing both rows of seats.
High technology abounds, starting with the adaptive automatic transmission. It is the world's first with seven-speeds. The "electro-hydraulic braking system controls brake pressure at each wheel individually, in response to driving and road conditions." The "standard 'Airmatic' air suspension provides an ideal combination of comfort and sporty suspension tuning, because it uses computer control to continuously and automatically optimize the car for both types of driving."
The uninitiated might wonder why a Mercedes-Benz costs more than some other vehicles. Perhaps this description of the attention to detail in the rainwater removal system will help to explain. There are aluminum channels in the A-pillars to direct rain away from the windshield and onto the roof. The exterior mirrors route rainwater downward at a flat angle into the oncoming airstream. An eccentric sweep on the passenger-side wiper enables it to clear a larger area. Special one-piece wiper blades have integral leaf springs and an aero spoiler. A rain sensor regulates the windshield wipers depending on the intensity of the rain and – get this, there is wiper and windshield washer heating.
M-B expects that the competition for their new offering will include the Lexus GS430, the BMW 5- and 6-Series, the Audi A6 Sedan and the Jaguar XK8.
Our hosts from Mercedes-Benz thought of just about everything. In addition to a detailed map of the inland route, they gave us little brown envelopes containing exact toll booth change. Here's a hint though: when using the area's toll roads, be sure to keep an eye out for exits to the toll booths. Failure to do so will result in your picture being taken as you drive by. That, in turn, will lead to notification that you are expected to pay dearly for your inattention. Unfortunately for us, we accidentally missed the exit for one of those toll booths along our route and there seemed to be no way to turn around. The result was that M-B needed to call the toll-collecting authority the next day to work out the matter.
At the heart of this CLS500 is a 5.0-liter V8 which produces 302 hp and 339 lb-ft of torque. Numerical specifications do not mean that much to me; driving does. On the road this is one quick car. It feels light, which is a very good thing, and the brakes work very well.
An AMG Sport Package is also available. It includes staggered-width wheels, AMG bodywork, steering wheel gearshift buttons and more.
At $65,620, the starting price for all this sporty luxury is not as steep as you might expect, but be aware that much of the first year's allocation of cars is already pre-sold. If you want even more power and performance, the supercharged, 469 hp, 516 lb-ft of torque CLS55 AMG will be available soon. For an estimated $86,500, it will include an AMG Speedshift 5-speed transmission, AMG racing-derived braking system, AMG sport suspension and unique bodywork. Each engine will be hand-built.
To learn more about these and other Mercedes-Benz models, visit www.mbusa.com.
Drive safely and do join me again next time.
Copyright © 2005, 2006 & 2021 by Jan Wagner — AutoMatters & More #139r1