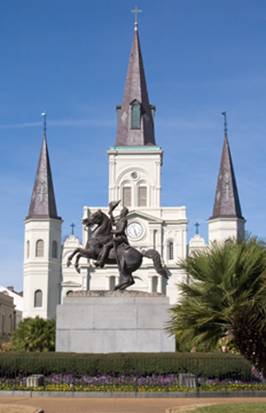 WORLD of WHEELS, New Orleans (pre-Hurricane Katrina)
I discovered Southern hospitality first-hand – at a car show, of all places! It all began several months earlier when someone organized a Caribbean cruise for owners of Miatas and PT Cruisers. We were to meet in New Orleans and set sail from there. I had never been to New Orleans before so I was looking forward to going there almost as much as the cruise.
Since I had plenty of time, I did some pretty thorough research. When I checked out the available flights I had doubts as to whether or not I could fly on the same day and get there in time to board the ship, so I decided to fly into New Orleans a day early. I booked an inexpensive flight with Southwest Airlines and booked my hotel on the Internet through Hotwire (www.hotwire.com). By the way, I've used them before and heartily recommend Hotwire to you. Through them, with very little effort, I ended up reserving a room at the upscale Hyatt Regency New Orleans for only $64 (plus the obligatory taxes and fees). I've paid more than that to stay at "cheap" motels.
In advance of my trip I also contacted the New Orleans Metropolitan Convention & Visitors Bureau at www.neworleanscvb.com. Doing that was a great decision. They were extremely helpful and provided me with much of the information that I needed to make the best use of the very limited time that I would have in New Orleans. As an added bonus, I learned that I would be in New Orleans for the start of Mardi Gras.
Now let's fast forward to the trip. I arrived in New Orleans in the late afternoon. By the time I got to my hotel and unpacked, it was early evening. I was hungry after my no frills Southwest Airlines flight and not inclined to spend a good chunk of my vacation money on dinner at the hotel, so I grabbed my camera bag (for safekeeping) and set out on foot to look for a more affordable place to eat. I soon found that the business area I was in closed up after the office workers left. Both the nearby shopping plaza food court and a McDonald's restaurant were closed for the day. However, I saw a crowd of people around a large stadium. Curious, I took a closer look.
The stadium was the Louisiana Superdome. I figured that at the very least I'd probably be able to get something to eat there so I went inside to check it out.
Much to my surprise and delight, there was a big auto show going on. Since I happened to have my camera, I decided to cover the show for AutoMatters.
The event was the O'Reilly Auto Parts WORLD of WHEELS, and what a show it was. As I soon discovered, people in Louisiana really take their cars and trucks seriously. Aisle after aisle were lined with absolutely stunning automobiles, lovingly restored or customized to a very high level of fit and finish. There was something there for everyone.
One of my favorites – and the poster car for the show, was a light blue '52 Cadillac. The flowing curves on that car were absolutely beautiful.
Another beauty was a stunning 1940 Mercury convertible. It was shown at the first Autorama in Sacramento in 1950.
I sometimes wonder why over 50 years of "progress" have failed to produce styling improvements corresponding in magnitude to the technological improvements found in today's automobiles.
I can only show you a small number of the show vehicles here, but if you'd like to see more the show will be held in many cities over the course of the next few months. Go to www.WorldofWheels.com for more information.
Always a favorite of mine, there were many muscle cars, from Mustangs to MoPars, Camaros to Corvettes. One was a 1971 Plymouth Duster 340 – a year newer but otherwise the same model as the very first car I ever owned (but mine was red).
What impressed me almost as much as the automobiles was the Southern hospitality that I found. Over and over again, as I got into position to take my photographs of the show, show-goers would stop and wait, and even move aside without being asked, so that I could take unobstructed photos. I spoke to locals about this and learned that in the South people learn from their parents, from a very young age, to be considerate and respectful of others. It shows.
You might recall that this whole thing started out with my looking for somewhere to get a late dinner. I did – hotdogs and a soda on the show floor.
The next day I had just enough time to tour New Orleans by GRAY LINE bus. Once again, everyone – from the ladies in the ticket booth to my driver, could not have been more helpful, warm and friendly. If you visit New Orleans and want to take a tour of the French Quarter, cemeteries, swamp, plantations or jazz, see what they have to offer at www.GrayLineNewOrleans.com. A steamboat cruise along the mighty Mississippi River might be just the thing to do.
Speaking of cruises, for the next seven days that's what I did – in the beautiful Caribbean.
After my cruise I had one afternoon left in New Orleans. I spent it walking around on foot and getting some more souvenir Mardi Gras beads to bring back for my kids.
Eventually my wandering took me to the world famous Bourbon Street. Unfortunately I could not stay for the Mardi Gras parade that would pass by my location in a couple of hours. I had a plane to catch so I very reluctantly made my way to the airport.
At the airport I experienced once last taste of Southern hospitality. As I filled up on burgers in the airport food court in advance of my no-frills plane ride back to San Diego, I chatted with a couple of off-duty TSA airport screeners. We got to talking about the "Gator on a Stick" vendor that I had seen in the farmers' market. At the end of our conversation, one of the friendly TSA screeners invited me to contact him if I came back to New Orleans, to get a taste of their cuisine. His offer of hospitality blew me away. That cinched it. I want to go back for another Mardi Gras. I don't know about the food but I really do like Southern hospitality.
Drive safely and do join me again next time.
Copyright © 2005, 2006 & 2021 by Jan Wagner — AutoMatters & More #138r3