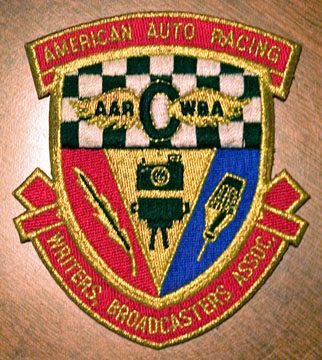 NHRA Museum & AARWBA's 50th Anniversary Celebration
This year the American Auto Racing Writers & Broadcasters Association (AARWBA) is celebrating its 50th anniversary. Founded in Indianapolis in 1955, it is the oldest and largest motorsports media association. The long list of members includes the very best in our field. I am truly humbled to belong to a group that includes such famous personalities as Chris Economaki, Dave McClelland, Shav Glick, Bob Jenkins, Scott Goodyear and Ken Squier, as well as Honorary Members Bill France Jr. and Wally Parks.
Recently we held our 35th annual All America Team Banquet to honor the best drivers in motorsports. Our evening began with a reception at the National Hot Rod Association's Wally Parks Motorsports Museum.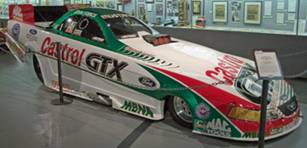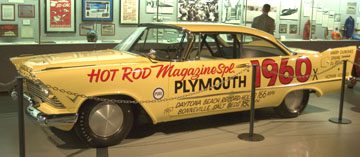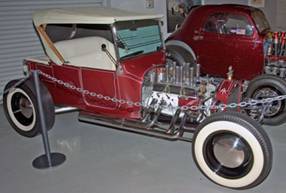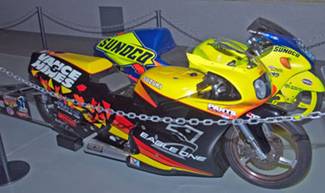 If you love drag racing, you really owe it to yourself to visit the NHRA's museum at the Fairplex in Pomona. Luckily I brought a camera along because there were plenty of great photo opportunities. The banquet, which would follow soon, honored Kenny Bernstein, a "Pioneer in Racing." As luck would have it, as I approached a display featuring one of his drag racers he happened to be there. He was kind enough to pose for a quick photograph.
For more information on the NHRA museum, visit them on the Web at http://museum.nhra.com/.
After the reception we walked over to the nearby Sheraton for the All America Race Team Banquet. We were in for a very interesting and entertaining evening. These were the racers selected by our members to the FIRST TEAM, several of whom were there in person to accept their trophies.
OPEN WHEEL: Tony Kanaan and Sébastien Bourdais
STOCK CAR: Kurt Busch and Jimmie Johnson
ROAD RACING: Ron Fellows and the team of Max Papis and Scott Pruett
DRAG RACING: John Force and Tony Schumacher
SHORT TRACK: Steve Kinser and Bobby East
TOURING SERIES: Martin Truex Jr. and Bobby Hamilton
AT LARGE: Bill Auberlen and Thiago Medeiros
John Force was as entertaining as ever in accepting his award. He is definitely not the most politically correct personality in motorsports, but that is part of his charm.
A very special award of the evening was the presentation of the Jerry Titus Memorial Trophy. "It's awarded to the driver among the members of the Auto Racing All-America Team who receives the most votes from among the members of AARWBA. The trophy consists of the helmet and typewriter used by the late Jerry Titus, a motorsports journalist and a Trans-Am Series racer in his own right, who was killed at Road America."
Past winners of this trophy included Al Unser, Mark Donohue, Johnny Rutherford, A.J. Foyt, Don Prudhomme, Mario Andretti, Shirley Muldowney, Dale Earnhardt, Nigel Mansell, Jeff Gordon and John Force. This year the deserving recipient of the award was Tony Kanaan.
Drive safely and do join me again next time.
Copyright © 2005, 2006 & 2021 by Jan Wagner — AutoMatters & More #137r1