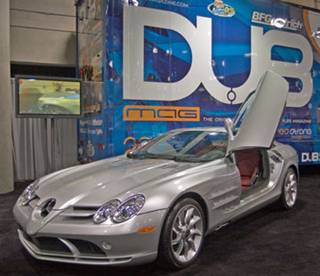 The 2005 Greater Los Angeles Auto Show (part 3)
Last time we looked at some of the show's exciting new cars and trucks, but for me one of the most fun parts of the show is the vendor mall. It must be, because I made a special trip back – some of it in 10 mph, clogged Saturday afternoon freeway traffic, just to check it out.
The LA Auto Show always seems to have a great vendor mall and this year's huge display in the convention center's Kentia Hall was no exception. It is billed as a presentation of "performance products, limited production vehicles and motoring accessories."
I tend to make a bee-line for the vendor booths selling diecast scale model vehicles. I am a collector and love to see what is new. The downside is that I usually see stuff I'd like to buy, and can't resist. This year my purchases included a 1/18th scale model of the 1983 Porsche 956 race car driven to victory at LeMans. What makes this car very special is that the vendor – AUTO BARN, commissioned someone to apply the proper, as-raced Rothman's sponsor decals to the bodywork. The model came from the factory with gaping white spaces there.
While still at the AUTO BARN booth, I learned that they are one of only two companies in the U.S. with a license to produce official replica Ferrari models. I know, Hot Wheels also does Ferrari diecasts but these by AUTO BARN are a different category: exclusive hand-builts that are licensed for $120 and up.
They call them their AB Models line. One that caught my attention was a 1/43rd scale Ferrari 550 Maranello GTS with Olive Garden livery, as raced in the 2002 ALMS series race at Laguna Seca. These very limited, individually numbered beauties are hand-built for AUTO BARN in Italy. For more examples, you can visit them at www.autobarnmodels.com. I must warn you, however, that collecting diecasts is habit forming. My collection numbers over 400 individually collected pieces, and most of those are in the fairly large and well-detailed 1/18th scale.
Then I moved on to another booth. This one had mostly lower-priced diecasts and I couldn't resist buying one. It is also in 1/18th scale. Complete with people and dinosaur, it is the Flintstones' family car. What can I say? I also have a model of the Jetsons' flying car.
Okay, so enough about my fascination with diecast automobiles. What else was there? Well, how about the Tiki Truck? Galpin Motors presented an amazing 2005 Ford F-250 Crew Cab Diesel with an exotic Polynesian theme paint scheme and – get this, a custom-built hot tub in the bed, complete with a giant tiki head that opens to reveal a waterfall that fills the tub! For more information on this and other custom "Galpinized" vehicles, as well as high performance vehicles by SVT, Rousch and Saleen, begin by going to Galpin at www.galpin.com.
Louroe Electronics showed off "The City Car by Kewet America." Their literature states that this manufactured-in-the-USA, street legal, all-electric vehicle was designed for short runs around town. Their specifications show speed of 40 mph, acceleration of 0 – 30 mph in 10 seconds and a maximum driving range of at least 30 miles. I went to their Website to learn more at www.kewet-usa.com. It was a little light on information – that is until I discovered a link to Kewet Electric Cars, Norway: www.kewet.com. After I realized that I needed to click on the little Union Jack flag to change the text to English, I found the site quite fascinating. You might want to go visit it.
You can find out more about renting or buying a very custom trike at www.westtrikes.com.
Nostalgia Metal Products offered up all sorts of neat metal signs. See more for yourself, as well as auto-themed wall clocks and thermometers at www.ledworks.net.
Scion had a new 2005 tC on the floor that I have seen on a billboard. Designed by Eric Haze, this show car was custom throughout, right down to its "Custom Haze designed wheels by Boyd Coddington."
If driving around town and on the freeways just doesn't do it for you anymore, here's an idea. Do you like NASCAR NEXTEL CUP racing? How does a ride in a NASCAR NEXTEL CUP-style stock car sound? What about actually driving one, on a race track? For more information on the Richard Petty Driving Experience and their many options, go to www.1800bepetty.com.
Last, but not least, I had to search out a brand new car that I had not seen on the first day I went to the show. The idea of an all-new Dodge Charger brought back memories of late 60's muscle cars. The only problem is that somewhere in the translation they de-emphasized the original car's sporty curves and replaced them with what I can best describe as tasteful, subdued elegance. Elegant is not a word I would ever have used to describe the original Dodge Charger. Hopefully its performance will make up for the new car's lukewarm, somewhat chunky styling. At least for now, I am disappointed.
I hope you enjoyed this year's visits to the Greater Los Angeles Auto Show. Drive safely and do join me again next time.
Copyright © 2005, 2006 & 2021 by Jan Wagner — AutoMatters & More #136r1