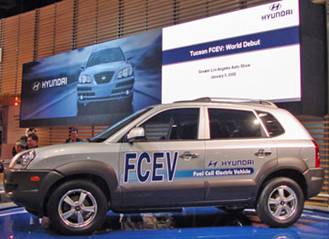 The 2005 Greater Los Angeles Auto Show (part 2)
Last time we saw some of the vehicles and discussed a big change that will be coming to the LA Show: specifically a move from the current New Year's time frame to November – to avoid the losing battle with the Detroit show. Now let's take a more detailed look at some of the stars of this year's Greater LA Auto Show.
High performance enthusiasts need look no further than the new Dodge Viper SRT10 coupe. The car's numbers say it all: 500 hp, 525 pound-feet of torque and 505 cubic inches of displacement. The roof was even designed with racing-inspired bulges for helmets. This car will do 0-100-0 mph in the low 12-second range. If you want performance but with lots of room, Dodge has you covered there, too, with the 425-hp, Hemi-powered, 2006 Dodge Magnum SRT8.
If you want what may well be the ultimate in a high performance electric vehicle, you'll want to check out the new Venturi Fétish. Designed under the technical direction of Formula One's Gérard Ducarouge, it is billed as the world's first production electric sportscar. They promised US certification testing is in their short-term plans. The price of this environment-friendly, high performance exotic? 540,000 Euros, according to their U.S. Press Kit (I checked out the conversion – that's just under $713,000.). If you're still breathing and interested, visit their Website at www.venturi.fr.
While we're on the subject of beautiful exotics, I absolutely have to mention the drop-dead gorgeous beauties by Spyker Cars (www.spykercars.com). Again, if you have to ask about the price, remember that this is the LA Auto Show. These are cars for the stars.
Returning us to earth, General Motors took this opportunity to unveil a pair of new Chevrolets: the 2006 Impala and Monte Carlo. To make sure we were paying attention, they brought several NASCAR drivers onto the stage. Chevy also unveiled the production model of their new HHR. They might cringe at the comparison, but to me it looks like a cross between their SSR and Chrysler's PT Cruiser.
Hydrogen-powered vehicles were well represented. Hyundai unveiled their Tucson FCEV. It is a fuel cell electric vehicle that will see service in test fleets beginning this year. BMW featured the North American debut of their H2R liquid hydrogen car. Ford offered media drives in their Hydrogen Focus fuel cell vehicle.
If your tastes are for a more luxurious, exclusive convertible, Bentley introduced us to their new Arnage Drophead Coupé show car. It is powered by a twin turbo V8 and can reach a maximum speed of 168 mph.
We were shown Volkswagen's new, fifth-generation Jetta, as well as Audi's new A3 and A4, featuring the new, signature Audi front-end treatment.
Volvo's Vic Doolan presented a bright yellow XC90 V8 boasting an incredible 600 hp. I dare them to offer that for sale. The output of the production version of the XC90's V8 is a very respectable 311 hp.
Finally, it seemed fitting that an American Idol singing sensation introduced that reinterpretation of a classic American automotive icon – the 2005 Ford Mustang convertible.
Drive safely and do join me again next time.
Copyright © 2005, 2006 & 2021 by Jan Wagner — AutoMatters & More #135r1