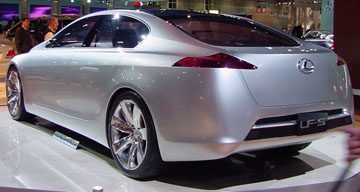 The 2005 Greater Los Angeles Auto Show (part 1)
Since I have not yet been able to rationalize funding a trip to Detroit, every year my one must-see automotive event has been the Greater LA Auto Show. I went again this year and took plenty of photos to show you – so many, in fact, that I'll share this visual treat with you over the next two AutoMatters & More columns.
Before I get to some of the particulars of this year's show, I'd like to step back for a moment and bring you up to date on the big picture. As you may or may not know, for several years LA has been butting heads with Detroit to see who could snag all the hype (and press coverage) as the first big auto show of the year. That plays a significant role in determining where the various manufacturers' new vehicle introductions will be made and also where their concept vehicles will first appear.
Well, if the past three years are representative of the results of that competition, LA lost out big time. From what I've seen, each successive year has produced less and less in the way of breathtaking automobile displays at the LA show. In stark contrast (from what I've heard from many who went there), the Detroit show saw absolutely incredible (and very expensive) displays, as the auto manufacturers did their best to try to out-do each others' efforts. Sadly, in terms of the sizzle factor, this year's LA show looks like little more than a very well represented local new car dealers' association show. The one bright spot in that rather dim picture is that at least there are a lot of automobile brands represented in LA.
The LA show's organizers must have come to the same conclusion some time ago because they recently announced that this will be the next-to-last time they will hold their show in the same general time period as the Detroit show. Yes, the dates of the LA show will be moving to November – and not a minute too soon for this automotive enthusiast. The transition will begin next year with two LA shows. Public days for the first show will be in January 2006 and the second will follow in early December. In subsequent years the show will run in mid-November. Hopefully the dates change will result in LA getting much more dramatic and creative automobile displays, even if some are hand-me-downs from the previous Detroit show, and manufacturers not holding back as many of their latest new vehicle introductions for Detroit, since the shows will no longer overlap. Time will tell.
The other observation that I'd like to make concerns a trend that we have been seeing in the automotive world. No, I'm not talking about the move to more fuel efficient, less polluting vehicles. Rather, I'm referring to the serious problem of traffic congestion that we increasingly have to deal with. Now matter how improved our vehicles become, as long as the networks of roads that they have to be driven on do not keep pace with the growing numbers of vehicles, we will move more and more slowly.
Something has to change. It is my hope and belief that in the not-too-distant future we will start to see revolutionary automotive developments that address this critically serious problem. Perhaps the answer will be 'smart highways' that enable automation and greater efficiency in the movements and interactions of our automobiles. Imagine highways filled with linked (physically or electronically) and automated transportation modules. Instead of wasting hours going nowhere in stop and go traffic, we will be able to work (or relax) as our vehicles do the driving for us, enabling us to travel at significantly quicker speeds, and arrive at our destinations refreshed and ready to go. Hopefully these transportation modules of the future will also be stylish and have manual over-rides, so that we can still drive for the enjoyment of driving – at off-times and on any roadways where traffic is not so heavy.
So much for the big picture. Next time I'll focus on some specific vehicles at the show but if you'd like to see these vehicles and many more in person, you still have time. The Greater LA Auto Show runs through Sunday, January 16 at the Los Angeles Convention Center. The address is 1201 South Figueroa Street. For more information, call (213) 741-1151 or visit their Website at LAautoshow.com.
Drive safely and do join me again next time.
Copyright © 2005, 2006 & 2021 by Jan Wagner — AutoMatters & More #134r1