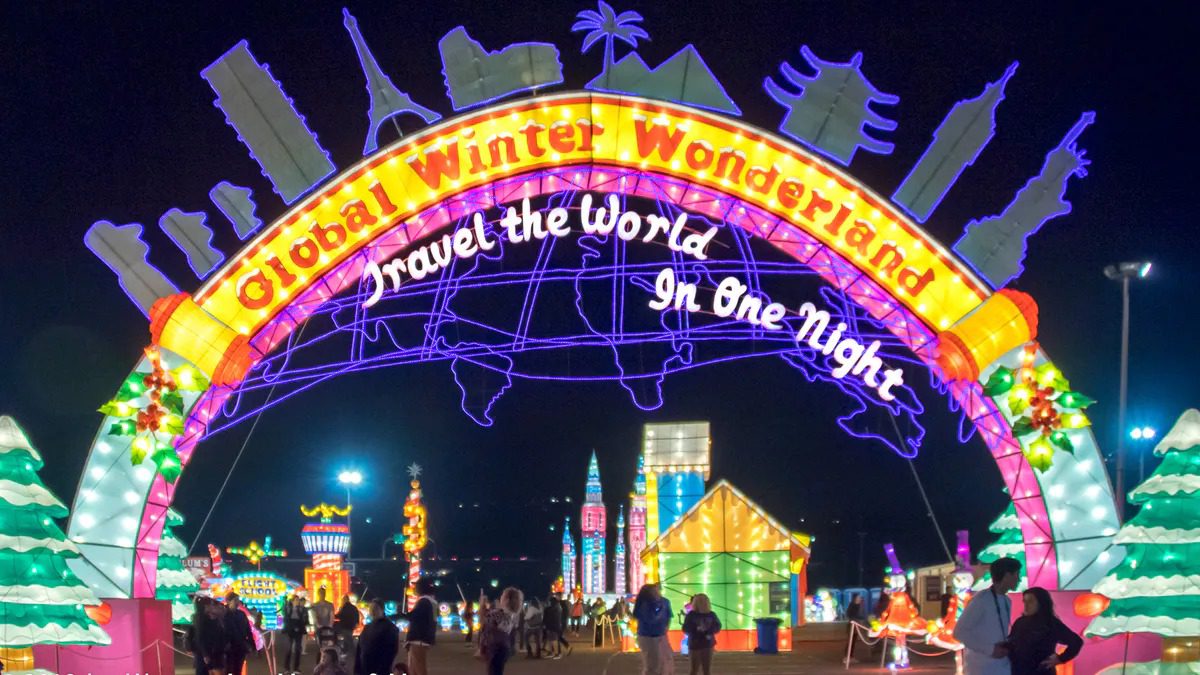 A Celebration of Color, Light, Art & Spectacular Entertainment
Global Winter Wonderland is a family-friendly entertainment event that was first introduced to the world in 2011, in Santa Clara, California. Its theme was "Travel the World in Just One Day!" Since then the event has visited Sacramento, California and Atlanta, Georgia.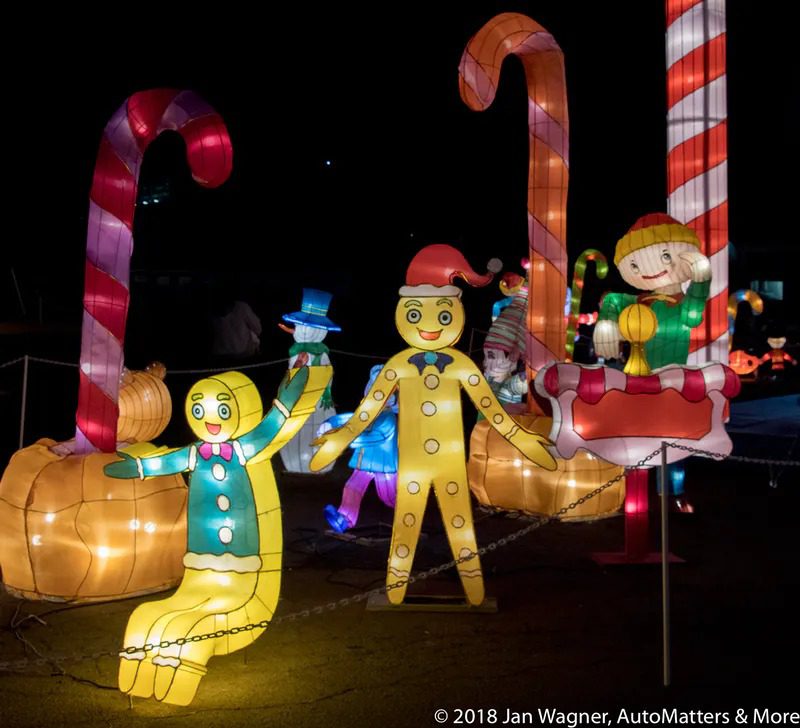 This year dual events were staged almost simultaneously at CAL EXPO in Sacramento and here at SDCCU Stadium in San Diego, both beginning in November, 2017 and running on selected dates through Sunday, January 7, 2018. San Diego was chosen because it is a popular international travel destination, typically with a pleasant, moderate climate year round.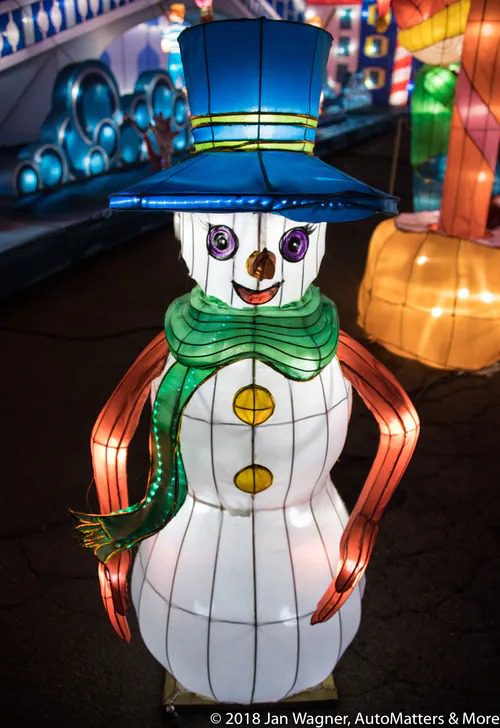 The original inspirations for Lulu – the creative genius responsible for Global Winter Wonderland – were the traditional Chinese lantern festivals that date back over 2,000 years and are fondly remembered from her childhood.
Since then she has travelled to many countries and has experienced many diverse cultures. Through Global Winter Wonderland she shares with children and adults alike the wonder and excitement that she experienced as a child, bringing together people from around the world.
The magic happens when the lights turn on within the modern interpretations of those ancient Chinese lanterns. Splashes of color and light radiate from the many depictions of internationally renowned cultural landmarks and figures, as well as traditional holiday scenes and characters.
This takes an absolutely insane amount of work to pull off each year. Typically for the following winter holiday season, the design process begins in January, followed by production in China beginning in April. A staff of over 100 people worked on the design and manufacture of the San Diego exhibits.
After the components are shipped here in containers, it takes another two months to assemble them on the ground, essentially converting an ordinary parking lot into an exciting theme park. The pieces are partially assembled offsite for about a month, and then final assembly is done on location.
While some of the lanterns are changed from year to year, some are brought back by popular demand. Especially popular are the 150-foot long dragon – a symbol of good luck in China – and the peacocks.
A model of the Eiffel Tower is surrounded by archways shaped like large hearts. Visitors walk through them and take romantic photographs.View gallery image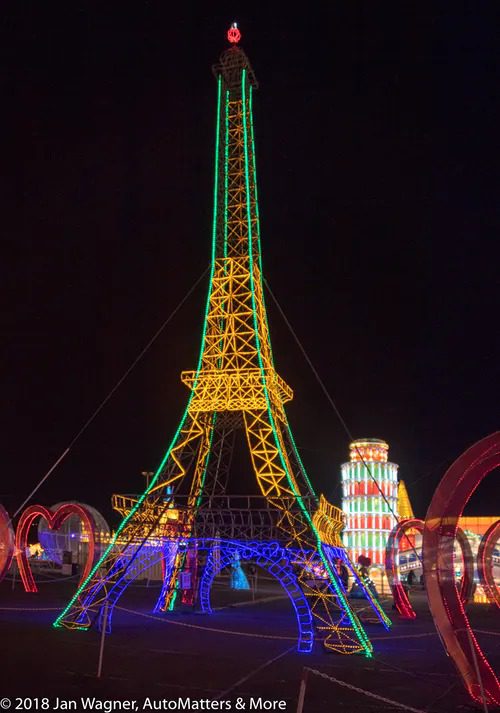 Rigorous governmental safety standards must be met. Structures over a certain mandated height require structural drawings and appropriate calculations, so that they will be sufficiently resilient in the event of high winds or an earthquake. Each structure has a rigid metal framework and is firmly secured to the parking lot.
In addition to the lanterns, there is also a multi-cultural "Circus of Light" featuring acrobats from around the world, including Africa, China, Europe and right here in San Diego. Performances include fire juggling…

… human pyramids…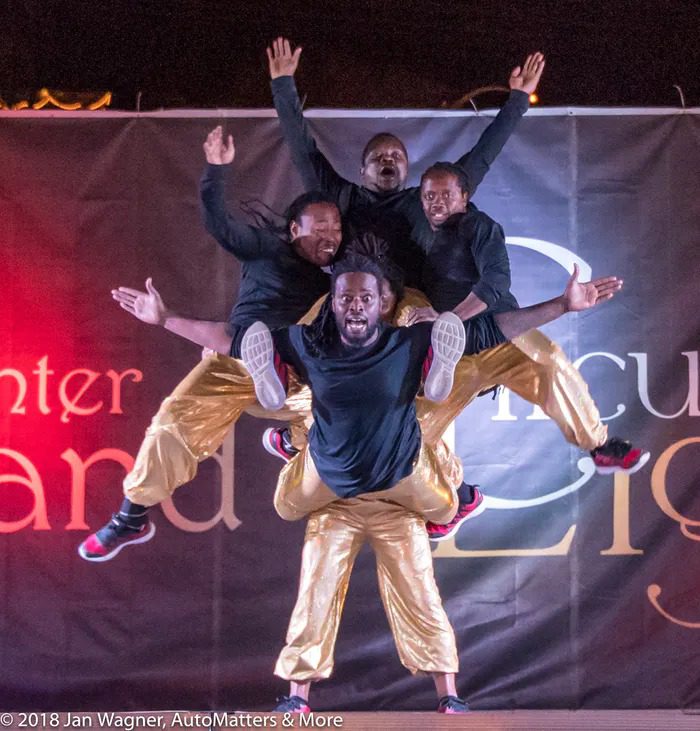 … balancing on towers of precariously stacked chairs…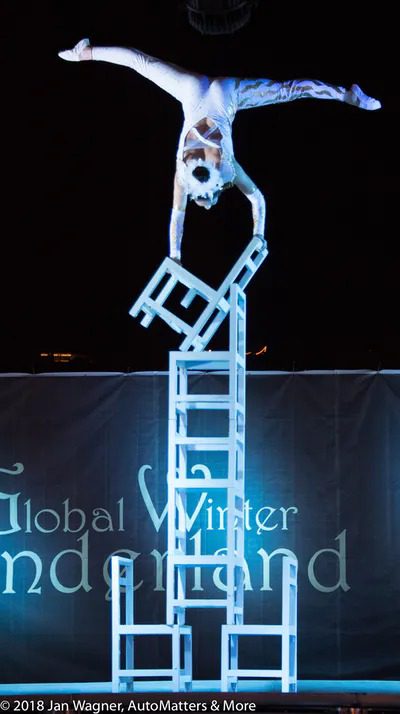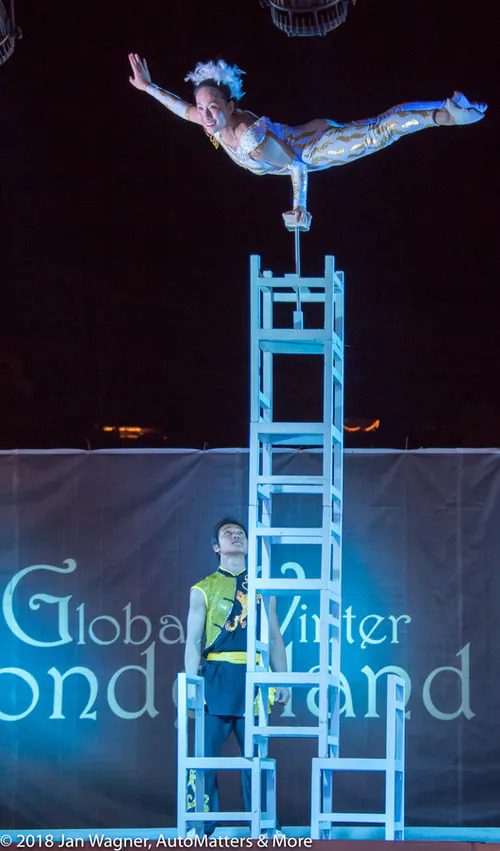 … and more…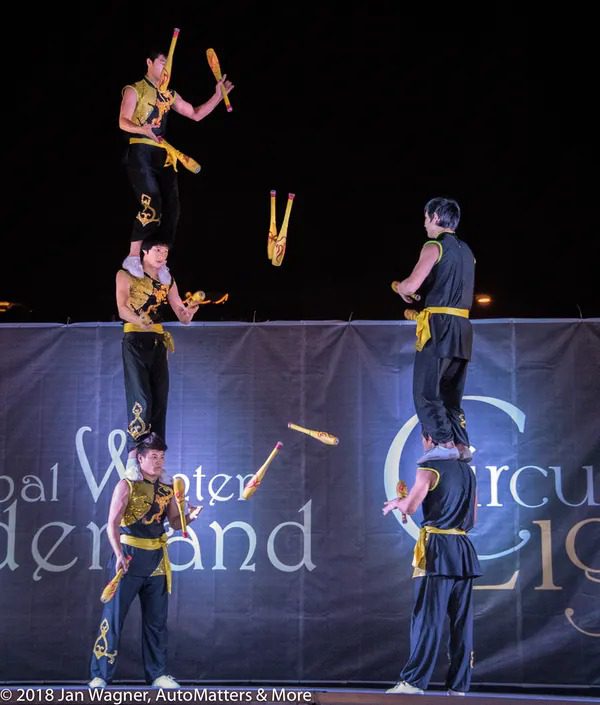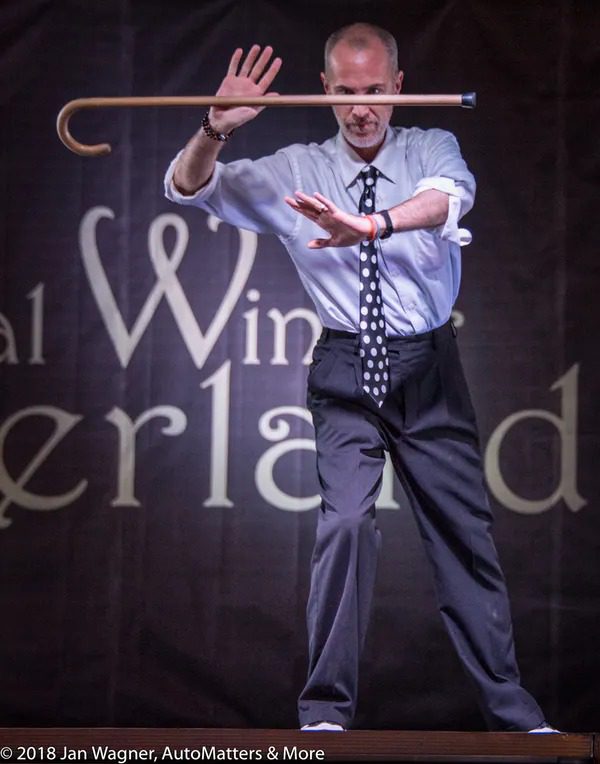 Elsewhere, a Guinness world record-holding team of five motorcycle stunt riders enters a gigantic sphere constructed of thick metal grating attached to a rigid framework. Then they ride all around it, in all directions, in a precisely choreographed exhibition of incredible skill. In China the number of riders increases to 12 within a globe that is only one meter larger in diameter!View gallery image
A variety of beautiful, handmade crafts and other artwork can be found in the international marketplace…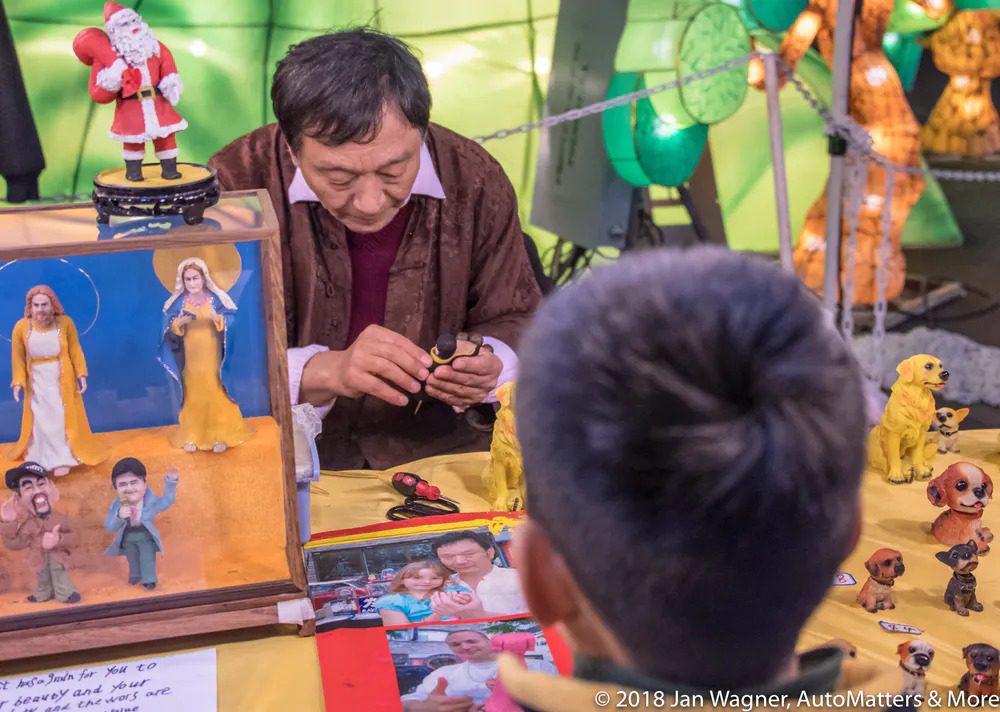 … and in the spacious food court, a wide assortment of taste-temping foods is prepared for your enjoyment….
… There is also a large, bustling carnival midway, with games of chance and lots of fun rides…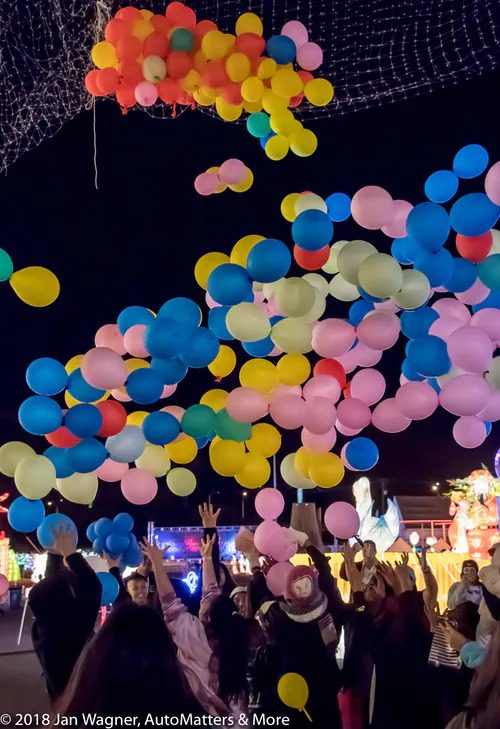 While this year's event is almost over as of this writing, it will return later this year – when darkness falls in the late afternoon once again. Efforts are being made to bring it back to San Diego and Sacramento, and at least one other host city has already been confirmed (hint: I'll bet you know which city is world famous for its bright lights, massive depictions of iconic landmarks and around-the-clock action). For the latest news, visit GlobalWonderland.com.
One day is not enough to take in everything. I tried to but, much like what happened with Cinderella's coach when the clock struck midnight, at closing time (10 P.M.) most of the lanterns' lighting was switched off. That made for a rather interesting, added challenge in the maze!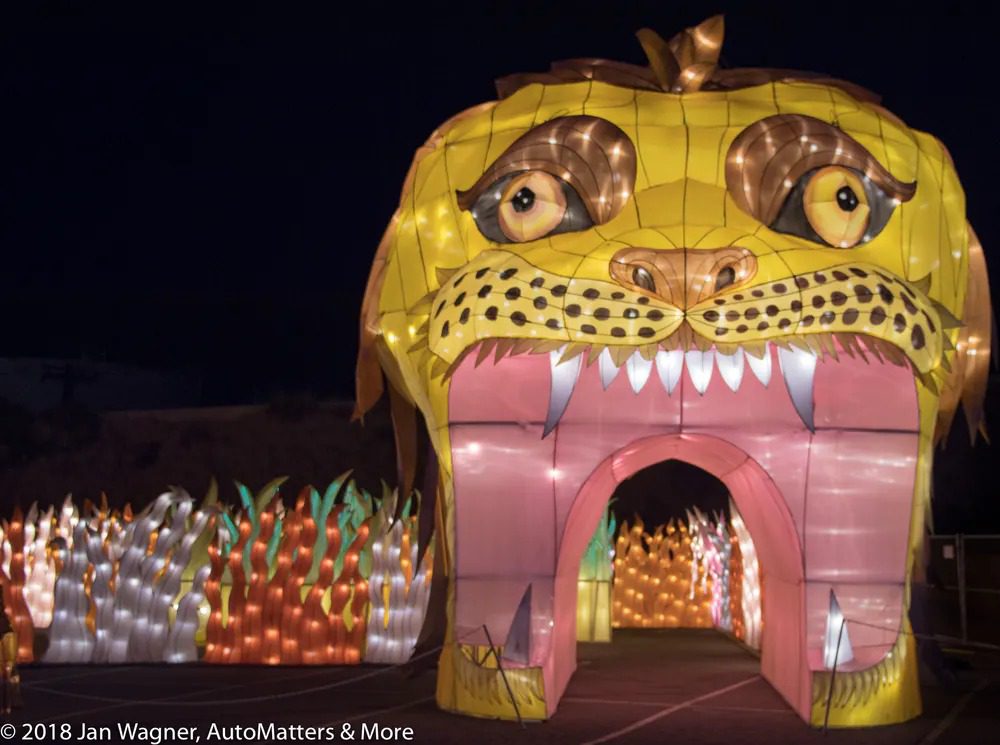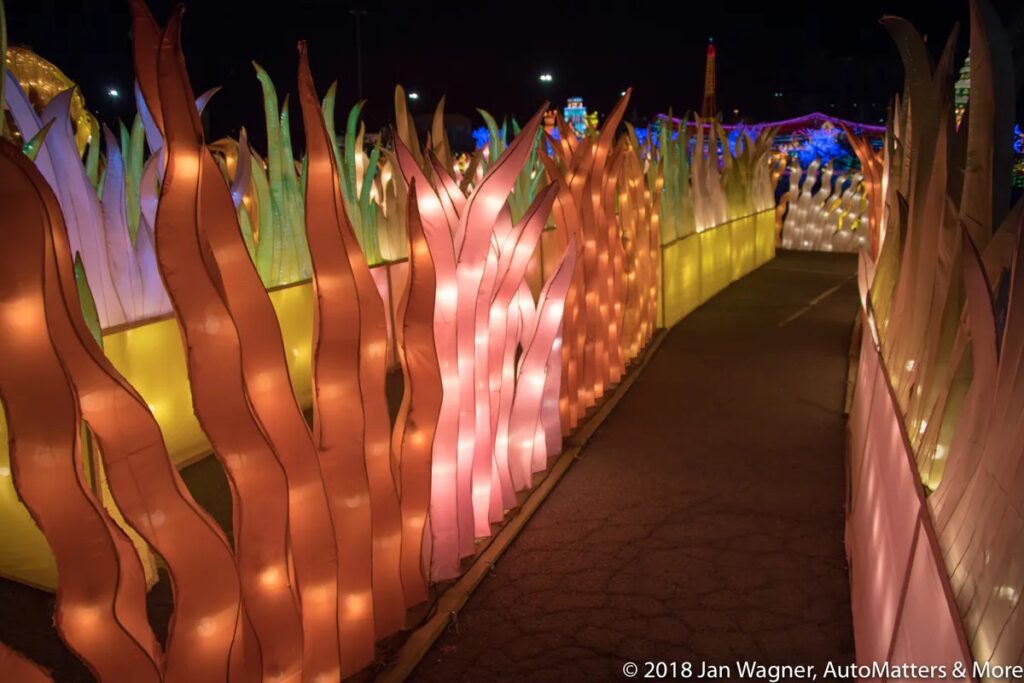 COPYRIGHT © 2018 BY JAN WAGNER – AUTOMATTERS & MORE #523