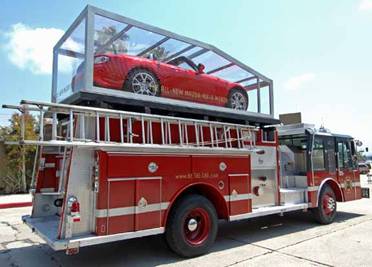 Hurricane Katrina & the introduction of the 2006 Mazda Mx-5 (Miata)
It is with a great deal of sadness, concern, and difficulty that I write this column. For the past few days I have been watching the horrible, shocking scenes unfold along our Gulf Coast with regards to the catastrophe caused by Hurricane Katrina. I feel so sorry for the many survivors who desperately await even the most basic of help, days after the hurricane passed. As you may recall from a prior AutoMatters, earlier this year I attended a great car show at the Superdome in New Orleans and wrote about it. I also visited some of the sights in the greater New Orleans area and took many photos. I remember being impressed by how friendly and warm the people were. It was my first trip there. It is unbelievable to realize that it may never be the same again. I strongly urge each and every one of you to contribute money towards the massive, unprecedented relief effort. Those people are in desperate need of help. One worthy charity that I recommend is the American Red Cross. Their website is www.redcross.org. You can also reach them by phone at 1-800-HELP NOW. Please help.
Now, on a brighter note, I'd like to tell you about the introduction of the all-new, third generation, 2006 Mazda MX-5 Miata. Mazda has gone all-out with the introduction of this car.
When Mazda came out with the first generation Miata, way back in 1989, they pretty much had the market for small convertible sportscars to themselves. What especially made that car significant, as far as I was concerned, was that the Miata was not only fun to drive and attractive, but it was incredibly reliable – not an attribute shared with such cars as the Lotus Elan – a much earlier car that only looked similar to the Miata.
Mazda's introduction of the 2006 MX-5 (they are getting away from calling it a Miata) began with what they called their "Hot Streak" tour. A new Miata was parked in a clear 'garage,' which was hoisted atop a specially fitted fire engine and driven across the county. It immediately grabbed attention wherever it went, on its campaign that included, as an objective, "to raise over $100,000 for local fire departments."
I had an opportunity to see the "Hot Streak" tour in May when it visited a local fire station in Hollywood. It was unloaded from the truck and removed from its clear garage for closer inspection. Then it was loaded back up and driven – atop the fire engine, throughout area streets.
I must tell you that I was not taken with the looks of the new car. It has fender flares over each wheel that are reminiscent of Mazda's Rx-8. Straight sides replace the Coke bottle look of my second generation car.
I next saw the new MX-5 a short while later on the freeway in San Diego's North County. I spotted what was apparently a pre-production car, as Miatas were still several months away from their on-sale date. It did not look any better to me in traffic than it did by itself.
Then in August Mazda invited members of Miata enthusiast clubs in the region to a Mazda facility in Orange County. It was there that we members got our first chance to actually drive the new MX-5. That was a great move on Mazda's part. Even though I had not been captivated by the looks of the new car, I was very, very pleased with the mechanical changes made to it. Their very complete technical presentation, coupled with my brief drive in the car, convinced me that this Miata is far better to drive than mine is – and I have the MAZDASPEED turbo. In particular, I really preferred the positive shifting – and reverse to the left positioning, of the new car's six-speed transmission. The revised seating position means that there is no more need for occupants to have to bend and peer under the windshield header to see traffic lights above them. It was explained to us that the new car actually has effective rollover protection now, in the form of a stronger windshield header and also a functional rollover bar behind the front seats. There should no longer be a need to add a rollover bar for safety. Acceleration, according to my seat-of-the-pants test, seems to be significantly improved over the previous (non-turbo) car.
Not all is improved, however. It looks like the trunk will hold less than the trunk on my second generation car, not helped by the restricted access caused by the narrow, slit-like opening. There is also no spare tire, for the first time. The car's suspension was a little too soft for my liking. I suspect a sport package option will cure that.
My most recent exposure to the MX-5 came last Sunday, at the Pomona round of Mazda's "Zoom-Zoom Live! Driving Experience." There we got to experience the new car on an autocross course. Wahoo! We tested those cars at – and beyond, their limits of traction. If it wasn't so hot outside it would have been a perfect afternoon. I can tell you that the new MX-5, even in bone stock trim, performs very well and is easy to drive aggressively. It also recovers quite well when mistakes are made.
In summary, I strongly recommend the new, 2006 MX-5 Miata. Mazda has come up with another winner. Questionable styling aside, it really seems to be a good, fun, very capable, and still affordable sportscar. They have just started arriving at dealerships. I suspect the new styling will grow on me, although I much prefer the stunning looks of Pontiac's new Solstice two-seater sportscar. Isn't it nice to have choices?
Drive safely and do join me again next time.
Copyright © 2005, 2006 & 2021 by Jan Wagner — AutoMatters & More #156r1