Intrigued by the fresh, if not controversial styling, of Subaru's 2006 B9 Tribeca, and its equally unusual name, I decided to visit Rancho Subaru, in the Kearny Mesa area of San Diego, to check it out..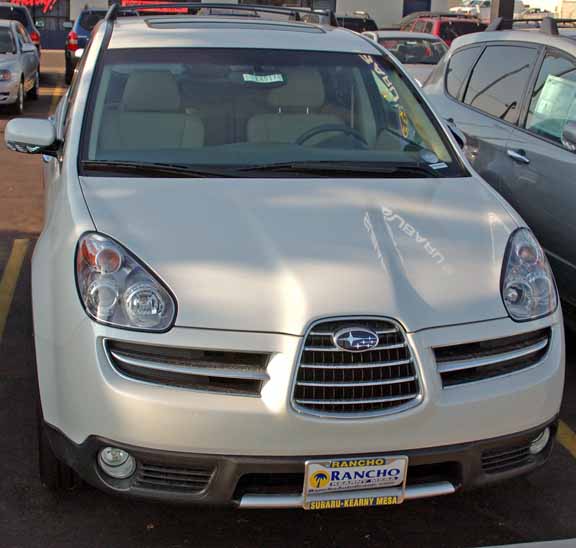 With a starting MSRP of $30,695 (plus another $625 for Destination & Delivery), this Subaru SUV is expensive – but not overpriced. It is worth the money.
For starters, if you like the feeling of security that you get when driving a big SUV, I think you are going to be pleasantly surprised by the B9 Tribeca. Forget, for a moment, its modest exterior proportions. When I drove this new SUV from Subaru, I was immediately impressed with its solid, substantial, big car feel on the road. Furthermore, it is very easy to drive and, for the most part, it responds well to driver inputs. I qualified that because it does have one driveability flaw that I noticed. In all too typical automatic transmission form, there was a noticeable lag or hesitation between when I gave it gas and when it started to accelerate. That is somewhat annoying. However, the vehicle responded very well to steering and braking inputs. Handling is very car-like.
If nothing else, this Subaru is about style. Something that really struck me, in a positive way, is the curvy interior styling. The interior door panels curve rather radically into the dash. Then the dash recedes sharply towards the windshield and away from the driver and passenger, only to expand back into the cabin at its center, where the radio and ventilation controls reside. It is very fresh and modern in appearance. I really like it. It reminds me of my first impression of the interior of the Toyota Previa minivan from several years ago.
As for the exterior, it's okay but there seems to be an awful lot going on at once. The word busy comes to mind. The back reminds me of another Toyota minivan – the Sienna. The wheel arches hint at Mazda's Rx-8.
And the front end? That's the view I like the most. The center grille area sort of reminds me of vintage Alfa Romeos.
The B9 Tribeca certainly represents a bold departure from 'safe' styling. I think it's the sort of look that many drivers will either like or dislike. Remember way back when Ford first introduced the Taurus? I applauded their courage. At a time when square and boxy was the norm, Ford dared to be different and gambled with curves. Taurus prevailed and vehicles that were well represented by Chrysler's bland K-cars thankfully disappeared from the automotive landscape.
The B9 Tribeca, the biggest Subaru ever, is available in five and seven passenger versions, and in two levels of trim – regular and Limited, for each configuration.
While I do recommend that you go online to www.Subaru.com and configure one for yourself, here are some of the specifications that stood out for me. The B9 Tribecas are All-Wheel Drive, and powered by a 250 horsepower, 3.0 liter, 6-cylinder boxer engine.
In a boxer engine, the pistons lie flat and are horizontally opposed. This improves a vehicle's handling by lowering the center of gravity, just like in some high-end sports cars. You won't feel that typical, top heavy, large SUV kind of leaning nearly so much in this vehicle. Also, this type of engine configuration is inherently balanced, for smooth operation. Fuel economy, however, is just okay – at 18 mpg city and 23 highway.
Factor in the great traction of All-Wheel drive and 4-wheel ventilated disc brakes, complete with ABS and Electronic Brake-force Distribution, and I think you'll soon realize that you have everything you need for secure, safe motoring.
From that functional and important starting point, you can choose from all the popular bells and whistles. If you like electronics, selections include a stereo with MP3 compatibility, an optional touch-screen GPS Navigation System, and a wide-screen DVD player. Just be prepared to pay extra – a lot extra. The factory Nav package is a $2,000 option and the rear-seat DVD will set you back another $1,800.
The seating configurations are incredibly versatile. You can flip and fold your way through no less than 64 different and unique combinations. There is up to 74.4 cubic feet of cargo volume in both the five and seven passenger versions. Add in ten cupholders, four 12-volt power outlets, four cargo tiedowns, and two grocery hooks. Airbags are almost everywhere, for safety.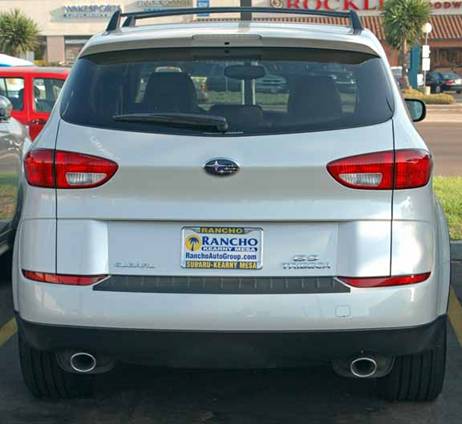 So, if you're in the market for a new SUV, take a test drive in the 2006 Subaru B9 Tribeca. I think you'll like it.
Drive safely and do join me again next time.
Copyright © 2005, 2006 & 2021 by Jan Wagner — AutoMatters & More #155r2