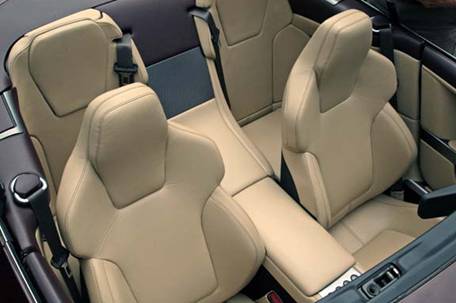 Henrik Fisker — Aston Martin's Director of Design
I don't know about you but automotive design plays a large part in what vehicles I buy. Design is a very subjective thing, and automobile manufacturers tend to follow certain themes throughout at least some of their range of vehicles. For example, Mazda seems to like exaggerated fender flares on its current sports cars, as evidenced by the Rx-8 and the upcoming, third generation Mx-5 (formerly Miata).
I had the privilege to attend a presentation on design near LAX given by Henrik Fisker, Aston Martin's Director of Design. He is originally from Denmark.
Aston Martins, for those of you who may not know, are very high end (expensive), very British sportscars. Aston Martin is part of Ford Motor Company.
Henrik described the brand as one "that traditionally has been about beautiful cars. They've also been very fast. They've been exclusive. They've been elegant." He said that "driving a car like an Aston Martin should feel like a sense of occasion." Driving an Aston Martin would definitely be an experience that I look forward to.
"We don't build cars for James Bond. He happens to pick our car and drive it."
He told us that great design is timeless. His approach is straightforward: "When I make a design, I can pretty much decide what it is I want to do, which is nice." "We don't go into any focus groups with several different models and have the people choose."
In his presentation, Henrik frequently used their DB9 to illustrate his points. They spend a lot of time on the details, even under the car – just in case anyone looks. Henrik discussed the tasteful interaction of the DB9's body and sculpted frame.
The DB9 has its own, uniquely styled taillights. We learned that more time was spent designing a taillight lens that would diffuse the bright LED pinpoints of light, than was spent sketching the light itself.
The instrument panel of the DB9 is like a high-end watch, as opposed to a combination of black plastic and graphics.
He is a believer in doing extreme show cars – and then producing them.
He said he thinks that we have to redefine luxury. Leather and wood is probably not luxury anymore because anyone can have it. Low-end leather is coated with plastic so that it does not stain as easily. That's what you're actually sitting on in some cars – plastic, not leather, and it also does not show natural aging. The same applies to wood. "The next step is that we're going to get even more natural." "We have tried for too long to make everything out of a big piece of molded plastic.
Hand-built is definitely luxury. On a luxurious handbag, stitching is done by hand so it may not be perfectly straight. That is the whole point. The look is hand-made.
"We will use the appropriate technology when we feel that it is right and when it helps us and when it helps the driving experience." Much of the technology used is becoming less visible.
He said that even their racecars should look really good. "You have to be in with everybody from the beginning, and not come in as an afterthought to try to fix it up. That doesn't work."
As expensive as these cars are, he reported that "we are sold out with the DB9 for a year."
Henrik Fisker concluded by saying that "we're a different company doing things in a different way" and that their customers want them to stay that way. If their cars are any indication, that bodes well for the future of Aston Martin.
Drive safely and do join me again next time.
Copyright © 2005, 2006 & 2021 by Jan Wagner — AutoMatters & More #154r1