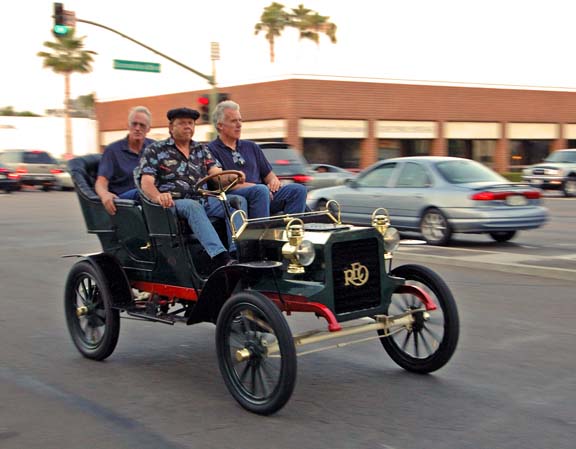 Cruisin' Grand All Summer Long
Most car shows are, for the most part, static. The immaculate vehicles are typically displayed in place and you have to pay admission to go inside to see them. Not so at "Cruisin' Grand." As the name implies, these vehicles cruise the streets for all to see, and what a show it is.
Every Friday, from now through to September 30th, from 5 to 9 PM, you can see over 400 pre-1974 hotrods, custom, vintage, and classic cars and trucks as they wheel their way along Grand Avenue in downtown Escondido.
The city goes all out for this weekly family-oriented event. Music from the 50's and 60's is piped through speakers above the streets. Diners enjoy meals in restaurants and at sidewalk cafés while they watch the ever-changing show unfold in front of them. Antique shops and art galleries are among the many other local business that tempt passers-by. Kids seem to especially enjoy the hula-hoops.
As some of you probably know by now, I belong to the San Diego Miata Club. Our cars were little more than an idea in someone's mind when these cars were first on the roads, but that doesn't stop us from joining in the parade and enjoying the festivities.
We gather there once a month, always starting with a burger run at Tom's #23 (on the Southwest corner of Centre City Parkway and 5th Street in Escondido). Tom's is surrounded by parking, perfect for us to enjoy seeing each other's Miatas while we refuel our stomachs for the evening. From there, we join the continuously circulating parade of cars and trucks along Grand, and now Second, Avenues. From there we again park, and then head out on foot to enjoy the cars and trucks, and check out the shops.
The variety and quality of the automobiles on display is really first rate. When I went most recently, the fire department was represented with a beautifully restored rig named the "American." It was originally built in 1902.
Rounding out each Friday evening, event-era vehicles are selected for awards. These are presented at 8 PM on North Broadway.
Cruisin' Grand is a great way to beat the heat of a Southern California summer! For more information, visit www.downtownescondido.com/events/cruisin_grand.
Drive safely and do join me again next time.
Copyright © 2005, 2006 & 2021 by Jan Wagner — AutoMatters & More #153r2