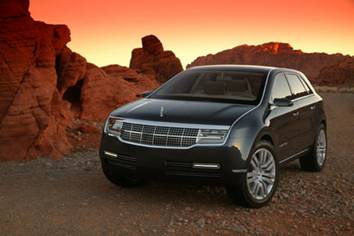 Lincoln Mercury for 2005 and Beyond
Friends, this is an incredibly good time to be in the market for a new automobile. Over the past months I've been bringing you news about new automobiles that are either already on sale or coming soon. From high performance sports sedans to the first hybrid SUV and just about everything in between, the choices couldn't be much better – and yet more announcements continue to roll in. The good news continues this week with an announcement to the automotive Press, at Raleigh Studios in Manhattan Beach, of many new and exciting automobiles from Lincoln and Mercury. We were also treated to some of the most beautiful automotive photography that I have ever seen.
First up from Mercury will be the all-new Mariner and Montego, launched with the help of a new ad campaign that uses the line "New Doors Opened." We had a sneak preview of their ads so I can tell you that they are as they are intended to be: different, just like the automobiles that they advertise. Mercury should attract plenty of attention to its new automobiles with these humorous commercials.
Mariner and Montego represent new entries into their respective segments for the Mercury division. Mariner is their first-ever compact SUV. Offering the luxury, comfort and style you'd expect from Mercury, some surprises are in store as well.
Montego is a familiar name to some of us. For 2005 Mercury brings back that name and applies it to a modern, mid-size sedan – their first in nearly 20 years. However, this is no ordinary sedan. This one will also offer all-wheel drive!
Following those two introductions from Mercury, you can also expect another new sedan, a crossover vehicle and one more – details of which Mercury is still keeping tightly under wraps.
In early 2005 look for the introduction of the Lincoln Mark LT full-size pickup truck, which will combine the rugged, reliable utility of the Ford F-150, blended with Lincoln's style, comfort, luxury and state-of-the-art technology. This truck will be available in both 4×2 and 4×4 configurations, along with four full-size doors and a 5.5-foot box. The 5.4-liter, 3-valve per cylinder TritonTM V-8 engine should produce 300 hp and a stump-pulling 365 lb.-ft. of torque at a low 3,750 rpm.
A new, five-passenger Lincoln sedan named Zephyr will debut next fall. Powered by a 3.0-liter V-6 engine, the luxurious Zephyr will feature a six-speed front-wheel-drive transmission, a choice of front-wheel or all-wheel drive and, of course, distinctive Lincoln styling.
Based on the show car which was revealed at the 2004 North American International Auto Show in Detroit, my favorite may well be the next-generation Lincoln Aviator. If Lincoln retains the features and styling cues (inside and out) of this show car, I predict that they will hit a home run among crossover, luxury SUV customers. I like the elegant Continental grille and I really hope they keep the unobstructed hardwood floor theme of the show car. It is beautiful and functional. Aviator – Lincoln's first-ever car-based crossover vehicle, will be powered by an all-new 3.5 liter V-6 – an all-aluminum dual-overhead cam engine featuring variable valve timing.
Two more, as yet unidentified, Lincolns will round out the new lineup.
State-of-the-art technologies from Lincoln include: THXÒ certified audio, for impeccable automotive sound quality, and climate-controlled seats. These seats are great. In the past if you wanted automobile seats that were not burning hot until well-after you entered on a sunny day, or ice cold in winter, you had to get cloth. While comfortable, those can be a challenge to keep clean (just ask my kids what a stickler I am about their not eating in my car). However, Lincoln's climate-controlled seats feature luxurious, soft, ventilated leather through which they "provide a gentle, convective flow to almost immediately help ward off perspiration in hot climates and take the edge off cold winter temperatures" (translation: they are heated and cooled). It is not surprising that nearly half of Lincoln LS buyers opt for those seats, as reported by Lincoln.
Roll Stability ControlTM (RSC) is a recently introduced, industry-first technology developed to reduce the occurrence of rollover accidents. It uses a gyroscopic sensor, along with sensors that monitor yaw rate, lateral and longitudinal accelerations to monitor the vehicle's roll stability condition approximately 150 times per second. "If the vehicle approaches an unstable condition, the vehicle's RSCTM system is activated: engine power is reduced and/or the brakes are applied to one or more of the wheels as necessary to help regain vehicle stability." 84% of Lincoln Navigator customers opted for this system from January through April of this year.
Half also chose a rear seat entertainment system.
All automotive navigation systems are not created equal. From time to time I tell you about trips that I've taken with the guidance of my aging Garmin StreetPilot III GPS. If you've read any of these reports then you know I am less than fully satisfied with this system. While it usually can find addresses that I input – if I've loaded the correct map sets in advance from my home computer and if I figure out the sometimes strange address format that it is waiting for, it still requires slow, painstaking data input, character-by-scrolled-character, and has agonizingly slow overall processing speed of the route directions. Forget about inputting data safely while driving using this method.
Another problem with a slow GPS is if you accidentally miss a turn on a confusing stretch of a big-city freeway (and trust me, doing that is almost a certainty). The Garmin system is so slow that it may never catch up as long as you keep moving. In place of badly needed directions, all you'll hear (repeatedly, as you pass exits) is a very annoying "Off route, recalculating." You might as well take the next exit from the freeway, find a place to safely pull over and stop, and let it recalculate.
Why am I telling you this? Because in stark contrast, Lincoln's new navigation system is fast, intuitive, easy-to-use and DVD-based. It features one single DVD map of the U.S. and parts of Canada so that you don't have to constantly change disks or, worse yet, download map sets from your home computer into the GPS unit. Furthermore, Lincoln's new system responds to over 150 voice commands (in English, French and Spanish), for safe, hands-free operation of the covered functions. As the saying goes, you really do get what you pay for.
I'll leave you with a teaser for near-future automotive high technology from Lincoln. Our new model introduction included an amazing demonstration of the next generation of automotive entertainment, convenience and safety. Thanks to "streaming video" and "Wi-Fi" (Wireless Fidelity) technologies, SIRIUS, Delphi and Lincoln were able to provide a demonstration that included satellite transmission of video, as well as wireless transmission of MP3s directly from a computer to an automobile radio.
Someday soon you too will be able to access live, uninterrupted video channels through your back seat entertainment system (much as you can with SIRIUS audio today), or download a selection of your favorite songs from your computer directly to your car's sound system, wirelessly. That day may be much closer than you think. Down the road, once the infrastructure is in place, imbedded roadside transmitters ("hot spots") will be able to send you important information on traffic conditions, along with news, weather and more.
Drive safely and do join me again next time.
Copyright © 2004, 2006 & 2021 by Jan Wagner — AutoMatters & More #104r2