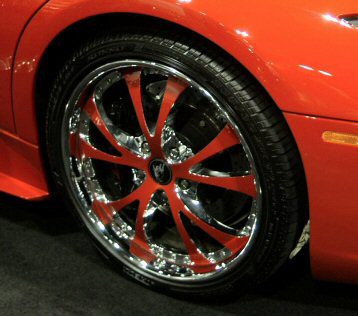 This year's auto show season is about to kick off. While it is not the first, the annual SEMA Show in Las Vegas is certainly one of the largest and best. For four days – November 2 – 5, Las Vegas will be THE PLACE that those in the auto industry – and especially the auto aftermarket industry, gather to see what's new and improved for your ride. Everything and everybody will be at SEMA.
Before I went last year for my first time, people warned me to keep moving – that I would not be able to see everything in four days. I, of course, thought that was absurd. Surely I could easily take in the show in four days, and have plenty of time to roam around Las Vegas too. Well, towards the end of the fourth day I was flying through the last exhibit hall, trying in vain to see all of it before the show closed. I did not succeed. I also did not spend much, if any, time enjoying what Las Vegas has to offer. That was a shame. This year WILL be different.
We've already had two previews of SEMA. Earlier this year each coast held its own International Auto Salon (IAS). One was in Los Angeles and the other was in Atlantic City. Each show represented a subset of the industry – a "trade and consumer show dedicated to the sport compact car market and youth automotive trends."
"The newest products, hottest cars, biggest brands and most influential people in the performance and restyling markets take center stage at IAS." "You'll see exhibits and vehicles featuring the latest in wheels and tires, suspension systems and components, exhaust and intake upgrades, body kits, lighting, mobile electronics, racing equipment, turbos and superchargers, engine management systems, graphics, accessories and more."
I didn't know it at the time but I recently heard that there will not be a West Coast version of IAS next year. So, in a salute to our IAS show (which will be missed), enjoy these fun photo highlights of this year's version. Hopefully they will help whet your appetite for next month's really big show in Las Vegas.
With "more than 1,900 exhibitors in over one million square feet of space" at the Las Vegas Convention Center, this year's SEMA Show "will display products for over 100,000 visiting industry professionals." It will be "organized into 11 market-based sections and will feature a New Products Showcase where an anticipated 1,000 products will be displayed."
The largest section of the show will be dedicated to Racing & Performance. There will also be a world-class display of off-road equipment, making "the SEMA Show the largest off-road aftermarket equipment exhibition.
Mobile electronics, the fastest-growing category of the show, will include "the newest in navigation technologies, entertainment and information systems and a host of safety and convenience accessories." In the "Installer Challenge," audio installers will compete to "showcase technology and encourage dialogue between attendees and expert installers."
"In great measure, the SEMA Show has been responsible for increased technology transfer between aftermarket member companies and OEMs, creating partnership opportunities resulting in positive business relationships." In other words, aftermarket companies come up with innovative ideas and work together with automobile manufacturers to give all of us fresh, new automotive products to choose from.
I am really looking forward to SEMA Show 2004. AutoMatters & More will be there for the entire run, so I'm sure that I will report back to you with lots of good stuff.
Drive safely and do join me again next time.
Copyright © 2004, 2006 & 2021 by Jan Wagner — AutoMatters & More #120r1