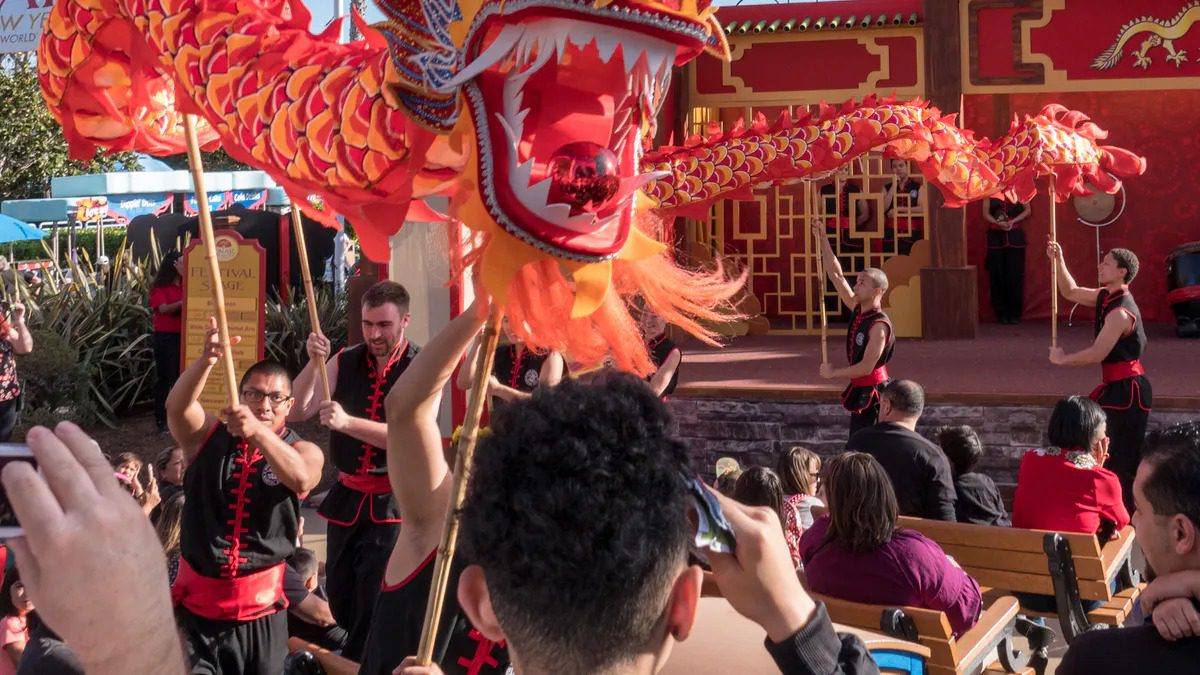 SPECIAL SEASONAL ENTERTAINMENT AT SEAWORLD SAN DIEGO
Lunar New Year, Christmas and more, year-round!
As a SeaWorld San Diego annual pass member, I've taken the opportunity to visit this park many times. Those not in the know might assume that SeaWorld is only what its name implies: a wonderful place to see and learn about marine life, but SeaWorld is much more than that.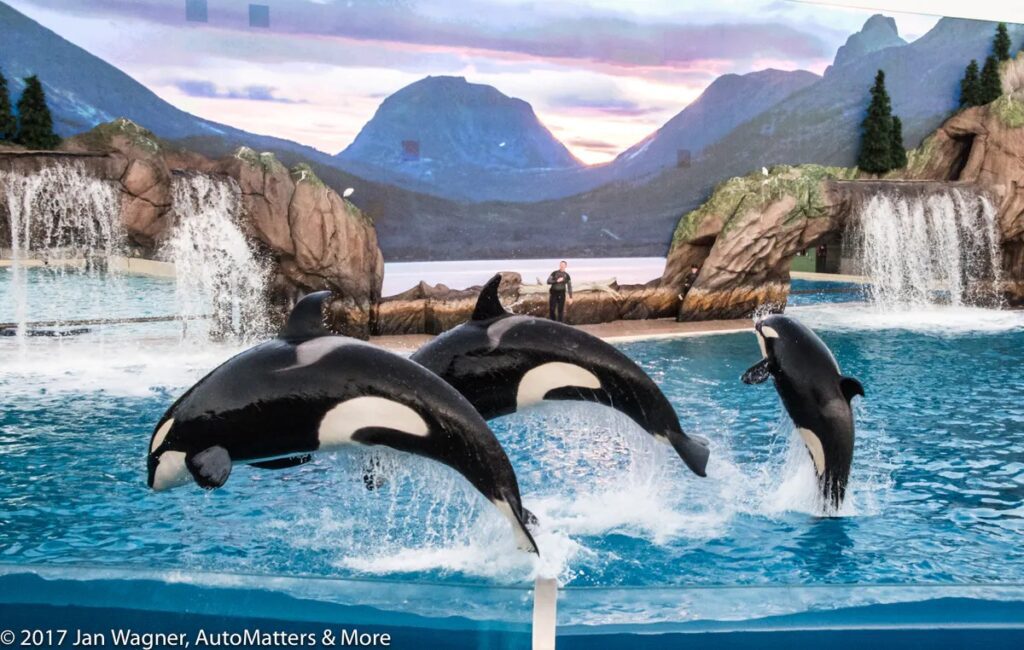 SeaWorld also presents special seasonal entertainment. Weekends in February feature a Lunar New Year celebration. While this is the third Lunar New Year celebration I've seen at different Southern California theme parks, each one has been different and special.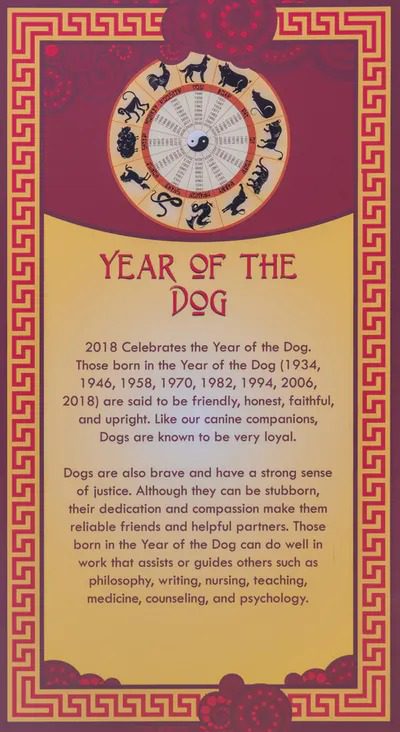 Throughout SeaWorld are colorful Lunar New Year decorations.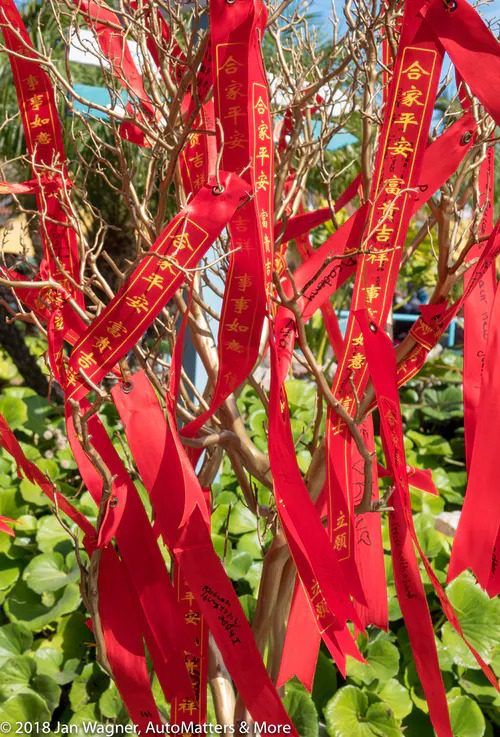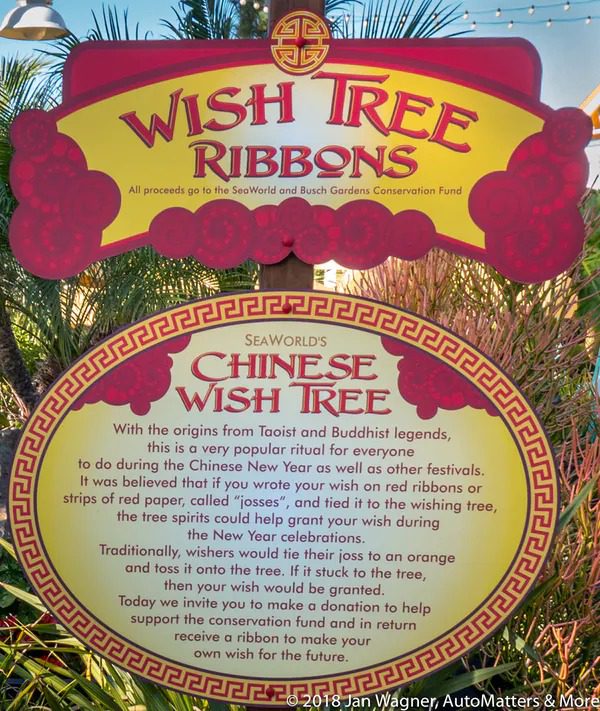 Near the park entrance is the Festival Stage, where you will find live performances of music, dance and more by talented members of local San Diego cultural community groups.
Performers include Naruwan Taiko (traditional Japanese drums, high energy)…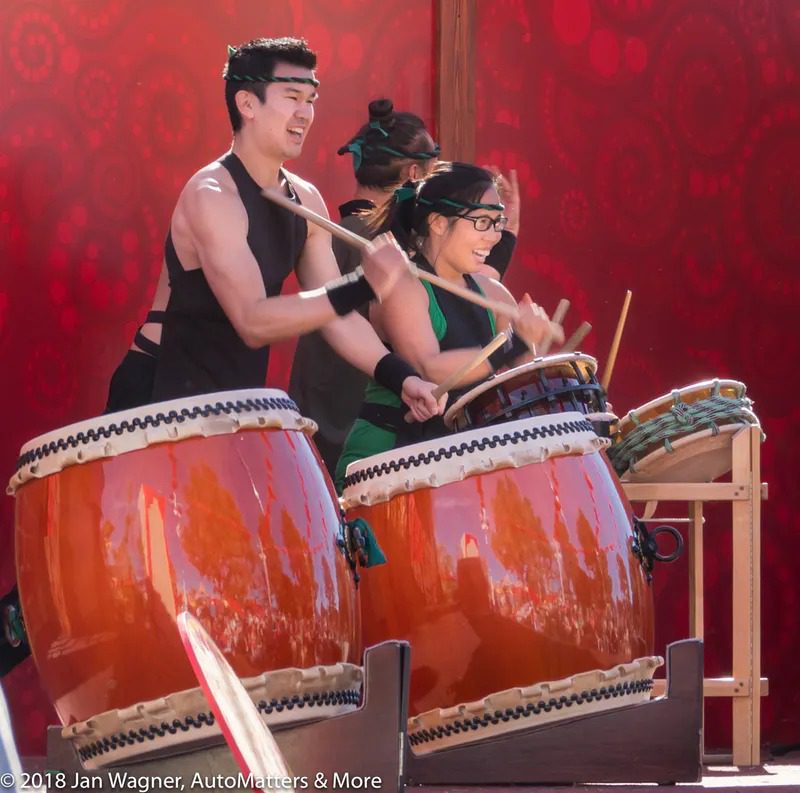 … San Diego Korean Pungmul (music and choreographed dance moves that included hat twirling)…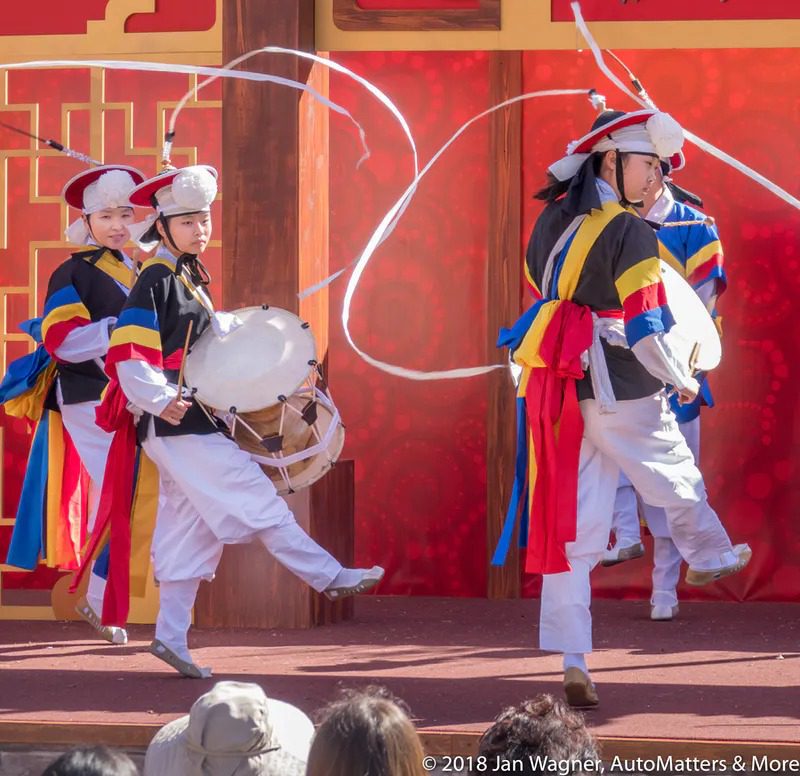 … young students of the Confucius Institute (demonstrating quick, accurate mathematical calculations using the abacus); and Blue Kanon (music).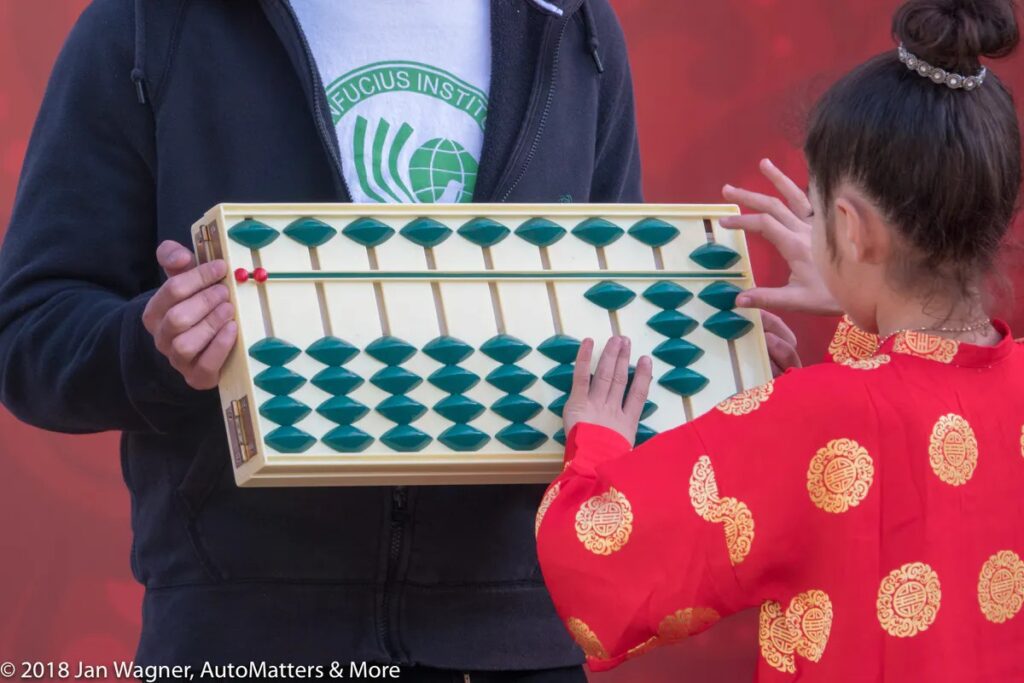 Japanese Taiko goes back over 2,000 years. Drums were once used for communication in times of war and during religious ceremonies. These days the drums are used for awesome performance art. Before our performance began we were given some instruction and taught a few Japanese words.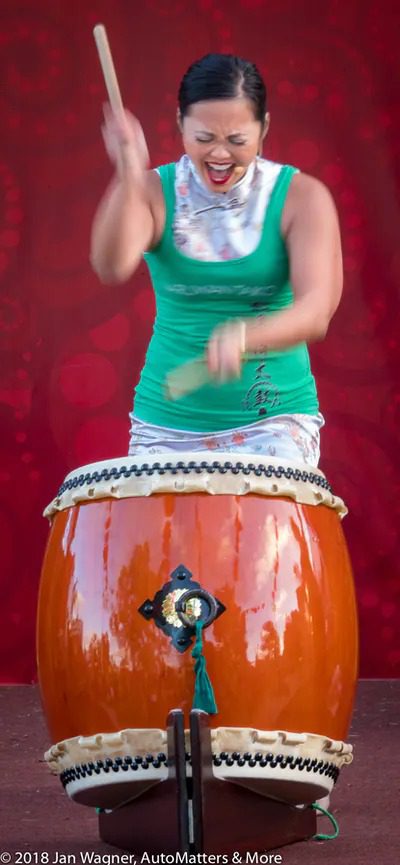 On the day that I was there a large, beautiful owl came to visit. During the informative presentation, we learned that owls can turn their heads 270 degrees, and that contrary to the popular misconception that owls are wise, in reality they are not especially smart. After the presentation we were invited to come up to the stage, have our pictures taken with the owl and ask questions.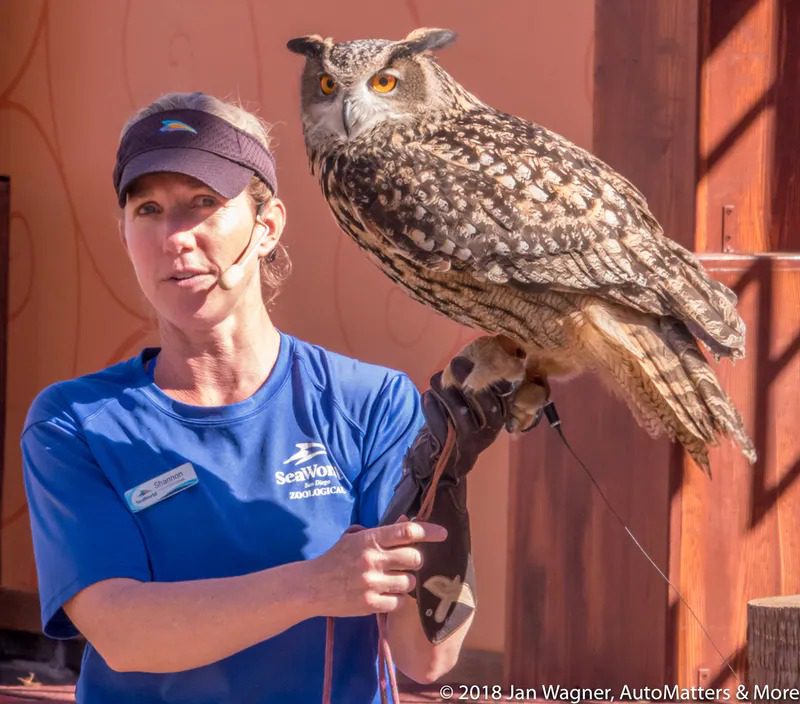 Dating back more than 2,000 years in China, families gathered at the end of the day to practice their acrobatic skills, in preparation for their village harvest festivals. At the "Chinese Acrobats of Hebei" show in the Mission Bay Theater, which was specially decorated for Lunar New Year, we learned that "household materials such as stacking chairs, jars for balancing and plates for spinning became the props for their routines."
"It is a Chinese tradition that has been handed down from fathers to sons, and mothers to daughters. The Chinese province of Hebei is central and well known for their talented and agile acrobats."
In a breathtaking display of balance, strength and co-ordination, a performer builds an ever-increasing stack of chairs as he climbs atop them.
At the theater everyone is given a gift of Year of the Dog chocolate coins, to help celebrate the Lunar New Year.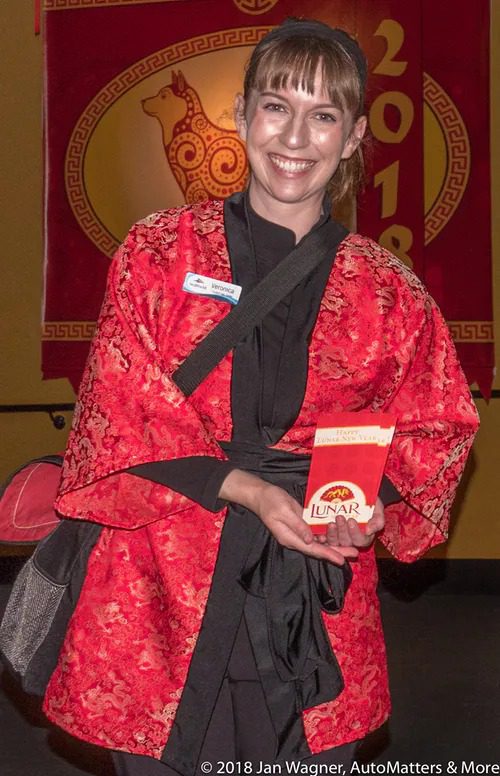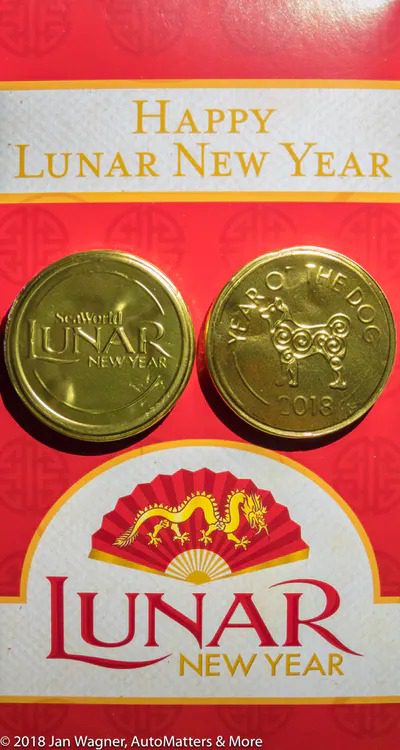 A variety of Asian foods are available. I recommend the Chow Mein Chicken: ginger soy marinated chicken, cabbage, carrots and stir fry noodles. It is delicious and the portion is generous. The line can be a bit long, but the food is freshly made right in front of you and it is well worth the wait.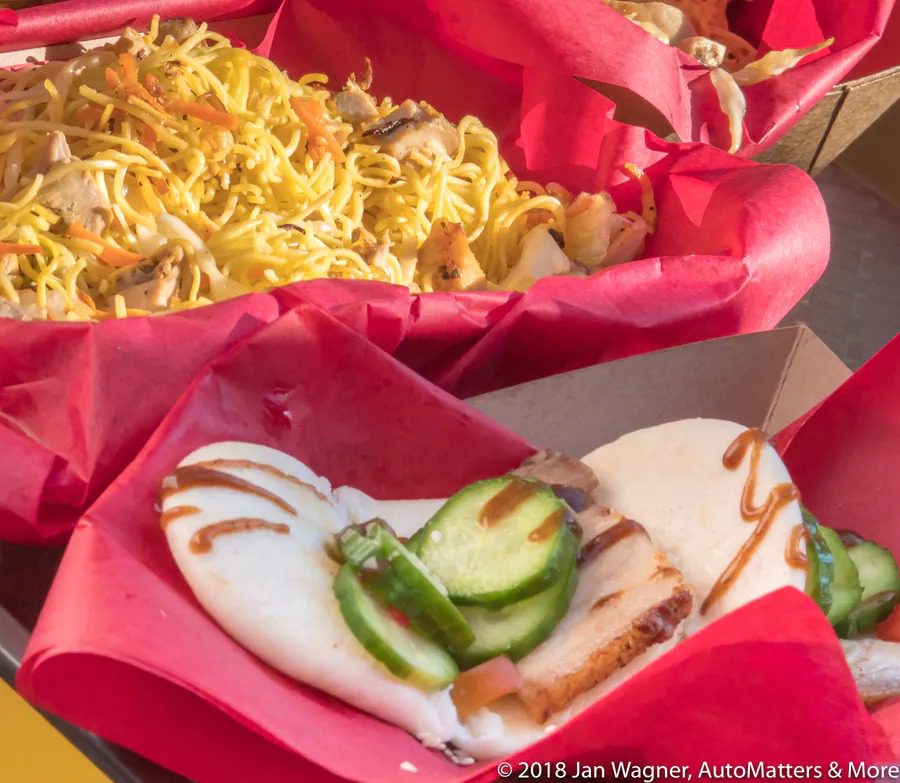 For this, the Year of the Dog, there is a puppy garden. Cute, adoptable shelter dogs play and cuddle as they entertain visitors. Information about the pet adoption process is provided by the Chula Vista Animal Care facility. You might even be able to adopt one yourself.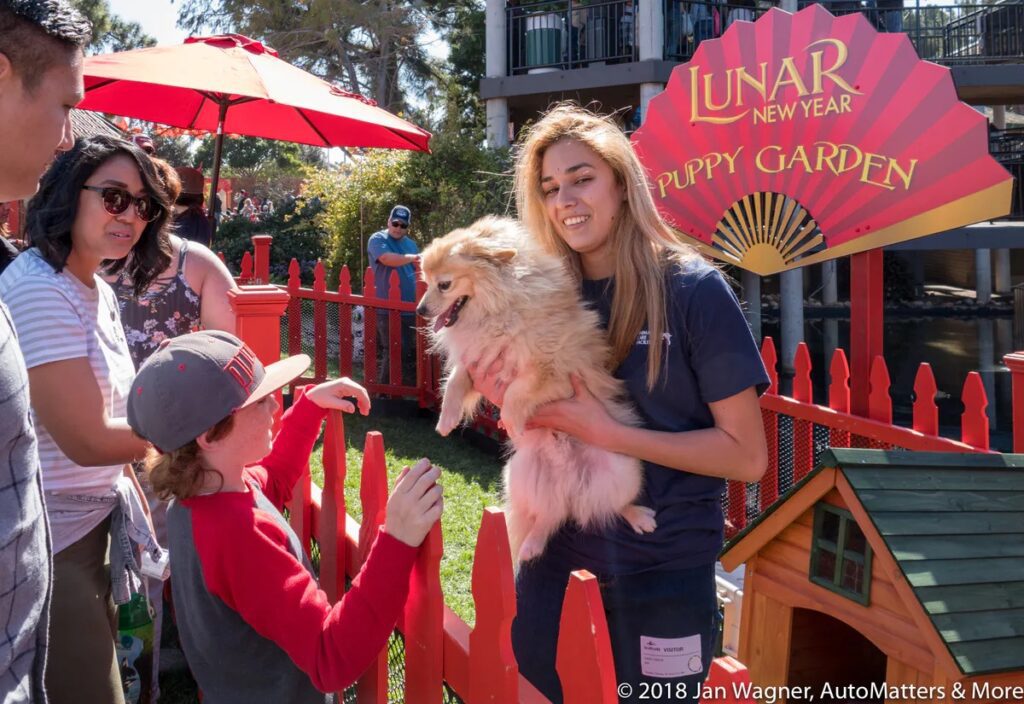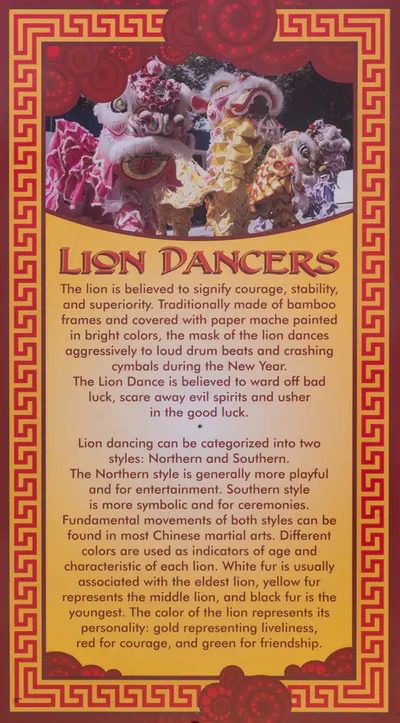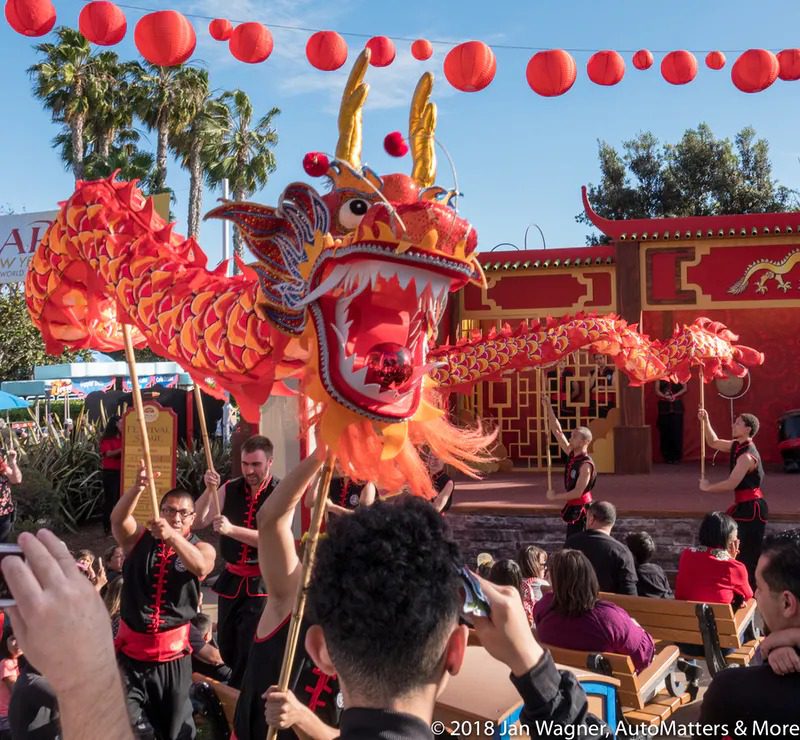 Other seasonal special events at SeaWorld include the "Seven Seas Food Festival" (select dates from March 17 to April 15), where you will be able to sip and sample international street food, crafts beers and wines, and enjoy live musical performances; fireworks, which will brighten the skies to celebrate Memorial Day, the Fourth of July and Labor Day; the all-new Sesame Street Party Parade that will entertain guests on weekends from May 5 to July 1; Electric Ocean, returning this summer; and a park-wide makeover for the winter holiday season.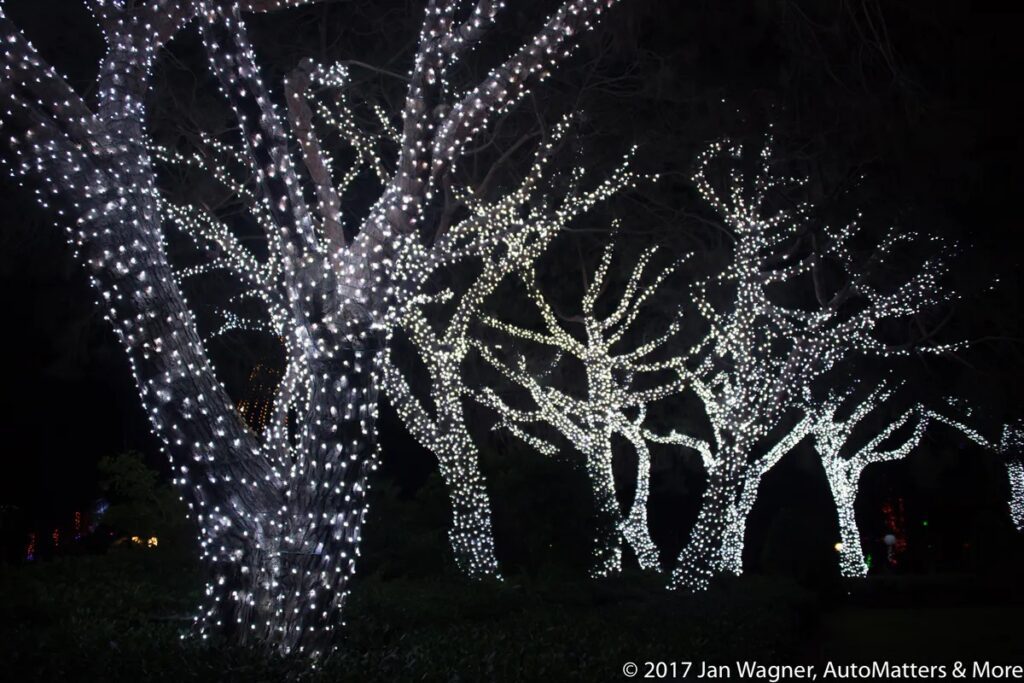 Last year for the winter holiday season SeaWorld entertained guests with the musical "O Wondrous Night"—a live theatrical stage show about the story of Christmas, complete with live camels.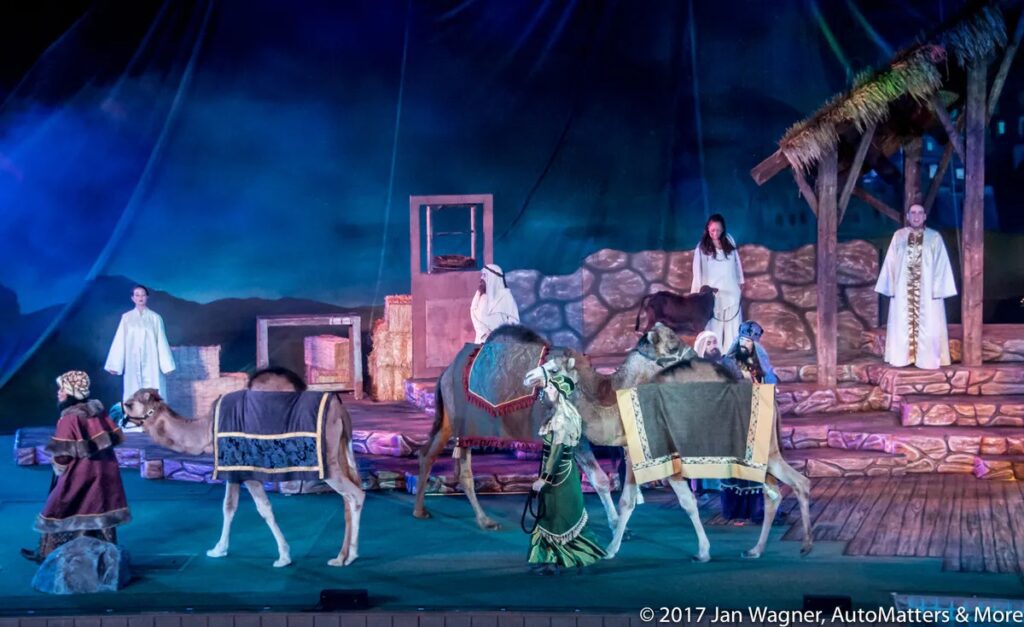 They also had a holiday village with live reindeer, holiday themed sea lion and dolphin shows…View gallery image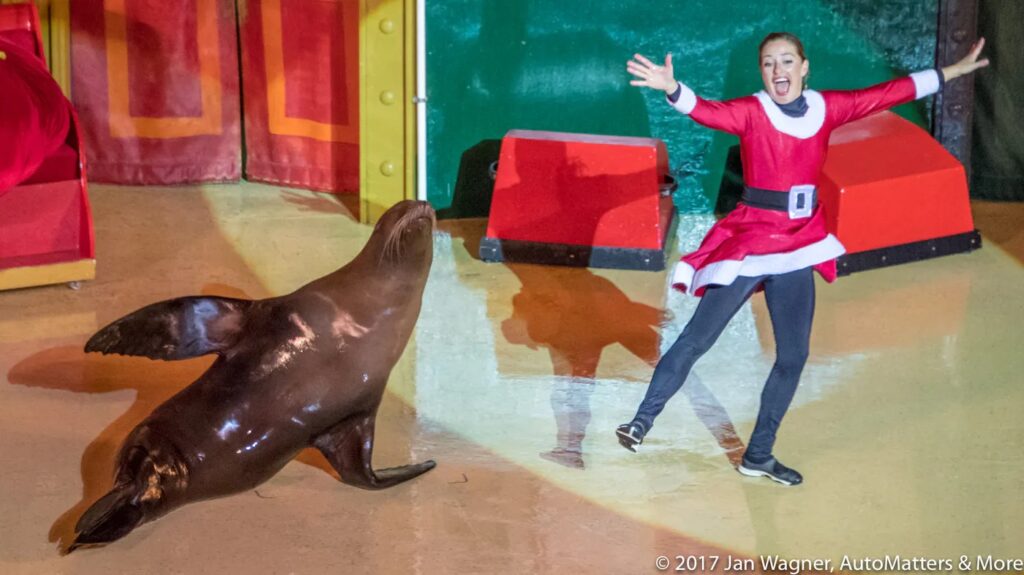 … character photo opportunities…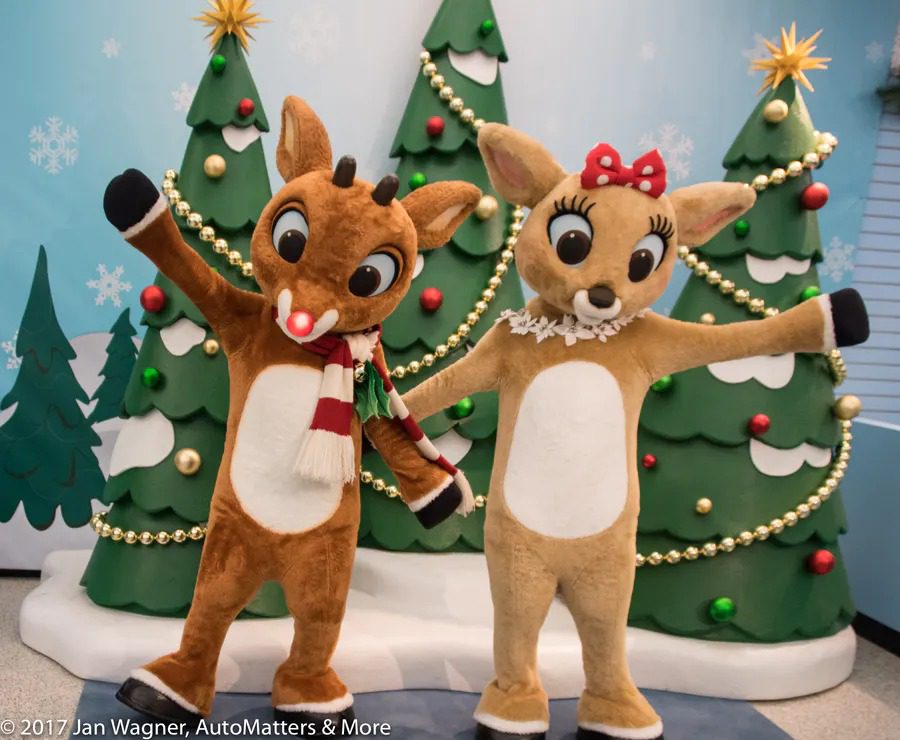 … holiday foods, singers and musicians performing holiday songs, and kids' storytelling – all topped off with the iconic SeaWorld SkyTower, decorated like a gigantic Christmas tree with strings of lights from top to bottom.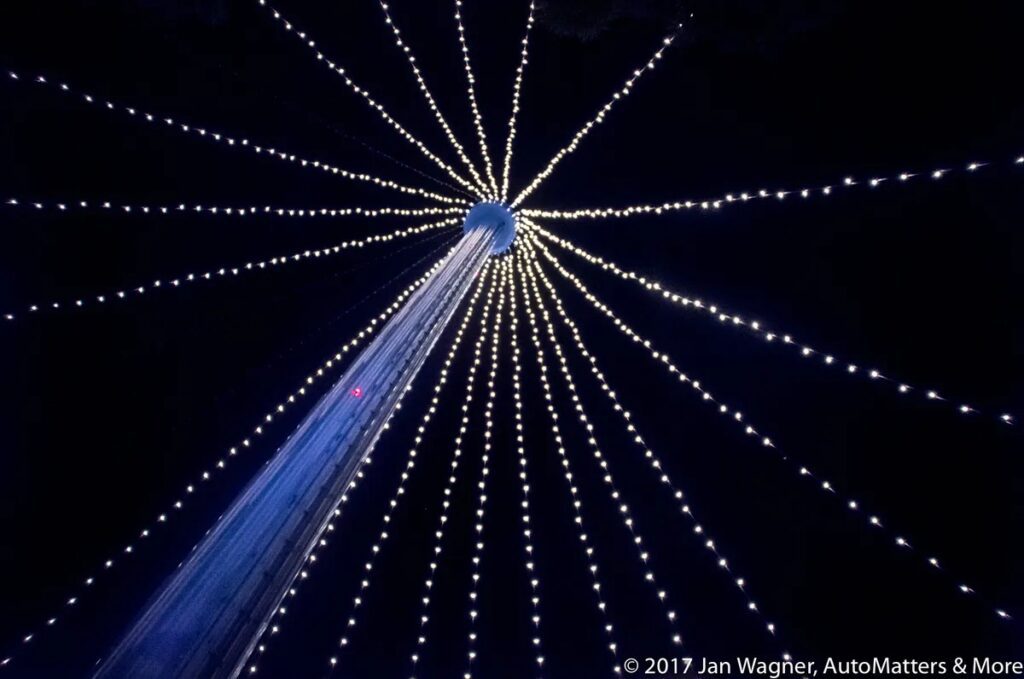 For more information, visit www.seaworld.com/Sandiego and SeaWorldMembers.com.
COPYRIGHT © 2018 BY JAN WAGNER – AUTOMATTERS & MORE #529R1