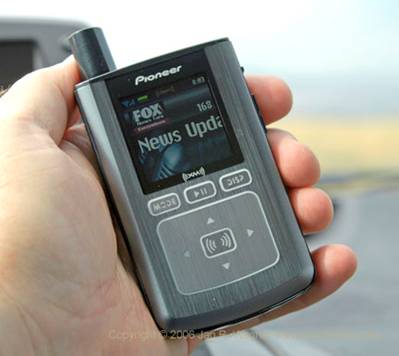 XM2go®: Portable XM Satellite Radio & MP3 Player
My head is bobbing along to crystal clear music right now and there's a big smile on my face. The reason is that I am listening to an XM satellite radio.
The lack of a portable radio designed to receive live XM satellite content is the main reason why I have resisted buying a satellite radio. As with GPS navigation units, I much prefer being able to buy one device that can be moved from place to place. Now, at last, portable XM satellite radios are here. One, which I used for this review, is the XM2go® Pioneer Inno™. It can also store and play MP3s. The other one, which only seems to have minor, cosmetic differences from the Inno™, is the XM2go® Samsung Helix™.
In appearance, the XM2go® Inno™ is similar in size and shape to the small, battery-operated transistor radios that I remember from the 60s. For portable, standalone use, there is a built-in stubby antenna, an on-board battery and a handy carrying case. About the only thing missing is a little built-in speaker. Instead, one must use earbuds, headphones or external speakers. Yes, I know that a built-in speaker would most definitely produce inferior audio, but for the convenience of being able to put down the radio somewhere and easily listen to it and share the experience with others, the tradeoff would be worth it to me. Nevertheless, considering its portability, features, easy-to-use controls and bright color screen, I am very pleased with the Inno™.
For years I have been disappointed by the lack of radio programming that I like to listen to on conventional broadcast channels. When traveling by car I usually prefer to listen to talk radio, but the sorts of programs that I like to listen to are few and far between. XM radio solves that problem. I quickly hooked up the car kit to my Inno™ before I left on a short road trip from San Diego to Orange County and back. The return traffic was terrible, and I moved at a snail's pace most of the way back. However, instead of being bored I enjoyed that trip because of my new-found ability to listen to interesting XM radio programming.
I connected the Inno™ to my car using a car accessory kit. The kit comes with everything needed to play the Inno™ through your vehicle's audio system. When docked, the display on the radio rotates 90 degrees to remain upright.
A convenient, removable clip attaches the car dock to a vent.
My car radio does not have a connector to enable hardwiring external audio sources, nor does it have a cassette deck, which would enable me to use the cassette adaptor. I was worried, based on my previous experience with lesser units, that broadcasts relayed via the Inno™'s built-in wireless FM transmitter would be less than satisfactory. Fortunately I found it easy to find available frequencies and the resultant sound quality was fine.
The small magnetic antenna easily attaches to the roof and its thin wire can be routed to the interior through a variety of openings.
Unlike an AM radio, which has at least some ability to receive channels almost everywhere, XM satellite radio reception seems to be more like that of a cell phone, bars and all. My house has lousy cell phone and satellite radio reception. I found myself wandering around, stopping here and there in between the signal cutting in and out to find pockets of reception. I also lost reception when I pulled into my garage.
A solution when at home is to use the home installation kit. The external antenna can be placed somewhere that has decent reception. Then dock the Inno™ and feed the antenna's signal to it via a wire. Complete the installation by routing the Inno™'s output through your home audio system, for great sound reproduction.
The user guide says it is possible to listen to XM channels on the Internet and to connect the Inno™ to a computer, in order to download songs from Napster™. Unfortunately, despite having been sent a document with explicit instructions, I was unable to successfully complete the installation process using the supplied "XM + Napster™" installation disk. I suspect, from the displayed error message, that some security setting on my computer was at least partly responsible for the failure. It would not install a required and downloaded update to the Napster™ program.
I really liked the ability to easily take the Inno™ with me. For example, I stuffed the receiver, small headphones, a battery charger and the instruction booklet into my carry-on luggage and took them on an out-of-town trip by airplane. Later, at the end of my first day away, I sat down in my hotel room and enjoyed listening to XM programming before dinner. I made some recordings, for playback later. I learned that even if recording is started after a song has begun, as long as the radio was on that channel from the beginning of the song it will be completely recorded, start to finish. That is neat.
Despite my computer problem, which is no doubt easily solved, I strongly recommend the XM2go® Pioneer Inno™. The XM lineup includes over 170 channels. The ability to listen to a combination of plentiful XM satellite radio programming and pre-recorded music at home, in a car and on foot makes it very desirable to have one. For more information, go to www.xmradio.com, click on "SHOP XM RADIO" and then click on "XM2go®" in the product catalog.
Drive safely and do join me again next time.
Copyright © 2006 & 2021 by Jan Wagner — AutoMatters & More #204