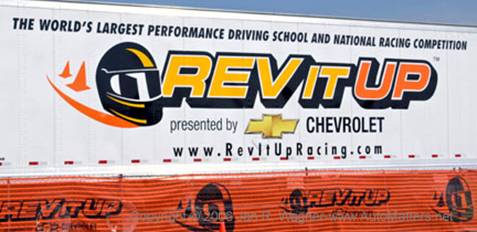 Chevrolet presents REV IT UP® & Important Driving Tips
I'm not one to pass up an opportunity to play with someone else's toys – er, cars. So when I heard about REV IT UP® presented by Chevrolet I quickly signed up. As long as you're at least 18 and a licensed driver, you can too. I'll tell you how at the end of this report.
Billed as "the World's Largest Performance Driving School and National Racing Competition, REV IT UP® features Chevrolet performance vehicles. The basic event is free. One of the vehicles that you'll get a chance to drive, and the one that you might just win – if you pay to participate in the performance driving school and racing competition, is the Chevy Cobalt SS Supercharged Coupe.
The format is familiar. When you arrive, the first thing that you'll see is a big reception tent. You'll be required to sign a waiver before you may go in and play. If you've registered for the full package, which I did, that is where you'll get issued a name badge that tells you when your timed competition laps will be driven.
Before being set loose in the cars, you'll sit down in a tent and get briefed on the rules and regulations. Afterwards, your name badge will be hole-punched so that the staff can verify that you have attended the required safety talk.
The excitement builds as you are presented with a variety of challenging driving opportunities that they call skills clinics. Your friendly instructors are all experienced, professional racers. It is here where you will learn about and practice driving racing lines, effective braking, when to accelerate for the maximum effect and so on. These are all skills that professional racing drivers use to go fast and win races. They are also skills that will enable you to be a better, safer driver on your daily commute. Knowing how a car will respond to extreme inputs will make you a safer, better driver.
While the courses are designed to be fun and challenging, they are also designed for safety. If you go a little too quickly in a section, the most you're likely to do is knock down one or two of the pliable traffic cones that delineate the course.
For many, the high point of their day is driving on the competition course for a chance to win a car. The car you'll drive on each of your two timed laps is the front wheel drive Chevrolet Cobalt SS Coupe. Its specs include 171hp and a peak torque of 163 lb.-ft at 5000 rpm, five-speed automatic transmission, sport suspension and four-wheel disc antilock brakes.
After you're done with the competition you'll be able to see how your times compare to those of other competitors. A system has been designed to adjust everyone's times to take into consideration variables like weather, track conditions, geographic location and so forth. That way, if you go online you can see how your times stack up to everyone at all of the other REV IT UP® events across the country.
Every licensed driver, even if they have not signed up for the competition, will be able to drive a variety of Chevrolets.
Also, for small additional fees, you can do competitive laps on a go-kart course or ride along on "hot laps" with a professional racer in a truly thrilling, 505hp Corvette Z06.
A cafeteria is on-site, so you can buy cold drinks and food. There are also informative vendor exhibits. The one for XM Satellite Radio attracted my attention.
When you ready to leave you'll be asked to complete a short survey – a report card on your day. Then you'll be given a souvenir of your experience.
There are also some neat things for sale. I bought a miniature orange traffic cone, complete with REV IT UP® graphics.
Before wrapping up this report, I'd like to share a few important driving tips that I was reminded of while at REV IT UP®. I can tell you from personal experience that these are all true and well worth knowing:
"Performance driving teaches you to anticipate what may happen and gives you the skills to avoid the accident you anticipated."
"For better or for worse, a car will do exactly what you ask. One key to performance driving is asking the car to do the right things."
"Your eyes will do most of the work and tell your hands and your feet what to do."
"The only portion of a car in contact with the ground is the tire, and only a small bit of rubber touches the road at any one moment. These are called contact patches, and managing these patches is the secret to driving well on the track or everyday streets."
"Smooth is fast. Gentle inputs on gas, brakes and steering wheel yield faster times."
"In a performance driving situation, it is easier to maintain momentum than it is to regain it."
"Slamming on the brakes is not the only way to avoid an accident. In fact that may often result in one."
REV IT UP®, presented by Chevrolet, is being held at several venues coast to coast. As of this writing, events are scheduled in Southern California (July 22-23), Dallas (July 29-30), Miami (Aug. 5-6), Chicago (Aug. 12-13), New York (Aug. 19-20) and Washington, DC (Aug. 26-27). For more information on REV IT UP® go to www.RevItUpRacing.com. You can find out about all of the new Chevrolets at www.chevy.com.
Drive safely and do join me again next time.
Copyright © 2006 & 2021 by Jan Wagner — AutoMatters & More #205