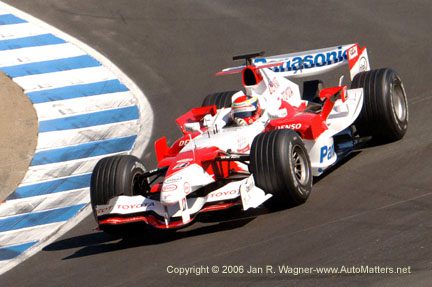 2006 (33rd) Rolex Monterey Historic Automobile Races, presented by Toyota, at Mazda Raceway Laguna Seca
Supplied with an ample quantity of memory cards for my camera, I had come to California's Monterey Peninsula to see the Pebble Beach CONCOURS d'ELEGANCE. I had never been there. But, thanks to the voluntary efforts of a Press colleague by the name of Dicken Wear, I was in for a great surprise. He went out of his way to help me get a Media credential for the races at another place that I'd never been: Mazda Raceway Laguna Seca. Then he took me out to show me the track on Friday afternoon.
Located about half an hour or so east of Pebble Beach near the Northern California coast, the racetrack is situated well above the highway, nestled within gently rolling hills. There seems to be at least two ways to drive up there but either way, suddenly and like a racing fan's dream, the track complex appears before you.
Set down at the bottom of a large, flat bowl, is the spacious paddock and vendor area. The track rises from there and extends, with its many twists and turns, over the hills and out of sight. While there are grandstands, I never found a need to sit in one the entire time. There are hillsides with great views everywhere.
A long-time racer and member of the Media, Dicken told me about the history of some of the many interesting historic cars that we saw in the paddock. He also knows many of the participants. In between catching up on old times with them, he introduced me to Bobby Rahal (for whom the straight right before the Corkscrew is named), Boris Said and Tom Milner.
I was very surprised to see Toyota's current Formula 1 car there too. With test driver Ricardo Zonta at the wheel, it had already made a brief appearance on the track, during which it set a new track record. More on-track sessions were scheduled for Saturday and Sunday.
As if that wasn't enough, I learned that at 9:30 on Saturday morning key members of Toyota's Formula 1 test team would be on hand to describe and explain their car, and answer questions. Open access to the inner workings of a Formula 1 team is highly unusual.
This year featured a salute to Cooper, and to celebrate there seemed to be Minis everywhere – on and off the track. Laguna Seca is very car club friendly.
I left for dinner, tried to get a good night's sleep and then returned early on Saturday morning to enjoy a full day at the races.
Toyota's Formula 1 session began with an opportunity to meet and speak with Ricardo Zonta, and to photograph the car. The engine cover was off, the brakes and suspension were exposed, and nothing appeared to be hidden from view, which was a pleasant and unexpected surprise.
The session continued with two thorough yet informal presentations to our small group by Andy Fuchs – General Manager, Marketing and Communication, and John Matsushima – Senior Engineer, Advanced Strategies, Engine Development. They both work for Toyota Motorsport GmbH.
For Andy's talk we sat at round table in their on-track race shop, where he told us about Toyota's philosophy and racing effort. Since Toyota is a global automaker they chose to compete in Formula 1, because that form of racing has world-wide appeal.
Unlike some teams, Toyota engineers and builds their engine and chassis in-house. A major benefit of this is that they can always take advantage of the latest developments. If they used engines supplied by a competitor, there could always be a question about whether or not their engines were less developed than those of the team who supplies them. They can also respond most quickly with changes if and when they are needed. That should ultimately position Toyota to have competitive technological advantages over other race teams. They seem very confident that they will enjoy success in the near future and are committed to Formula 1 for the long term.
John led us on a fascinating narrated walk around the car. Starting at the front, he pointed out where the various wing elements directed the airflow. Even the tiniest little upturned tabs on the wings have a purpose.
We learned that since the brakes operate best at a certain temperature, the volume of airflow into the brake ducts is controlled to help maintain that temperature.
There are separate radiators for oil and water cooling.
The suspension is controlled by a variety of shock absorbers and carbon fiber pieces.
For much more information about Toyota's Formula 1 effort, go to www.toyota-f1.com.
The climax of our tour was when they started the engine. However the process began an hour earlier, when heaters were connected and turned on to warm the oil. An hour later, as several team members monitored laptop computers, a hand signal was given to start the engine. It was run at various RPMs for a few minutes. It made a glorious, high-pitched sound and I was able to enjoy it from just feet away from the car. I didn't want to leave but I had to. The car would be on-track in another hour and I wanted to be in position to see it.
I spent much of the rest of my day watching the exciting on-track action. First I walked to the outside of Turn Five. It is a fairly sharp left turn which leads into a long uphill stretch. The cars disappear from sight shortly after passing under a bridge near the top of the hill. I got there in time to watch the Toyota Formula 1 car set yet another track record. It went by so quickly compared to all of the other cars that I could hardly follow it.
I stayed there to see the first few groups of historic racecars, starting with pre-1940 Sports, Touring and Racing cars. The first lap of each race provided a great photo opportunity because the cars were bunched up.
In the distance I could see a constant stream of people walking up a long hill. I learned that this was a way to get to the Corkscrew so I left to join them.
I had a great vantage point there shaded by trees, and from which I enjoyed everything from Sports Racing cars to historic Trans-Am cars from the 60s and 70s, and more. We were even treated to more Toyota F1 demonstration laps.
Several drivers found the Corkscrew especially challenging. Thank goodness for rapid fire cameras.
There was much to see at the Corkscrew so I ended up staying there until the day's racing ended.
I ended my day with a walk among the many booths of the Vendor Expo. I tried to resist but did end up buying something – a 1:18th scale, red, beautiful Toyota 2000GT coupe. I just couldn't resist after hearing a real 2000GT's engine started earlier in my track visit.
Then, all too soon, it was time to leave but at least I have hundreds of photos to remind me of my visit.
I would like to thank the track personnel, Toyota and RWB's Jan Fambro for their welcome and very generous hospitality. The Toyota Formula 1 effort was a major highlight of my weekend. I strongly recommend this track and this event.
For more information on the races visit www.montereyhistoric.com.
And what of the PEBBLE BEACH CONCOURS d'ELEGANCE? You can find out soon in AutoMatters.
Drive safely and do join me again next time.
Copyright © 2006 & 2021 by Jan Wagner — AutoMatters & More #206-wr1