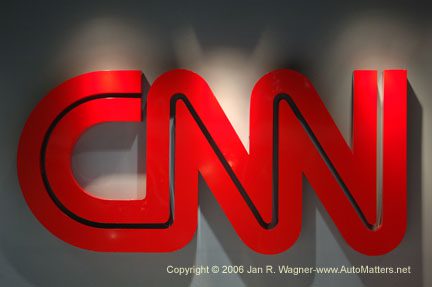 Atlanta: CNN, the World of Coca-Cola and the Georgia Aquarium
This past weekend CNN flew me to Atlanta for an on-camera television interview. While there, I was determined to also gather material for an AutoMatters & More column. Towards that goal I shot hundreds of photos. As always, in addition to the travel highlights there is an automotive angle to this story too. Here goes…
While some may be quite used to it, I had never been one of those special individuals whose name appeared on a card held up at the arrivals area of an airport – that is until this past weekend. As I deplaned and then went to claim my suitcase, a limousine driver was waiting to chauffer me to my hotel. They even spelled my name right!
On the way, the driver stopped so that I could move from the back seat to the front seat and take some photos of Atlanta.
This would be a whirlwind trip. I arrived early on Friday evening and would be leaving in about 48 hours. In between I would be interviewed and then take in whatever sightseeing opportunities that I could.
On Friday evening, I had two things to do: find somewhere affordable to eat and then start to see the sights.
I discovered all sorts of food choices in the sprawling food court right next to my hotel in the CNN Center. CNN plays non-stop on a huge TV screen.
After dinner I grabbed my trusty Nikon and walked across the street to Centennial Olympic Park. It surprised me that such a large open space exists in a long-established, urban downtown area. I was curious to learn about what had been there before and how all of this land was made available. I learned that a variety of aging businesses had once stood here, but to help celebrate the Olympics a decision was made to replace them with this. It goes to prove that much can be accomplished when people have the will (and the means) to do so.
In the heart of the park is a complex of fountains. People of all ages were escaping Atlanta's humid summertime heat and having fun by cooling off atop the sometimes on, sometimes off, dancing jets of water. I stayed there taking photos until the fountains shut down at 11pm.
On Saturday morning I met my contact from CNN and she drove me to a studio for my TV interview. As I recall, the session lasted for about an hour and a half. From that they may only use 30 seconds of material.
It was especially interesting for me to be in front of the camera because, as a TV Writer/Producer, for years I used to script what others were supposed to say and do there. I quickly learned that it is quite different to actually be on-camera as opposed to telling others what I expected of them.
Some might say, with a smirk, that this role reversal was a fitting payback. It certainly taught me a thing or two. Sitting there trying to look at ease and respond intelligently to questions, while being surrounded by a busy television production crew and especially while facing a hot, glaring light just beside a shoulder of my interviewer, really tested my ability to focus on the questions and my answers. I quickly developed a newfound and sincere respect for those who earn their livelihood on-camera. It's not easy. I did my best to give CNN plenty of material to use. I also brought along large prints of some of my best AutoMatters photos. It will be interesting to see how they choose to edit what I said and gave them.
I wonder if CNN would be interested in doing a made-for-TV version of AutoMatters, featuring its broad variety of auto-themed lifestyle and travel reports, as well as racing, auto shows and much more, with this globe-trotting freelance journalist? In addition to my almost obsessive passion for things automotive, they now know that I can think and talk on camera too.
In the afternoon, my marathon tour of Atlanta began. First on my agenda was an eagerly anticipated visit to the World of Coca-Cola.
There are colorful displays containing the world's largest collection of Coca-Cola memorabilia, and a soda jerk demonstrates how the beverage used to be dispensed then versus now.
A theater runs non-stop Coca-Cola commercials.
Visitors may sample familiar as well as many international Coca-Cola beverages. While I still prefer the taste of Diet Coke to any of the others, it is fun to try them – even if I don't appreciate the flavors as much as people in other countries do. For the sake of your stomach, take it easy – the price of admission includes all you can drink and the supply of sodas seems to be never-ending!
Their well-stocked gift store contains an incredible variety of memorabilia for sale – everything from clothing to keyrings to tablecloths. I defy you to leave without buying something. I couldn't.
When my kids were younger, they especially looked forward to going to Las Vegas to taste the sodas at that city's similar World of Coca-Cola. Unfortunately, a few years ago the powers-that-be at the company decided to shut down the soda-tasting part of the attraction. Apparently it was not profitable but it sure helped build brand loyalty. On this visit to Atlanta I heard from a reliable source that the Las Vegas World of Coca-Cola is scheduled for a remodel. I hope they bring back the soda tasting. I'm sure that my kids, and plenty of other people, do too.
As much fun as this one is, a new and much larger World of Coca-Cola is now under construction in Atlanta, located next to the Georgia Aquarium. It should be open by next summer. For a taste of what is waiting for you now and to get a sneak peek at what is to come soon, go to www.woccatlanta.com.
While in the vicinity of the World of Coca-Cola, I also explored "Underground Atlanta." Unlike modern commercial shopping malls that all tend to look somewhat sterile and alike, this subterranean mixture of shops and restaurants has the look and feel of a time long since past.
It is as if years-worth of accumulated dirt and soot from what had been an underground railroad was excavated to reveal long-lost storefronts and walkways dating up to the late 1920s, when shopkeepers moved up to a newly constructed elevated level and away from the lifeblood of Atlanta that was its railway.
I ended my day with a quick walk through Centennial Olympic Park to the Georgia Aquarium.
The Georgia Aquarium has, right from its relatively recent opening, been proven to be an incredibly popular destination. I heard that when it opened, three times the expected number of people signed up for annual passes, and that long lines of people sometimes wait for hours just to get in on nice summer weekends. Based on that information, I decided to pre-pay for a next-day admission ticket, to try to beat the crowds. I recommend that you do the same, either in person at one of the on-site ticket machines, or online at their Web site (www.georgiaaquarium.org). I waited until the crowds subsided late in the day and then bought my date- and time-specific ticket from a machine. This provides for easy admission in pre-determined one-hour blocks of your choice.
On Sunday I went to the aquarium and was in awe of what was there. This is not only the biggest, mostly indoor aquarium that I have ever seen, but it is also the most beautiful.
There are several distinctly different themed areas.
One incorporates a long tunnel where people can see colorful fish swimming above and beside them. Another has an absolutely huge tank where visitors may observe several Beluga whales swimming in and out of view. The experience was almost like being right in the water with them.
Marine life of every description is found in natural environments. Children and adults alike are captivated.
When you get hungry there is no need to leave. Café Aquaria serves up a varied menu in an appealing setting.
The Georgia Aquarium is a must-see stop on a visit to Atlanta, and it is well worth the price of admission.
I ended my visit to Atlanta with a guided tour of Atlanta's CNN Center.
This fascinating tour begins with a ride up the world's longest freestanding escalator. Originally this escalator led to the entrance of a very short-lived indoor amusement park known as The World of Sid and Marty Krofft.
Photos were not permitted during the tour so I'll try to describe it for you. After we were taken to a simulated television control room with a variety of video feeds, we listened in as a director gave his crew instructions for their ongoing production of a live, CNN Washington news broadcast. He described what he wanted to be seen on air, called for shot changes and that sort of thing.
Our tour guide also told us a little about the magic of television production, including a demonstration of how weather people appear to be standing in front of weather maps, when in actuality they are standing in front of green or blue walls. Via a process known as a chroma key, anything green or blue can be electronically replaced with an alternate video source, like a weather map. A little girl on our tour expressed her wonder at how the tour guide was able to make part of himself disappear by wrapping himself in a green-colored piece of cloth. If his clothing had that color in it, it would have disappeared too.
He also showed us how on-camera newscasters appear to have memorized their stories verbatim. While they may have photographic memories, it is much more likely that they are reading from rolling scripts that are projected directly in front of their camera lens by a teleprompter. There are only a few words per line, so there is very little eye movement involved.
For me, since I already have a background in television production, the highlight of the tour was observing the U.S. newsroom of CNN Atlanta in operation. It is there where many talented people are seated at a multitude of computer-equipped workstations or in attached, open studios to gather, prepare and deliver to us the U.S. news on CNN, 24 hours a day.
Finally, as I learned from a report by Chad Myers – one of CNN's self-proclaimed auto enthusiasts, the TV show "Overhaulin" is about to do a Chip Foose overhaul of one of the Humvees that CNN bought and used to cover the Gulf War.
The overhaul of "Warrior One" will probably feature several airbrushed illustrations. On the stripes that surround it will appear the names of people who worked in it during the coverage of the Gulf War.
I look forward to seeing the finished vehicle. Perhaps it will be displayed at the SEMA Show in Las Vegas or at the new and significantly improved Los Angeles Auto Show a little later this year.
Another of the CNN Humvees from Iraq is on display in the CNN Center. A video continuously tells visitors its story.
I thoroughly enjoyed my stay in Atlanta. I suspect that the number of pictures that I took (over 800!) in just one weekend proves that. If you have not been there, I enthusiastically recommend that you visit.
As if my trip thus far had not been enough of a treat, on the flight back home to San Diego the in-flight movie was Robin Williams' hilarious film entitled "RV." It chronicled a hastily planned, cross-county vacation in a large RV that soon lost its parking brake in the first of many absurd accidents. The scene where Robin Williams drove the RV on a mountain trail identified as being for 4x4s only was priceless. Car nuts should add "RV" to their DVD libraries. It is really funny. I actually took a photo from my seat of the movie screens arrayed in the aisles in front of me, as the RV was high centered and teetering back and forth, but for copyright reasons ("all rights reserved") I may not be legally allowed to show you that picture here — at least not without asking for permission first. So, go to the Web site at www.sonypictures.com/movies/rv and watch the movie trailer.
Finally, on our approach to San Diego, our Delta jet chased a beautiful sunset.
Drive safely and do join me again next time.
Copyright © 2006 & 2021 by Jan Wagner — AutoMatters & More #207w