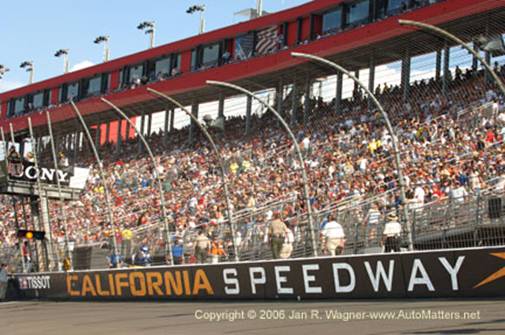 NASCAR Nextel Cup Sony HD 500 at California Speedway (Sept. 3, 2006)
This is a special, extended edition of AutoMatters & More. Seeing its 80-plus photos might tell you that.
I had a great time at last Sunday's NASCAR race at California Speedway.
As Sunday morning dawned at California Speedway in Fontana, there were just two races left to run before what is essentially the NASCAR Nextel Cup playoff season begins. That is why having a good result in the Sony HD 500 race was so important to the few drivers who still had a mathematical chance at competing for this year's championship in the "Race to the Chase."
By the end of the day, only eleven drivers remained with a shot at the Nextel Cup and, in all likelihood, only ten drivers will compete with each other for this ultimate honor. Two drivers — Matt Kenseth and El Cajon, California's Jimmie Johnson, are already locked in, but the rest of the positions are still mathematically up for grabs. For everyone else, the remainder of this NEXTEL Cup season will mostly be about winning individual races, possibly testing new setups under race conditions for next year and looking good to potential sponsors and team owners.
Seemingly unfazed by the pressure, Kurt Busch put the rest of the field on notice when he claimed the Bud Pole for Sunday's race with a blistering lap speed of 184.540 mph.
I began my race day in the garage area. Race teams were really hustling as they made last-minute adjustments and preparations, before rolling their cars through the incredibly thorough NASCAR tech inspection process.
It is interesting to compare NASCAR's inspection process with that of my local SCCA club autocrosses – which pretty much consists of a fellow club member/competitor giving the cars a once-over-lightly that focuses on safety, not rules violations. In stark contrast, at several stations a small army of NASCAR tech inspectors carefully inspect and measure seemingly every minute detail of the cars' chassis, engine, fuel and aerodynamic systems, top to bottom. This is very serious business, no doubt in part because of the big money in NASCAR.
No one seemed to be immune from the watchful eyes of NASCAR. I even saw the series' front runners having to make last-minute changes and then return for re-inspection. You'd think that since they race so often they'd know what they can and cannot get away with, wouldn't you?
Next I tried to sit in on the NASCAR drivers' meeting, but since it was standing room only I was turned away. Instead, I stood outside and took pictures of drivers, race team members and other personalities coming and going.
While I can't say for certain, I suspect that the S.R.O. crowd for this meeting might have had something to do with California's Governor Arnold Schwarzenegger being here.
After the drivers' meeting cleared out, a few people went into or stayed in the room for something else. Curious, I walked in and sat down. It turns out that they were there for the Motor Racing Outreach's Chapel service, which is another long-established NASCAR institution. I decided to stay, and I'm glad that I did. The service, which included live music and a sermon, was a relaxing break in my day thus far – which had included the long, boring drive to Fontana from my home in San Diego. Facing temperatures that were forecast to exceed 100 degrees, I was grateful for the opportunity to recharge out of the sun.
It might seem odd that such a beautiful day could pose a problem for the teams, but conditions on this race day were a real challenge. Drivers and crews had to prepare to competitively race their cars in both the incredibly high heat of the daytime and also the progressively much cooler temperatures at night. No one setup would work so they would have to continually change their cars' setups as the day progressed. The trick would be what to change it to, and when. Those who could best predict the needed setups would have an advantage. The stakes for many couldn't be much higher.
Also, due to east coast broadcast time requirements, drivers would have to race into a potentially blinding California sunset. While they could have dark tinted tear-offs for their helmets' visors, would those be effective against the powerful rays of the sun or, at some point before the sun finally set, might the drivers be momentarily blinded each lap while driving towards the sun? Racing with other cars and not being able to see – even for an instant, could be very, very scary. These drivers certainly do earn their money.
Of course this only added to the excitement for the fans, whose cars and SUVs would cool off nicely by the time that they were ready to drive home.
At some point prior to the start of the race I took time to grab lunch. California Speedway really treats journalists well. As opposed to another racetrack that I visited recently, where there was little more than water and sodas provided to keep us going during our strenuous day, California Speedway prepares complete buffet meals for us to enjoy. I felt compelled to take a picture of my lunch before I completely devoured it.
Afterwards I walked through the pits on my way to the pre-race festivities in front of the main grandstands.
I made it trackside just in time to see most of the driver introductions and the presentation of some special NASCAR awards.
As the drivers were introduced one-by-one on stage, Governor Schwarzenegger was kept busy greeting them and shaking their hands. Some of the drivers seemed more interested in moving on to shake hands with Grand Marshal, first American Idol winner, Grammy Award-winner and Sony recording artist Kelly Clarkson.
Next up was a colorful and spectacular exhibition by skydivers.
Since we were able to cross the track in front of the grandstands to see the pre-race festivities, I decided to save myself a long walk around half of the track later via the tunnel and instead watch the start of the race from those grandstands. My plan was to go to one of the elevators, take it up as high as they'd let me and then find a good vantage point for some photos. The last time I tried this I was able to get to the top row of the grandstand, behind spectators' seats, so that is what I was expecting to do this time too. I entered the elevator and asked its operator to take me as high as he could.
At previous races at this track, Press photographers were issued small arm bands to identify themselves. Instead, this year we were issued bright orange Press Photo vests to wear. I'll bet you could have seen me coming from a mile away. It was also pretty uncomfortable wearing that, my long-sleeved shirt, long pants and sun hat, while carrying lots of heavy camera gear, water and a backpack full of literature about the drivers and the race – all in hundred degree heat. At least I wouldn't get a sunburn. Perhaps this time I looked more official than before because the elevator operator took me all the way to the top floor – or so I thought.
When I got off of the elevator, I was directed to a staircase – leading up. I had no idea where I was going, since I thought I was already on the top floor of the grandstand. Well, not quite. I got to the top of the staircase and realized that I was now on the roof of the main grandstand.
In front of me was a small, raised platform filled with several rows of people in team uniforms. Many of them had binoculars. While they initially appeared to be very serious-looking, intense, diehard NASCAR fans, that was not why they were here. No, they were almost certainly spotters for the race teams.
Beyond them there was a stand with a TV camera, assorted still photographers and police. Most of the space on the roof was unoccupied. What an incredible panoramic view. From here I could see the entire track. Considering it is two miles around, that is really saying something.
For the most part there were no barriers at the edge of the roof. Extreme caution was certainly in order. It didn't help that I hate heights, but it is amazing how I instantly overcame my fear to take advantage of this golden opportunity to shoot unobstructed photos of the entire race track, including pit lane.
Fortunately I had brought my longest camera lenses with me so I was good to go. I hope that you are enjoying the pictures from this "highly" unusual vantage point (pun intended).
Of course I didn't want this to be my only view of the race, so eventually I returned to track level to explore different locations. From there I walked over to a trackside chain link cage, where I had taken several exciting photos at other races at California Speedway. This particular cage was positioned on the outside of the high speed turn leading onto the front straightaway. Within the caged area, a large opening was cut out of the trackside chain link fence so that photographers could take unobstructed photos of the action. No doubt the cages were there to keep non-credentialed people, and the spectators beyond, safely out of harm's way.
As daylight was quickly fading, and with it my camera's ability to take anything other than grainy pictures of the speeding racecars, I had to hurry to get some shots.
The cars were literally as close as a few feet away, with nothing between me and them but a half-height "safer barrier." I could feel the wind as they passed by at speeds approaching 200 miles per hour, and I had to put in earplugs to stop the pain in my ears.
Mostly I shot the cars as they were racing towards me. Although things happen so quickly at those speeds that it probably wouldn't have made much of a difference, I thought to myself that if there was a crash I could quickly grab a picture of it and then still have time to duck down behind the half-height wall. After all, I had been lucky doing this once before, at an Indy Racing League race here in 2004 when the cars of Thomas Scheckter and Tomas Enge collided.
In that incident I somehow managed to get a picture of sparks coming from the cars as they scraped along the track and wall, and what appeared to be a long piece of suspension as it flew through the air just before it passed right in front of me. Between the smoke confusing my old camera's autofocus system, and its inability to take a burst of shots in rapid-fire succession, I was very lucky to have gotten this picture. In case you'd like to read about that race too, here is a link to it in the 2004 AutoMatters column archives: https://automatters.net/2004%20Columns/0121.htm.
Just because I escaped injury once before when I put myself in harm's way, what reason did I really have to expect that to be the case again?
Fortunately for me and the drivers on the track, there were no crashes in front of me at this race to test my luck again, although I did see an emergency vehicle and one damaged car circulating around the track. I suspect the car was damaged when a tire shredded. A blown tire will tear up a car pretty quickly if the car keeps going in order to get back to the pits.
Then I decided that I wanted to get some shots of the cars leaving the turn as well as entering it. Of course to do that, I had to turn my back to the oncoming race cars. I would be unable to see if any debris was flying through the air towards me. I was aware of what felt like little specks of dirt and whatever pelting me as I quickly took a few more pictures. Seeing it just now reminded me that there was a robotic camera in the next hole in the fence. I wonder if they've ever lost a camera in that position.
Needless to say I was not beaned on the head by any detached car parts. Instead, I eventually moved on to take on more pictures elsewhere. I walked what seemed like halfway around the two-mile track, carrying my heavy camera gear and hoping for a track golf cart to show up at some point on my hike to give me a ride – but I had no such luck.
Eventually I made it back to the infield suites area, where I took some more photos of the pits and the cars on-track. I stayed there until the race was almost over.
Thanks to my hot pit pass I was able to get quite close to the area where I would be able to walk to the Victory Lane celebrations after the race. The last time I was here a racecar was driving along the pit lane post-race, just as we were about to cross. That prompted officials to stop many of the assembled journalists, myself included, until the car had safely (and slowly) passed by. That unexpected delay turned out to be the difference between photographing the race winner's initial, jubilant celebration and missing it. I was determined to not let that happen to me again.
This time when the race was over I joined others who literally ran over to the Victory Lane area. I only paused momentarily on my way, to grab a few quick pictures of race winner Kasey Kahne doing celebratory burnouts on the main straightaway, and then I moved quickly to my destination.
I do not yet rate having one of the all-important pieces of tape with my name or AutoMatters on it, to reserve a place on the photographers' raised stands, so instead I crouched down in front of those stands in order to be in a good position to shoot.
This year it all worked perfectly. I got there in enough time to change lenses on my Nikon just before Kasey Kahne drove into Victory Lane.
Shortly thereafter his jubilant team members emptied whatever drinks they had on their driver. He got thoroughly soaked, but I doubt he minded. His crew sure knows how to celebrate.
After that, all that remained for me to do was take pictures of Kasey with his trophy, and also of the traditional "hat dance," where the team members put on a succession of caps for photos for their racing sponsors.
From there I followed Kasey to his post-race interview. He's won five NEXTEL Cup races so far this year – more than any of the other drivers, but he is only in eleventh place in the standings going into Richmond for Saturday's critical race. That's not good enough. He discussed his need to advance, to assure himself a shot at the NEXTEL Cup, but said there is no advantage in getting worried about it now. That may hurt his effort. If he has a good race there and at least one of several drivers currently above him in the standings does not, he can advance but it's probably going to be very close. The pressure on young Kasey to do well there must be enormous.
Assuming that he makes the cut, I wonder if this will be a year that he wins the Nextel Cup. Listening to Kasey speak to us, I couldn't help but like him. Hopefully fame and fortune will not go to his head and change him.
The last thing that I did before I left to drive back home to San Diego was attend an important Press conference. Despite the very late hour (around 10:30 PM) and how tired that she surely must have been, Gillian Zucker, President of California Speedway, almost radiated energy as she cheerfully answered all of our questions and told us about what exciting new improvements they have in mind for California Speedway.
This facility, with its wide and fast, two-mile D-shaped oval track and its signature water tower dating back to when it was part of a Kaiser steel mill, owes its birth as a race track to the vision of the Penske organization. Then, in 1999, it became one of the International Speedway Corporation's family of race tracks that includes Chicagoland Speedway, Darlington Raceway, Daytona International Speedway, Homestead-Miami Speedway, Kansas Speedway, Martinsville Speedway, Michigan International Speedway, Phoenix International Raceway, Richmond International Raceway, Talladega Superspeedway and Watkins Glen (visit ISC's Web site at www.iscmotorsports.com). It looks like we're finally well on our way to having our own major, world class racing facility right here in Southern California. All I can say is it's about time. Thank you ISC.
We learned tonight that as good as the fan experience already is (according to Gillian, millions of dollars have already been spent on an "Opportunity, California FanZone" renovation project, featuring a Wolfgang Puck restaurant, a town center, a full service retail store, new picnic and lounge areas, and a stage for live music), things are going to get a whole lot better in the not-too distant future – at a scale probably comparable to that of Daytona International Speedway, only uniquely different (and hopefully with a Southern California atmosphere). The management and staff of California Speedway seem to be firmly committed to continuing to do whatever it takes to create the "West Coast's premier motorsports entertainment venue."
They get it. They realize the importance of a great fan experience and the huge potential of this vast Southern California market. I have no doubt that their efforts will build momentum for spectator growth going forward.
Now, as I sit at my desk finishing up this AutoMatters column, I've been glancing at a hat that I bought at the inaugural California 500 at California Speedway. Even though it could easily pass for being brand new, the date on that hat says June 22, 1997. No doubt I have photos of that NASCAR race somewhere, although they probably were not digital back then. California Speedway has come a long way in its ten short seasons of existence.
Except for the fact that I'll be that much older, I can't wait to see the racing and entertainment facility that this place evolves into in the next ten years. I look forward to returning here to enjoy many more races, not just NASCAR races but races that are a part of other series as well. Hopefully the Indy Racing League will return to California Speedway soon. They are missed.
We've been keeping this place too much of a secret for far too long. I'll admit right here and now that I didn't even know about the improvements to the "FanZone" until I heard Gillian talk about them at the end of the day. I was immediately very disappointed that I had completely missed seeing it and I am far more aggravated now that I have been reading about it on the California Speedway Web site (www.californiaspeedway.com). Despite the fact that I've reported on several races at California Speedway, I did not have a clue that this was coming. I can't believe that I didn't find about it in advance. If only I had taken some time to look at the souvenir program that I picked up just before the race, instead of afterwards, I still would have been able to take some time to check it out and take some pictures. Hopefully California Speedway will further increase their efforts to make more members of the Media in markets other than Los Angeles more aware of what's going on in the future. I'm sure that they are trying. It is a difficult but necessary task.
Please help motorsports in Southern California by going on the California Speedway Web site (www.californiaspeedway.com), see what is coming up, including more exciting NASCAR racing next February, and then spread the word to your friends about events at California Speedway. Also roll over the "FAN INFO" button and click on "New Midway."
Drive safely and do join me again next time.
Copyright © 2006 & 2021 by Jan Wagner — AutoMatters & More #208w