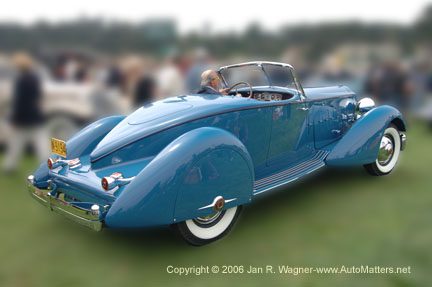 56th Annual Pebble Beach Concours d'Elegance (Aug. 20, 2006)
The Annual Pebble Beach Concours d'Elegance is all about beautiful, rare cars – and the many people who enjoy and appreciate them. The cars on display are all there by invitation only and are brought from around the world. They are valued at over $200 million. This event is billed as "the world's most prestigious classic auto show and competition."
I had never been here before but year after year, after listening to people come back and rave about the great time they had – that if they could only pick one car event to attend, this would be the one – that is ultimately what convinced me to pay the exorbitant price of my motel room in Soledad and go, at least this once. I'm so glad that I did.
For those of you who may never have been, let me try to give you the lay of the land. I say "try" because there is so much to see and do here that it could easily take several visits just for me to figure it out.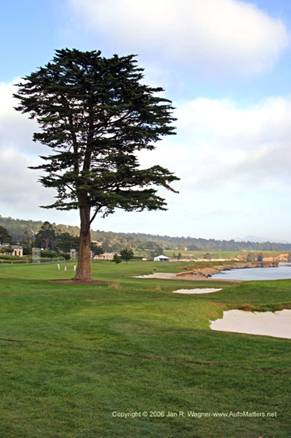 Pebble Beach is a breathtaking golf course on the Monterey Peninsula, which is on the scenic California coastline just a little bit south of San Jose and, beyond that, San Francisco. Once a year the golfers share the 18th fairway of their golf course with cars – not just any cars, but the very best of the best.
Approaching Pebble Beach on the Friday before the grand show I found it oh-so-easy to become spellbound and distracted by the rugged beauty of the coastline. The fact that it was chilly and overcast made it even more dramatic. Even though I was very close, it took me an hour and a half to eventually park to go to the grounds because I kept stopping on the nearby "17-Mile Drive" to take photographs.
When I finally did park I was able to learn a little about the many events going on, leading up to the concours on Sunday. This included premiere collector car auctions and the Monterey Historic Automobile Races, which I went to on Friday afternoon and again all day Saturday (for coverage of that event, see AutoMatters #206 in the Column Archives at www.automatters.net). It is very difficult, if not impossible, to see everything.
At a late afternoon reception on the golf course I saw (and heard) the 2006 Dodge Challenger concept. I think it is safe to say that the Challenger will be a huge sales success story, if it remains true to its concept.
I returned early on Sunday morning to begin my day at the concours. On Friday, I had been strongly advised to get there about 6 AM. Try as I might, I just could not manage that. I ended up getting there around nine.
It was impressive to witness how well large numbers of people were moved to the event site, since the area in the vicinity of the golf course is dotted with beautiful homes and lush grounds, not vast expanses of parking lots. The organizers made arrangements for people to park quite far away and then bus in to the event site. This worked amazingly well, and quickly. I parked at a school, almost immediately got on a comfortable bus and after a short ride I was there.
There are all sorts of sights to see before getting to the concours. Several manufacturers and automobile auction companies had cars on display.
At "RetroAuto" spectators were presented with the opportunity to purchase a variety of high-end automobilia.
When I finally made my way to the golf links by late morning, I was part of a flowing sea of people. If there had been any post-sunrise opportunities to capture unobstructed views of the automobiles surrounded by the lush green grass of the 18th fairway, the time for that had long-since passed. However, it was not a problem. I had remembered to bring along a wide angle lens which, along with a little bit of patience, allowed me to get entire cars in the shot. I could always throw the people in the background out of focus later, with Photoshop (Elements 4.0 if you're curious. It's inexpensive and it works just fine, thank you).
The sun came out from behind the cloud cover. Between that and the backdrop of the Pacific Ocean, there were some wonderful photo opportunities.
A day here is best spent walking around slowly, looking not only at the cars from a distance, but also close-up, to see their details.
That is what the judges do, as this who's who of automotive experts from a wide variety of disciplines – from racing to auto design, mingled with us and made their many difficult decisions.
Time passes very quickly here because there is so much to see. It is great to be able to get so close to the cars.
Before I knew it the time had come for everyone to get ready to enjoy the parade of cars to the awards presentation area.
At car races people usually buy assigned seats. Pebble Beach is different. It was possible and, I found, quite desirable to enjoy the cars from various vantage points. I followed the cars as they left their assigned spaces on the golf course and headed towards The Lodge at Pebble Beach.
The award winners each paused briefly to collect their trophies and then drive away. This was an excellent opportunity to see and hear about each spectacular automobile.
Every year the Pebble Beach Concours d'Elegance raises over half a million dollars for charity. Several automobiles are raffled off to help reach that goal. This year's raffle winners were announced and then introduced by Jay Leno. One of the concours judges was stunned to hear Jay announce his name as one of the lucky winners. Those who did not win were certainly well entertained by Jay. If I go again I definitely plan on looking into buying some raffle tickets. They gave away great cars and you can't win one if you don't enter.
The winner of this year's Best in Show award was an absolutely incredible 1931 Daimler Double-Six 50 Corsica Drophead Coupe, owned by Robert M. Lee of Reno, Nevada.
With that, all that remained was my beautiful drive back to San Diego the next day.
Perhaps, if I can find a more reasonably priced and closer room, I'll see you at Pebble Beach next year. Drive safely and do join me again next time.
Copyright © 2006 & 2021 by Jan Wagner — AutoMatters & More #209