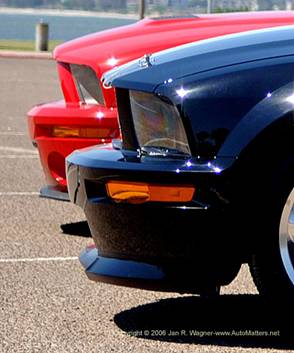 Bold Moves Indeed: 2007 Ford Shelby GT & Shelby GT500
I have a real treat for you today but I feel obligated to warn you now, before you read any further. Doing so could end up causing a pretty healthy dent in your bank account.
I felt like I was Steve McQueen getting ready for the San Francisco chase scene of his classic movie "Bullitt."
It began with the tempting burble of the engine as I started up the race-prepped Shelby GT and blipped the throttle a couple of times, just for kicks.
I was behind the wheel of a very special Mustang – a pre-production prototype of the 325 horsepower, 2007 Ford Shelby GT that you will be able to buy in January.
It was very similar to the Ford GT-H introduced earlier this year; the one they rent at select Hertz locations – only even better. Whereas the Hertz version is intended for rental car duty and comes with an automatic, this one comes with a very positive-shifting, Hurst manual gearbox. This Ford Racing-prepared Shelby Mustang is all business, right down to the wired pins that secure the hood.
I slipped the Shelby GT into gear and moved out, impatiently searching for my elusive quarry. One quick jab at the throttle and the chase would be on…
I would have liked nothing better than to drop the clutch, smoke the tires and really see what this car would do but let's get real — I was on the streets of San Diego, not a race track, and I'm not Steve McQueen. I wasn't on a hunt for bad guys in a certain black Dodge Charger. Instead, I was on the lookout for the restaurant where we were all meeting for lunch.
Almost before it began, my search was over and it was time to get out of the car. I barely got a chance to open it up but don't worry, I've saved the best for last.
After lunch, for dessert I got to drive the other Mustang back to our starting point. This red convertible looked docile enough but, as I soon found out, looks can be very, very deceiving. This car defines the word "sleeper."
The Shelby GT500 is the result of a collaborative effort between Ford's Special Vehicle Team (SVT) and the legendary Carroll Shelby. At the heart of this red, 2007 Mustang is – are you sitting down? – a 500 hundred horsepower, 5.4 liter, supercharged, intercooled, double overhead cam monster V-8 engine with 480 lb.-ft. of torque! It has unique connecting rods and forged pistons, along with four-valve cylinder heads from the Ford GT. This truly is a supercar engine.
Outside, it sports functional heat extractors on the hood. The fog lights have been resized and moved from the standard Mustang's position on the upper grille to down below, to maximize airflow to the engine.
Have you seen the video yet? If not, it's on the Web at http://www.svt.ford.com//. Just click on "AUTOBAHN BLAST!" on the 2007 Ford Shelby GT500 overview page.
It shows the coupe model blasting through Germany. Why? Because the speed limits are not nearly high enough to truly enjoy this car on public roads back home, that's why. Enough said? Oh, and if you listen closely you'll hear the whine of the supercharger. It's enough to bring a car enthusiast to tears.
Slip inside and on the leather-trimmed front seats you'll find extra bolstering for added support while cornering.
With a strong, yet easy-to-shift, 6-speed Tremec manual gearbox and 4-piston Brembo front disk brakes, it has the hardware to run up hard through the gears and then stop right now, over and over again. Thick stabilizer bars, independent MacPherson strut front suspension with special control arms, and a three-link solid axle with coil springs mean that the GT500 will carve through turns, too. ABS and traction control also make it easy to control all that power around town.
This is billed as "the most powerful factory-built Mustang ever." That's good enough for me. I want one. Make mine a red coupe with a pair of wide, white, Le Mans racing stripes down the middle, GT500 stripes along the side, and of course the red and black interior.
According to the Web site, the Shelby GT500 is already on sale! I strongly suggest that you get your checkbook ready because when you read these prices you surely will not be able to resist: $42,975 for the coupe and $47,800 for the soft top – and there should be enough built to go around. Need I say more?
If you like fast cars as much as I do, you don't just want one of these cars, you absolutely, flat-out need one. Now. Your mind is racing a mile-a-minute, figuring out how to make that happen. Bold moves, indeed! This is what we live for. So, what are you waiting for??? Your Ford dealer is waiting for you. Just save one for me, okay?
Drive safely and do join me again next time.
Copyright © 2006 & 2021 by Jan Wagner — AutoMatters & More #210r1