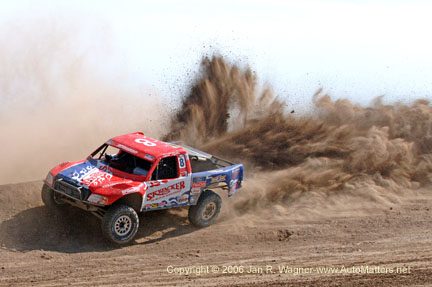 CORR Nissan Off Road Nationals: Chula Vista, CA (Sept. 2006)
Do you love watching fast-paced auto racing, live and in-person? Can't get enough door-to-door, fender bending, flying-through-the-air action as the competitors claw and scrape their way to the checkered flag? Then today's AutoMatters column is especially for you!
CORR stands for Championship Off Road Racing. I just came back from my second CORR event — the Nissan Off Road Nationals, which were held at the Chula Vista International Off Road Raceway. This sprawling complex is ideally suited to short course, off road racing.
The elevation changes help make the course challenging for competitors and exciting for the spectators. It's also really easy to see from the grandstands.
This is great entertainment and about as rough and tumble as four-wheeled motorsports gets. Furthermore the weather was picture perfect, and the parking was nearby and plentiful. What more could a racing fan ask for?
Short course, off road racing is ideally suited to action photography because most of the track can be seen from just about everywhere. All that is needed is a camera with a fairly long telephoto lens. Follow the action through the viewfinder and soon you'll probably find yourself stepping back for cover. I did more than once in the course of taking about 700 pictures!
The trucks compete in several exciting classes, including full size four wheel drive and two wheel drive, as well as light duty, two wheel drive. Depending upon the class, horsepower ranges from 300 to 800. These are all seriously fast and loud, and they rarely seem to have all four tires on the ground at once.
Besides pickup trucks, there are also races for buggies. Offering plenty of wheel travel to negotiate the jumps and rough terrain, their horsepower ranges from 60-70 to 140-200, again depending upon class. The more powerful buggies have more up and down wheel travel.
This is a family sport. While I was here I watched two races just for kids aged 8 to 16. They competed with each other in scaled down race trucks. Make no mistake, these are not toys. Their brave young drivers caught some serious air as their proud parents and friends cheered them on.
While from a distance the trucks look like somewhat modified pickups, look behind their easily removed fiberglass skins and you'll see rugged, cage-like structures that protect both the occupants and the mechanical components. That's how they can bang, roll and flip, yet still be able to come back soon and race again. They are specially designed for that purpose. As a result, you will see plenty of exciting action on the track. This is a contact sport!
The racing is hard on the track, too. Every so often the drivers have to stop racing to allow the skilled, efficient track workers to do some serious re-grading.
Current stars of the sport include Johnny Greaves, Carl Renezeder, Jeff Kincaid, Gary Nierop and Jeffrey Knupp, but this is not just for men. Other drivers include Cissy Baldwin, Rhonda Konitzer, Krissy Sullivan and Lisa Grint. Yes, women race too and from what I've seen they're every bit as daring and competitive as the men.
The entertainment included spectacular daytime fireworks.
CORR supports our troops. 4,000 reserved seating tickets were donated to Southern California military bases.
If you have not been to one of these events in person yet, you can see them on TV on the SPEED channel. The events begin airing in early November.
One camera was mounted on a motorized, wheeled contraption and then suspended directly over the racing action, where it sped back and forth along a cable. I can't wait to see the shots that no live camera operator could safely shoot. Trust me, I tried but soon ran for cover when a wayward racer blasted down the side road where I was positioned with my camera. I wonder if that piece of the action will make it to TV?
Have you ever been to a big time car race where you couldn't get anywhere near the cars and the drivers in the pits? That's certainly not the case in CORR. There are plenty of team members who are more than willing to talk about what they do. I spoke with several team members as they worked well into Saturday night, getting ready for the next day's races.
This three day CORR off road racing event is long gone but more are on the way. To find out when and where, visit the CORR Web site at www.corracing.com. I can hardly wait until CORR returns here, to sunny Southern California. Go. You'll have a great time. I sure did!
Drive safely and do join me again next time.
Copyright © 2006 & 2021 by Jan Wagner — AutoMatters & More #211