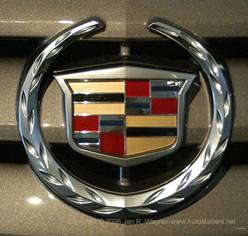 2004 Cadillac Drive Summit
Quick – what automotive characteristics come to mind when you hear the word Cadillac? Luxury? The ultimate in driving comfort? Ample luggage and passenger space? Refined touring? (I'm being kind here. I'm not going to include "our parents' cars").
If so, congratulations are in order because you are correct – well, sort of. Yes, you can still purchase (or lease) automobiles with these characteristics from Cadillac dealers. Cadillac is not abandoning their loyal customers who expect such attributes from GM's premier brand. But now, once again, the name Cadillac truly promises – and delivers, on automotive excellence with breakthrough technology and styling. It is time to expand your perceptions of today's Cadillac.
A younger audience really needs to see – and much more importantly drive, the newest and best of today's Cadillacs. No doubt that is why Cadillac recently invited drivers of competitive premium brands – imports such as BMW, Mercedes and Lexus, to an event they call "The Cadillac Drive Summit."
I know, there are probably some of you, perhaps many of you, that doubt what I am encouraging you to believe, but these new Cadillacs truly do appeal to driving enthusiasts in a very big way. I eagerly drove all the way from San Diego to the event in Irvine because I knew what Cadillac has come to represent. I already knew that they now make vehicles that I truly like and yes, aspire to own. The Cadillac CTS V-Series and the XLR Roadster rank favorably with the best of the sport-oriented imported models.
The event began indoors, complete with a generous variety of Hors D'oeuvres to accompany a live presentation of several of the latest and greatest Cadillac vehicles. The presentation was very well done. Rather than have to crowd around to see the various vehicles, we were able to remain comfortably seated at our bistro tables and chairs while a cameraman shot live video and our host described what we were seeing on the large television screens. Then we were invited to move outside to see and drive for ourselves.
Let's start with my personal favorite, the new Cadillac CTS V-Series. The V-series designation represents an ultra-high performance treatment applied to select Cadillac models. This one is the first.
Starting at an MSRP of $49,995, the CTS V-Series is a car that competes with BMW's hottest three series model – the almighty M3 (the new one). You think I'm nuts? What if I tell you that this muscular 4-door sports sedan with modest exterior dimensions (read not overweight and not oversized) is propelled by a 400-hp high performance, 5.7 Liter LS6 V8 engine; includes a taut sports suspension (with a StabiliTrak stability enhancement system) and large, four-piston Brembo ventilated disk brakes; and is only available with a 6-speed Tremec manual transmission? How about that it does 0 – 60 mph in only 4.6 seconds and handles tight curves and hard stopping on a sportscar level? Or that it is a car you could take ON, not just TO, a racetrack? And yes, it also has the latest styling cues, right down to its (6-lug) 18" wheels. Now are you getting the picture? Before you buy that M3 or any other high performance sports sedan, you must drive this car.
While specifications of the new Cadillacs certainly do look good on paper, they also translate into very impressive real world driving performance. To prove it, Cadillac put its cars on the line – literally. In live demonstrations and driving opportunities on challenging, fast courses, professional drivers and prospective customers alike repeatedly compared this and other Cadillacs to some of the best vehicles that the competition has to offer. In one such challenge, test drivers raced a Cadillac CTS V-Series head-to-head against a BMW M3 to get to speed and then went on to see one which could stop in the shortest distance. The Cadillac won! And not only did it win, but its run included a twisty chicane, whereas the BMW was only asked to drive in a straight line.
When I drove the CTS V-Series for my first time my reaction was an honest "****– this is a Cadillac?" I want one of these cars so badly you probably wouldn't believe it. An acquaintance of mine – who, like me, also autocrosses, agreed with my prediction that this could be a dominant autocross car in the Sports Car Club of America Solo II series – competitive driving events that are open to all makes. Driving it really got my adrenaline pumping. I want more seat time in this car. I want one of my own.
Of course Cadillac is not a one-model car brand. Nothing could be further from the truth. We were offered a wide variety of Cadillac and competitive vehicles to drive, from SUVs to more traditional sedans.
The Cadillac SRX was presented for our driving pleasure along with the Lexus RX 330, Mercedes-Benz ML 350 and the BMW X5 3.0. The SRX typified Cadillac's state-of-the-art technology with the optional availability of Magnetic Ride Control. At the heart of this system are shock absorbers that contain something that Cadillac calls "magneto-rheological" (MR) fluid.
This technology is amazing and was explained to us via easy-to-understand demonstrations throughout the event. Unlike in traditional shock absorbers where valves control the flow of consistent fluids, thereby controlling ride and handling but within a rather limited range of parameters, MR fluid includes some sort of metal that almost instantaneously reacts to an applied magnetic current. This enables the shocks to automatically have infinitely and virtually instantaneously variable shock damping – with the capability of changing settings up to 1,000 times per second. Vehicles equipped with these shocks can appropriately react to everything from panic stops to leisurely trips on the freeway, from spirited drives down twisty two-lanes to bumpy trails – and everything in between. I drove a Cadillac SRX equipped with this system and found the handling, even when pushed hard, to be excellent.
The new Cadillac two-seat sportscar – the XLR convertible, comes standard with Magnetic Ride Control. This car is, for lack of a better description, Cadillac's up-market interpretation of the ultra-high performance Chevrolet Corvette. This Cadillac makes a strong visual statement with modern, edgy styling and an automatically retractable hardtop. When you get in you just push a button to start it. No key is needed. It has voice recognition technology. This car is also seriously fast, propelled by a high torque, 4.6 liter Northstar V8, complete with efficient variable-valve timing.
The Escalade models are full-size, luxurious SUVs, offering all of the bells and whistles, a computer-controlled, road-sensing suspension, all-wheel-drive and, as you would expect, plenty of room for people and their stuff. However, to me, how vehicles drive is just as important, so I pushed the Escalade hard on the driving course to see what it would do. Yes, it does lean somewhat when subjected to very hard cornering, but I was pleasantly surprised to see that its handling is progressive, predictable and, as far as I'm concerned, relatively safe for a vehicle of this size. That is very important in unpredictable, panic driving situations.
Finally, we had a sneak peek at the new 2005 Cadillac STS luxury performance sedan. Slated for arrival later this year, this all-new, distinctively styled and ultra-sophisticated, US-built sedan includes a choice of rear-wheel or all-wheel drive, 4.6 liter V-8 VVT or 3.6 liter V-6 VVT engines, two-mode (performance or touring) Magnetic Ride Control, premium interior materials, one of the industry's first OEM-installed, 15-speaker surround sound audio systems and many more technological innovations. The new STS is designed to, and will compete with, the best and most prestigious luxury sedans that the world has to offer – on their home turf.
Once again Cadillac has a range of American vehicles that are truly exciting and innovative. You can trust me when I tell you that their "BREAK THROUGH" ad line is not an empty slogan. See more at www.cadillac.com and then visit a Cadillac dealer.
Drive safely and do join me again next time.
Copyright © 2004, 2006 & 2021 by Jan Wagner — AutoMatters & More #101r2