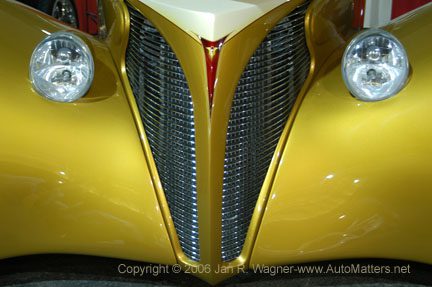 2004 GOODGUYS Del Mar Nationals (4th Annual)
Today's column is a feast for the eyes. Oh sure, I can tell you there were several exhibit halls as well as large expanses of the fairgrounds chock full of neat cars and trucks to drool over, accessories and auto memorabilia to yearn for and so on, but the real stars of this show were the automobiles.
This year's GOODGUYS show was their fourth annual at the Del Mar Fairgrounds. The cars and trucks rolled in for three wonderful days at the beginning of April. New for 2004, in addition to the pre-1964 hot rods and customs usually present, the event lineup was expanded to include up to 1972 models. That meant muscle cars.
Ongoing throughout the weekend were a swap meet and cars-4-sale corral, manufacturers' exhibits, a model and pedal car show, and a play area for the kids. The Mecum Collector Car Auction no doubt helped make many dreams come true. Hot rod seminars featured "Air Suspension Systems Air Ride Technologies," "All You Ever Wanted to Know About Rear Ends" and "Painting Techniques." Lil' Elmo & The Cosmos were the scheduled entertainers on Saturday and Sunday. Also on Sunday was a big awards show that wrapped up the festivities with a presentation of over 70 awards.
Luckily I brought my trusty camera because I cannot think of a better way to let you in on what was there than to show you. If you like these cars and trucks – and who wouldn't, then you absolutely have to make a point of attending the next GOODGUYS show.
Drive safely and do join me again next time.
Copyright © 2004, 2006 & 2021 by Jan Wagner — AutoMatters & More #97r2