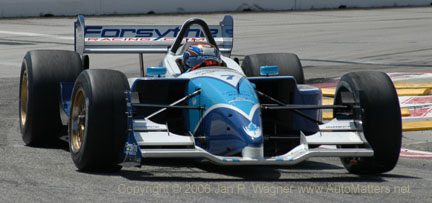 2004 Toyota Grand Prix of Long Beach
It was touch-and-go for a while but the Champ cars are back in action again. Bold changes and behind-the-scenes drama are hardly new to racing at Long Beach.
Street racing began here in 1975 with a Formula 5000 race won by Brian Redman. The course wound its way through what was, at that time, a seedy, run-down area of town. Despite this obstacle, race fans came and made the inaugural Long Beach Grand Prix a success.
Thanks to the optimistic vision, and steadfast resolve and efforts of then-travel agent Chris Pook, Long Beach unbelievably reached the pinnacle of international automobile racing in just six short months. That came in 1976, when Formula One cars took to the streets. Swiss driver Clay Regazzoni won and so did Long Beach. In the following years Long Beach F-1 race winners included legends such as Mario Andretti and Canada's Gilles Villeneuve – driving for Ferrari.
As the city became known for its world-class international road racing, money flowed in and fueled major urban renewal projects. The properties surrounding the racecourse were being transformed. New hotels, office buildings and restaurants attracted people to Long Beach. The city prospered.
1983 marked the start of another turning point for the Long Beach races. Rising costs were taking a serious toll on the profitability of the annual event and threatened its very survival. The difficult decision was made to switch from Formula One to Championship Auto Racing Teams (CART).
The first Long Beach CART race was held in 1984. It was won by someone already familiar with winning on the streets of Long Beach: Mario Andretti. Race fans would continue to enjoy truly great racing in the years that followed that event. Al Unser Jr. won six times, with four of those victories back-to-back. And what race fan can ever forget the memorable, exciting and occasionally controversial contests between Little Al and Michael Andretti, himself a two-time winner at Long Beach?
Fast forward to 2003. CART Championship racing faced a familiar problem – at least to Long Beach, and that problem was financial. This trouble can be traced back to the mid-90s when differences led to a serious split in major American open-wheel racing. CART and Tony George's Indy Racing League (IRL) were the result of that split. Both groups – and race fans, suffered. By 2003 that problem had gotten so serious that it threatened CART's very survival. Something had to be done, and soon.
And so it was that in January of this year, at a U.S. Bankruptcy Court hearing, three Champ Car owners and dedicated auto racing enthusiasts – Paul Gentilozzi (a three-time Trans-Am champion and winner of today's Trans-Am race), Kevin Kalkhoven and Gerald Forsythe took over the Champ Car World Series. It is fitting that Long Beach, with its history of changes, got to host the first race following the reorganization of Champ Car: the 30th running of the Toyota Grand Prix of Long Beach.
I've been coming to the races here since moving from Alberta to California in late 1984 – at first with my now ex-wife and lately on my own. Unfortunately, I missed Long Beach's Formula One era and I truly regret that. It was not until many years later at the inaugural Indianapolis race that I would finally see a Formula One race in person instead of on television. Even though attending that event was a wonderful experience, I suspect the accessibility of the F-1 drivers and the thrill of the racing was better in the 70s and 80s. I hope to travel to Europe to see Formula One and LeMans races some day, and report on the experiences in AutoMatters columns.
The urban transformation in Long Beach has been nothing short of amazing. World-class auto racing has truly been a boon to the local economy. Condos and modern buildings are everywhere and still new construction continues. Ferraris were parked outside of the luxurious Westin hotel.
If he isn't already, Chris Pook should be named honorary mayor of Long Beach and given keys to the city. Thanks in large part to his tireless efforts, Long Beach is now an attractive, viable destination even apart from the racing action.
For me this year's racing on Sunday at Long Beach also started with changes – and contrasts, too. Parking is always a sore spot with me. You may recall my rant about the high cost to park at the Del Mar Fairgrounds. Call me cheap if you will but it really grates at me when I have to pay very much to park. I view that as a waste of money. That is why I look around for the best deal. Let me tell you, it pays to look around before pulling into a lot in Long Beach.
'My' lot, which I've been using for years, has always combined a relatively low price (for private parking on a major race weekend) with reasonably close access to the racetrack. I even have it programmed into my GPS, since I tend to forget my way there after a few months of being away. I was very pleasantly surprised when I pulled up to the parking structure this year and saw an advertised price of only $6! That was much less than I remember it being before. According to a lot attendant, last year they charged $15 to park there on race day Sunday.
I was curious to see what the other lots were charging so after I parked I gathered my stuff and proceeded to walk along Ocean Blvd. – the main drag fronting the track. As I got closer to the gates the parking prices started to increase dramatically. I walked the entire length of the outside of the track grounds to investigate. I soon saw parking prices of $15, $20 and $25. The highest price I saw was for a lot not appreciably closer to a gate than mine. To park there cost a whopping $40! I then took a (free) city bus ride back to one of the racetrack entry gates.
As has become a tradition, one of the non-racing highlights of the weekend is what they refer to as the Automobile Club of Southern California's LIFESTYLE EXPO. It combines booth after booth of interesting products, activities ranging from miniature golf to bungee jumping, BMX bicycle demonstrations and much, much more.
Access to the race cars and drivers at Long Beach is almost surprisingly easy – in stark contrast to that of Formula One racing. I remember, back when I was an enthusiastic fan but not a journalist, still having easy enough access to permit me to meet A. J. Foyt here and get his autograph. He stopped what he was doing to speak with many of the fans and, in so doing, came across as a truly nice, approachable man. He made a very positive impression on me. Race personalities here are great ambassadors for the sport.
A first turn, first lap incident took out three drivers, including Jimmy Vasser – a former Long Beach winner.
Paul Tracy handily won the Champ Car race again, with his mom and fiancée among those cheering him on. Bruno Junqueira and Sebastian Bourdais, of Newman Haas Racing, rounded out the top three. 17-year-old Nelson Philippe became the youngest driver ever to start a Champ Car race. He drove well, gained valuable experience and finished in a respectable 13th place.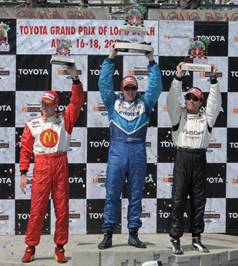 For excellent flag-to-flag coverage you should find the races broadcast race days at 4:00 PM on Spike TV. It was great to see Bob Jenkins (formerly of ESPN's SpeedWeek) back in the broadcast booth. The next race will be on May 23rd from Monterrey, Mexico.
In Trans-Am, after a massive mêlée in turn one of lap one, Paul Gentilozzi continued on to eventually win the race, followed across the line by veteran racers Greg Pickett and Boris Said (of Carlsbad). San Diego racer Michael Lewis came in fifth. According to Paul, the race is scheduled for rebroadcast on Sunday, April 25 on Spike TV.
Drive safely and do join me again next time.
Copyright © 2004, 2006 & 2021 by Jan Wagner — AutoMatters & More #96r2