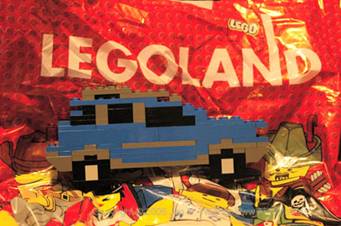 Volvo Partners with LEGOLAND® California
A little while ago I heard that a unique replica of Volvo's XC90 SUV, constructed with LEGO building blocks, was unveiled at the New York Auto Show. Curious, I decided to see it for myself when it was brought to LEGOLAND California in Carlsbad. In so doing I was reminded that we have a wonderful and unique theme park right in our own backyard.
Volvo is now the "official car" of LEGOLAND California. It is fitting that the familiar LEGO cars that help teach kids safe driving bear the name Volvo – that of the Scandinavian carmaker long-associated with state-of-the-art automotive safety. Between the two Volvo Driving Schools (one for little kids ages 3 to 5, and another for older kids ages 6 to 13), the driving school roadways include everything from traffic lights and stop signs to a drive-through carwash. On hand at the dedication ceremony was Vic Doolan, President of Volvo in North America. Volvo will be working with LEGOLAND to develop innovative safety awareness activities.
Once at LEGOLAND California, I decided to spend the rest of my day exploring. My experience was wonderful. I can't say enough good things about what I found there.
I first visited LEGOLAND California shortly after they opened in March 1999. After some public controversy over their proposal to open a theme park in our greater neighborhood, LEGOLAND California co-operatively worked with the community, addressed and overcame the objections, and opened the gates over five years ago. This is the first (and only) LEGOLAND in the United States and only one of four in the world (the other parks are in England, Germany and, of course, Denmark. With over seven million visitors and millions of dollars worth of new, ongoing development, it is safe to say that the park has been an unqualified success. We are very fortunate that they persisted and opened here instead of somewhere else. They are a true asset to our community.
It doesn't take long to realize that the 128-acre LEGOLAND California, with more than 50 rides and attractions, is very different from other theme and amusement parks. This family-friendly park is focused on providing a wholesome, entertaining and educational experience especially for children. Fun rides, including several roller coasters, are interspersed with hands-on, interactive exhibits that encourage kids – and their adult companions, to learn and stretch their imaginations.
It is not surprising that there are several areas where kids can build amazing creations out of LEGO bricks, but the park goes well beyond that. Other choices include archaeological digs in sand for buried replica "skeletal remains" of dinosaurs, a walk through LEGO busts of famous people and replicas of famous works of art, and an awe-inspiring slice of America that they call MINILAND USA.
I especially enjoyed MINILAND USA. It is absolutely amazing. Incredibly detailed replicas of famous and not-so-famous places across America are built out of thousands and thousands of painstakingly-placed LEGO blocks. An assortment of tiny cars, trucks and boats, a festive New Orleans Mardis Gras parade and even a Presidential motorcade are some of the creations that traverse the many roadways and waterways – stopping every so often for photo ops. The Statue of Liberty welcomes visitors to New York. Cable-cars run up and down steep hills in San Francisco. I could spend hours there alone, getting ideas for buildings in my own MINILAND to surround my backyard, radio-controlled car racetrack. Luckily there are several good eating establishments to choose from because I worked quite an appetite.
Something that I was left wanting to see was an auto racing venue in MINILAND USA. Well, they read my mind. To my absolute surprise and pleasure, when I returned to my office and started looking over the LEGOLAND literature in my Press Kit, I discovered that an interactive racing exhibit is coming soon. On Father's Day, June 18, park guests will be able to remotely race LEGO brick cars around the famous Daytona Beach, Florida racetrack. I can't wait to be one of the first to try it. This will be one of five new rides and attractions to mark the park's fifth birthday.
Another racing-themed attraction already open is a movie called LEGO Racers 4-D. When you enter the theater you'll be given a special pair of 3-D glasses to wear. Complete with special effects that include smoke, wind and a little rain, the total experience is great fun for all ages.
Naturally, you'll find ample opportunities to buy your own LEGO, too.
Throughout the year they also have special, holiday-themed attractions that include trick-or-treating at Halloween, and a fireworks and tree-lighting extravaganza in December. They always seem to be adding something.
I had such a wonderful experience that I'm thinking seriously about getting one of their lifetime memberships. If you'd like more information on LEGOLAND California be sure to check out www.LEGOLAND.com or call 760-918-LEGO.
Drive safely and do join me again next time.
Copyright © 2004, 2006 & 2021 by Jan Wagner — AutoMatters & More #98r2