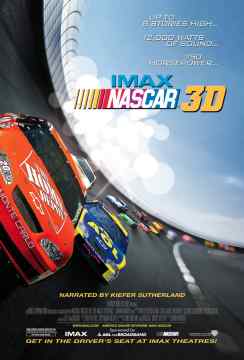 NASCAR® at California Speedway & in IMAX® 3D
One look at the 120,000-plus crowd says it all. The big boys of automobile racing were in Fontana at California Speedway for the NASCAR NEXTEL CUP SERIES "Auto Club 500" race. But there are other ways to experience the thrills of NASCAR racing and one of those is in IMAX 3D. I experienced both this past week and I'm going to share my thoughts with you. I've also got a surprise for race fans at the end.
Let's start with the track. Located on more than 560 acres of land (almost twice the size of Disneyland and California Adventure combined) in Fontana, California Speedway is an absolutely first-rate motorsports facility. Now owned by International Speedway Corporation, it was originally a Penske track and opened to rave reviews in 1997. I attended two inaugural races there that year.
The facilities have expanded over the years to include not only the original, ultra-wide two-mile oval track, but also three road courses and a quarter-mile "street legal drag strip." In demand year-round, the tracks play host to several major racing series including Superbikes, Historic Sports Cars (June 18 – 20/04), the Indy Racing League (Oct. 1 – 3/04) and the Grand American Sports Car Series (Oct. 29 – 31/04). The NHRA has several events scheduled at California Dragway.
Once at the track I had to make a decision, and fast. Whereas spectators have tickets for reserved seats, my Media Credential allowed me the luxury of being able to roam around the grandstands to try to get some good pictures for this column. However, unlike a few weeks earlier at the Champ Car race in Long Beach, the decision of where to go first could have more significant ramifications here. Walking around a two-mile oval track while competing for real estate with crowds of approximately 100,000 fans takes time and requires planning. I had to decide early on where I wanted to be to see the start of the race and then head over there. Luckily I spotted a shuttle van. I hopped aboard for a trip from the infield to the grandstands on the other side of the track.
Later, towards the end of the race, I headed over to the roof of the Media Center and took some pictures of the action in the pits. This was not from nearly as close as my credential allowed me to get at the Long Beach Champ Cars race, but thanks to my zoom lens I think I was able to get some decent pictures despite the added distance away from the action. Hopefully they'll issue me a hot pit pass for the next race.
In the end the winner of the race was somewhat determined by fuel economy and a bit of luck. Early race hopeful and pole-winner Kasey Kahne, despite a strong showing in his #9 Dodge, faded late in the going and finished a disappointing 13th. Bobby Labonte challenged for the lead until the last lap in his Interstate Batteries Chevrolet but he ran out of fuel and was perhaps fortunate to finish fifth, leaving past race winner and California-born Jeff Gordon to once again take the checkered flag. Jeff's #24 DuPont Chevrolet ran out of gas shortly after performing some crowd-pleasing donuts.
In the post-race Press conference, Jeff Gordon answered a question that I had been thinking of: in the extreme heat of the race, with outside temperatures approaching 100 degrees and temperatures in the cars being much higher, did the cars have any sort of air conditioning system to keep the drivers cool (and safe)? His answer was yes.
After the race I ended up spending a long time talking with colleagues in the Media Center. When I finally left there to drive home to San Diego it was very dark. After finding my car in the large, dark and now-empty field, I ended up slowly and carefully driving along a roadway that led through what seemed almost like a city made up of hundreds of motorhomes and some roaring campfires. At one point a few of the temporary 'residents' blocked the roadway, flagging me down with a lantern. Since I didn't have a choice I complied and stopped.
Their somewhat inebriated spokesman lightheartedly asked that I pay him a toll to pass. I played along to a point but denied his request. Luckily he relented and instead demanded that I "lean on my horn." I was not too thrilled about the prospect of annoying a bunch of worn-out race fans relaxing in their motorhomes so I tooted my car's horn ever-so-briefly. Unsatisfied, the self-appointed toll taker reached in and held down my horn button for what seemed like an eternity. Then he and his buddies laughed and stepped aside, clearing my path to leave. I said goodbye and slowly drove away, towards a track exit. It was an interesting end to an interesting day.
A couple of days later I had another interesting experience. On my way back to San Diego from an automotive journalists' association meeting in Los Angeles, I decided to stop at the Irvine Spectrum and try to see the IMAX NASCAR 3D movie.
I think it's been out since March and I'd been meaning to see it for weeks but I'm glad I waited. Experiencing the movie in close proximity to actually seeing a NASCAR NEXTEL CUP SERIES race provided me with a terrific opportunity to compare the two.
IMAX NASCAR 3D combines a wide variety of elements of NASCAR racing: from the early days, inside of a moonshiner's car running from the law to the beginnings of the organized racing; from the painstaking fabrication of the modern racecars and engines to the heart of a high energy television control room; and from talks with drivers to in-car shots of last year's racing action at California Speedway.
Don't let the length of this movie discourage you from spending the $10 to see it. Trust me when I assure you that this incredibly realistic 3D portrayal of NASCAR racing is worth every penny. Even though it is relatively short as conventional movies go, this movie is flat-out fantastic. It is no Hollywood-style "Days of Thunder" soap opera. This is very, very close to the real thing. It would be a perfect introduction to the sensations of racing for spouses, family members and friends of race fans.
Between the 3D glasses and the pavement-pounding, 12,000 watts of digital surround sound, I felt like I was right there in the cars, mixing it up with the other drivers. I could swear that I felt my seat vibrate as the cars raced around me. When a loose tire bounded right at the camera I felt compelled to duck. Wow! The experience left me with an urge to see NASCAR NEXTEL CUP SERIES races televised at home in 3D and surround sound. I wonder if that will ever happen. See this movie soon, before it is gone from the theaters.
If the racing at California Speedway sounds like something you'd like to enjoy first-hand, I have some really good news for you. I said there would be a surprise and this is it. This year, for the first time, there will be a second NASCAR NEXTEL CUP SERIES race at California Speedway in the same year. The new "Pop Secret 500" is scheduled for Sunday, September 5/04. Not only that but thanks to a major construction project it will end under the lights. For those of us diehard race fans who've had the dubious pleasure of spending hours in a grandstand in Fontana under the blazing California sun, being there during a cooler part of the day will really be a treat. But do act quickly if you'd like to get tickets. The May race was completely sold out, blazing sun and all.
Whenever you go, do yourself a big favor and begin with a visit to the California Speedway Website at www.californiaspeedway.com. On it you'll find an invaluable tool: the California Speedway "Guest Guide." Among other useful information it contains excellent driving directions to the track. I followed those directions and they saved me a lot of traveling time. When I finally hit the inevitable stop-and-go traffic I was only stuck in it for about half an hour or so. According to someone I spoke with at the track, another more direct route took several times as long. There is ample free parking.
Another good transportation alternative is to take a race-special METROLINK train. The fare is reasonable and the convenience factor is second to none. You can board the train in Oceanside and it will take you all the way to a special station right at the race track. Again, you can find out more in the California Speedway "Guest Guide." Whether you drive or take the train, either way you should find the trip surprisingly painless. If you lack Internet access, call 1-800-944-RACE (7223) for more information.
One last racing note: Jeff Gordon was at the F-1 race in Spain the following weekend and was interviewed on the SPEED Channel. Could there be an F-1 car in the future of this talented and successful American driver?
Drive safely and do join me again next time.
Copyright © 2004, 2006 & 2021 by Jan Wagner — AutoMatters & More #99r2