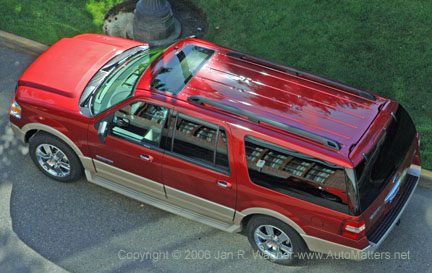 In 1804, Lewis & Clark embarked on their 8,000 mile expedition of exploration. Their 2½ year adventure took them, mostly by water, west from the Missouri River to the Columbia, and all the way to the Pacific Ocean. A little over two centuries later and by land, I was about to visit places along their route in the new, 2007 Ford Expedition.
Our abbreviated expedition began at the western end of the Lewis & Clark trail in Astoria, Oregon. Flying there from Portland in the Ford company jet certainly emphasized just how far transportation has come since the days of Lewis & Clark. Oh, and we had little yellow route markers to keep us from getting lost.
Situated at the mouth of the Columbia River, Astoria is the oldest American settlement west of the Rockies. From there we drove to Fort Clatsop, where we enjoyed a flintlock demonstration.
The clean styling of the '07 Expedition features a raised hood and bold power dome. Underneath that hood, the 5.4 liter, SOHC, 24-valve Triton® V-8 engine produces 300 hp and 365 lb.-ft of torque. This is routed to the wheels through a 6-speed automatic transmission. The additional two gears over the previous Expedition's 4-speed enables better fuel economy and performance, while providing silky-smooth acceleration.
Maximum towing capacity is rated at 9,200 pounds for the Expedition and 9,000 pounds for the extended length EL model. I took an opportunity to do some highway and around-town driving while towing a 5,000 pound trailer. The heavy trailer does make its presence known, as compared to driving an Expedition without a trailer, but acceleration, braking and directional stability are all good.
Ride and handling are smooth and stable, thanks in part to sophisticated new independent front and rear suspensions, combined with a 10% increase in frame stiffness. The drive shafts are fed through the frame rails, lowering the center of gravity and maximizing interior space. The steering has variable boost, to make parking easy and also provide good feel at speed.
Inside, the Expedition seats up to nine, and unlike those in lesser SUVs, passengers in the Expedition will happily occupy the seats behind the front and even the second row. There is plenty of legroom, and the second and third row seats can fold flat into the floor for an absolutely huge cargo-carrying capability. The Powerfold™ feature makes the third row seats almost effortless to fold down. Second row seats are CenterSlide™, which makes them very versatile.
While I was seated in the third row, I folded the second row backrests down and used them as footrests. Just turn on the TV, slide in a video and relax wherever you happen to be. Neat.
Also contributing to this relaxed environment is good visibility all around and a very quiet passenger cabin. The new Ford Expedition uses a combination of Quiet Steel® and automotive glass made with a sound-reducing Vanceva™ Quiet interlayer.
A simple demonstration of Quiet Steel® showed how well it works, and what it does. I was given two flat, 3×5 inch pieces of what looked like ordinary steel. Then I was asked to drop them, one-at-a-time, on the pavement. The first, which was ordinary steel, landed with a loud clank. When the second piece hit, it was as if I had dropped a piece of plastic. It barely made a sound. Quiet Steel® is used in several areas of the new Expedition, including the dash panel, which separates the driver from the engine.
Back in the days of Lewis & Clark, canoes were a preferred mode of transportation. I rode in one while waiting for the car ferry on Puget Island. It served as a reminder of how challenging travel used to be.
Since 2000, Expedition has maintained a five-star safety rating. The 2007 Expedition has continuous side curtain airbag protection (Safety Canopy™ Side Curtains) for all rows. Airbags are also mounted in the seats.
Expedition comes standard with four-wheel anti-lock brakes.
AdvanceTrac® with Roll Stability Control (RSC®) provides peace of mind in slippery or rollover conditions. If the advanced gyroscopic roll-rate sensor detects a significant roll angle, measures that include selective application of the brakes and reduction of engine power are automatically applied, to help maintain control.
Despite all of the improvements, pricing for the Expedition XLT, Eddie Bauer and Limited models are down significantly over last year's models. For example, the base '07 XLT starts at $29,995, which is $5,485 less than the '06.
Our expedition ended in Portland, where we were treated to an exciting demonstration of lumberjack skills at Portland's World Forestry Center (www.worldforestry.org). One lumberjack wielded what is called a "hot saw." He cut through a very large section of a tree in a matter of seconds. We also got an opportunity to learn how to toss an axe at a bull's eye. It took about half a dozen tries but finally, after bouncing it off of the handle a few times, I got it to stick in the wood. Yes!
The next morning, since I had come all the way from San Diego, I felt compelled to get up early and do some sightseeing before I returned home.
Portland is known as the rose city, so I visited the rose garden in Washington Park. While I was there I saw a small army made up mostly of volunteers busily "deadheading," which I learned is their term for snipping off the "spent" roses.
Then I walked over to the incredible Japanese Garden (www.japanesegarden.com). It is truly a beautiful, serene place.
All that remained was to hurry back to the hotel, pick up my luggage and catch my ride to the airport. Portland's public transit works. Somehow I managed to take a bus to the zoo, ride on a MAX Light Rail car and jog the ten short blocks through downtown – all in about an hour.
I made it to the hotel just in time to get my ride to the airport. Whew!
Unlike my morning, which I spent sightseeing on my own, my driving experience in the 2007 Ford Expedition was surprisingly effortless – quite an accomplishment given that it is a full-size SUV. Thanks to the sharp increase in the price of gasoline, the once-booming market for large SUVs has cooled off somewhat, but there is still strong demand for them. The thoroughly modern new Expedition is especially well-suited for use by large or extended families, and those who tow heavy trailers and boats.
Drive safely and do join me again next time.
Copyright © 2006 & 2021 by Jan Wagner — AutoMatters & More #202r1