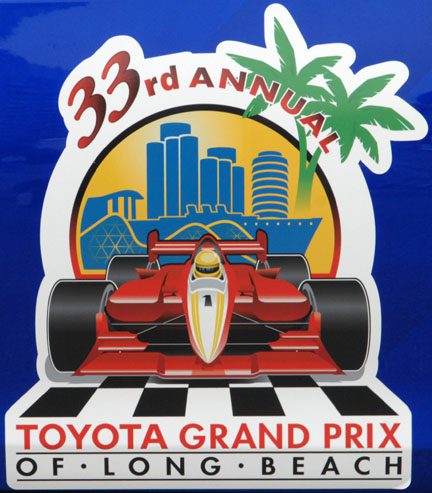 2007 Toyota Grand Prix of Long Beach
The Grand Prix of Long Beach began as an open-wheeled formula car race. It still is, but it is so much more! Now you will gain an appreciation for how much more, through coverage of the days leading up to and including Saturday of the race weekend.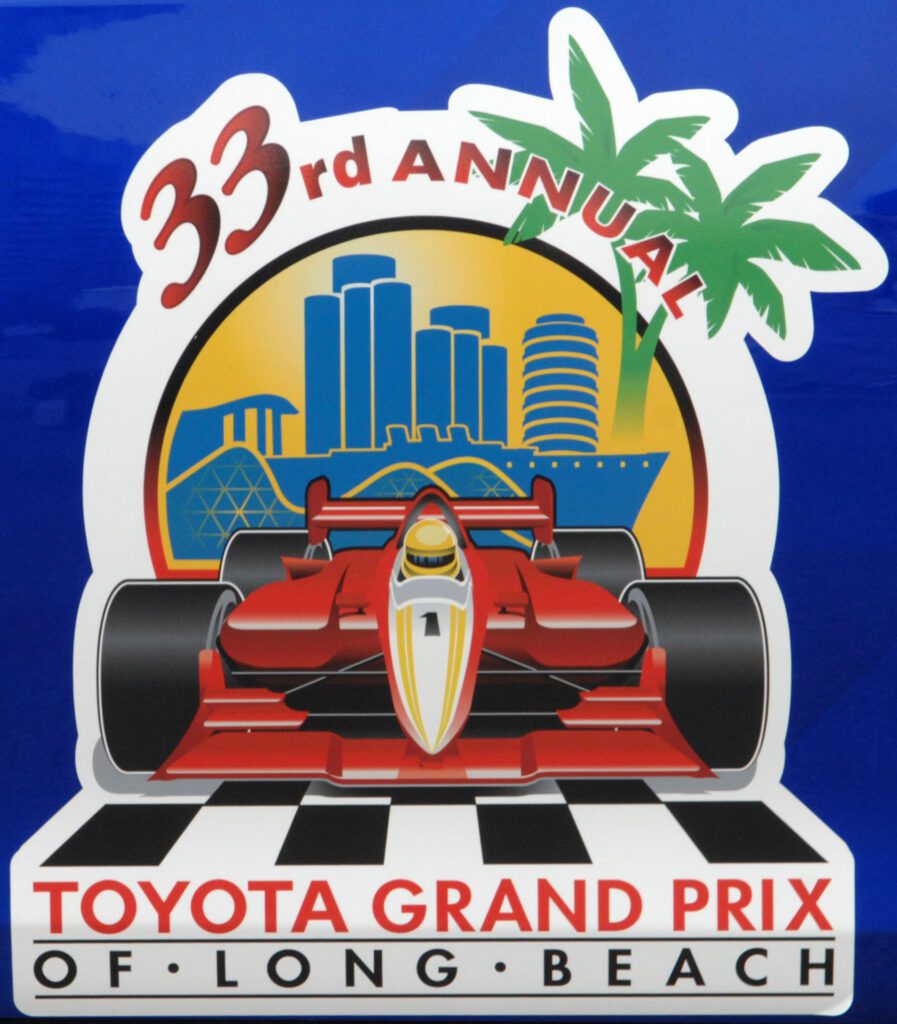 The first Long Beach race was held back in 1975. It was a Formula 5000 race won by Brian Redman. Six months later the Formula One circus came to town and stayed until 1983. To address the extremely high costs of staging those races, they were replaced with Champ Car races in 1984.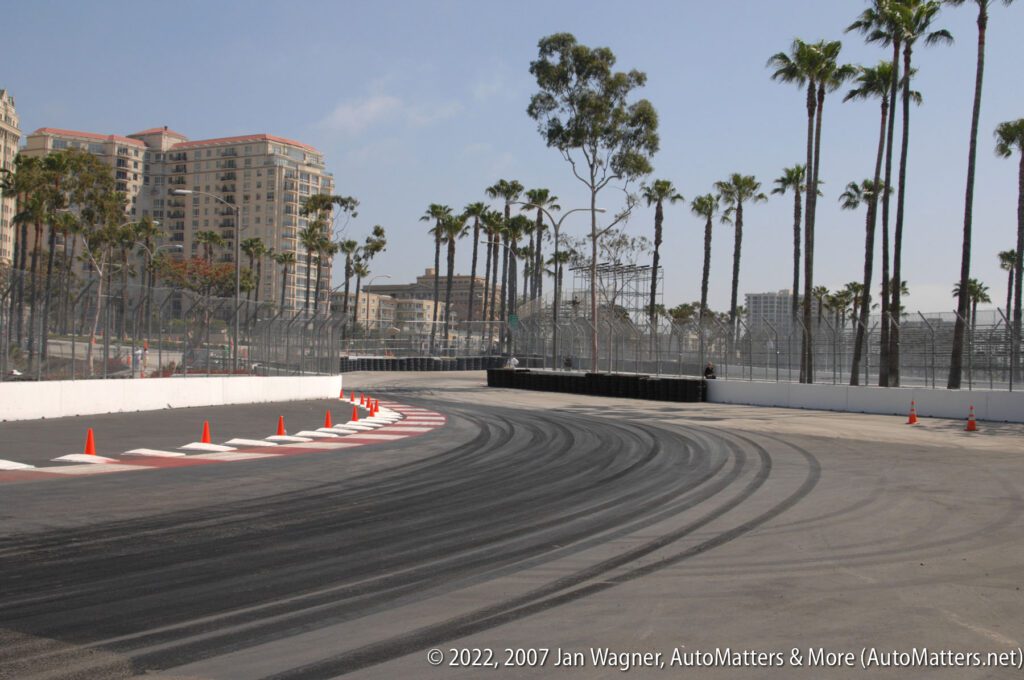 While the length of that first track is almost exactly the same as this year's version, the path taken by the track has undergone many changes over the years, keeping pace with the ongoing redevelopment of Long Beach, and in consideration of the increased speeds of the race cars. The transformation of Long Beach has been dramatic – thanks to the money and tourism brought in to the area because of the races.
Between the exciting racing, wide variety of restaurants and great entertainment, this annual "party at the beach" has become a major annual happening in Southern California. Since the racetrack is a temporary street circuit, every year the vast number of heavy safety barriers, as well as the chain link fences, grandstands and more, have to be installed well before the races begin, and then they are taken down afterwards.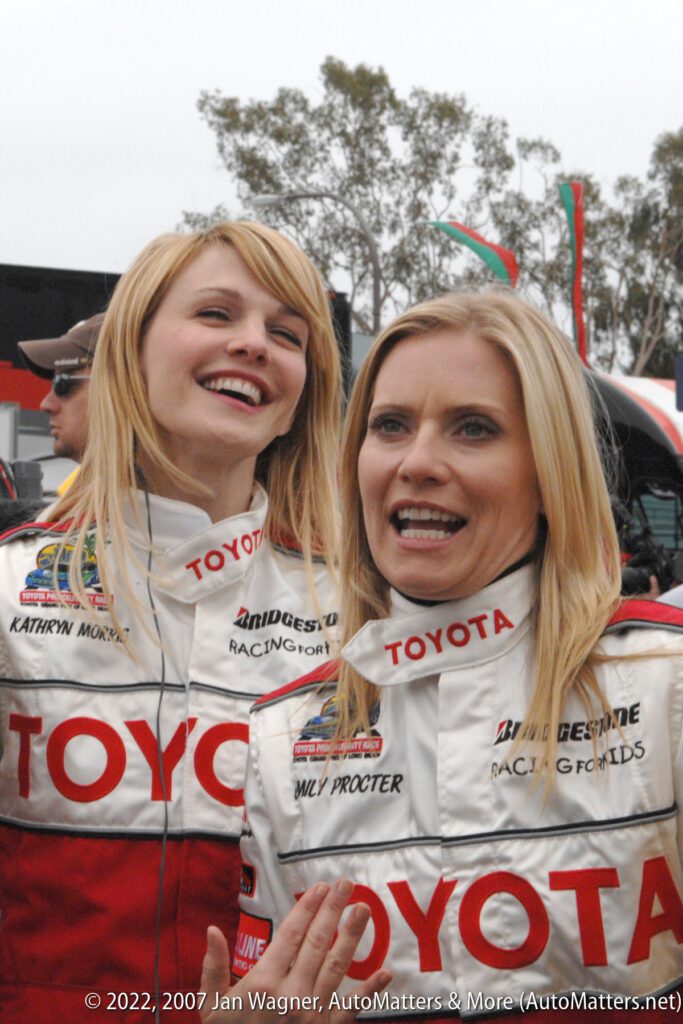 A couple of weeks before the event weekend, journalists gathered for the Toyota Pro/Celebrity Challenge Press Day, where we were introduced to the drivers. This race is a Long Beach tradition which dates all the way back to 1977.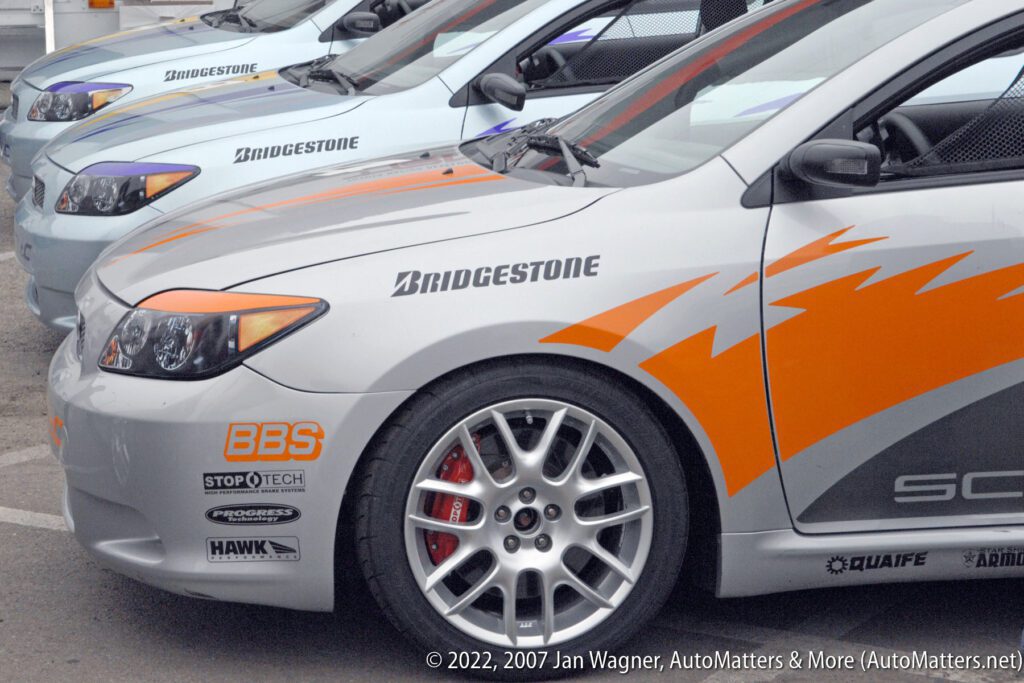 Past celebrity winners include James Brolin, Bruce Jenner and Gene Hackman. On the pro side, past winners include Al Unser and Al Unser Jr., Dan Gurney, Bobby Rahal (whose son Graham is racing in a Champ Car this year), Parnelli Jones and racing sensation Danica Patrick, to name just a few.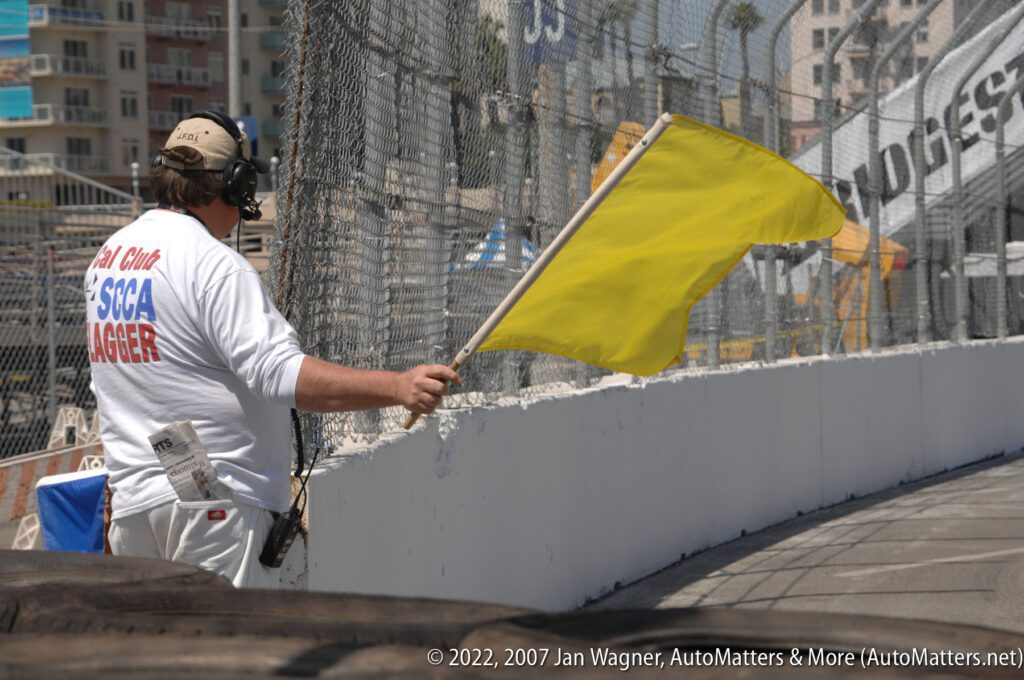 While there we got to observe the drivers practicing behind the wheels of their Scion tC race cars. One way to find a car's limits is to exceed them on a practice day, as Kathryn Morris learned.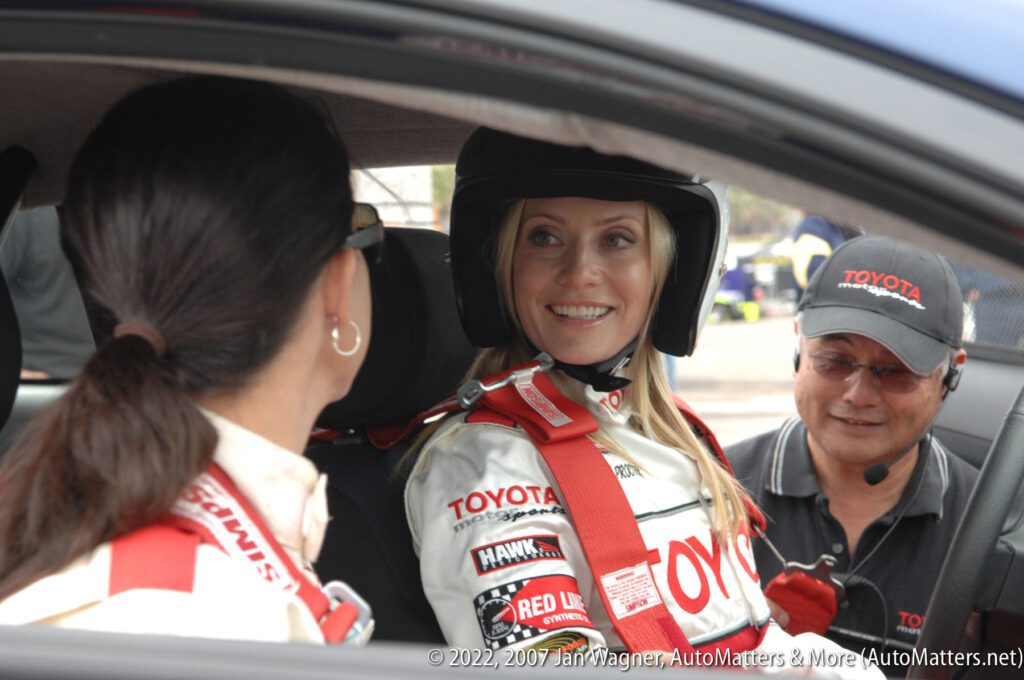 It was especially interesting to have an opportunity to talk to some real, live Hollywood stars and see what they are like when out of their characters. Not surprisingly, they are different in person from what I had come to expect on-screen. Emily Procter (of CBS' "CSI Miami") is not at all like the character she plays. She's friendly and was quite approachable, even for star-struck interviewers like me.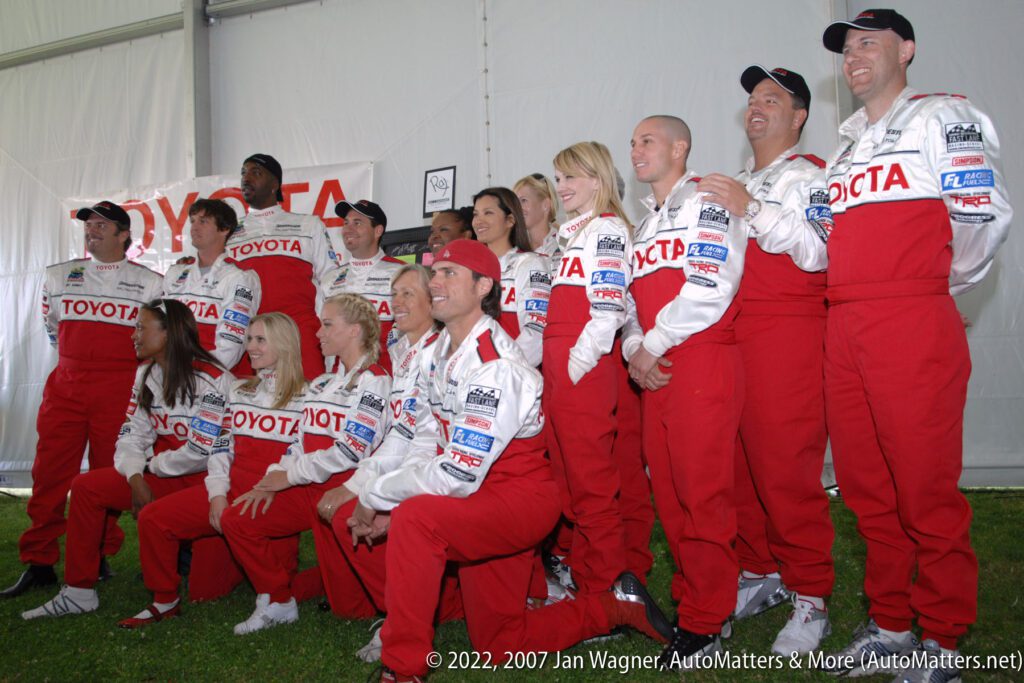 Sports stars wearing the Toyota Pro/Celebrity driving suits included tennis great Martina Navratilova and NASCAR driver Mike Skinner. I'm certain you'd recognize others.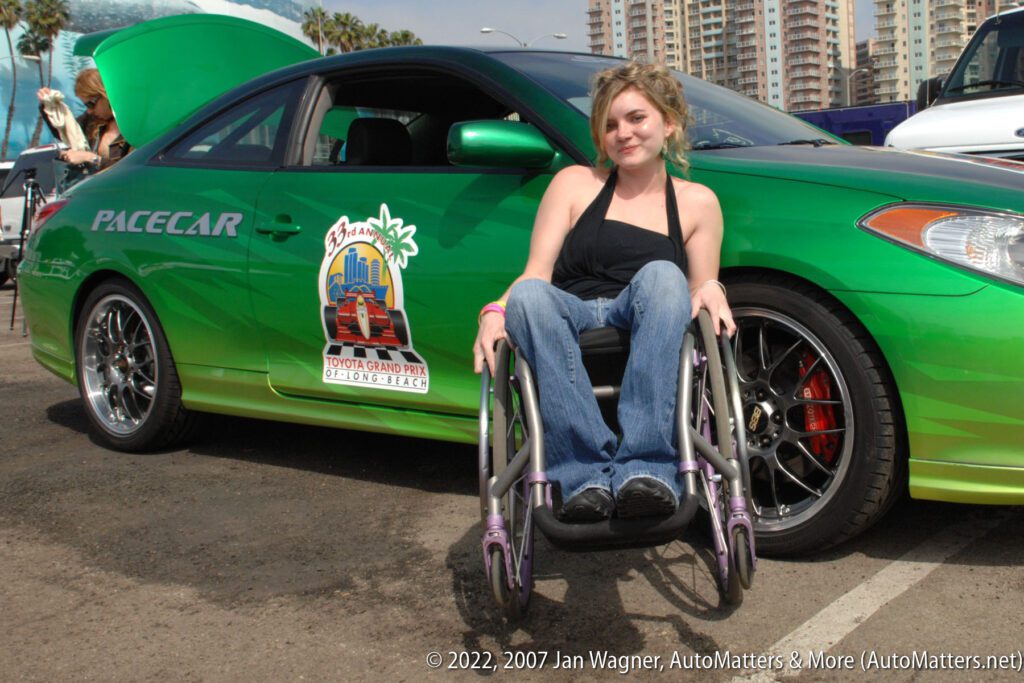 I also met Cody Unser, who demonstrated the hand controls of a RediAuto Sport-equipped LBGP pace car. I would see Cody again a few days later at the RediAuto Sport Challenge – an autocross at Irwindale Speedway.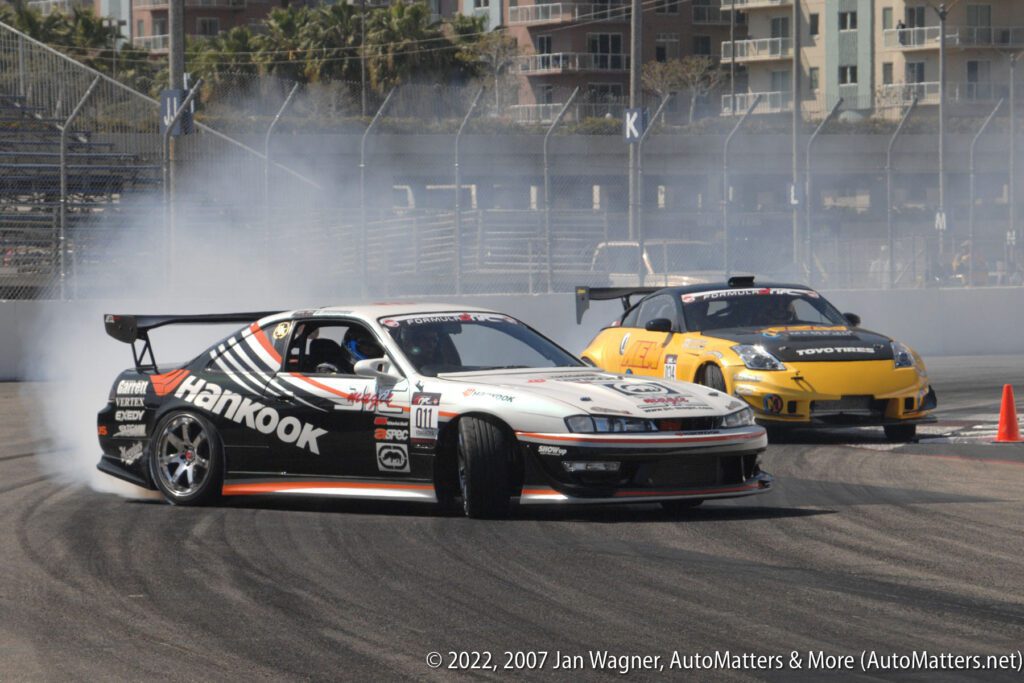 In addition to the Pro/Celebrity Press event, there was also a drifting demonstration put on by Formula Drift. Drifting involves spinning the rear tires in order to do carefully controlled power slides around a course. In this case the course is defined for the Formula Drift participants by the heavy concrete barricades that surround the race track. These are not forgiving safer barriers. It would be difficult enough to drift through these concrete canyons one car at a time, but these Formula Drift drivers are so skilled at drifting that they drift in pairs!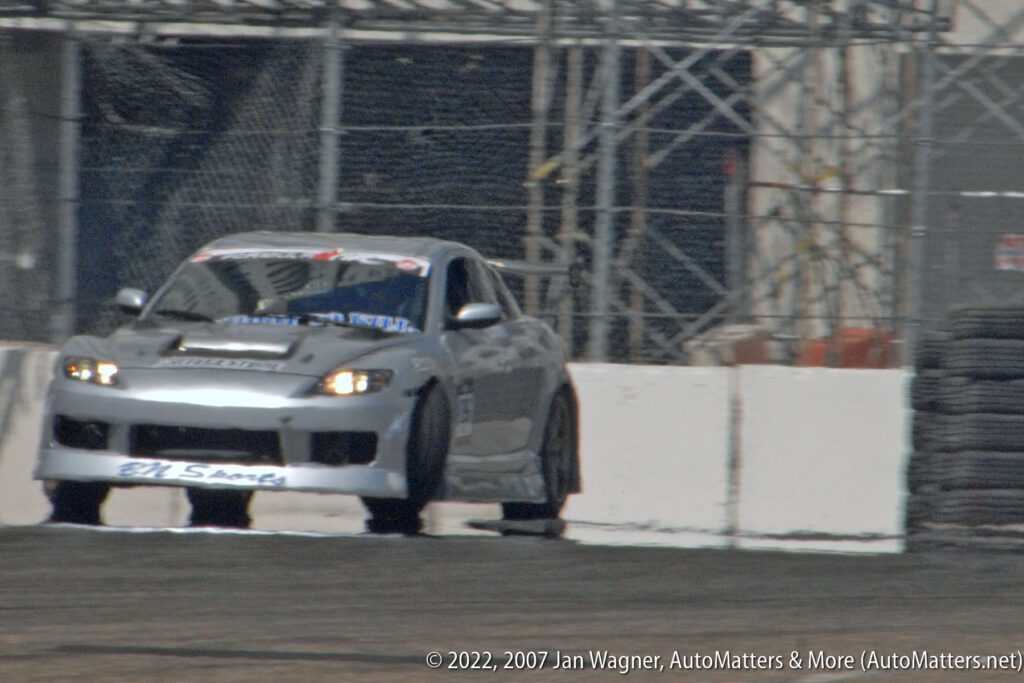 Of course things do not always go according to plan. There are too many variables. We observed first-hand that the concrete barriers that line both sides of the track do not move when they're hit by wayward drift cars.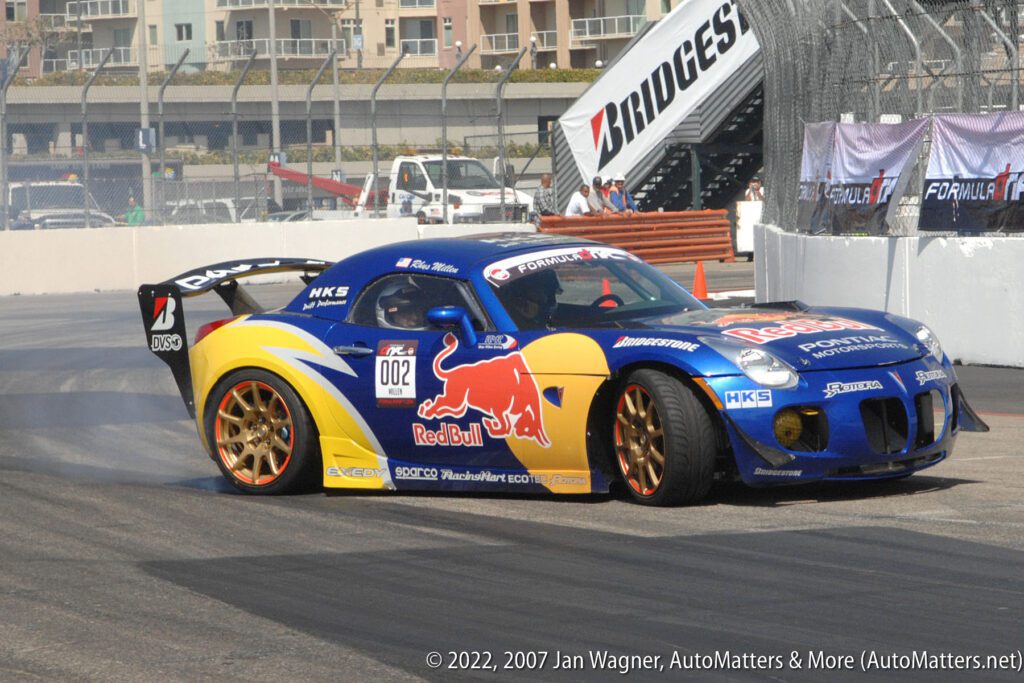 Formula Drift regularly attracts large crowds of fans. Having the top drivers in the top drift cars tends to do that. It's difficult to miss Rhys Millen and his Red Bull Pontiac Solstice. This year you can enjoy Formula Drift on ESPN2 television.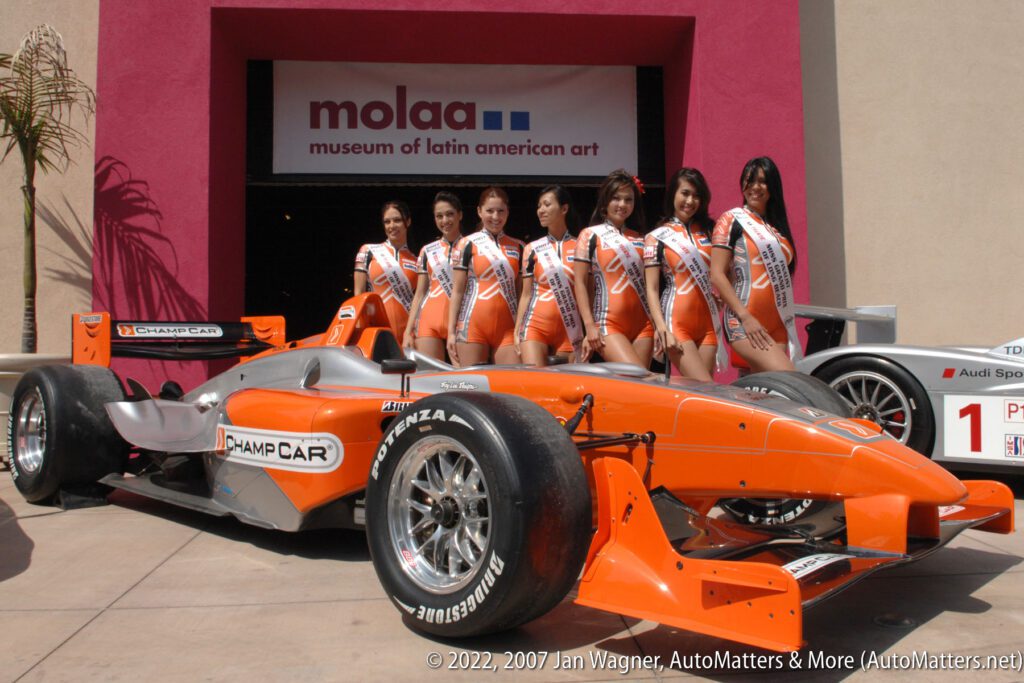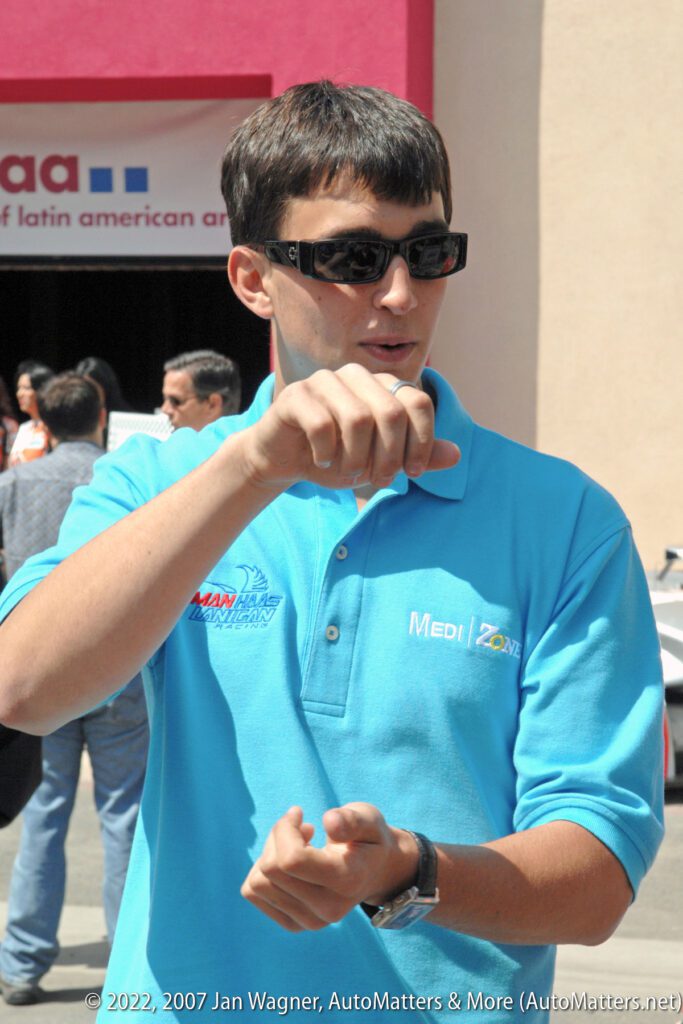 Champ Car drivers Graham Rahal, Sebastien Bourdais & Paul Tracy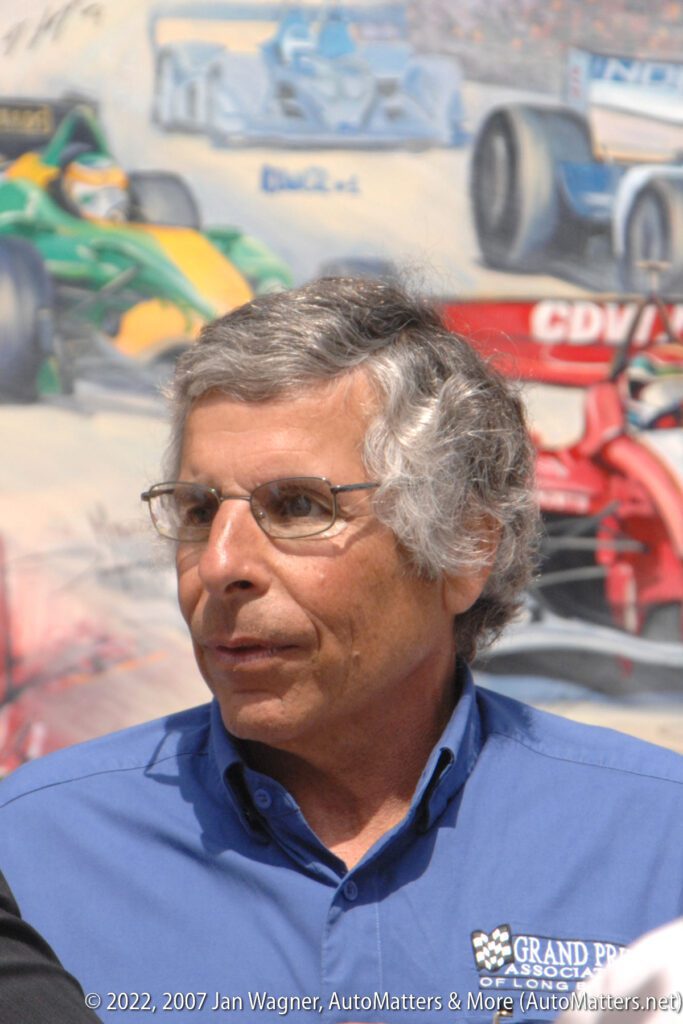 Another of the pre-race weekend activities and festivities included an opportunity for the Press to meet some more of the race drivers and see more cars.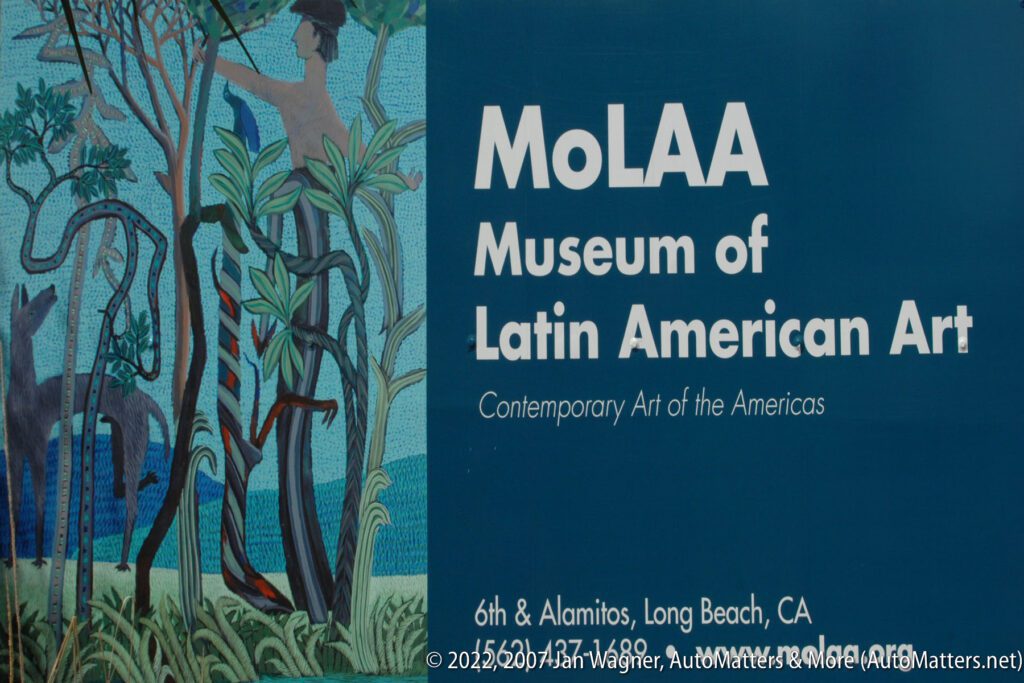 Noé Katz: "El Viaje Secreto" (The Secret Voyage – 2005) — MoLAA
In keeping with what has become another LBGP tradition, each year the race organizers try to highlight a special place in Long Beach. A couple of years ago we had this event at a container ship terminal. This time we gathered at the Museum of Latin American Art (MoLAA), which is undergoing a major renovation.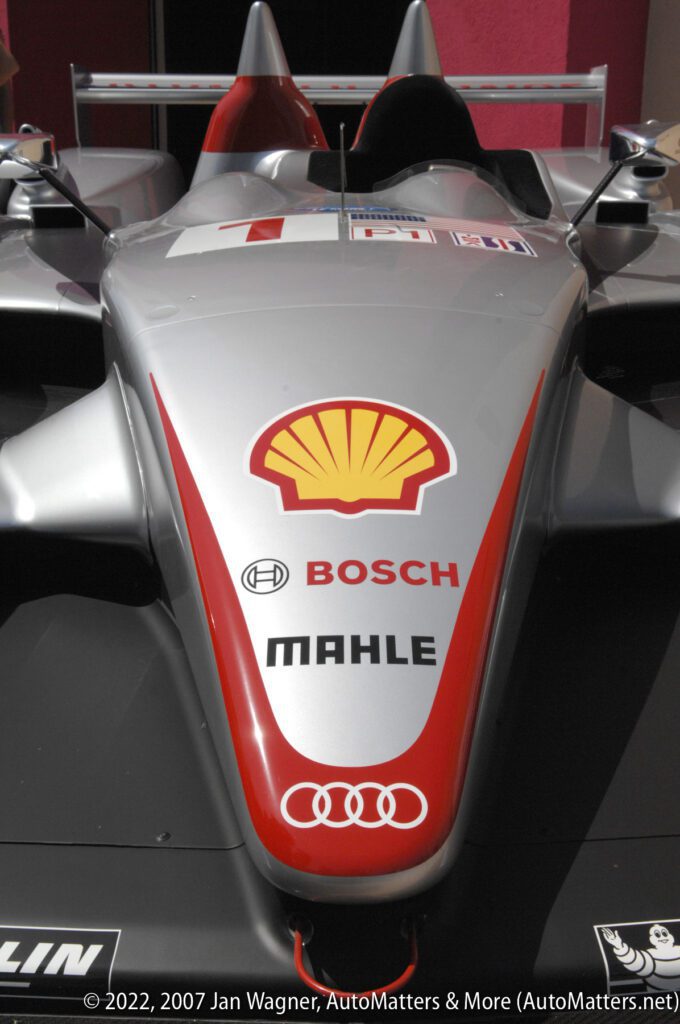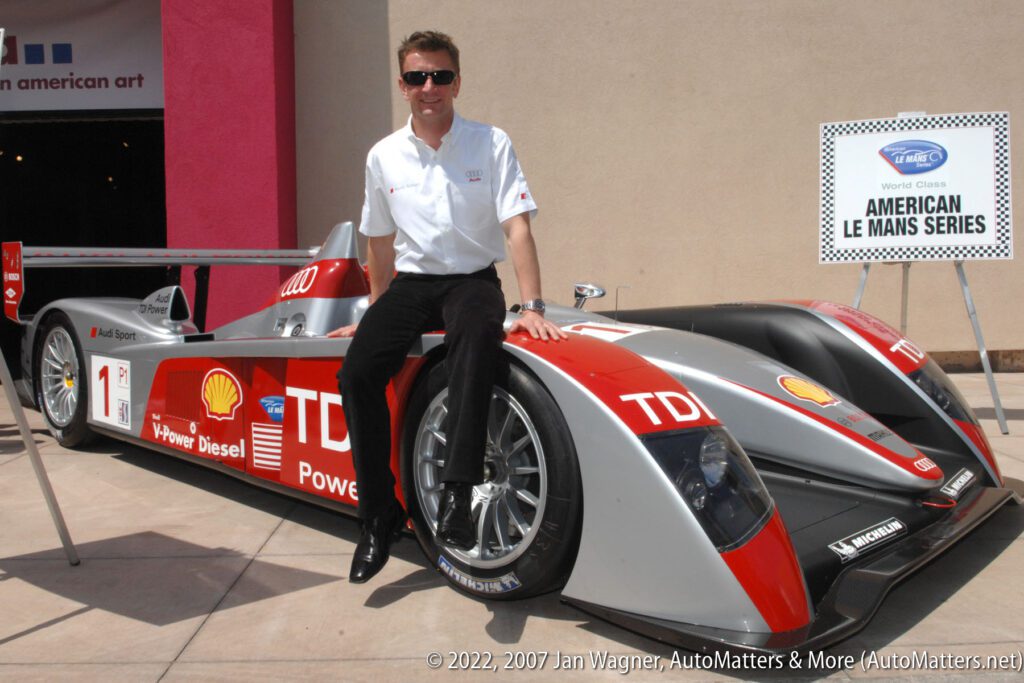 In addition to the drivers, there were representative race cars from the various race series too.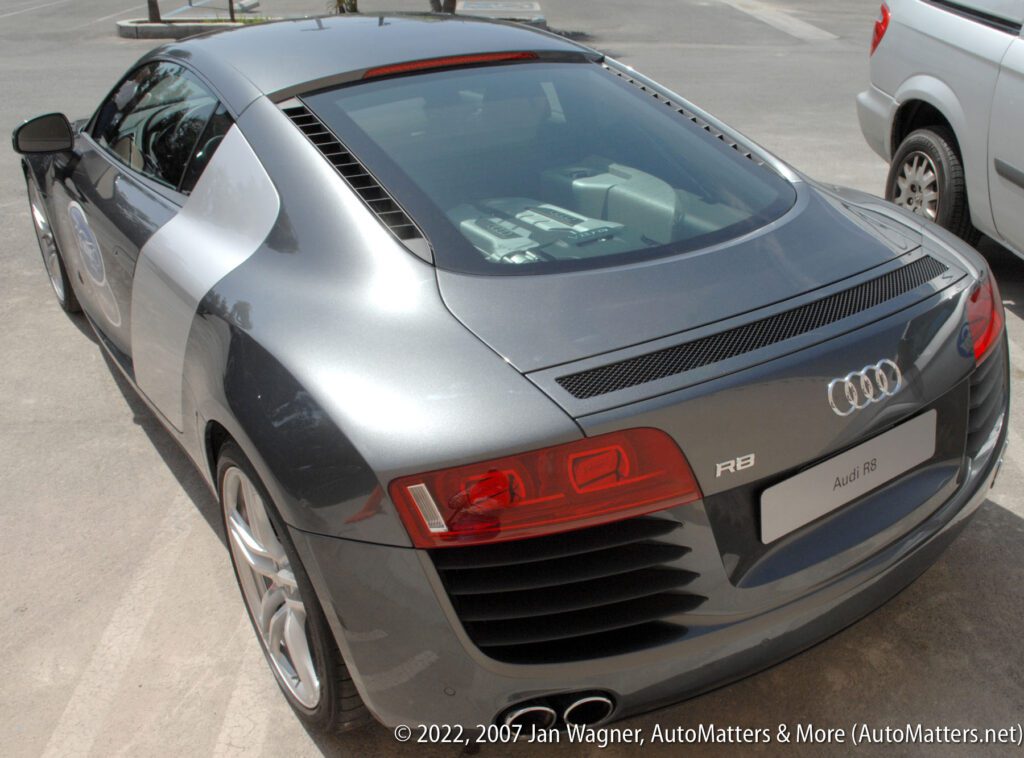 Even though it wasn't going to be racing, I felt compelled to stop and admire a beautiful new Audi R8 mid-engined sports car.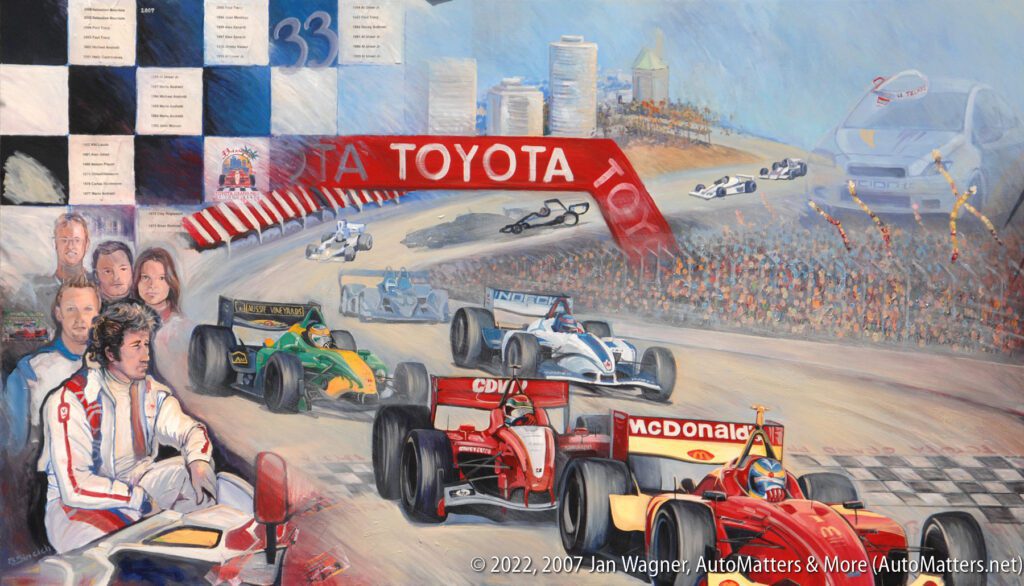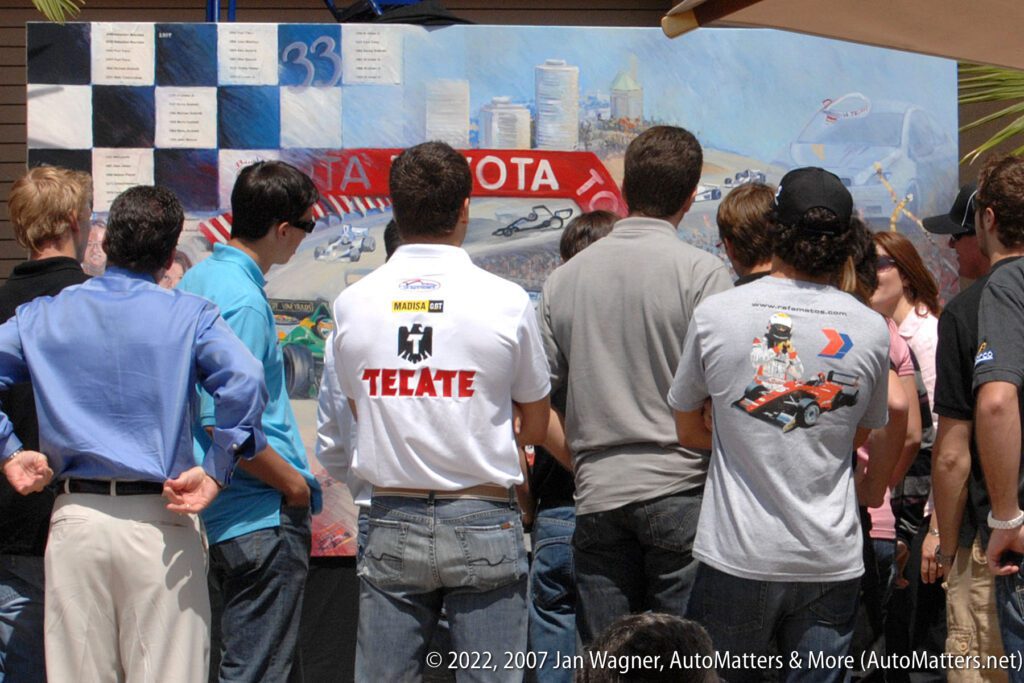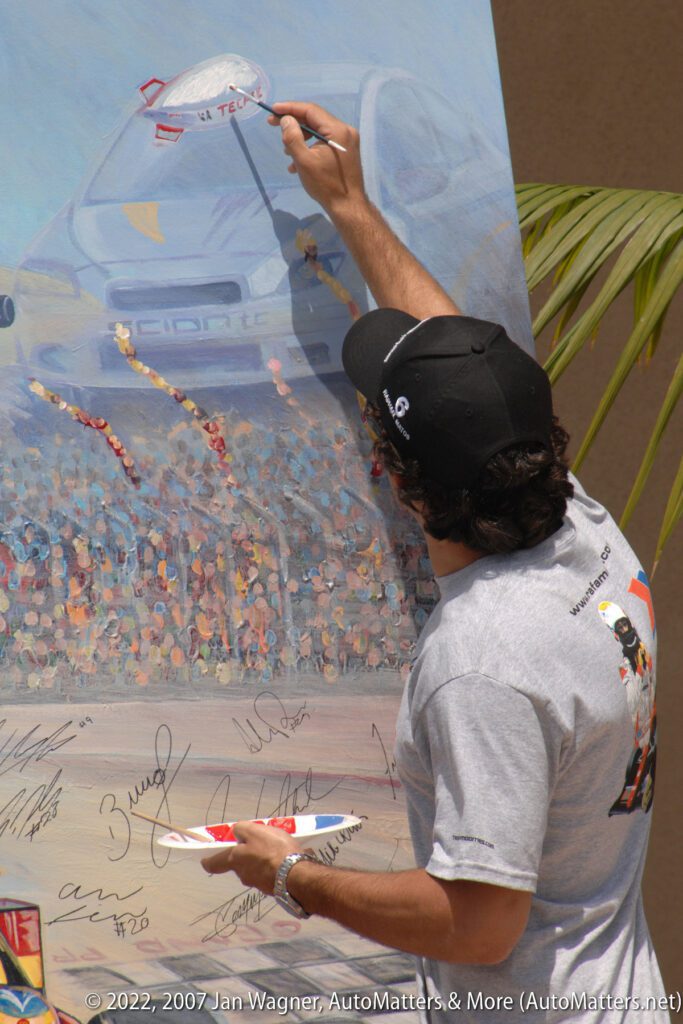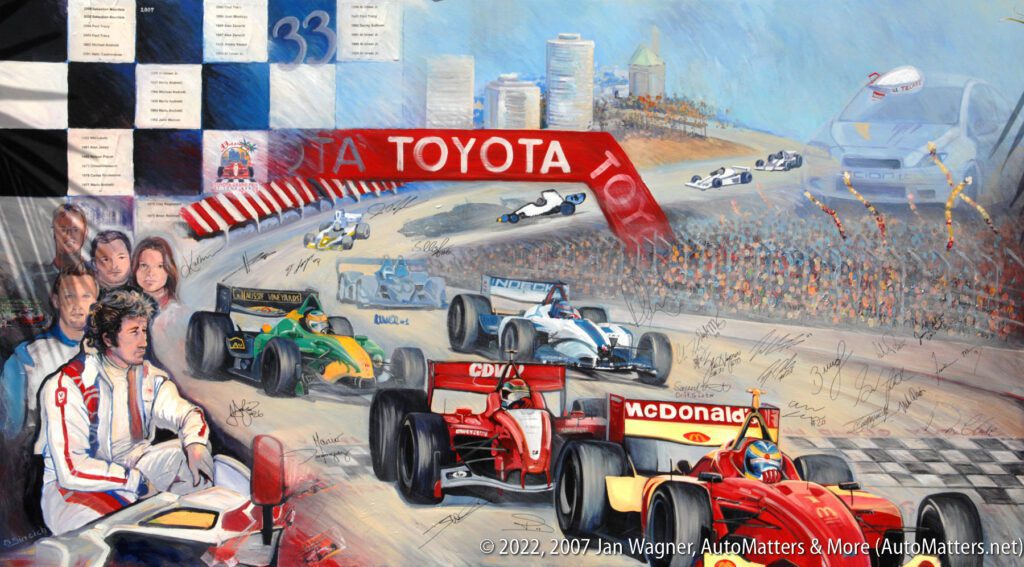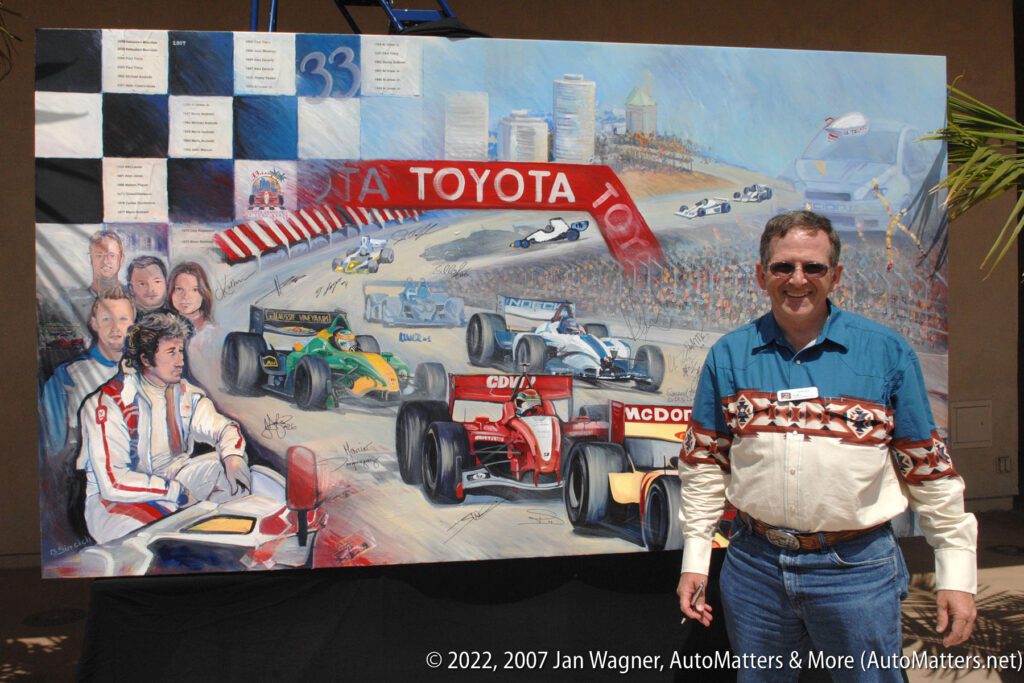 After we listened to the mayor and other featured speakers, and enjoyed a catered lunch in the courtyard, the drivers went up front to add some finishing touches, including their autographs, to a special race painting which would be auctioned off later for charity.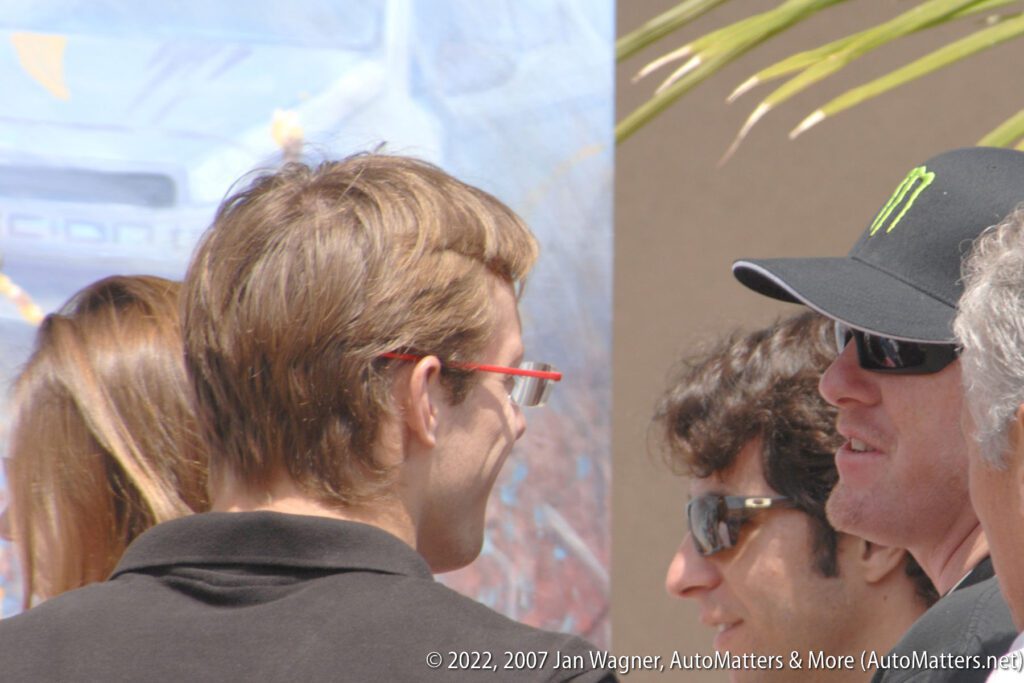 I spotted Sebastien Bourdais and Paul Tracy chatting with each other. Like so many other race drivers, it appears that their well-publicized rivalry may be limited to the track.
Following that we were invited inside to visit the museum. I heartily recommend it to you. For more information, their website is www.molaa.org.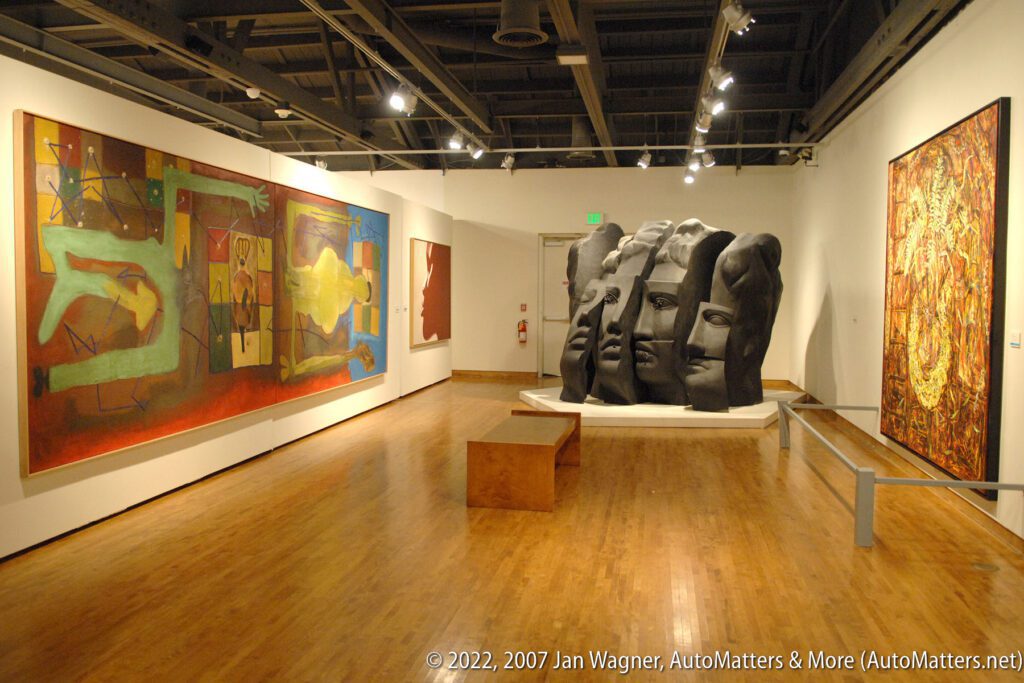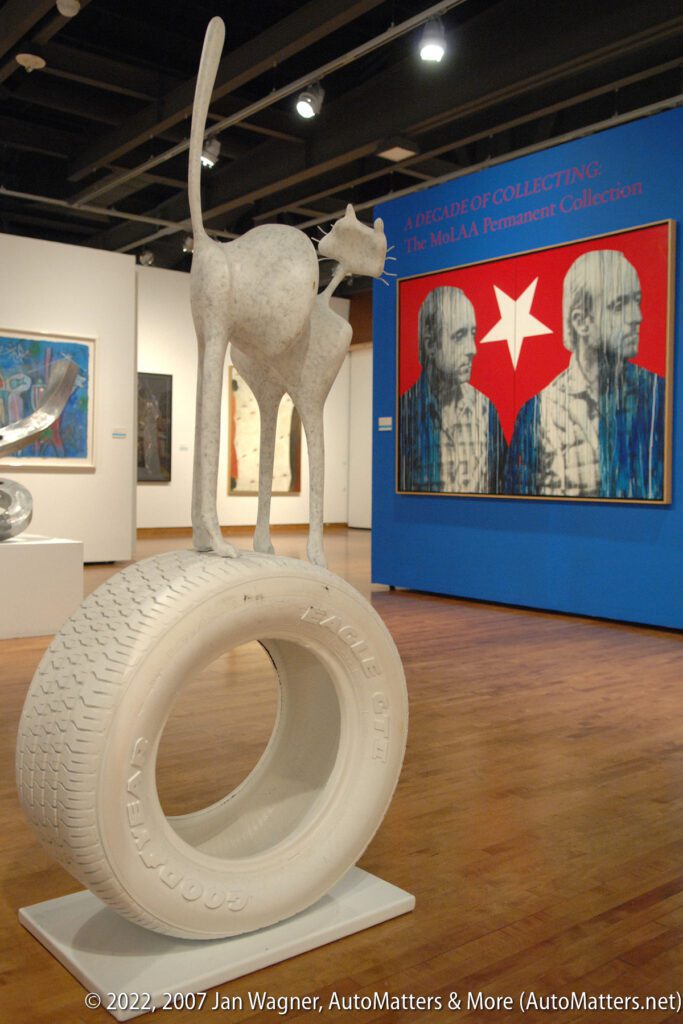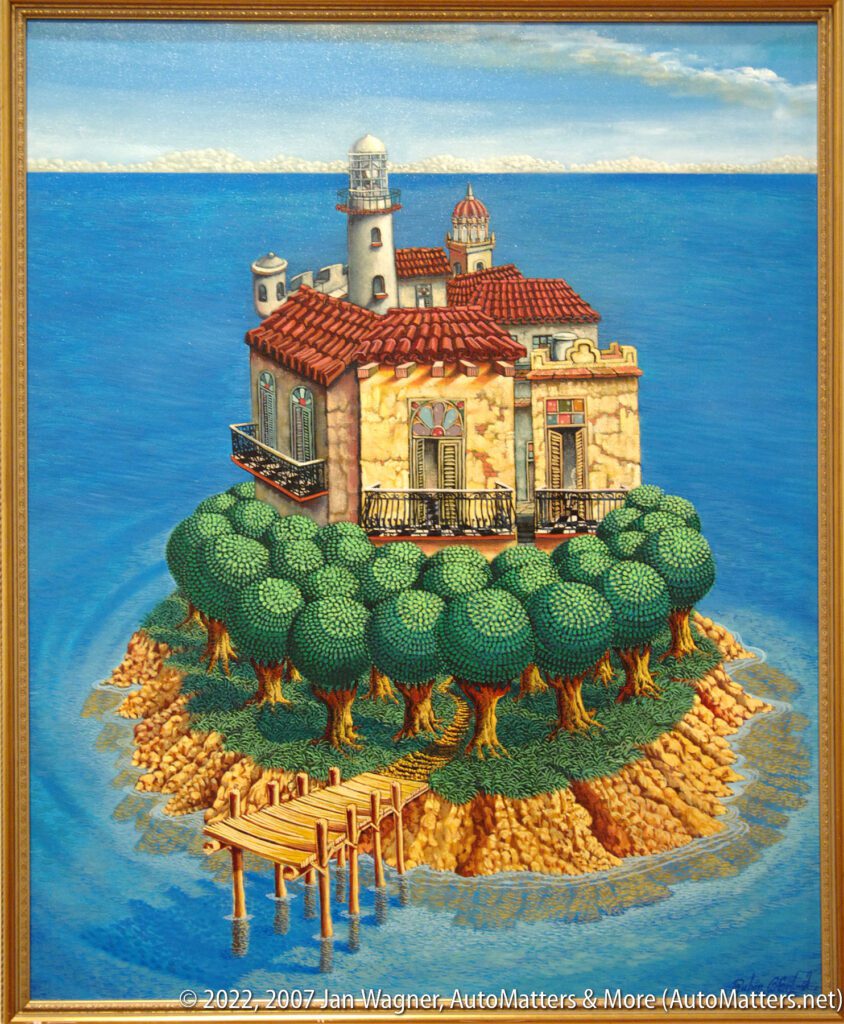 On Thursday I got into my other car – my Mazda Miata, and drove up to Irwindale Speedway to participate in the RediAuto Sport Track Challenge 2007. The event was held to showcase RediAuto Sport's work in developing hand controls to enable handicapped drivers to enjoy sports cars.
Specially equipped cars that included a Miata, as driven by Cody Unser, took to the track for a head-to-head, wheel-to-wheel autocross challenge with able-bodied drivers in their own cars.
The day began with a mandatory drivers' meeting, followed by a safety technical inspection of the cars.
This fun day included a special challenge between Greg Minow and Major Lewis Jr. – two disabled veterans of the Iraqi conflict, to see which one of them would earn the opportunity to drive a "RediAuto Sport-outfitted Toyota pace car" at the upcoming Long Beach Grand Prix. Major Lewis Jr. won by only a second.
The able-bodied drivers came very well prepared for the challenge. There was at least one SCCA Solo Nationals autocross Champion, driving her well-prepared Corvette competition car which she trailered in especially for this event.
The autocross course consisted of a chicane, followed by a tight section which consisted of a single cone that had to be circled several times, then a hairpin turn and one more chicane which led to the finish line.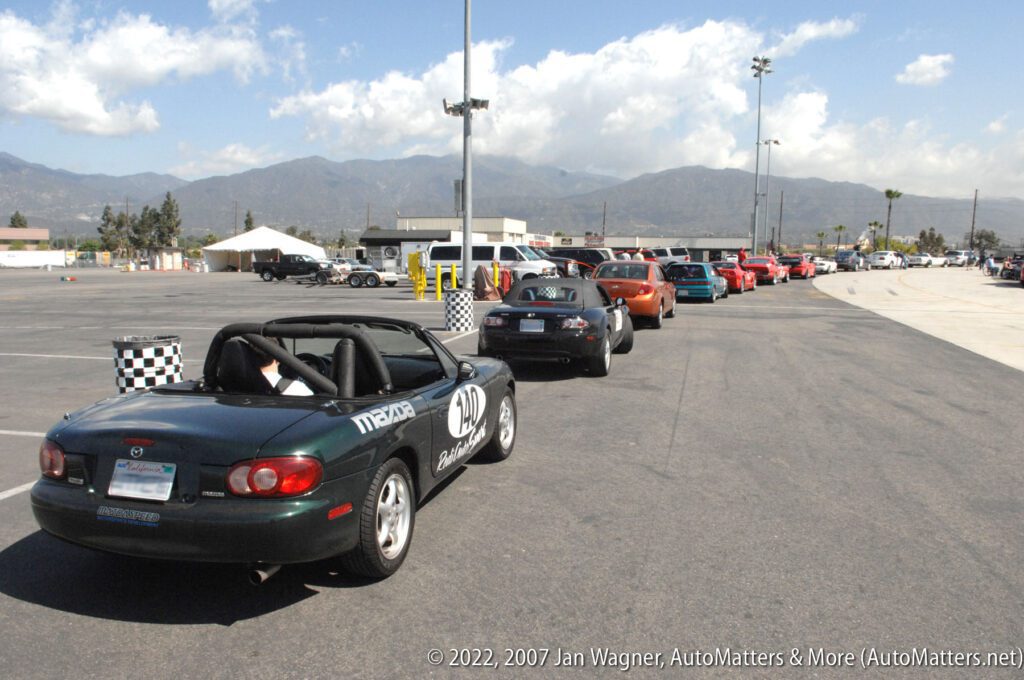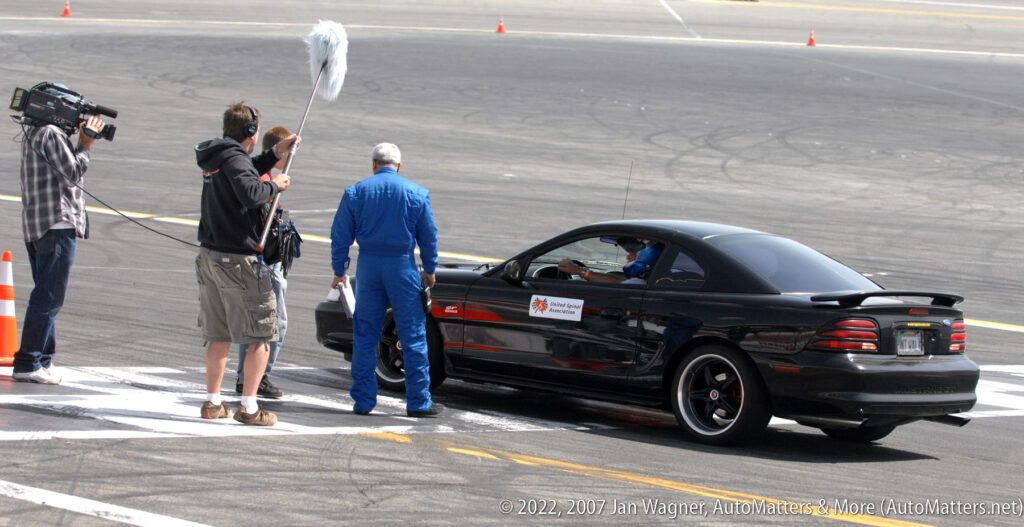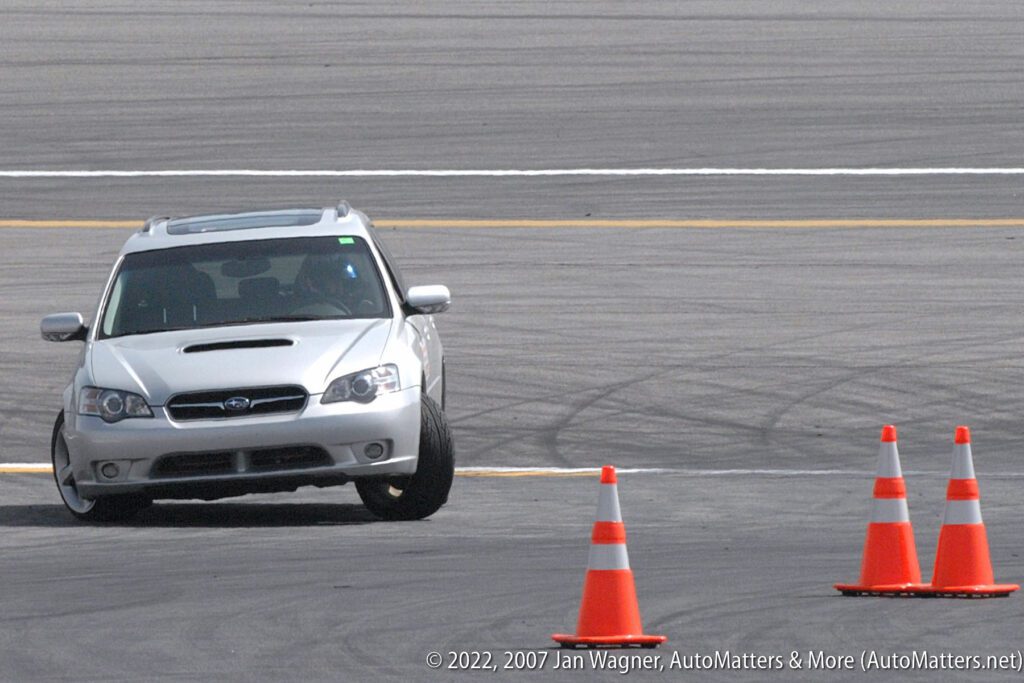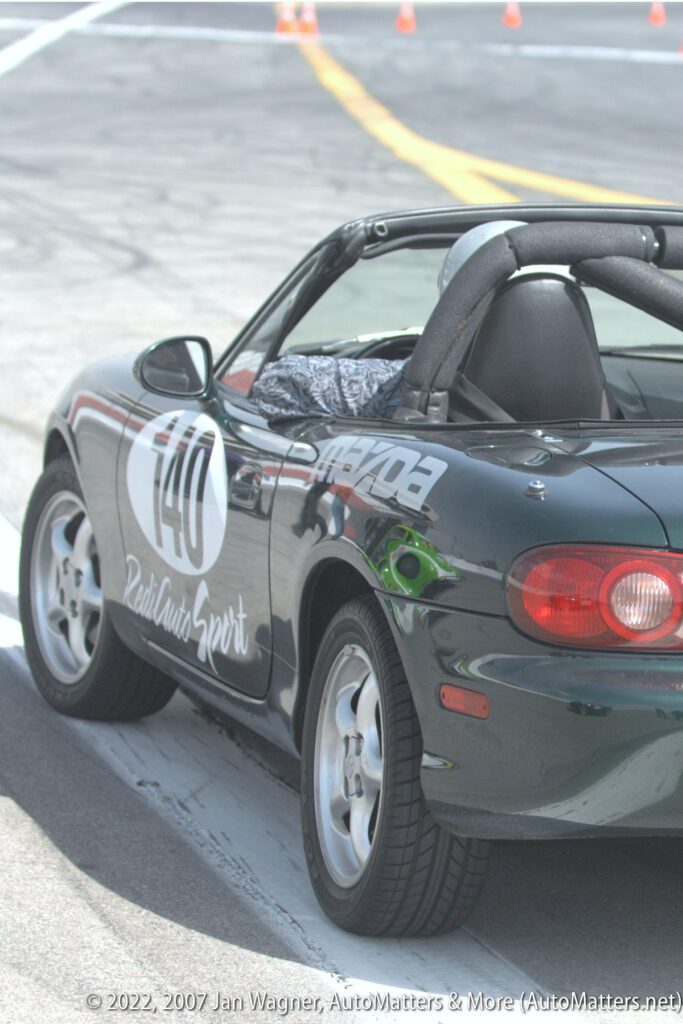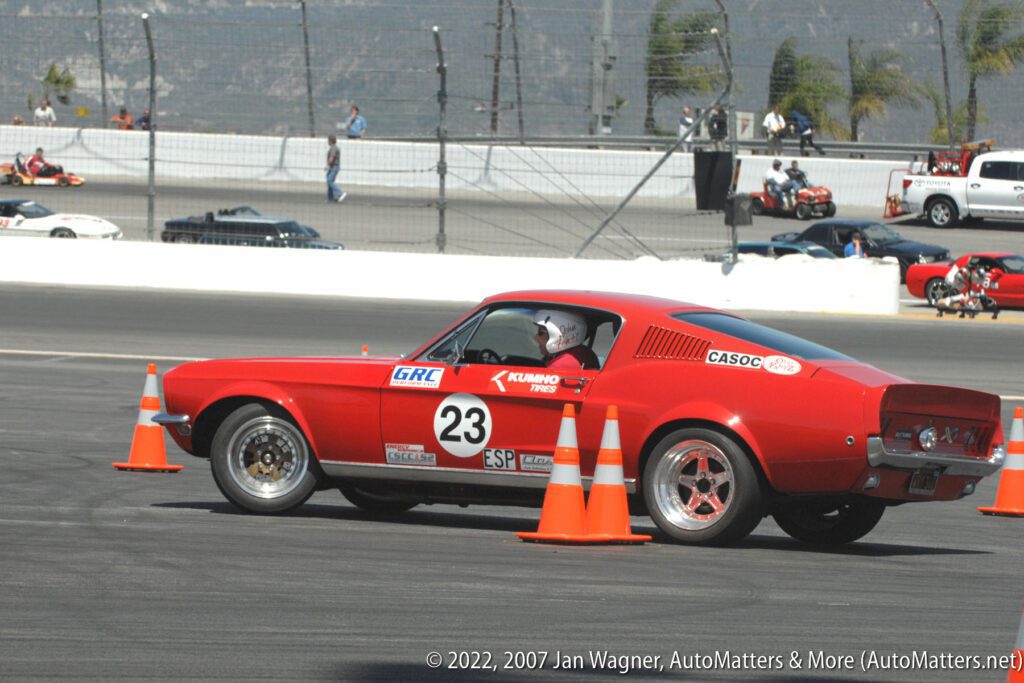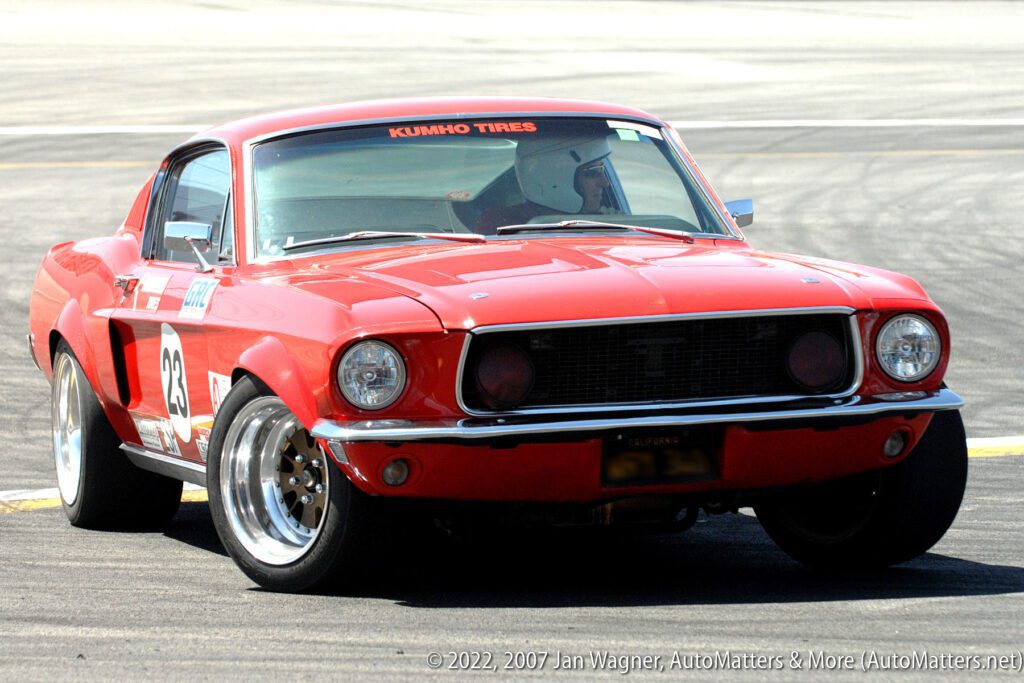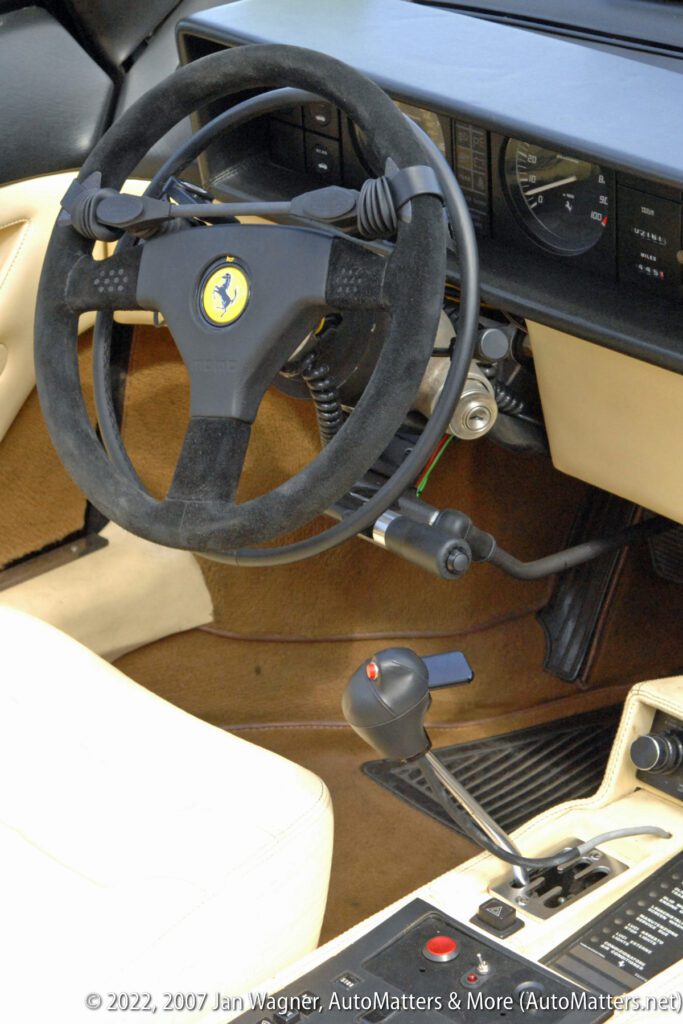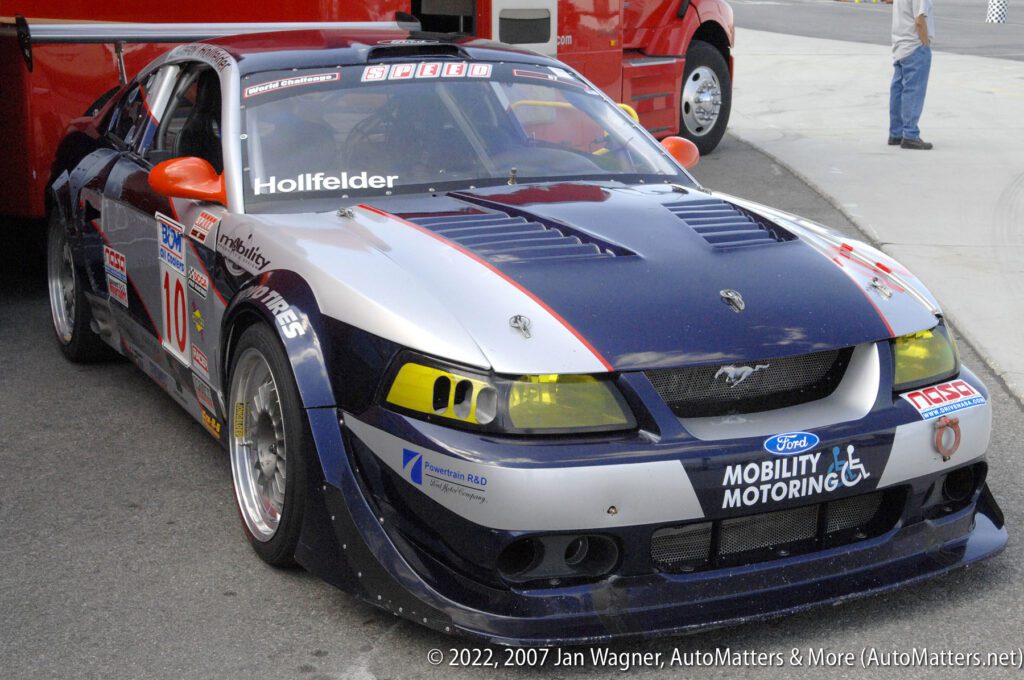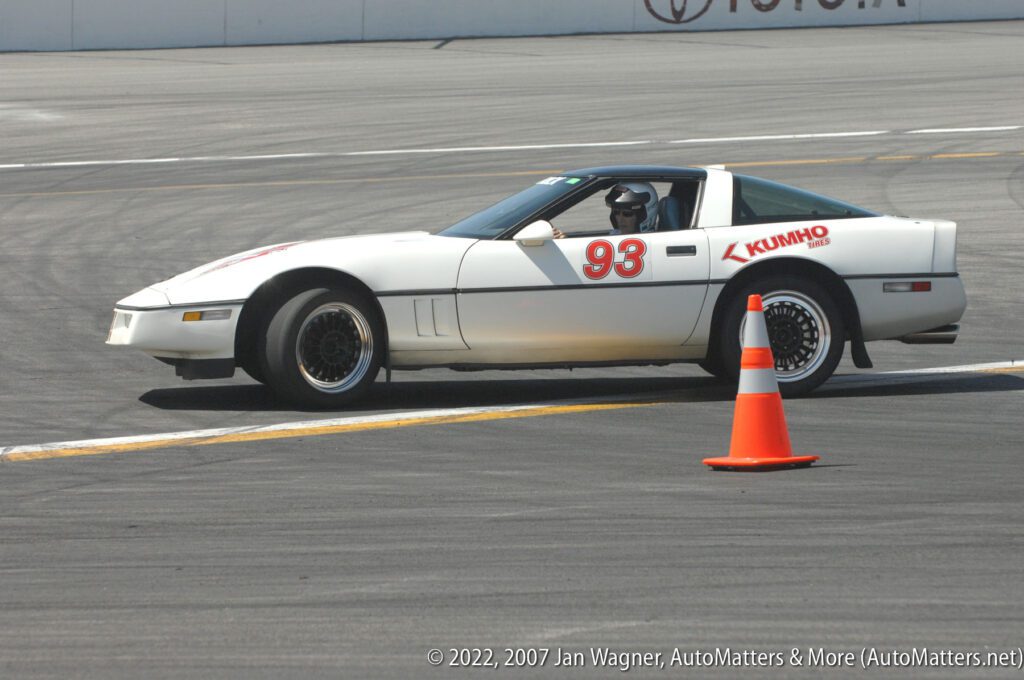 As it turned out, circling the single cone proved to be a great equalizer for the big cars versus the small cars. Large, fast cars seemed to carve a bigger circle around the pylon, which ate up more time as compared to the smaller cars – including my Hoosier autocross tires-equipped Miata.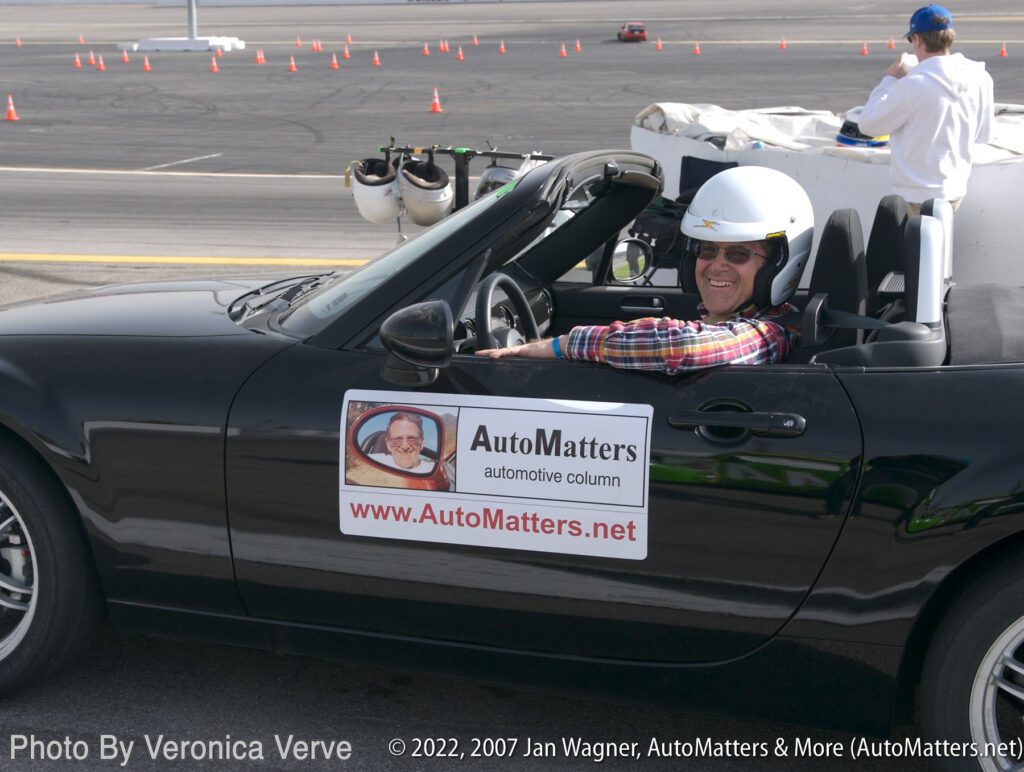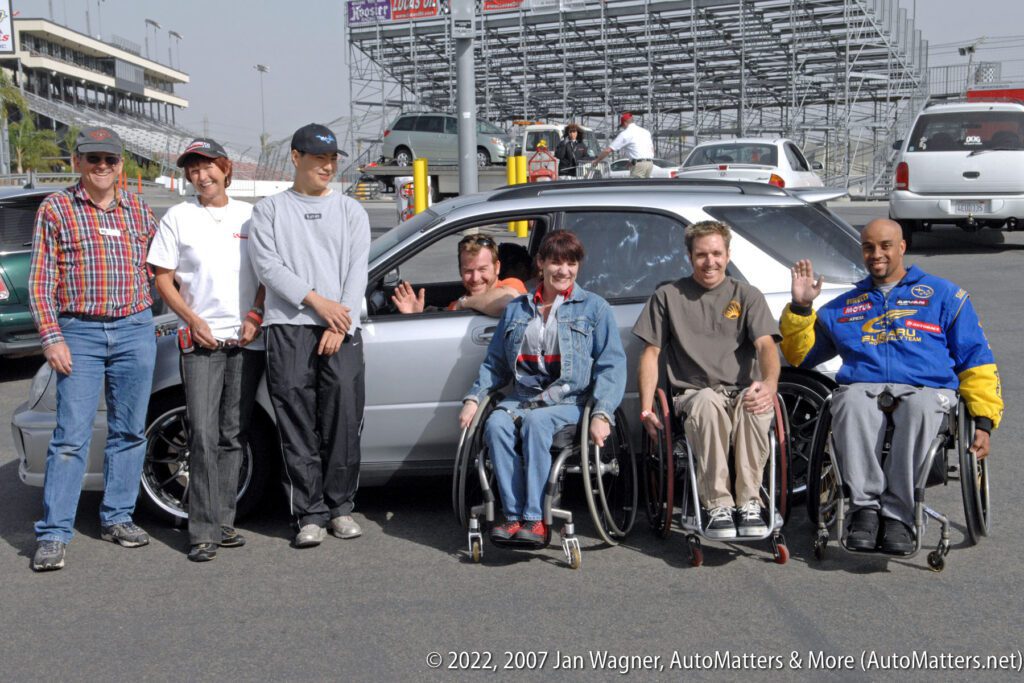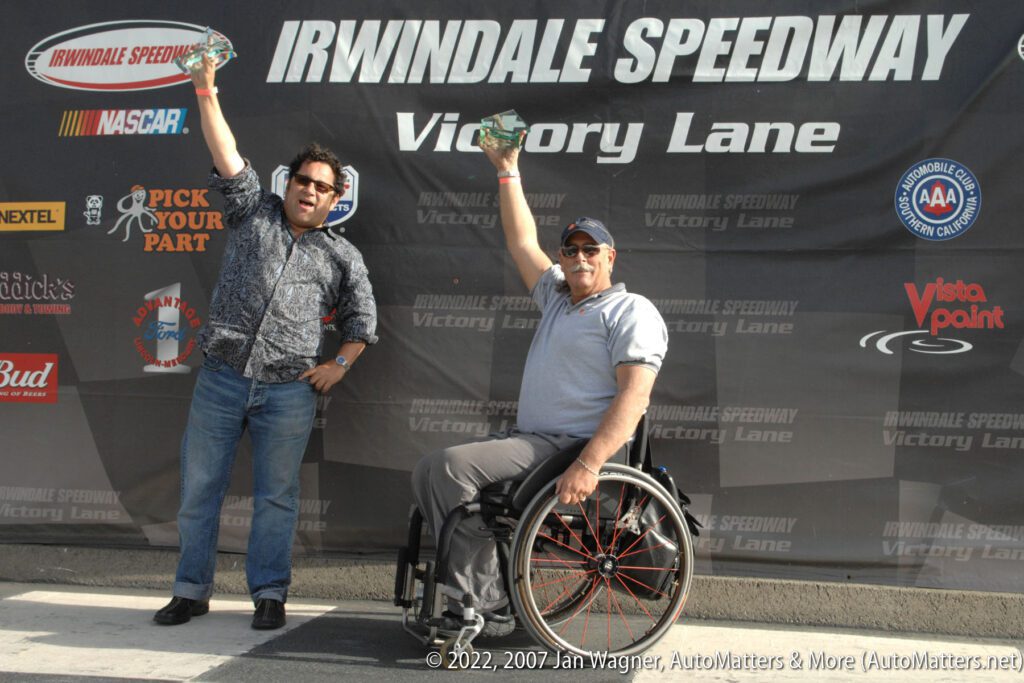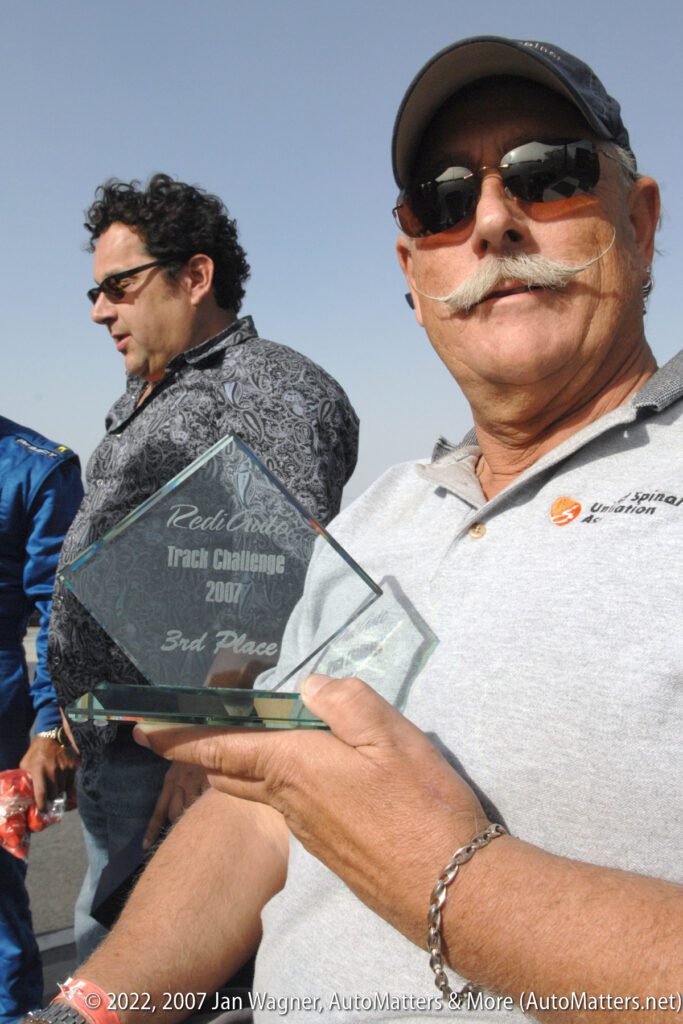 I still find it hard to believe but somehow I was given credit for posting the quickest time of the day and the RediAuto Sport people even said that they'll be sending me a plaque to prove it! I doubt I'll ever beat a national solo champion again but it sure was fun to have been able to do that even once.
We had a blast. Our day at Irwindale Speedway ended in Victory Lane with a presentation of some well-earned trophies.
This concluded my pre-race weekend activities.
My day to join the fans at the Long Beach Grand Prix was Saturday. There was plenty of food to eat and racing action for everyone to see and enjoy.
Before the day's racing began we got a great opportunity to see cars from the SPEED World Challenge GT, Champ Car Atlantic and the Champ Car World Series practice.
SPEED World Challenge GT Practice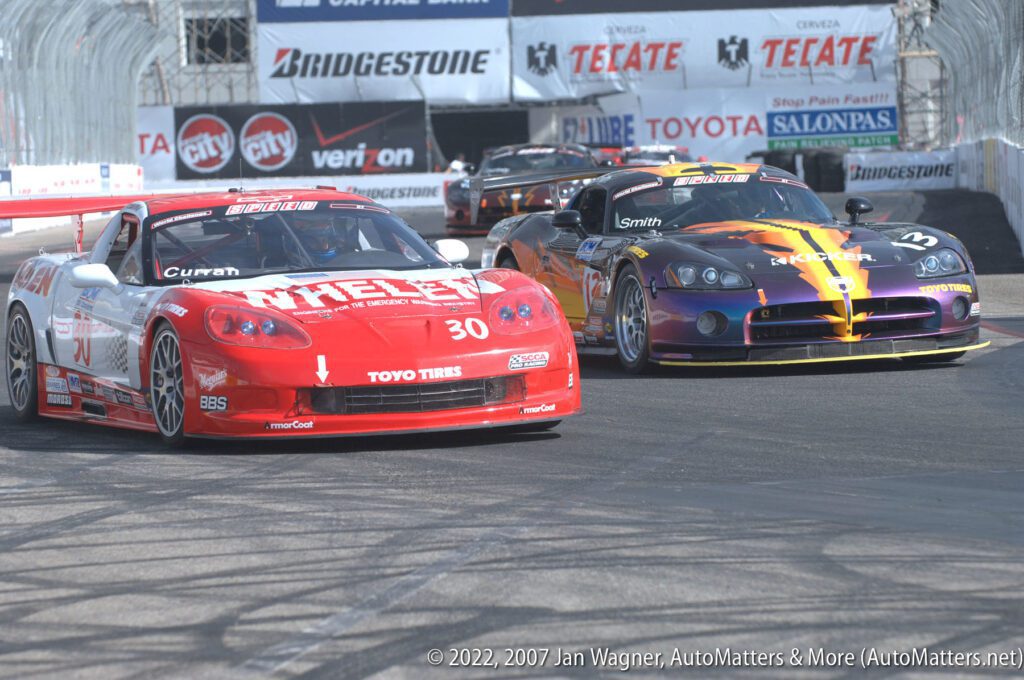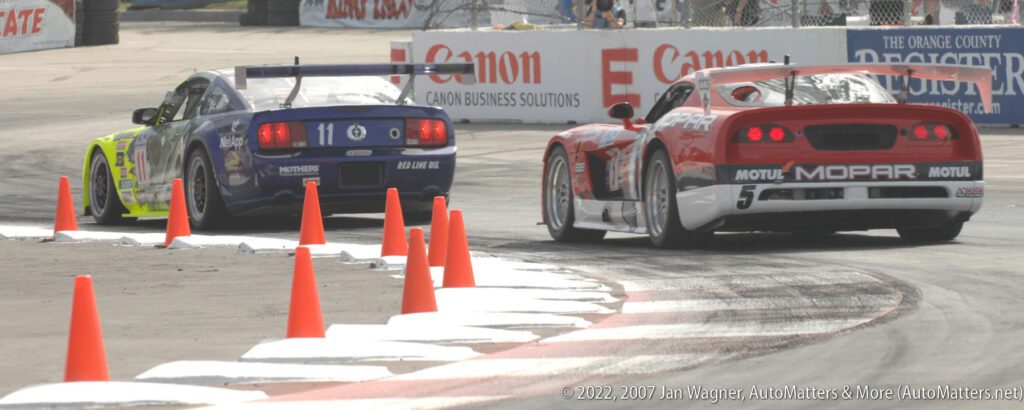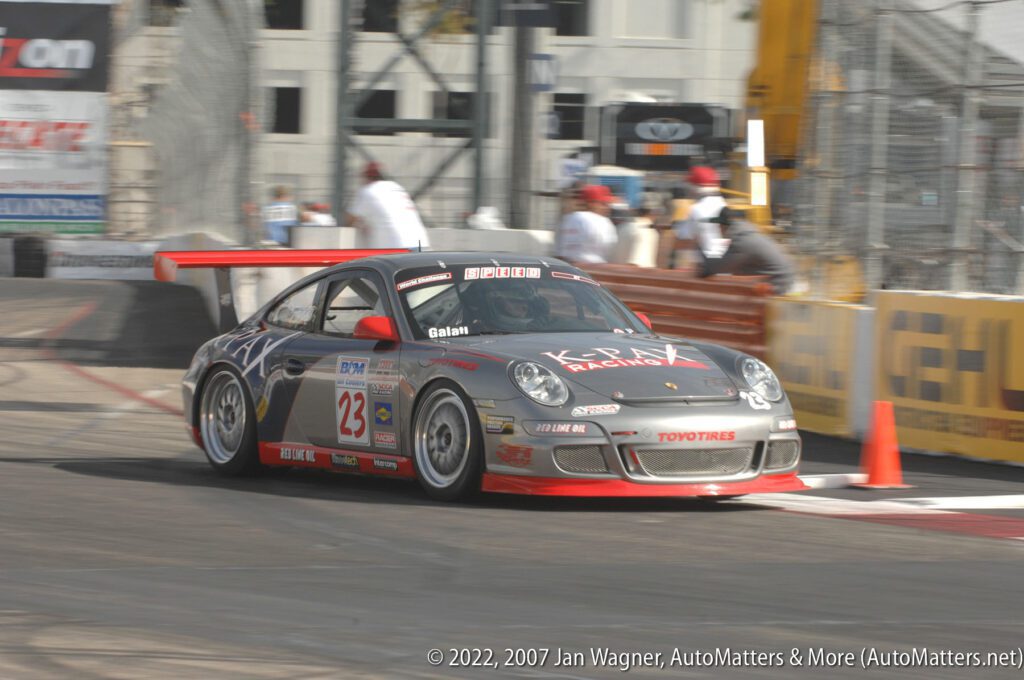 Champ Car Atlantic Practice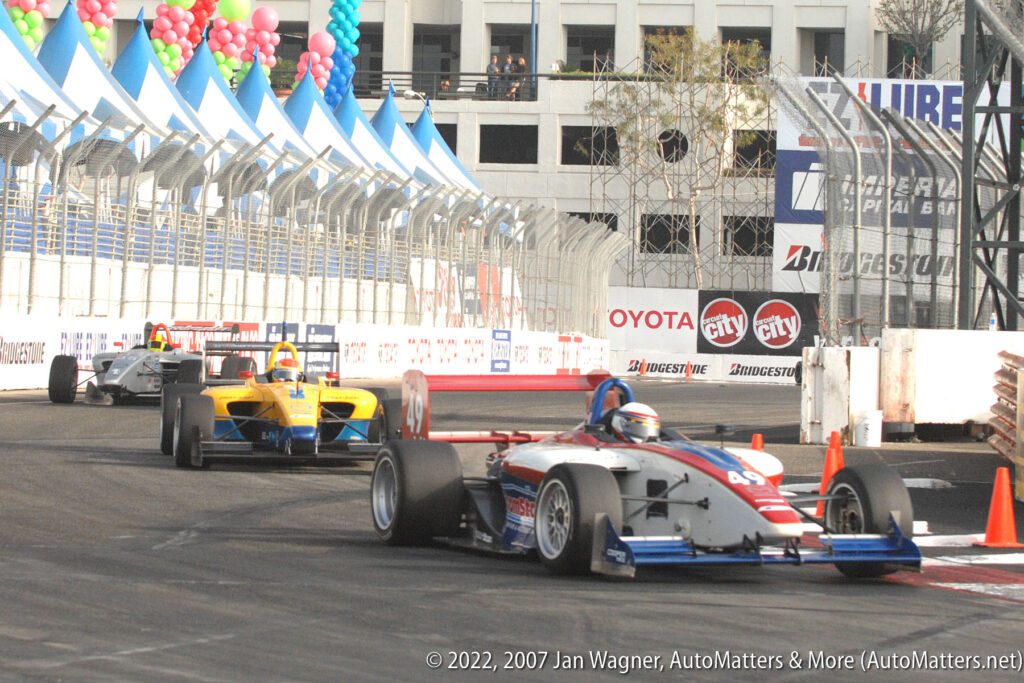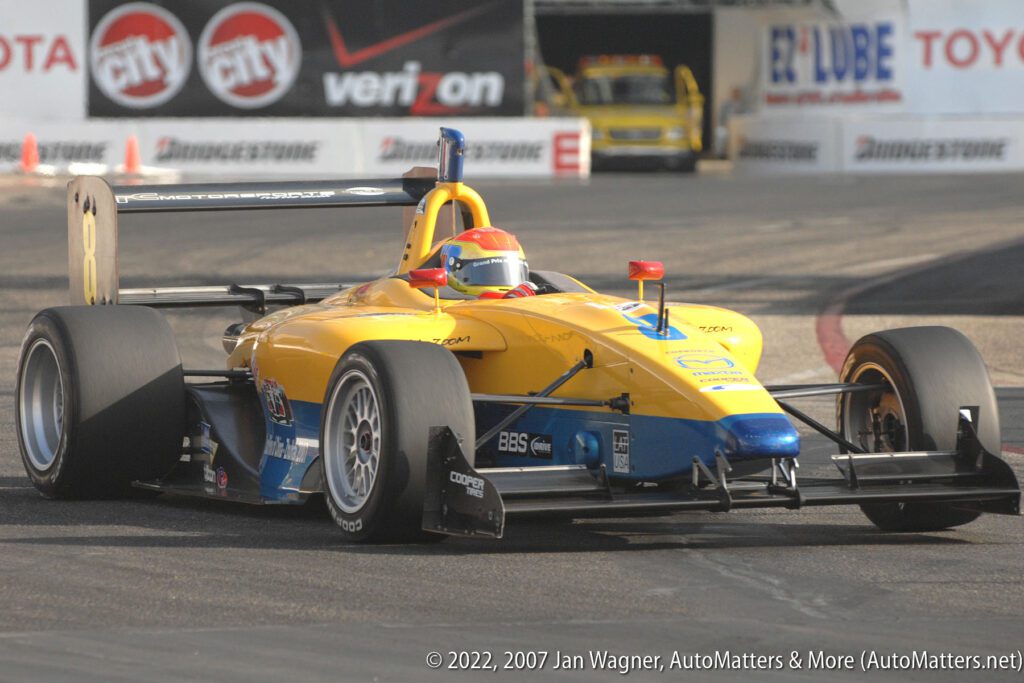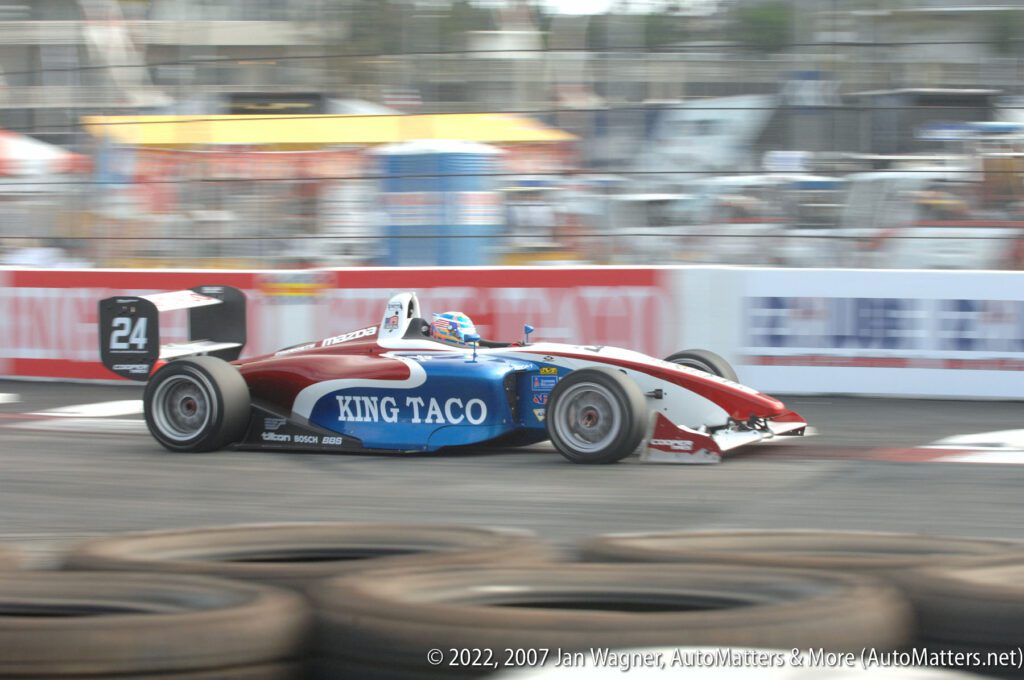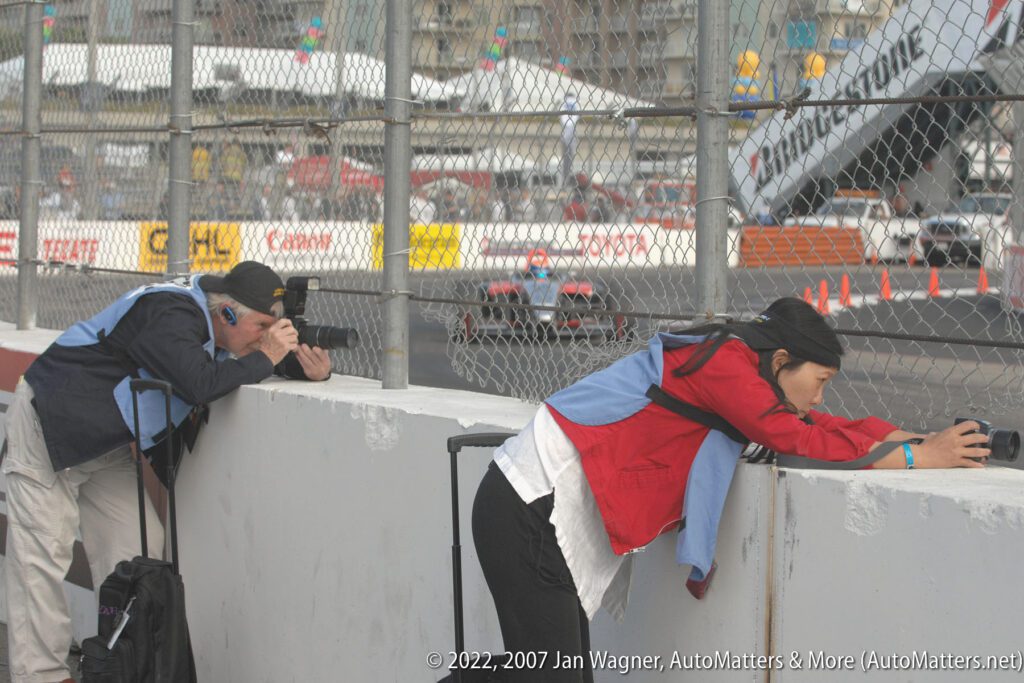 Champ Car World Series Practice
Unfortunately, a practice session ended the weekend early for Champ Car driver Paul Tracy. His back was injured when he hit a wall hard enough to get his car airborne. That was enough to sideline him from racing the next day. Initial reports had him out of his car for three months but the latest word is that he may be back after the Houston race next weekend.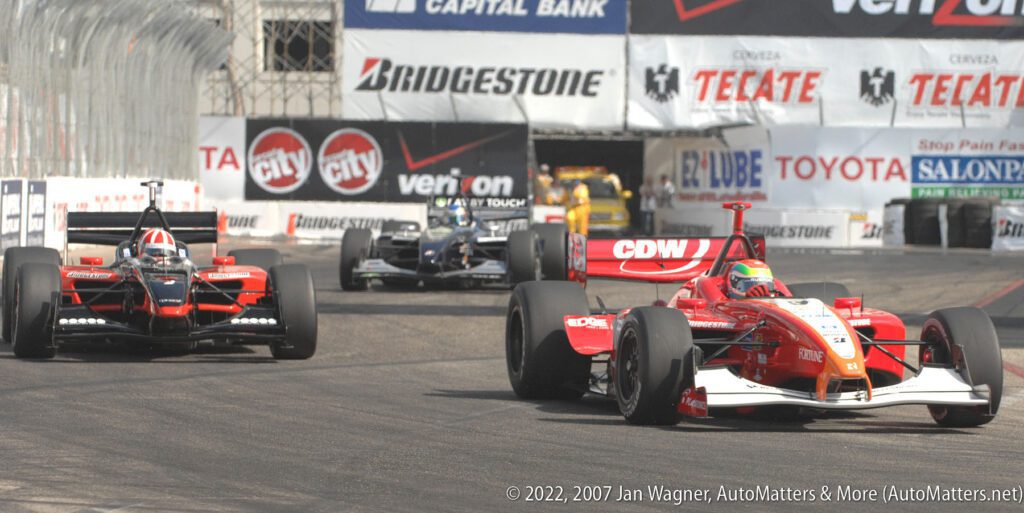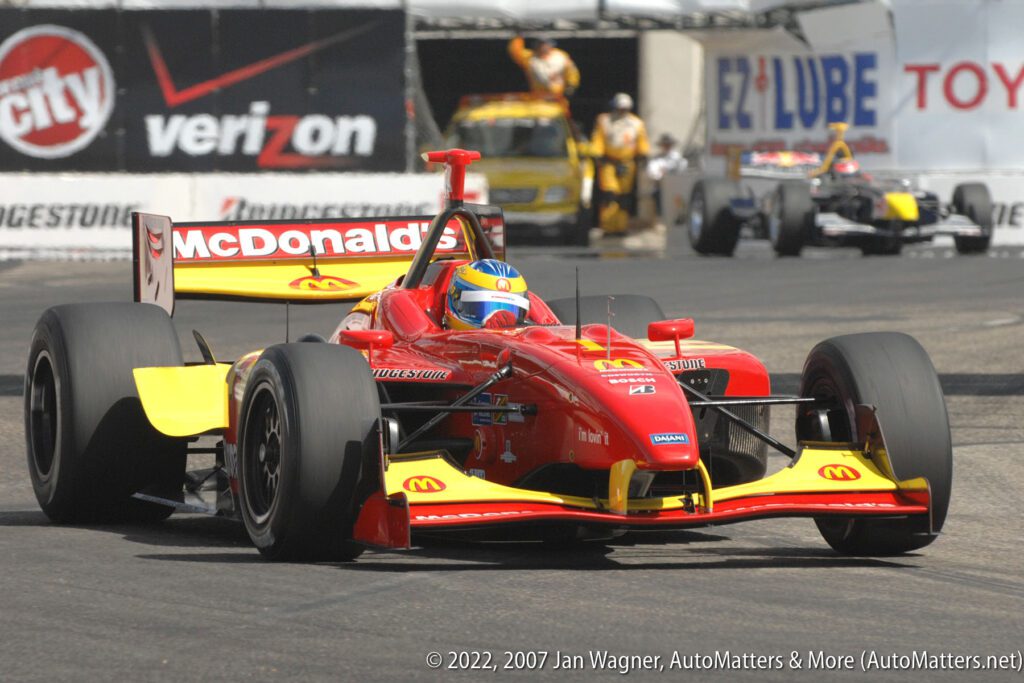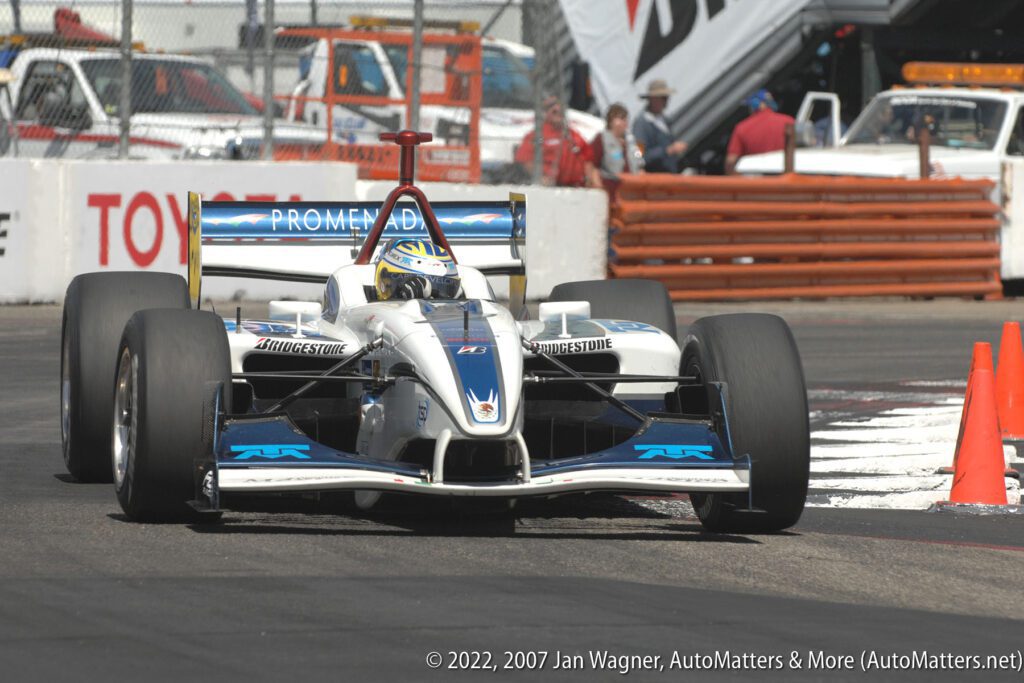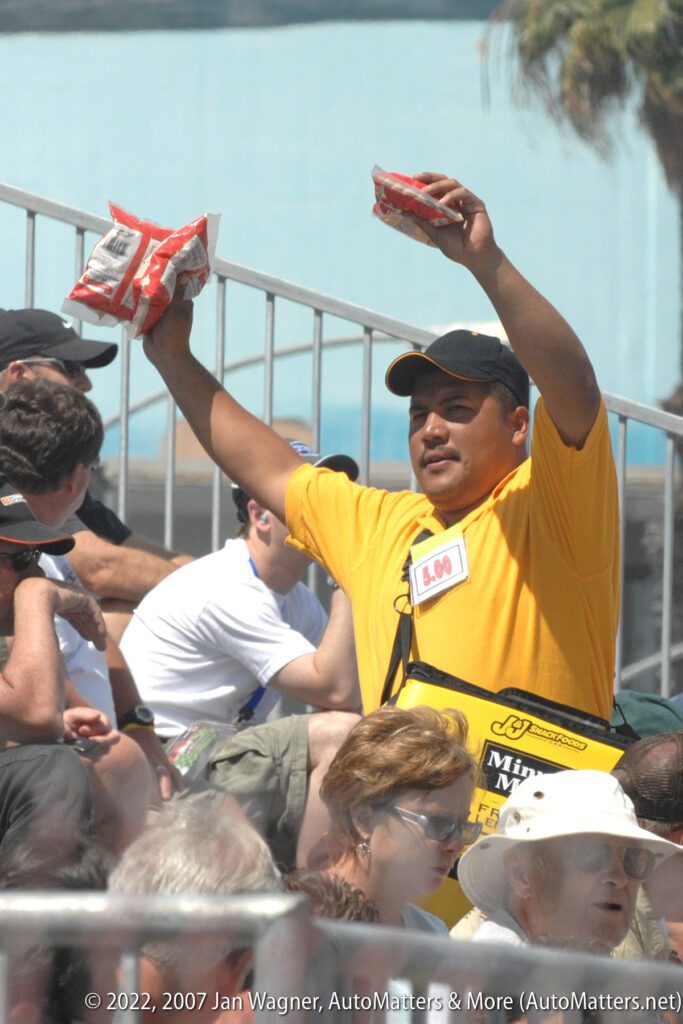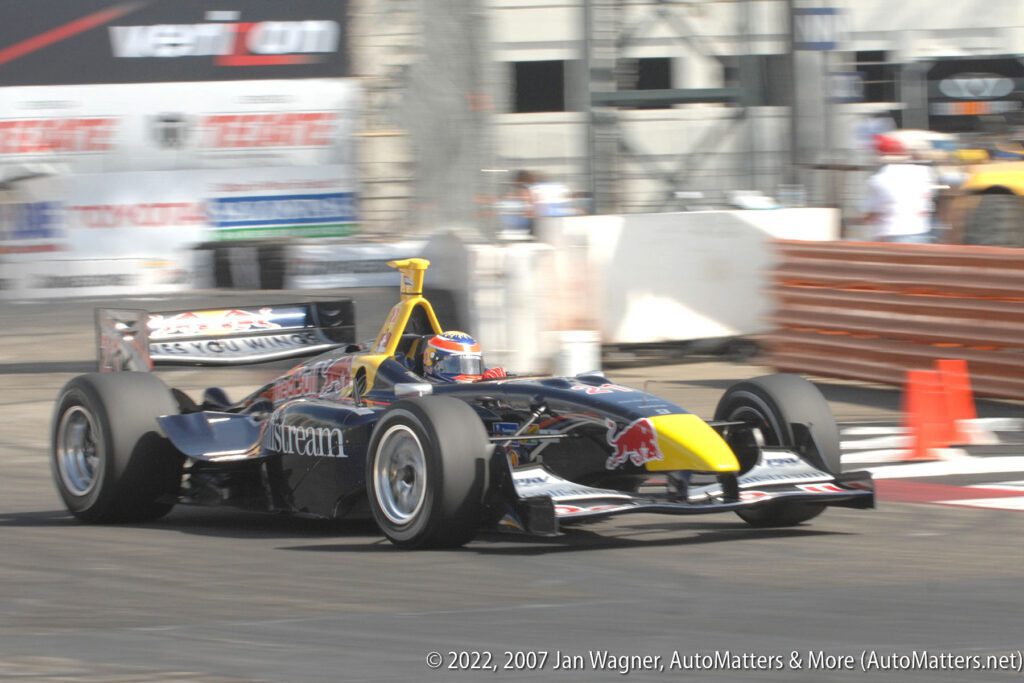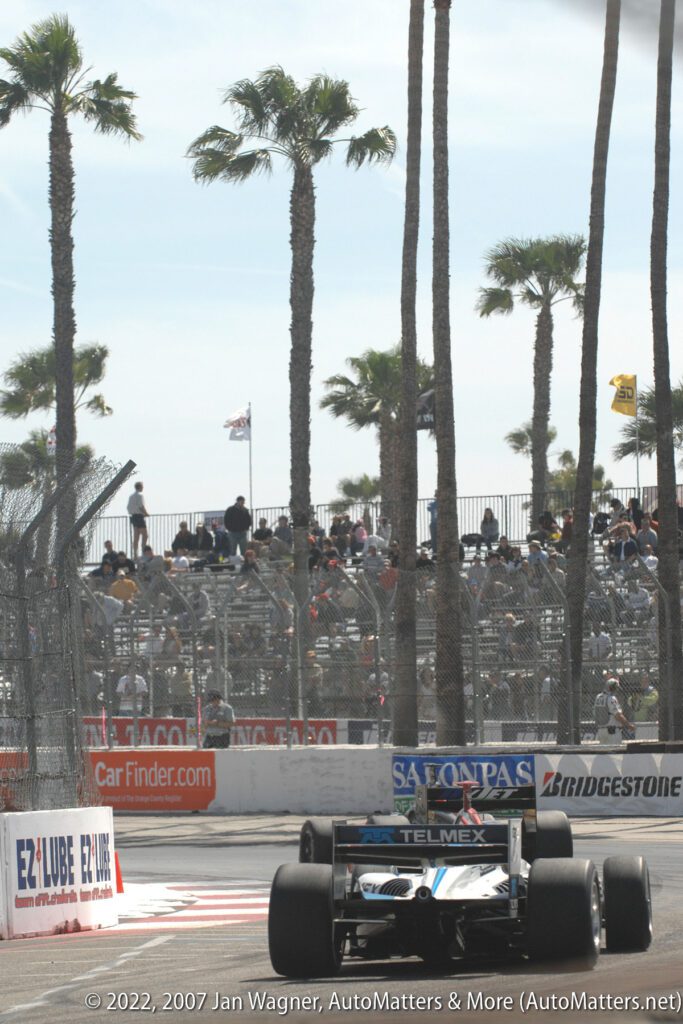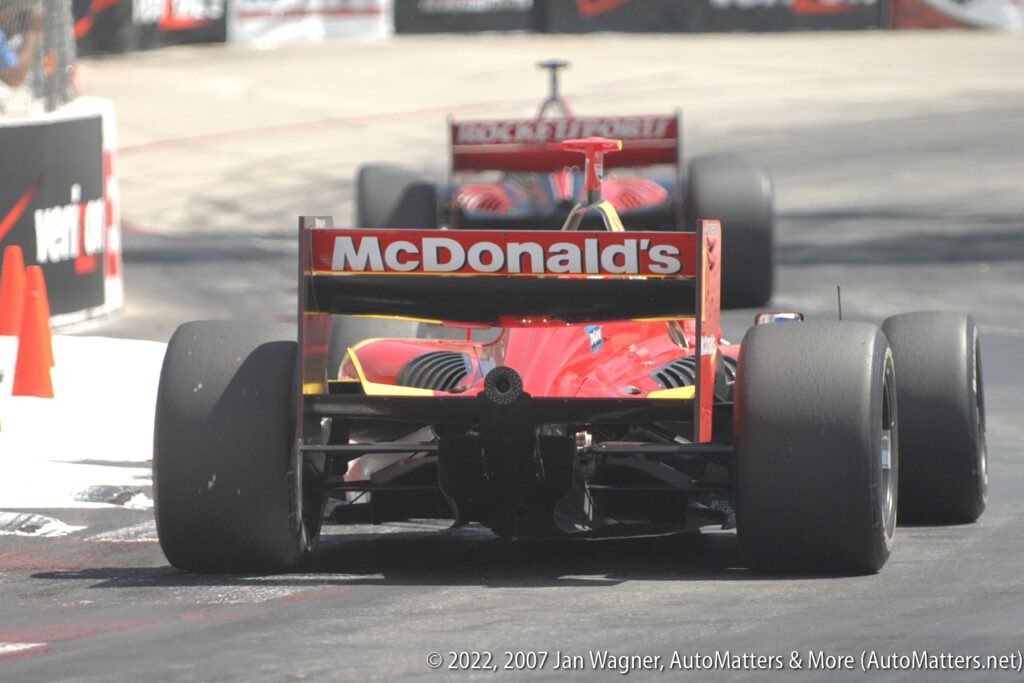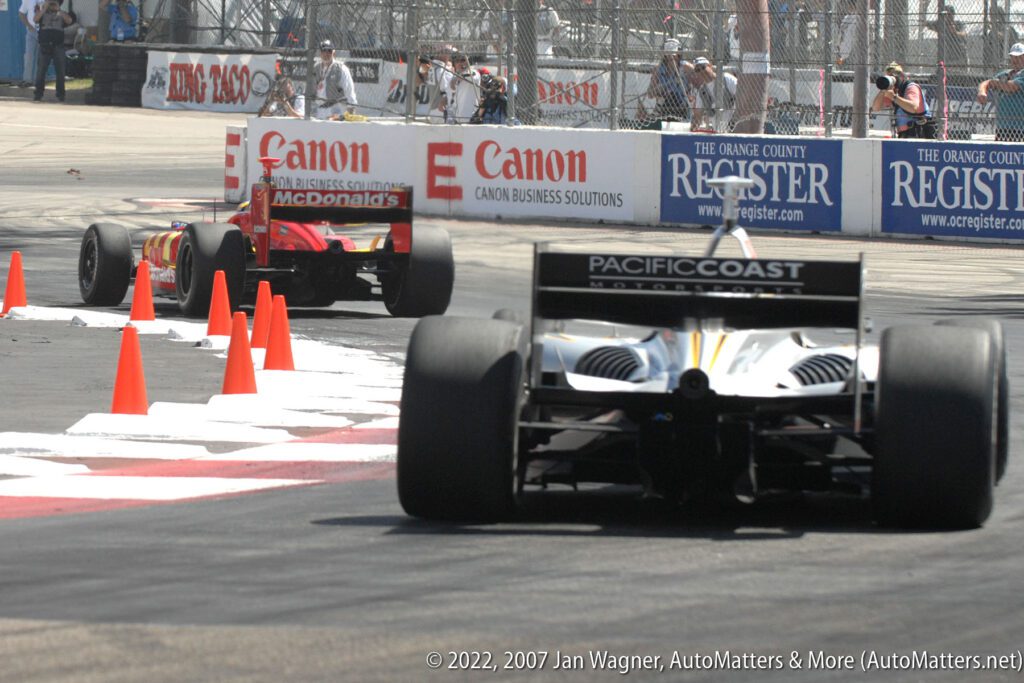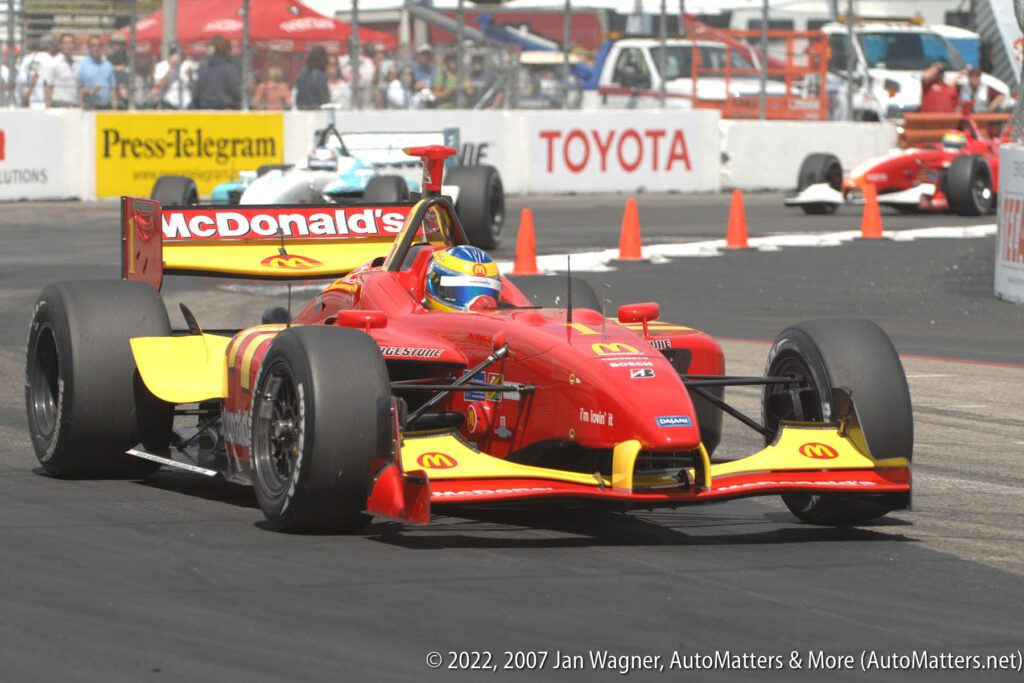 Racing included the Toyota Pro/Celebrity Challenge and the American LeMans Series races. Vantage points for taking pictures were plentiful. We were only limited by luck and how much walking we were prepared or able to do.
Toyota Pro/Celebrity Challenge Race
The Toyota Pro/Celebrity Challenge race began with a skydiving demonstration and a low altitude flyover.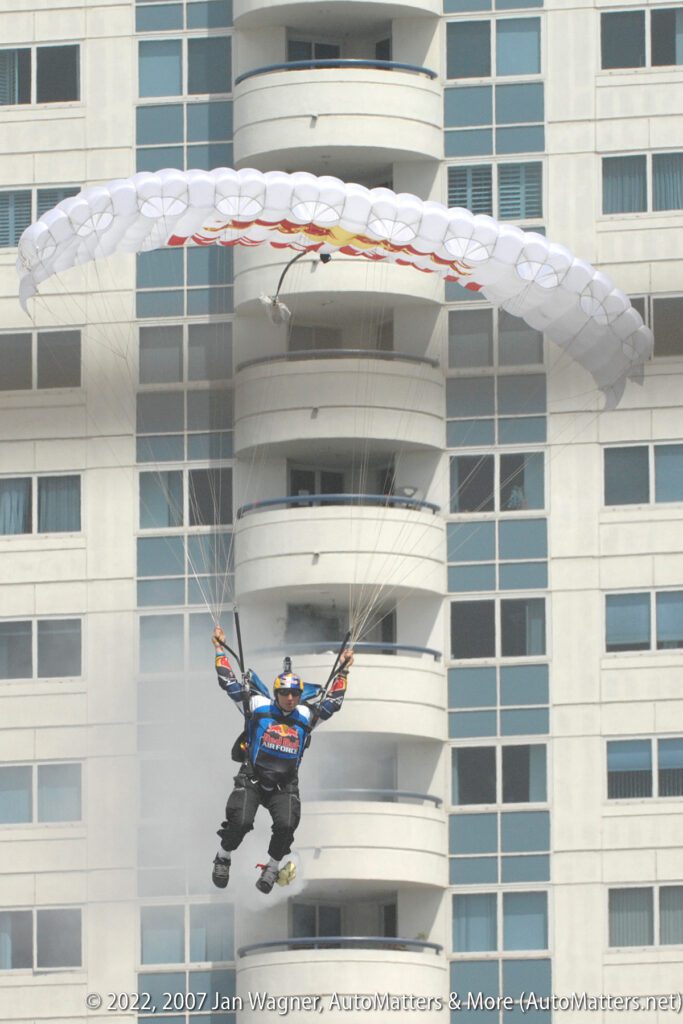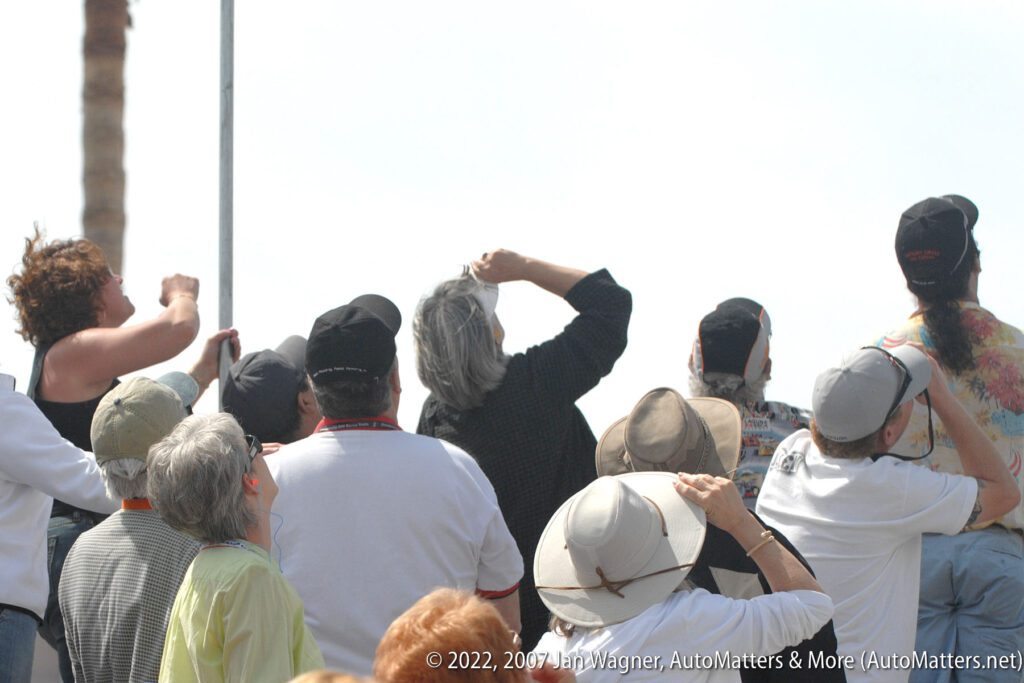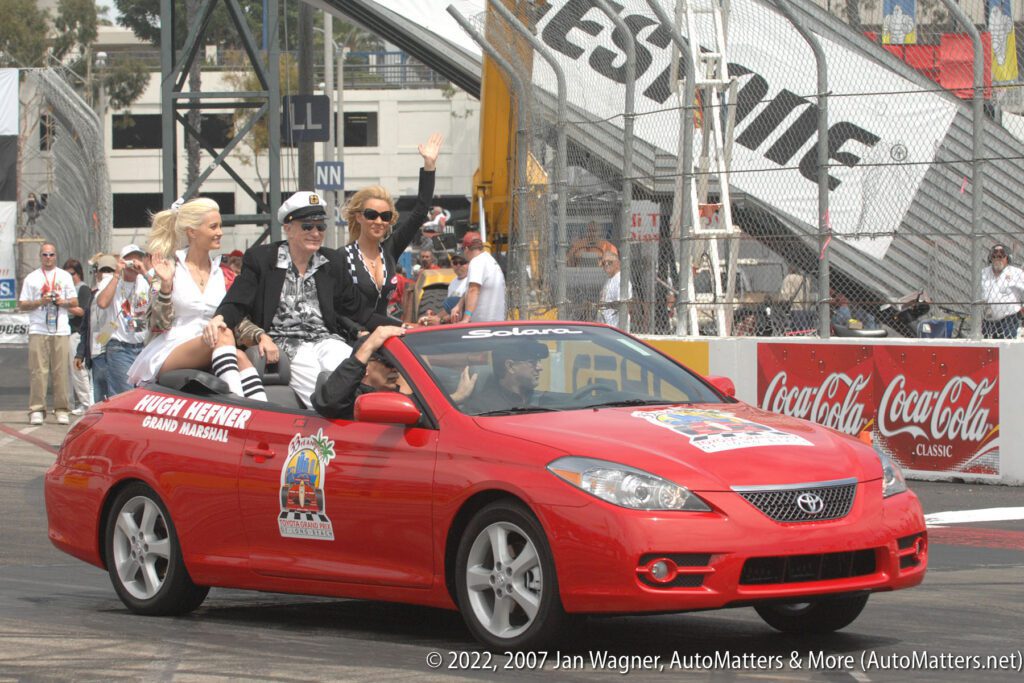 Hugh Hefner was the Grand Marshal.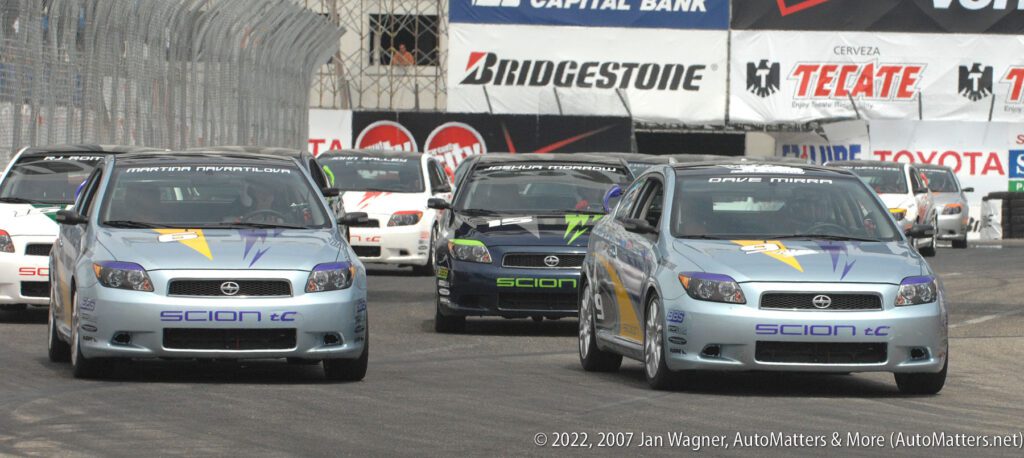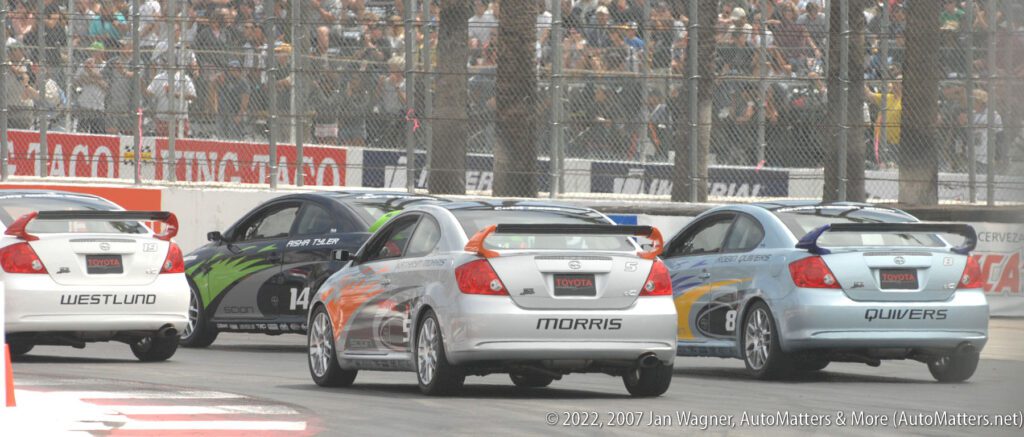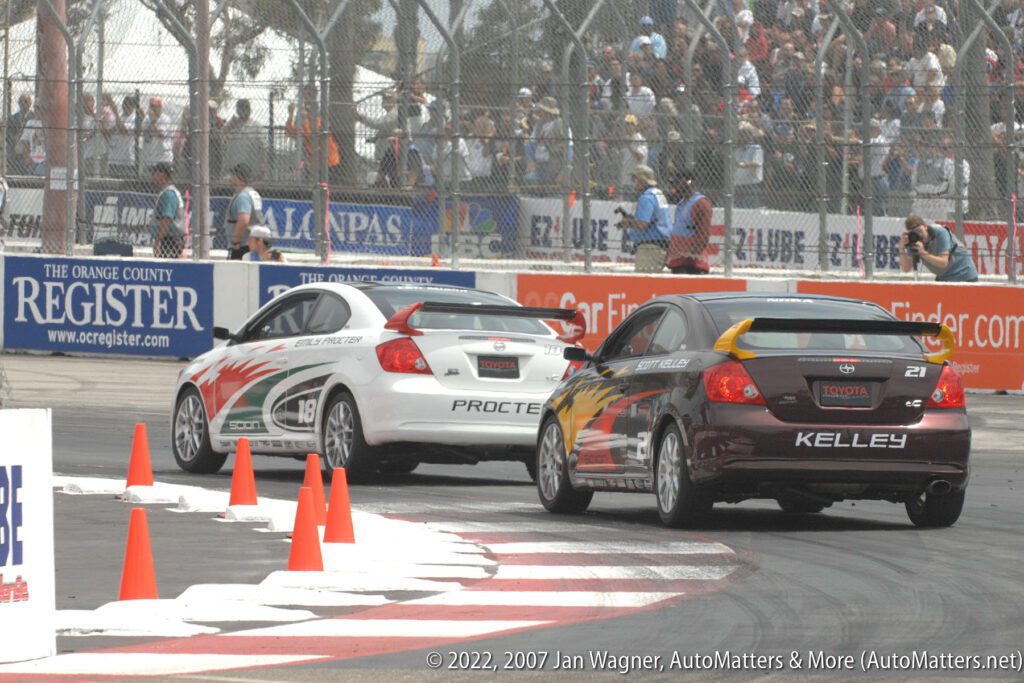 Following that, I watched most of the accident-shortened race from between turns nine through 11 (the hairpin, which leads onto the main straight). By the way, that is an especially good place to watch from because the cars are moving relatively slowly and bunch up as they negotiate several fairly tight turns. If you are especially observant you can also see cars slowing for the end of the back straight.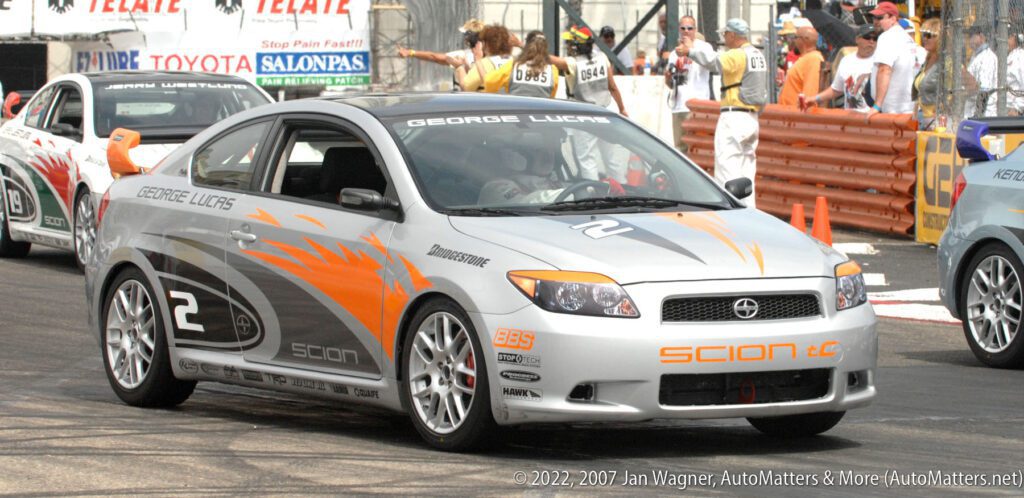 This race ended prematurely after just eight laps, following a spectacular crash that involved George Lucas. The force was not with him this day.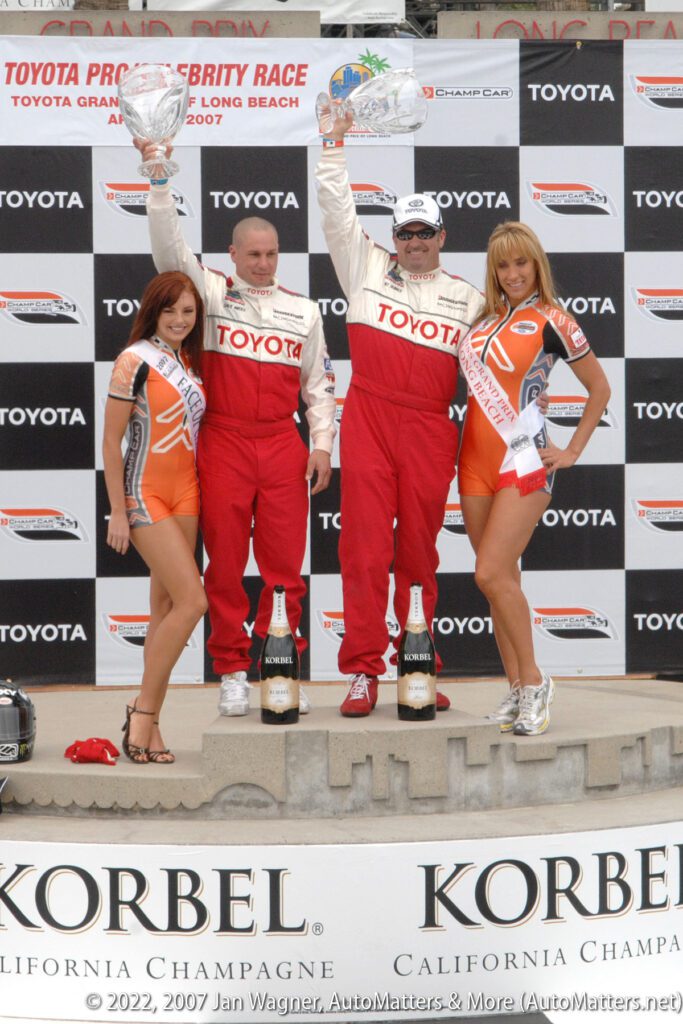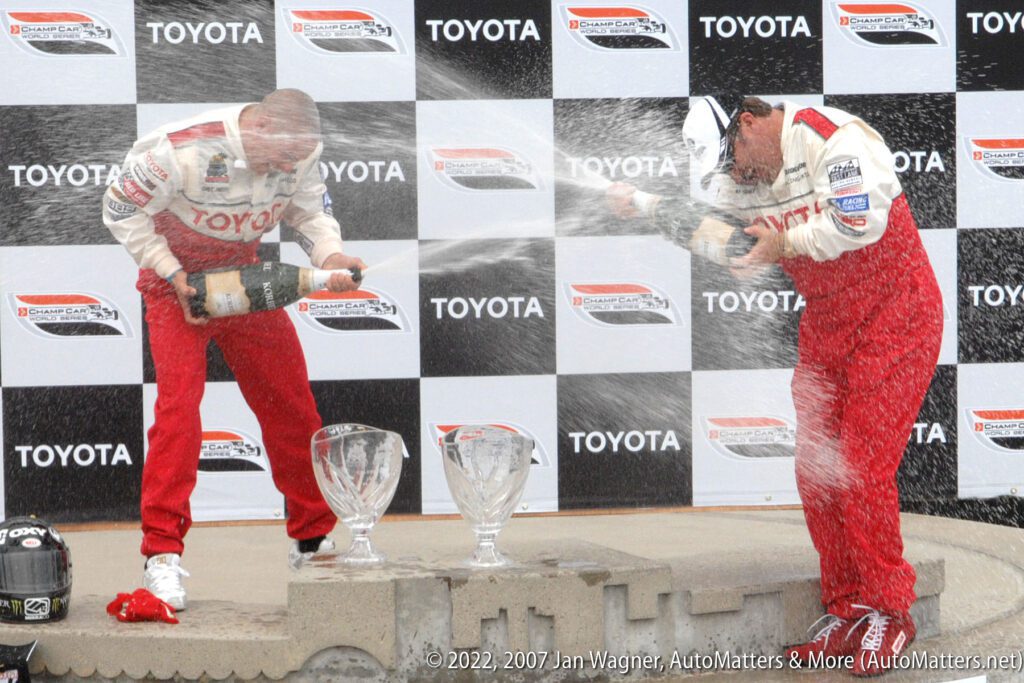 Professional BMX rider Dave Mirra held off his fellow competitors to take the overall win, followed by Martina Navratilova and then actor Joshua Morrow, of "The Young and the Restless". NASCAR's Mike Skinner, the first of the pro category drivers, brought his Scion home in fourth place. All but three of the entire field of drivers finished every lap.
As much fun as this was for fans and spectators alike, this race was also a benefit for charities. Since 1991, Toyota's charitable contributions directly related to these races amounts to almost $1.5 million.
American Le Mans Series Race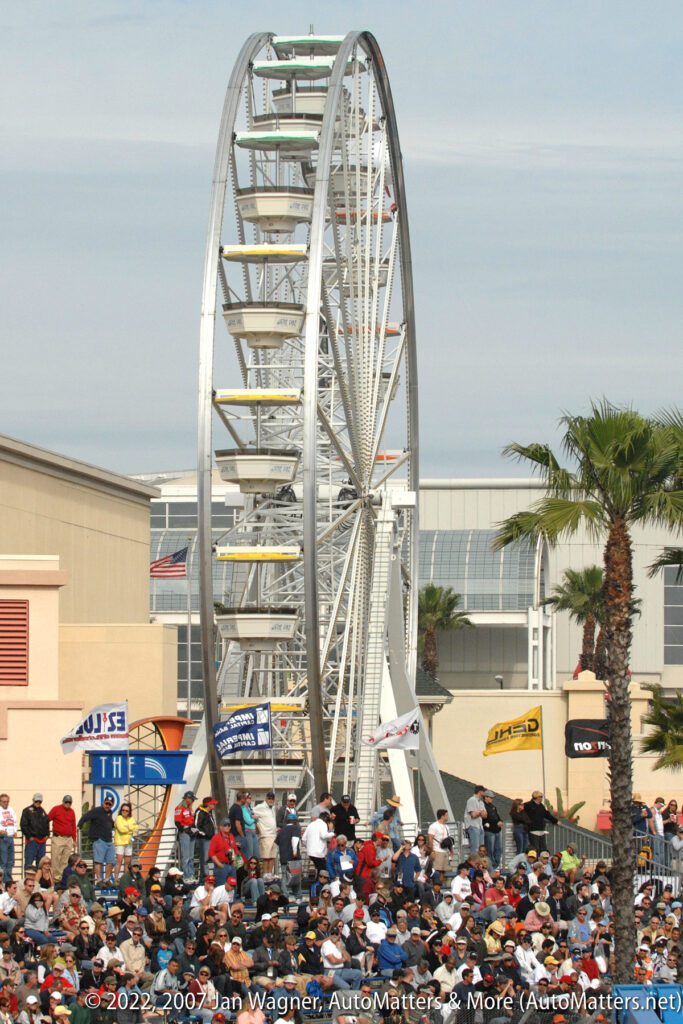 Towards the latter part of the afternoon, I joined a worldwide television audience estimated at over 700 million households to watch the American Le Mans Series race. My vantage point was from the end of the main straight.
Reflecting concern for our environment, IMSA (the sanctioning body) has moved to an ethanol blend of fuel for all of its primary racing series.
Before the race began, much concern was expressed about what would happen here. Four classes of cars, with different performance capabilities, would all race together and battle to be first at this point, before making a sharp left-hand turn. The question on many minds was, would there be mayhem here or would everyone make it through cleanly? No one wanted to avoid wrecking here more than the drivers.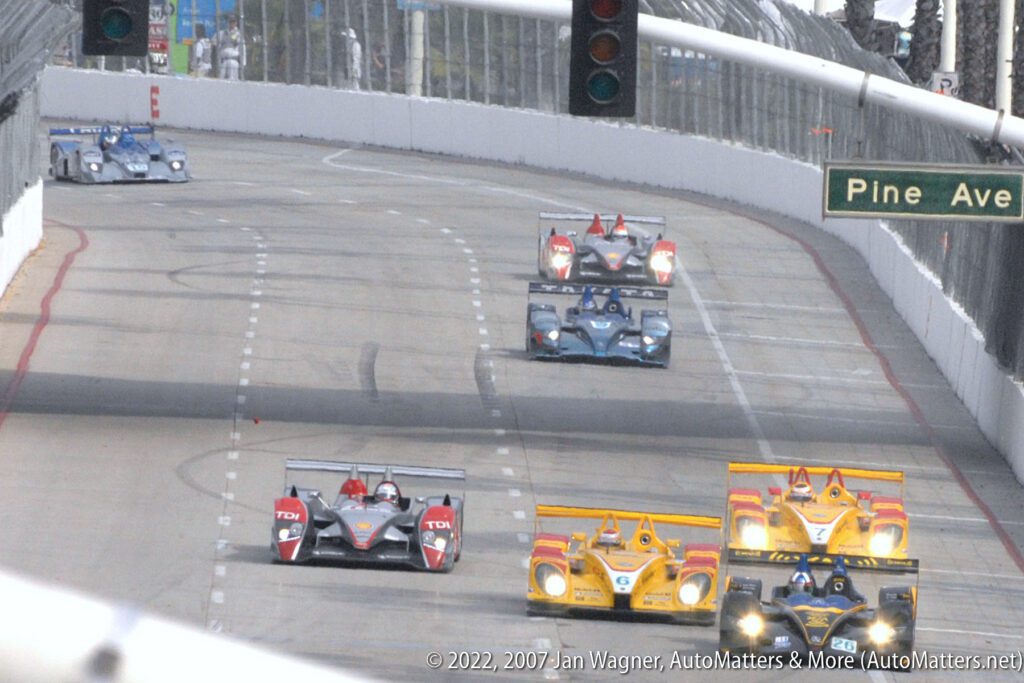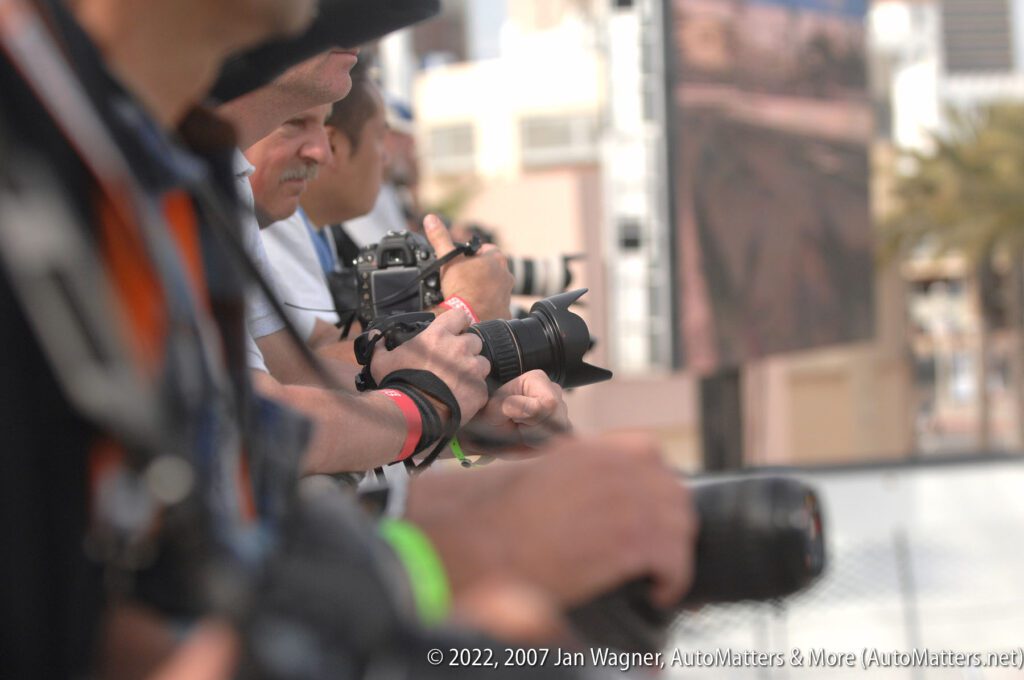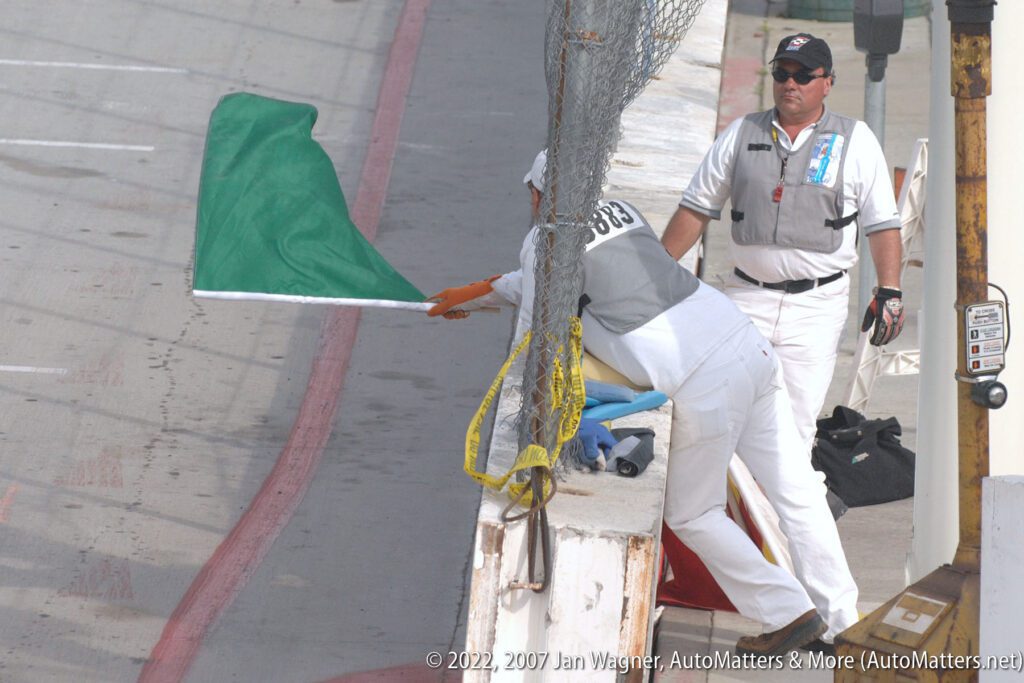 They made it through without incident.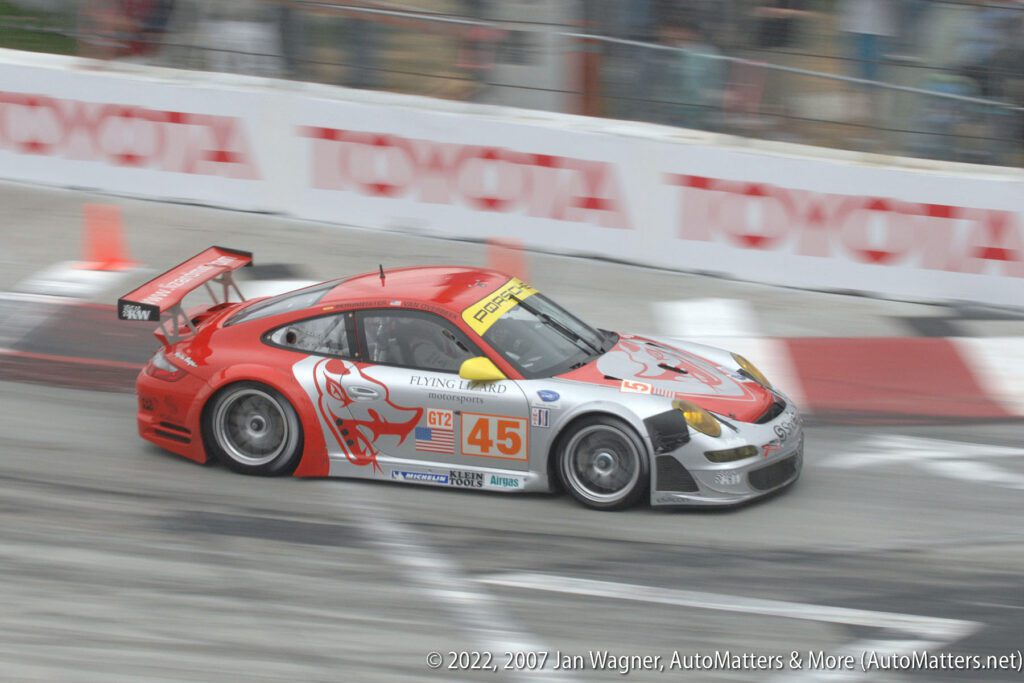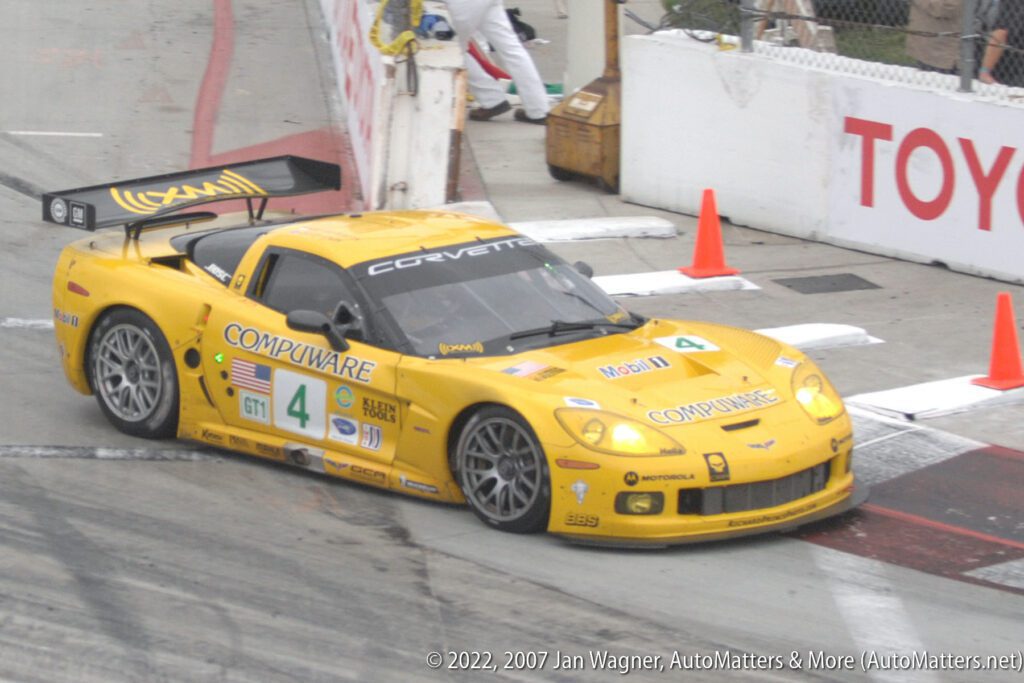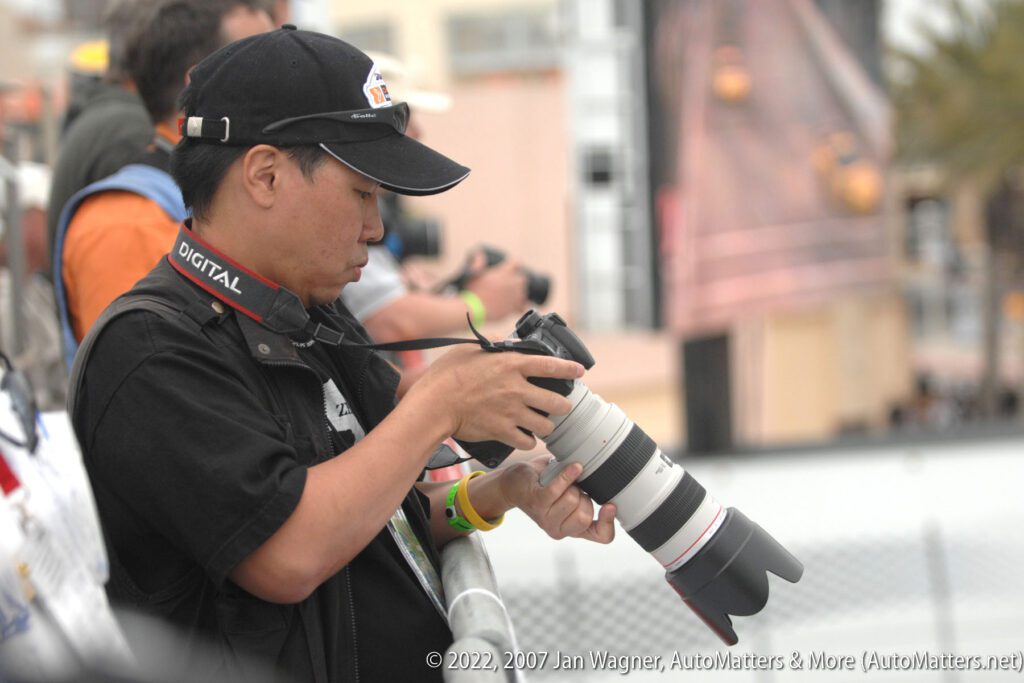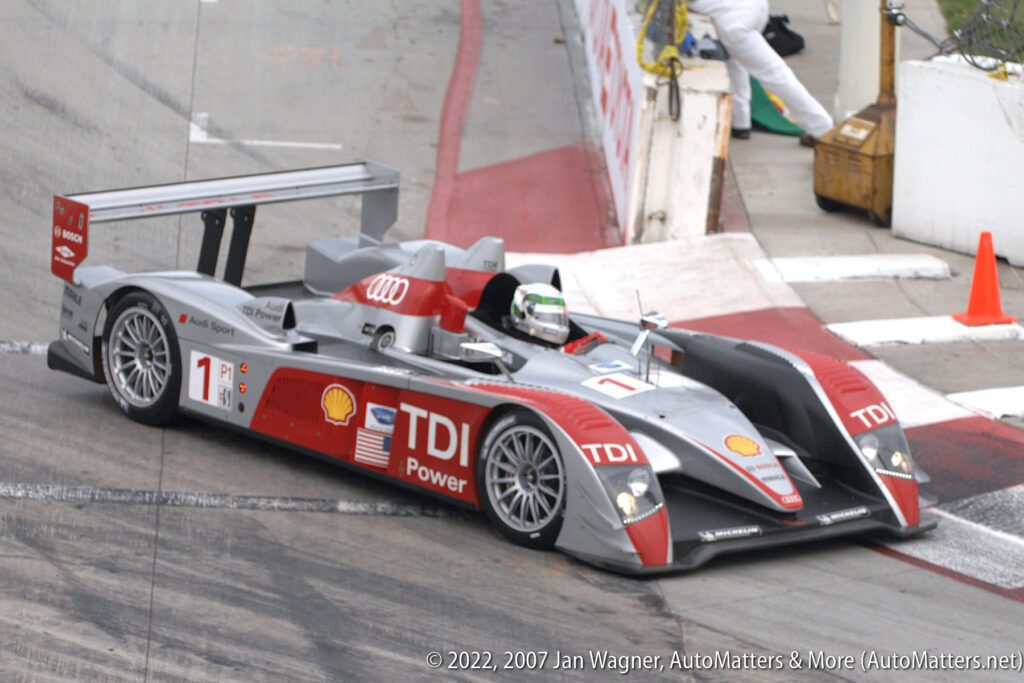 Having four classes of cars guaranteed that there would be plenty of passing throughout the race, and big screen TVs strategically placed around the track let the fans see what was happening no matter where they were. The two prototype classes (LMP1 AND LMP2) were especially fast in the straights but the two GT classes (GT1 and GT2) seemed better at negotiating the tight turns – especially the hairpin leading onto the front straight. It was there (on the big screen) that I saw at least one GT car actually rear-end a prototype and spin it out, when the GT driver misjudged his car's closing speed on the prototype while charging into the hairpin that leads onto Shoreline Drive.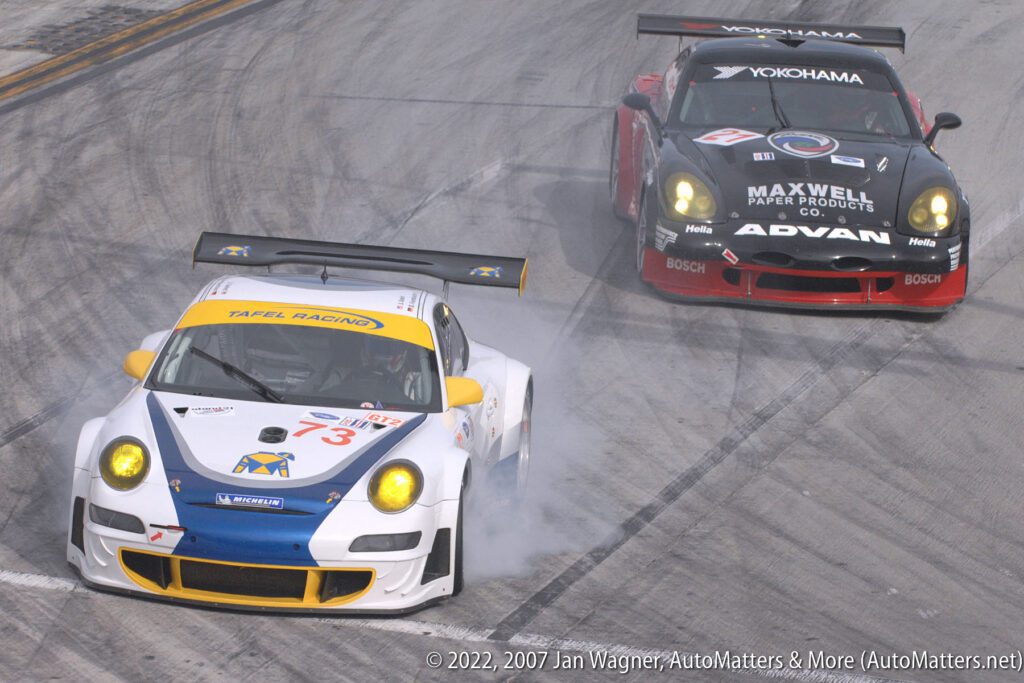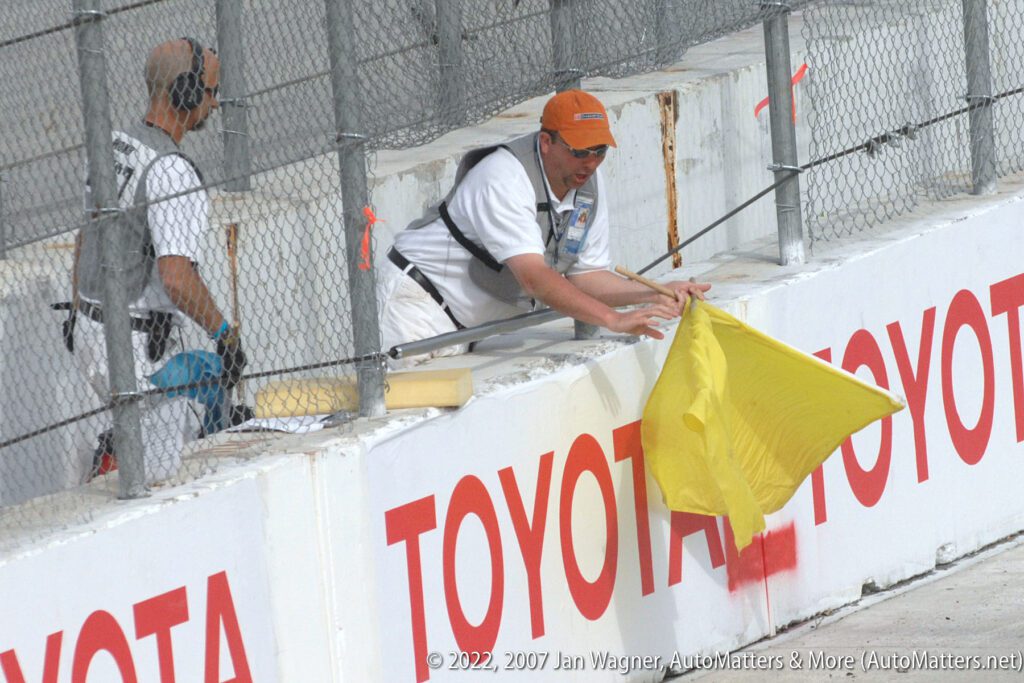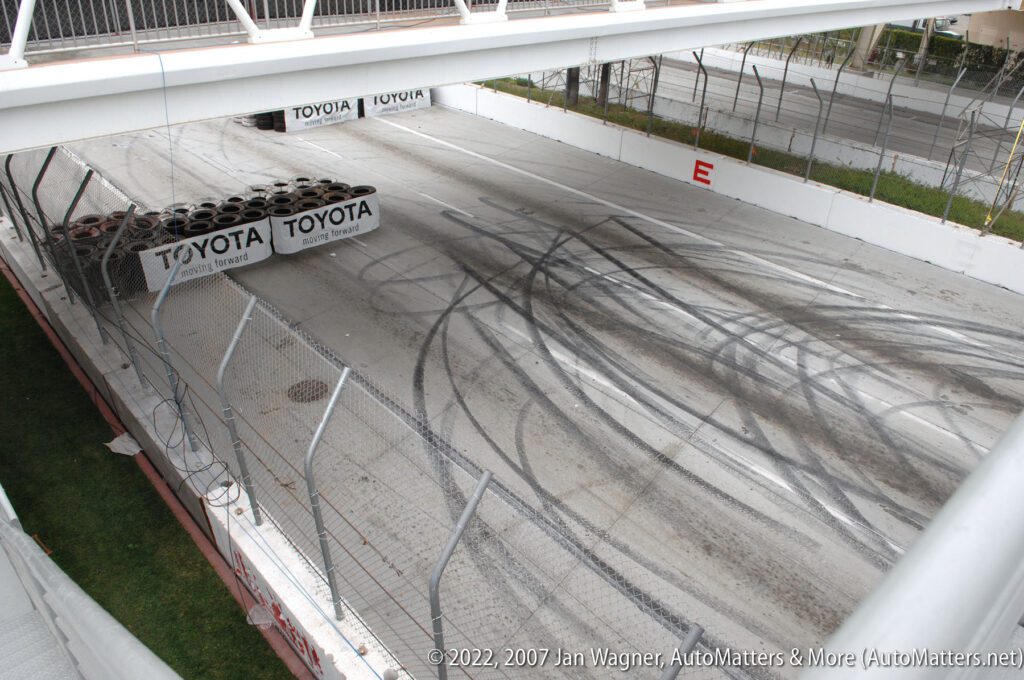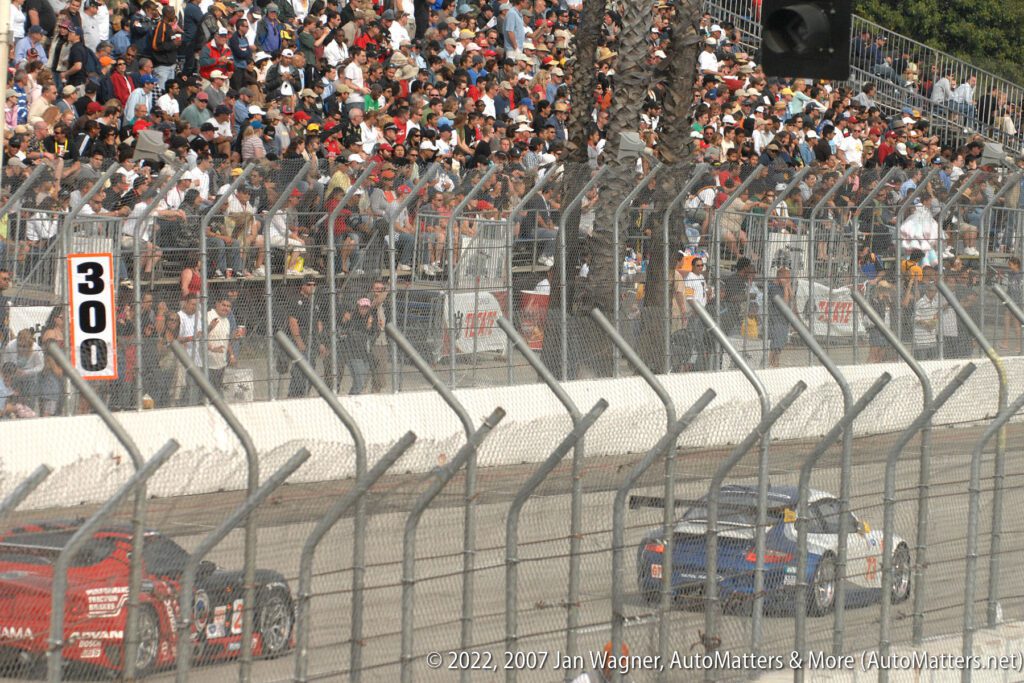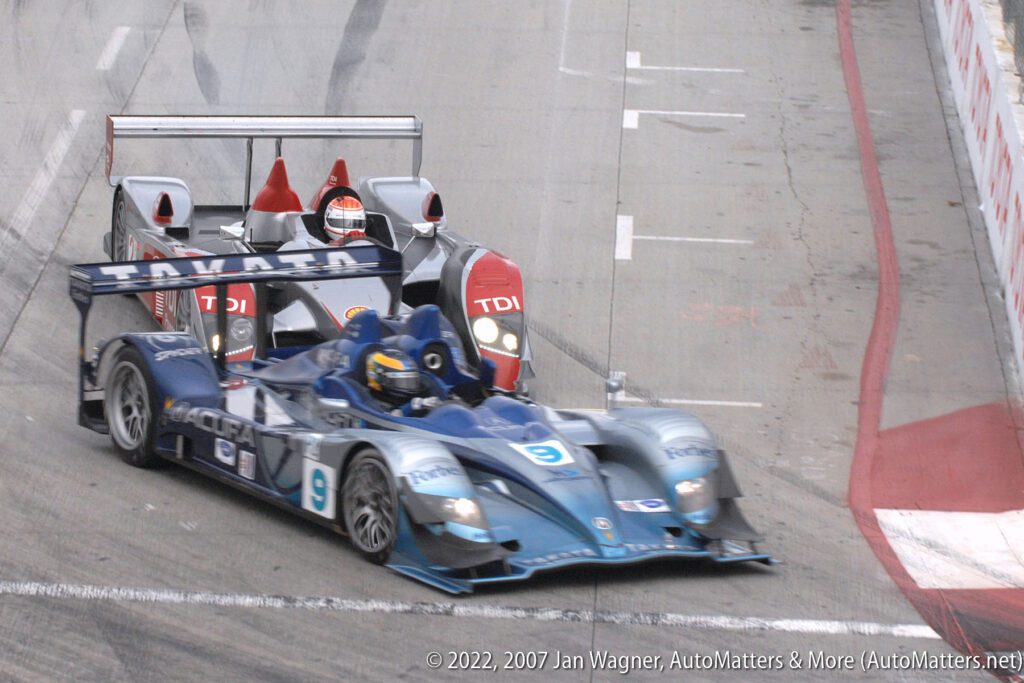 There was plenty of nail-biting action on my end of Shoreline Drive, too.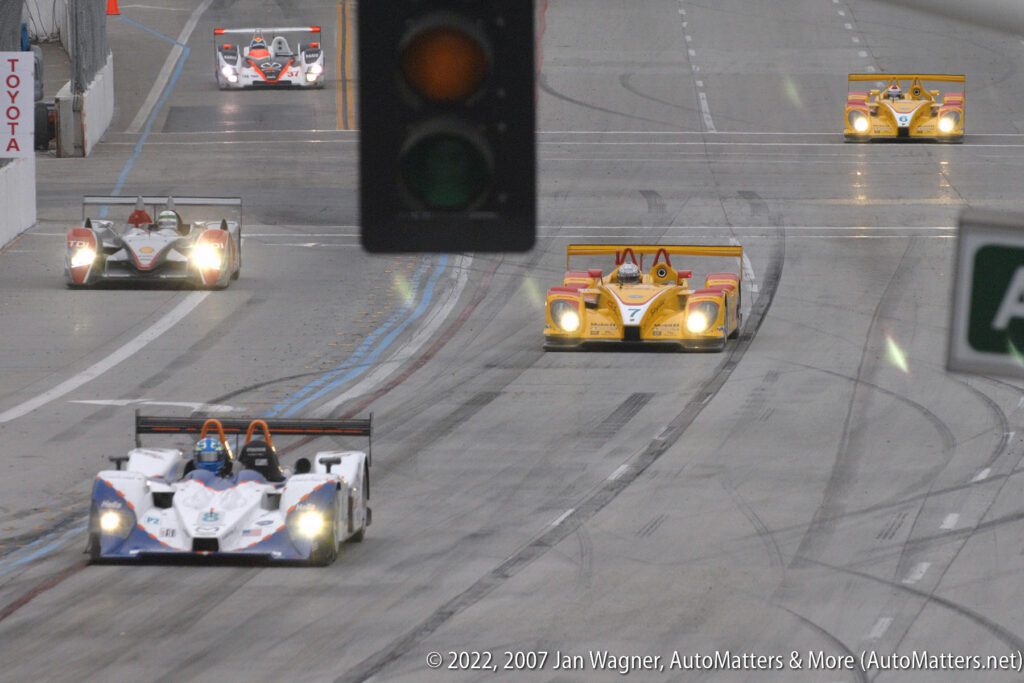 Mid-race driver changes added to the excitement, forcing cars to enter and leave the pits.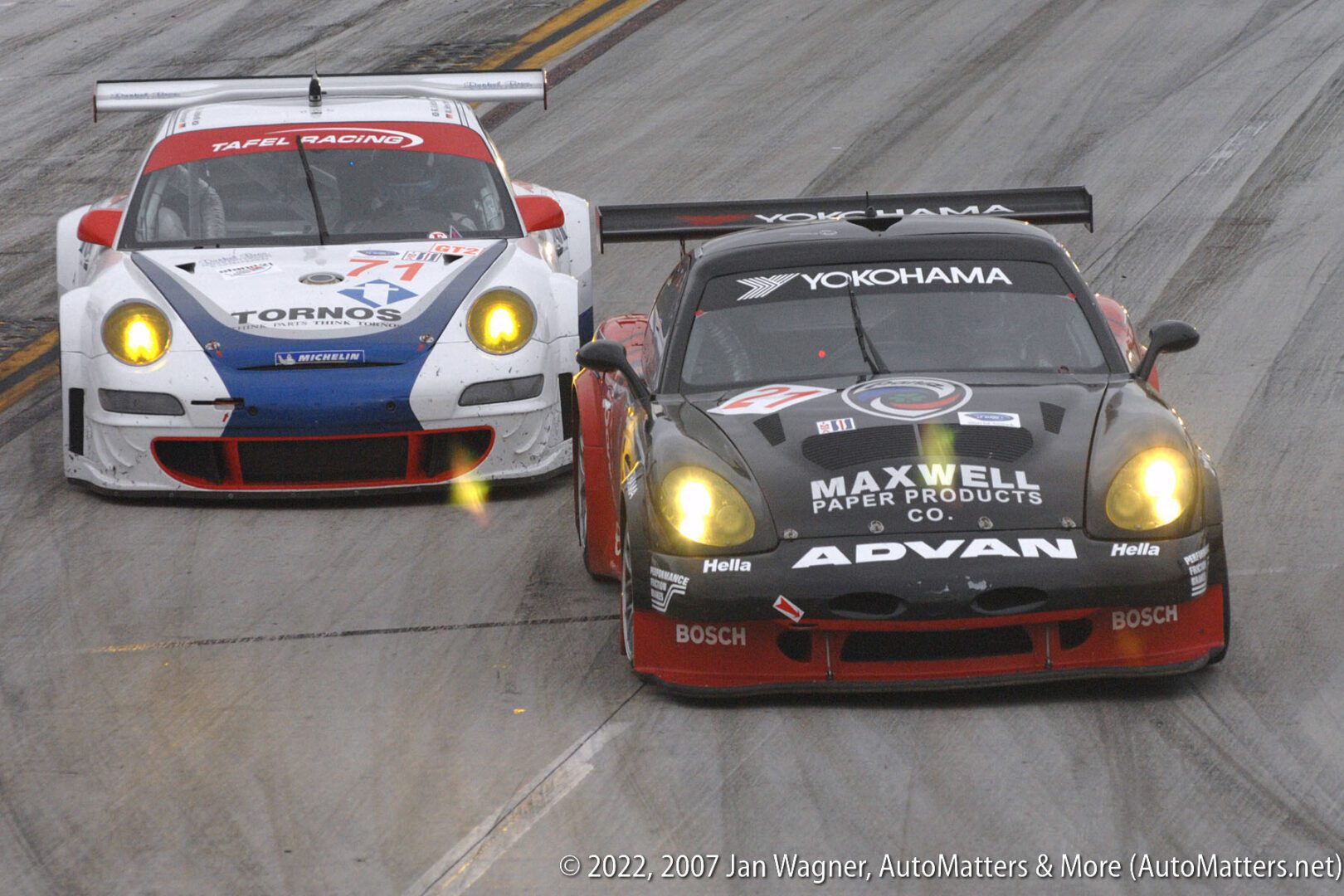 It was a breathtaking experience watching the cars approach my location, as I stood high up above on a photo stand taking pictures. Seeing the yellow headlights on the approaching race cars reminded me of traffic in Paris, France. This must be what it is like to witness the 24 Hours of Le Mans in France. Someday I would love to cover that race.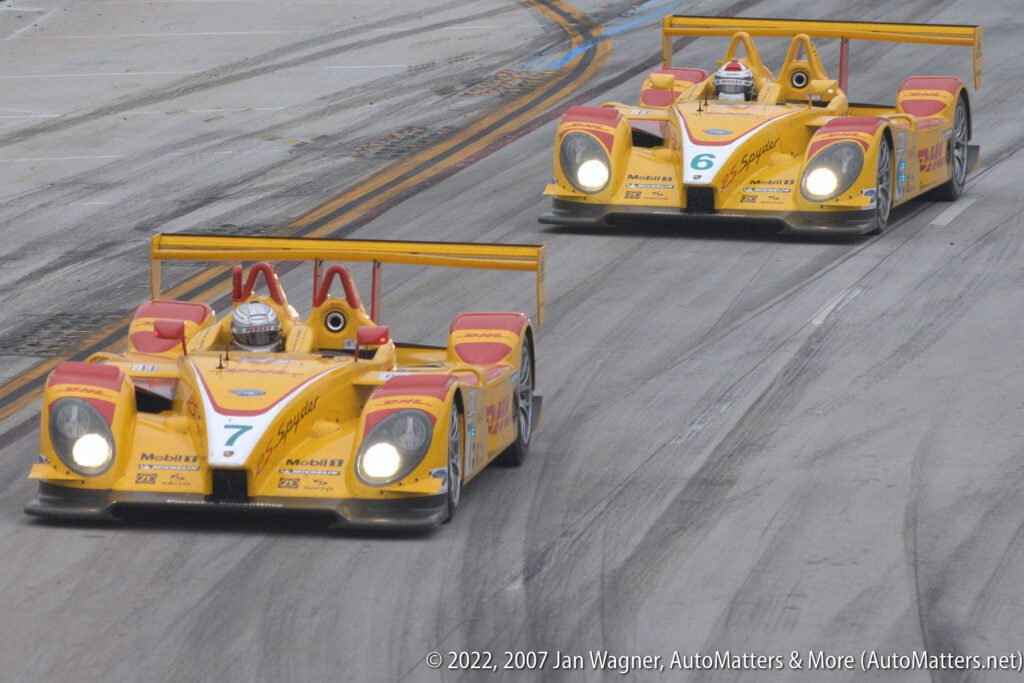 The race ended when the checkered flag flew at 5:47 p.m. First overall was the #7 class P2 Porsche RS Spyder of Romain Dumas and Timo Bernhard. Alan McNish and Rinaldo Capello co-drove their #1 (diesel-powered) Audi R10 TDI to first place in class LMP1 (eighth overall). The GT1-winning car was the #4 Corvette C-6R of Olivier Beretta and Oliver Gavin (tenth overall). Placing first in GT2 (twelfth overall) was the #62 Ferrari 430GT Berlinetta do-driven by Mika Salo and Jaime Melo.
I really enjoyed the American Le Mans Series race. Some of the people I spoke with told me that they were more interested in seeing this race than any other during the weekend.
More races were scheduled for Sunday, including the Champ Car World Series, the Champ Car Atlantic Championship and the SCCA's Speed GT Championship. I watched the Champ Car World Series race on T.V. With Paul Tracy out with the back injury he suffered in his Saturday crash, Sebastien Bourdais capitalized on the opportunity to return to his winning ways. Hopefully Paul will be back soon and as feisty as ever.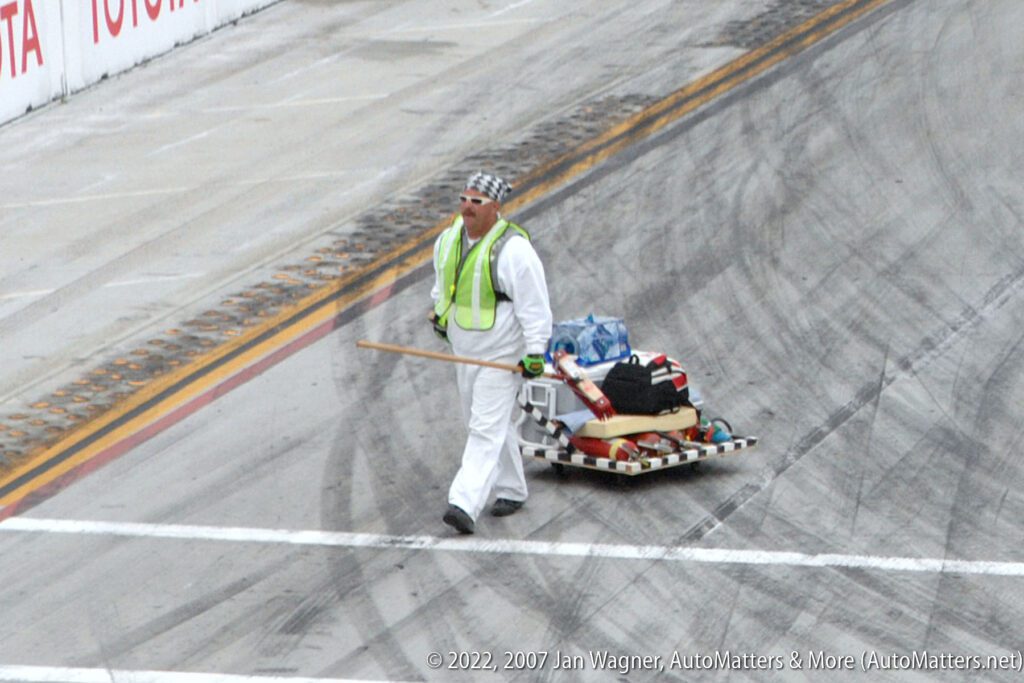 My race weekend ended on Saturday. Please join me for another Grand Prix on the streets of Long Beach next year.
Drive safely and do join me again next time.
Copyright © 2007 & 2022 by Jan Wagner — AutoMatters & More #231r5