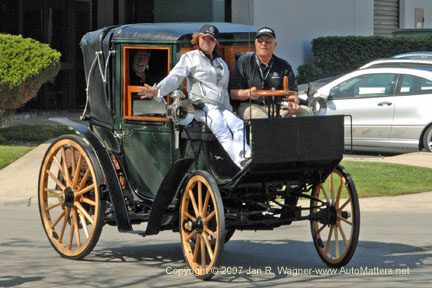 Antique & Historic German Autos & Military Vehicles, & other Hidden Gems
No doubt you've read or heard a story about some rare, historic automobile that was found tucked away in a barn on a sleepy, secluded farm. Perhaps its original owner had stored it there before leaving to fight in a faraway war, sadly never to return. Their prized possession, although long forgotten, was well preserved under a heavy tarp. Decades later it was discovered, purely by chance, and fetched some unbelievable sum. Wouldn't it be great to be the lucky person who finds one of these vehicles? The trouble is, how many of these undisturbed barns are still standing and remain unexplored? Surely by now most of their hidden treasures have been recovered.
When was the last time you saw an old, out-of-the-way barn? I think the last time I did was on my cross-country road trip a year ago via a Smart car to the New York Auto Show. I only caught a glimpse of it but the barn seemed so old and weathered that it looked like it was about to keel over. Heaven help any rare car that may have been hidden inside.
I'm relieved to tell you that I think there is hope – if not for us, then for future generations of automobile enthusiasts. I have come to this conclusion because of something that I have been observing for the past few years. I can now confidently report to you that today's equivalent of barns and the farmyards that contain them are close by. I saw yet another one this past weekend. Someday they too, may be forgotten and waiting to be rediscovered.
Confused? Not for long. Here's the deal.
From time to time, thanks to my membership in the Motor Press Guild, I get invited to join my fellow MPG members on road trips. We call them "Power Tours."
These are daytrips to destinations that are of interest to our members. Since we're all car (or truck or motorcycle) crazy (it is an absolute condition of MPG membership), it should not come as any surprise to learn that our tours tend to go to places where automobiles can be found. For example, a while back I reported to you on our visit to Jay Leno's automobile collection. This past weekend we enjoyed seeing a wonderful collection of historic German vehicles.
Where are these vehicles? They are much closer than you might think, hidden away in parks. No, not in lush parks of grass and trees, but rather in parks of concrete, dotted with boring warehouses. I'm talking about industrial parks.
Even though they are all over the place, you usually will not see one of these collections unless you know precisely where to look and are invited to do so. For the most part you can forget about looking for telltale signs on the buildings. These collections tend to be very private. You could be standing right next to one and yet you would have no way of knowing that it was anything other than an industrial warehouse containing widgets. Indeed, the building may primarily be used as the location for a widget business but also have extra space for the owners' automobile collection.
One such park, which we visited on the first part of our recent MPG "Power Tour XX," came as a total surprise. Shortly before we were to depart for the planned destination for our tour, we were given a map to a secret, undisclosed location in Southern California.
Then, with only a route map to guide us and no idea of what we would find, we took off in our interesting collection of vehicles – which ranged from modest economy cars to Ferraris and even a Maybach. Little did we realize that we were about to see and experience a rare, private collection of amazing German automobiles.
Just about every other time that I have seen a car collection, I have just been able to admire them from a safe distance. Sometimes, when I've been especially fortunate, I was able to actually touch them, too. But this visit was special well beyond my expectations. It was a visit that I will probably never forget, thanks to the great and very much appreciated generosity of Gerhard and Rosemarie Schnuerer. So, what made this visit to their car collection truly unforgettable?
That happened when Gerhard started some of them, rolled them out of their parking places and actually gave us rides in these incredible vehicles.
Built for the British Royal Family, their 1895 Benz Landaulet/Coupe resembles a horse-drawn carriage, but without the team of horses. The driver sits outside, like on a stage coach. All but one of the passengers ride inside, facing each other. Power is provided by an 8 hp water-cooled engine.
The industrial park was paved, which really drew attention to the fact that this vehicle had solid tires. A thin band of hard rubber surrounds the circumference of each wooden-spoked wheel. Every little imperfection and bump in the road can be felt. It reminded me of being in a racecar with a rock-hard suspension – only this one was harder. I can only imagine what it must have been like on the European roads of yesteryear.
I hope that someday you, too, may enjoy the experience of riding in any car from the 1800's, let alone an original 1895 Benz Landaulet/Coupe – one of only two in the entire world.
Even though that was the highlight of the visit for me, we had rides in other wonderful vehicles, too.
Perhaps the most unusual – and fun ride, was in a World War II vintage halftrack. The vehicle is a 1945 NSU Kettenkrad. Unlike the military halftracks that I remember from war movies, instead of being truck-based this one looked more like half-motorcycle and half-tank. In WWII it was used to tow aircraft onto runways, but this Kettenkrad is used to tow a little cart, much like a something you might tow behind a garden tractor.
Gerhard gave those of us brave enough – or foolish enough to try, the ride of our lives around the industrial park, as he quickly drove over every curbed median along the way. For those on the halftrack, the tracks absorbed much of the jolt going over the curbs, but not so for the people in the metal cart. It looked like they were launched a good foot straight up in the air every time their cart hit a curb. Despite the jolts, they looked like they were having the times of their lives on a wild amusement park ride.
It was fun patrolling the Southern California streets in a 1944 Volkswagen Schwimmwagen (amphibious vehicle).
As if that wasn't enough, inside where the collection is kept, our wonderful hosts treated us to warm baked pretzels and delicious treats in frozen pineapple shells.
Each of the vehicles on display had an accompanying placard which gave a brief description. We learned that one of the WWII motorcycles – a 1937 BMW, had been deployed in Stalingrad and then hidden in an apartment in the USSR until 1995.
The second part of our Power Tour took us to the Mercedes-Benz Classic Center in Irvine, California. This wonderful facility, which was inspired by the original Classic Center in Fellbach, Germany, is open to the public. I encourage you to visit.
First a little bit of history is order, courtesy of the M-B USA website. Gottlieb Daimler studied mechanical engineering. In the late 1800s, after working for others for several years, he dedicated himself to create gasoline engines and install them in vehicles for use on land, on water and in the air. That is what led to the company's three-pointed star emblem.
Daimler's first such vehicle was a wooden-framed motorcycle, which was powered by a single-cylinder engine. His pioneering mechanical engineering work resulted in the creation of an engine that could rev several times higher than prior engines. He was awarded a patent for his "vehicle with gas or petroleum drive machine" on August 29, 1885.
Much has changed since those very early beginnings over 120 years ago, as a visit to the M-B Classic Center illustrates.
This is a working facility, not a museum – although one could be forgiven for thinking it is that. Mercedes-Benz USA owns and operates this center, in part for the restoration of Mercedes-Benz vehicles that are at least 20 years old. They stock and sell nearly 40,000 parts here for classic Mercedes-Benz vehicles. The parts come with the same warranty as parts for their new vehicles. At the center they also perform appraisals.
The first thing that visitors to the center see is a spacious showroom area, where a few incredible Mercedes-Benz vehicles are on display. Many of the vehicles there belong to private owners, so expect to see some different vehicles there if you visit more than once. Some are for sale.
If you had something a little less expensive in mind to take home as a souvenir of your visit, be sure to check out the display cases containing scale models of many of the spectacular vehicles from the company's illustrious history.
Next a tall overhead door was opened and we entered a large room that was flanked on either side by a long row of automotive lifts. A variety of Mercedes-Benz vehicles were on them and below.
In the middle of the space was a recent Formula One racecar. Our tour guide proceeded to tell us about each one and answer questions.
Our tour ended with a catered lunch, as we sat in the immaculate workshop area filled with incredible automobiles new and old. That place gave new meaning to the saying about a shop being so clean that you could eat off of the floors.
Arrangements can be made to visit with car clubs, so perhaps I will suggest to the other members of my Miata club that we take a road trip there to see the rotary-powered Mercedes-Benz C111 sportscar which is displayed for all to see. Decades after its creation, I am still deeply disappointed that this rolling automotive test bed was never put into production for sale to the public – not that I could have afforded it.
For more information on the Mercedes-Benz Classic Center visit their website at www.mbusa.com/heritage/classic-center-california.do. They are located at 9 Whatney in Irvine, CA 92618 and are open Monday through Friday from 8 a.m. to 4 p.m.
Drive safely and do join me again next time.
Copyright © 2007 & 2021 by Jan Wagner — AutoMatters & More #230r2