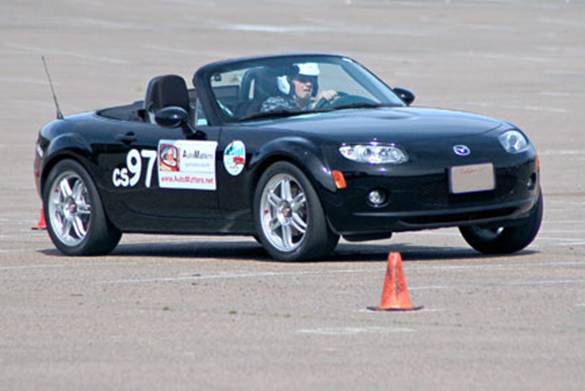 Winning in Competition: A Driver's Dilemma
The essence of driving in competition is striving to beat the competitors on the track. For over 25 years I, like many others, have become obsessed with this and constantly try to think of ways to improve my results.
That can be an expensive obsession, so figuring out creative ways to save money while trying to accomplish this usually factors into the equation – unless you have the budget of Toyota in Formula One or NASCAR NEXTEL CUP. Furthermore, using Toyota's Formula One example, spending lots of money does not necessarily yield the desired results.
Individual circumstances can vary widely but for the purposes of illustration let's use my participation in motorsports as an example. I would like to improve my performance in autocross competition. One step towards doing this is to learn more effective driving skills, followed by practice, practice and more practice. Another useful approach is to modify one's competition car to the limit of the class rules. With things like trick shock absorbers for "stock" cars selling for thousands of dollars per set, this can get very expensive.
Now that I am beginning to get used to the handling and performance characteristics of my new 2006 Mazda MX-5 Miata in competition, I am ready to give it some go-fast modifications. The effectiveness of making specific car modifications can certainly be tested on the track, but there is a more cost effective way of upgrading a competition car.
Instead of rushing into making costly decisions, do some research first. Manufacturers, magazines and other sources test parts and provide useful performance data. I also seek first-hand advice from many people, including parts vendors and fellow competitors. I weigh the pros and cons of what I read and am told, and continue to gather more information.
Be sure to consider the vested interests of the advice-givers. If they stand to make money from selling you parts and services, don't blindly take their word for it. Do your homework and filter what you learn through the grey matter between your ears.
For example, my last autocross car was a 2004 Mazdaspeed Miata. Even though it was a great street car, it never did well in SCCA stock class competition. No autocross tires were available for it because of its wheel size, and it was far too easy to accidentally shift from second gear to fifth instead of third, because of unwanted play in the drivetrain when the car was subjected to high g-loads. One vendor strongly suggested a shopping list of modifications to make the car competitive in another class. Another vendor said that within reason no matter what I did to it the car would probably never be competitive. Whoever was ultimately right, one thing was clear. The modifications for that car would have been quite expensive. By doing my research in advance and weighing the options, I was able to make an informed decision. I sold it and bought a different car.
It is best to make one change at a time, so that you can see if each individual change helps or hurts performance. Another thing to remember with street cars is that modifications that improve performance can and often do have negative consequences in other important areas, such as ride comfort, driveability and resale value.
Since I began competing in this sport way back in 1979, I've had a wide variety of modifications done to an even wider variety of autocross cars. I have learned the hard way that is very, very difficult to recoup money spent on these performance modifications. Rather, sometimes the money spent sometimes significantly decreases the value of a car to prospective owners who are looking for a nice, clean, babied car for reliable street use.
I have quite a competitive spirit, which is probably why I am never satisfied with my autocross cars for very long. That's a shame because I've sold some very good ones that I should have kept. The trouble is, sometimes I didn't realize just how good what I had was until it was gone.
I have been more competitive with some cars than with others. My all-time favorites were an early, heavily prepared Datsun 240-Z, and a 1979 Porsche 911SC with significant suspension upgrades.
Those two cars were on my mind when I went shopping for a new autocross car. In the end, my short list came down to two choices. Bear in mind that my strong preference has always been to autocross in a stock class, which allows me to have a street legal autocross car. That way I can get the cobwebs out legally, on the street, whenever I want to. Of course stock is not necessarily stock, and therein lies part of the dilemma.
My car choices were both in the SCCA's C Stock class. I chose between the all-new Mazda MX-5 Miata and the similarly new Pontiac Solstice. I concluded that while the Solstice seems to be a quicker autocross car – and, in my opinion, it looks better too, the new Miata is a better all-around street car.
The Miata has more usable trunk space, an easier-to-use soft top mechanism, a more comfortable and accommodating passenger cabin (as opposed to the somewhat claustrophobic Solstice, thanks to its high doors and a back window immediately behind the seats – whereas the Mazda has a pass-through space to a storage shelf in front of its rear window), a very socially active car club (the San Diego Miata Club) and even a front-cover recommendation in the current issue of Consumer Reports magazine.
Those reasons and more are why I bought and enjoy my new 2006 Miata Sport model. It, along with about six or so other leftover '06 Miatas, was sitting on my dealer's lot when I dropped by late last December. They really seemed eager to make smoking deals. The one that I chose had been in my dealer's inventory (but safely tucked away out back, so it only had a little over 40 miles on its odometer) from August until late December. I selected my black one (my first black car ever, and not my first choice of color because of how hard it is to keep looking good) since it was the only one left that had Mazda's optional sport suspension (soft Bilstein shocks but a very desirable limited slip differential). Its heavily discounted price was just under $20,000 – which is pretty affordable for a nice sportscar. Even though I was not thrilled with the trade-in value that I was offered for my '04 Mazdaspeed MX-5, I traded it in. Considering that I'd already and unsuccessfully tried to sell it myself for a long time, and the fact that it then sat on the dealer's lot for a couple of months after they bought it from me, I am convinced that trading it in was a good decision.
I have now entered my new Miata in three very different autocrosses. Before doing so I bought a set of 17″ x 7″ Kosei K1-TS wheels and Hoosier A6 P245/40R17 autocross tires for it from The Tire Rack. They really improve its grip on the road. An added benefit is that they make the car look very aggressive.
My first event with the car was run in the rain. Much to my surprise, I immediately moved from being a regular backmarker for the past two seasons in SCCA C Stock (with my Mazdaspeed Miata) all the way up to scoring second place in class, beating all but one of the usual local class leaders and earning my first event trophy in several years. I was very encouraged by that result – although in retrospect I suspect that my success was in part due to my comfort level when driving on slippery surfaces. I grew up in Alberta, Canada, where I learned to drive on snow, ice and gravel. That probably gives me an advantage on rainy days here in Southern California. I had similar success with my relatively underpowered, tail-happy 1979 Porsche 911SC. I was most competitive on wet days.
Another possible reason for my success that day may have been because my car's stock suspension setup is pretty soft. I read that a soft setup is preferable for wet days.
The results of my next autocross were much less encouraging. It was a relatively high speed event on a completely dry track. In that event I came in fifth. The two leaders were quite a bit quicker than me. I was very close to the other two.
Competing at the highest levels shows drivers how they compare to the top competitors. When it comes to autocrossing, the SCCA National Tour brings out some of the best local, regional and national level competitors. San Diego just played host to one of these events on the spacious west lot of Qualcomm Stadium. To see how I'd do against the best, I entered with my 2006 Miata.
I expected the competition to be tough and it was. I ended up finishing in 11th position out of 13 in C Stock class. The results of the 13th place car were not particularly relevant because that car only had street tires, whereas everyone else had dedicated, sticky autocross tires. The only encouraging news that I was able to draw from the results was that I had (barely) beaten one car that had almost always beaten me previously, when I was driving my 2004 Mazdaspeed Miata.
As I recall, on the one-minute course my best lap time was about 4 seconds slower than the winning times posted by three or four of the leaders (hot shoes from out of town). One of their cars was a second generation Miata (mine is a third generation car). I think it was a '99 – the most performance-oriented year for the Miata, with the most competitive parts.
The other car was a tricked out, multiple-driver Solstice. Between runs both cars used tire warmers, and a small crew helped with such things as fine-tuning tire pressures and cooling the engine with sprays of water.
The other cars that placed between the leaders and me included two local '06 Miatas just like mine – except for the extent of their modifications. One was white and the other was silver.
Other than the tires, wheels and a mild competition alignment, my Miata is completely stock. I set the tire pressures at home before I drove to the track on day one of the two-day event and never checked them again. I know that is not good to do because pressures increase with heat, and they heat up as the car is being driven. Tire pressures affect handling, so if our times were quite close, that could have made enough of a difference to matter.
I drove back and forth, mostly on freeways, between home and the autocross for half an hour each day, whereas the tires were removed from those other cars before they left the track. One car transported its competition tires on a device called a "Tire Tail," which mounts to a trailer hitch and extends behind the car. When loaded, its weight and position makes the rear of the car sit extremely low.
Those other two Miatas, which had multiple drivers and which I will be competing against all year, each have a replacement front swaybar and different shocks. The shocks should make the cars sway less in the turns, and pitch less on acceleration and braking. Those cars also sit lower than mine.
In contrast, my Miata looks like a jacked-up rally car. There are probably a couple of inches between the top of my rear tires and the wheel lips. Bear in mind, we all have exactly the same tires and wheels, so they do not account for the difference in ride height.
Being lower than stock (and thus having a lower center of gravity) may be a big benefit for Miatas in competition, especially if what I just heard is actually true. Someone at a well-known Mazda speed shop told me that the new Miata was designed to sit lower but that it was changed in the eleventh hour to meet bumper height regulations – a legal necessity in order for Mazda to get regulatory approval for the car. That could explain why the Miata sits up so high, and why it handles so much better when lowered – if that is how it was originally engineered. Proof of this may be seen in the early publicity photos of the car, as you would see if you looked at the poster of the new Miata which I was given (by Mazda, I believe, at the Press launch of the car). That poster clearly shows a much lower car. Very little space can be seen between the top of the tires and the wheel lips. It certainly seems as if the new Miata was not supposed to have my car's jacked-up, off-road rally car appearance.
There seems to be a couple of problems with lowering Miatas. First, both the white and the silver car had damage to rear fender lips – damage caused when the tires rubbed. One tire rubbed so hard that it bent the once-horizontal flange in the right rear wheel lip straight up. Those two cars have oversized Hoosier tires on wheels that have a slightly larger positive offset. Those tires don't rub on my car, with its stock ride height.
Another problem is that a stock class car cannot be lowered by the use of non-stock springs or altering the shocks (for example, re-positioned spring perches are not allowed). However, it seems that there are still some class-legal ways to lower the car. I suspect that one of my competitors was kidding me when he laughingly told me that he puts bricks in the trunk when the car is at home.
Based on this knowledge and the results of my last two autocrosses, I am now convinced of the need to "fix" my suspension. There seems to be little doubt that competing with it in its present configuration against lowered Miatas is hurting my ability to score top results. I don't like to lose.
However, if I have my shocks replaced will that lower my car enough to cause wheel lip damage?
Another issue is whether or not I should replace the front sway bar with a thicker one, since that is a legal modification for the SCCA stock classes. It helps control limit how much the car sways from side to side in turns. However, put on too big a bar and you run the risk of lifting the inside front tire off of the ground in turns. Do that and you reduce your contact patch – and grip, significantly. As I said earlier, changes can have unintended, negative consequences. So, how thick a swaybar should I use?
Since I have yet to choose all of my go-fast parts, select a shop to install them and then test them in competition, this column will have to be continued at a later date. Hopefully that will be sooner rather than later, since I've recently tasted success and would like to enjoy it again. I'll keep you posted. Do wish me luck. Thanks.
Drive safely and do join me again next time.
Copyright © 2007 & 2021 by Jan Wagner — AutoMatters & More #229r1