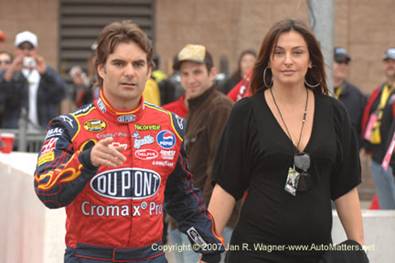 NASCAR Auto Club 500 at California Speedway
Fontana, CA – Feb. 25, 2007
Twice per year I travel to California Speedway in Fontana to cover NASCAR NEXTEL CUP races. This past February, while I was walking in front of the grandstands during the Auto Club 500, a race fan called out to me and asked me some questions about being a motorsports journalist. That led me to think that you might find it interesting to learn about what goes on at one of these races from the perspective of a journalist covering the event. I took a ton of pictures and will share quite a few of them with you here.
I don't spend any time sitting in a grandstand seat. Instead, I roam around as much as possible, with two heavy cameras around my neck ready to use at a moment's notice. That is a daunting task at California Speedway because this place is huge.
This was a typical day at the races. It began with a stop at the credentials building to pick up my Press and parking passes. I applied for these well in advance of the race weekend. In order for me to get them, one of my newspaper editors must verify that they publish my work. This is usually my only opportunity to actually visit with the people who work at the track, instead of exchanging emails with them.
From there I drove through the tunnel under the track and parked in the infield, next to the fans' motorhomes. Parking here saves time and a lot of walking. It is also handy in case I need to return to my car to get some of the extra camera equipment and heavier clothing that I tend to bring, just in case.
Despite the overcast conditions, I applied sunscreen. Then I loaded myself up like a pack mule and set out on foot past California Speedway's landmark water tower – a remnant from when this was an industrial site.
The first place that I came to was the racing garage area. In row after row of attached garages, crews were making last-minute preparations before rolling their cars out onto the starting grid.
Each time I come here I try to see some different things. On previous trips I spent a lot of time taking pictures in the NASCAR garages, so this time I breezed through here quite quickly and went directly to the Media Center, where I checked out an orange photo vest. That and my paper credentials are needed to get access to where I will be able to take the best photos in the pits, around the track and after the race.
Race fans of all ages lined the short roadway between the garages and the pits. From that and other vantage points they tried to catch a glimpse of their favorite drivers.
Important last-minute preparations continued in the pits.
I observed several pit crew members doing pre-race exercises, either on their own or with the assistance of personal trainers.
While their cars were being rolled into place in the pit area, the drivers were walking over to the large grassy area between the pits and the grandstands, where they would be introduced one at a time to cheering fans. I managed to take a few candid shots of Dale Earnhardt Jr., Jeff Gordon and others.
After the drivers were introduced, one at a time they each climbed onto the bed of a pickup truck and waved to their fans, while taking a ride down the front straightaway of the two-mile, D-shaped oval track. In the race, by the end of this straightaway they'll be doing around 200mph!
The pre-race entertainment and opening ceremonies included skydivers and a high speed flyover by Navy F-16s and F-18s.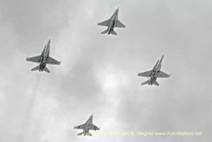 Finally it was time to race. The sky was overcast but while that worked against getting brightly lit photos, that may have contributed to a better racing experience for the fans and race teams alike.
On a typically sunny day in Fontana, it can get really, really hot. Instead, on this raceday the fans got to focus on enjoying the racing instead of being somewhat distracted by uncomfortably high heat. The race teams may have been grateful for this weather too because of more consistent track temperatures for the duration of the race. I suspect that probably meant that there was less of an ever-changing track than usual, reducing the need to constantly chase suspension setups and tire pressures throughout the day.
For about 3 ½ hours, while the cars were racing and pitting and then racing some more, I moved from vantage point to vantage point around the big track.
From what I've seen large media outlets send a team of photographers to cover the races, positioning them around the track to increase the likelihood that at least one of there people will be there to capture all of the newsworthy action – the drop of the first green flag, close-fought battles, the almost inevitable crashes, pit stops, the checkered flag, the winner doing some jubilant burnouts and Victory Lane celebrations. One person physically cannot be in more than one place at one time but I sure tried to do the next best thing.
If you watch pit stops carefully you can observe crew members flying through the air with jacks, flinging race tires that they've removed from the cars, hoisting heavy cans of gas and bolting on new wheels and tires with absolute, split second precision. Great pit work can and does make the difference between winning and losing races.
I saw plenty of loud, close racing as the cars came and went at speeds approaching 200 mph. Nothing but a short wall separated me from the track, speeding cars and imminent danger, were anything to go wrong.
It irks me when I hear people claim that racers are not athletes. Try to imagine what stamina, physical strength and courage is required to drive a heavy stock car flat-out in the straights and at the highest speeds possible around turns, over and over again on the very edge of being out of control and with little in the way of air circulation in the stuffy, hot driver's compartment.
Imagine doing this while wearing a hot and uncomfortable racing suit, and a heavy, neck-straining helmet – while you maneuver your car just inches away from several dozen others. Oh, and throw in having to avoid becoming part of the inevitable wrecks for several grueling hours. Surely racers at this level are indeed athletes.
Late in the race, on lap 244 of the scheduled 250, a wreck prompted NASCAR to throw a red flag. That temporarily put an abrupt halt to the racing. Thanks purely to luck, the cars stopped on track in front of me, between turns one and two. That gave me about 15 minutes to take lots of photos of the cars while they stood still and the track was cleaned up. No other photographers were there – probably because my location could not have been further away from Victory Lane, where a crowd was no doubt gathering.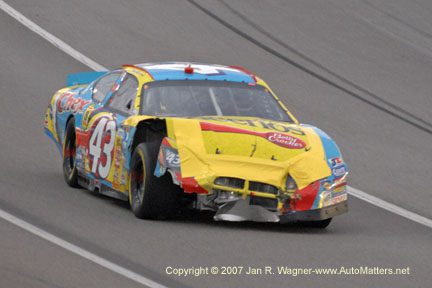 The race ended on lap 250 when Matt Kenseth brought his Carhartt/DeWalt #17 Ford across the Start/Finish line one last time, in a repeat of his first place finish in Saturday night's BUSCH Series race. Jeff Gordon finished second, followed by his teammate Jimmie Johnson in third, but in NASCAR NEXTEL CUP racing only one driver and team go to Victory Lane.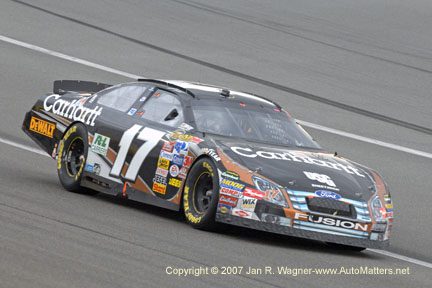 With no more cars to watch on the track and as the sun started to fade away, I made the long walk around the track to Victory Lane.
Somehow I managed to get there just in time to see Matt Kenseth and team owner Jack Roush celebrate their well-earned victory by spraying their teammates with NASCAR champagne.
Then I followed them back to the garage area for the post-race Press conference.
It was dark when I finally returned my Press Photo vest, picked up a set of race results – and some snacks from the Media Center, walked back to my car and made the long, slow drive in traffic back to San Diego.
Drive safely and do join me again next time.
Copyright © 2007 & 2021 by Jan Wagner — AutoMatters & More #228r1