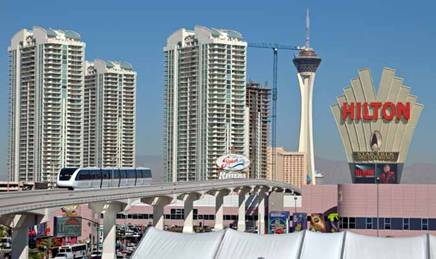 2005 SEMA Show in Las Vegas – A Last Look
I began my coverage of the SEMA Show – the automotive aftermarket's four-day extravaganza in Las Vegas, with a side trip to a Nevada Corrections (and automotive fabrication) facility and a look at neat, extremely affordable consumer products (AutoMatters 165 and 166). This will be my last installment about the most recent show.
The first year I went to the SEMA Show I was told that there was no way I could see everything in four days. I didn't believe it and went on to utterly exhaust myself in a futile attempt to try to see the whole thing. Now, a seasoned veteran of SEMA Shows, I don't even try to fight the enormous crowds and see everything. There is truly no way – it is that big. What an incredible event.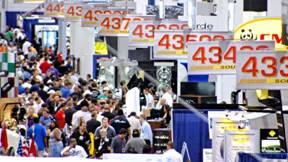 The SEMA Show pretty much takes over Las Vegas for four days. Accordingly, room rates go way up so this year, instead of staying at a low priced but convenient hotel, I reserved at a place that was six miles off of the Strip. For about $46 for most of the nights – a small fraction of what the Strip resorts were charging, Sam's Town offered a spacious, comfortable room and resort accommodations. Having my own car there made it work.
The SEMA Show is, if nothing else, a showcase for the automotive aftermarket. 2,000 companies exhibit, and the trends and innovative new products that are seen here are explored, examined, expanded upon and sold by businesses throughout this country and around the world.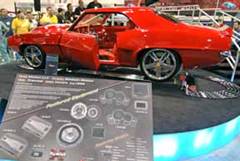 To give you an idea of the broad scope of the show, dedicated sections included: Car Care; Hot Rod Alley; Mobile Electronics; Original Equipment Manufacturers; Performance Tires and Wheels; Racing and Performance; Restoration Marketplace; Restyling and Accessories; Business Services; Tools and Equipment; and Trucks, SUVs and Off-Road.
Custom doesn't even begin to describe so many of the vehicles on display. They represent nothing short of sheer artistic, mechanical and technological genius.
The major auto manufacturers took this opportunity to present new vehicles, including the Toyota Yaris. Honda was this year's "Vehicle Manufacturer of Show." After they presented it to the public for the first time, they invited us outside to drive their newly redesigned 2006 Civic Si on an autocross course.
Thanks to their clever use of a dynamometer, Ford even set up a real, functioning drag strip, complete with a Christmas tree, on stage in one of the exhibit halls. Monitors displayed the results instantaneously.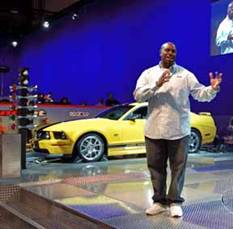 We got the opportunity to rub shoulders with quite a few celebrities, including Mr. Clean, Tony Stewart, the legendary Carroll Shelby, Michael Andretti, Bryan Herta and Emerson Fittipaldi.
The SEMA Show was not just a sensory feast for the eyes. When Dennis Anderson cranked up his GRAVE DIGGER monster truck, the glorious roars were almost deafening.
Part of the incentive to go to the SEMA Show is Las Vegas. A big improvement is the new monorail, which is finally fixed and working (most of the time). One day, in order to see the sights on the Strip and do a little gambling (I won), I parked my car (for free) at one end of the Strip and took the monorail. If you plan on using the monorail too, I recommend that you buy a multi-ride pass. It works out a lot cheaper per ride and you will use it. With my pass in hand I could get on and off at more than one stop, which saved my sore feet. The only real downside to using the monorail is that much of it runs parallel to the Strip, and it is set back quite far. Between the distance and the crowds between where you'll get off and the Strip, you will still end up doing a lot of walking – so wear comfortable shoes.
Of course the SEMA Show wouldn't be quite the same without the after-hours receptions. Honda's annual affair is not to be missed.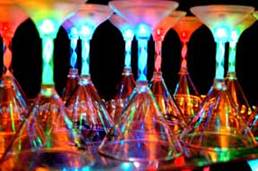 While they certainly do not have to almost give it away anymore to get you to visit, part of what makes going to Las Vegas so wonderful is the food. Of all the places I visited on this trip, one eatery stood out way, way above the others. I was at The Venetian resort, strolling past the Grand Canal Shops and listening to the gondoliers serenading their passengers. It was lunchtime and I was hungry. Not surprisingly, given my location, I was in the mood for Italian food. As I was on a budget of sorts, I decided to check out the hotel's food court. It turns out that they actually have two food courts. The one on the upper level has the sort of fast food establishments that you'd expect to find at a food court – fine but nothing special. Then I went downstairs and discovered a real treat. The food court actually serves delicious Italian food, in a place owned and operated by the same people as the sit-down Zeffirino restaurant overlooking the canal. Zefferino's history dates back to 1939 in Genova, Italy. The extended family now has restaurants in Italy, Spain, China and the USA. Their food at Pizzeria da Enzo in the food court was absolutely delicious. If you enjoy authentic Italian food but are in a hurry or need to stick to a budget, I strongly recommend that you try it. I will return here, and to the SEMA Show, again and again.
Drive safely and do join me again next time.
Copyright © 2005, 2006 & 2021 by Jan Wagner — AutoMatters & More #171r3