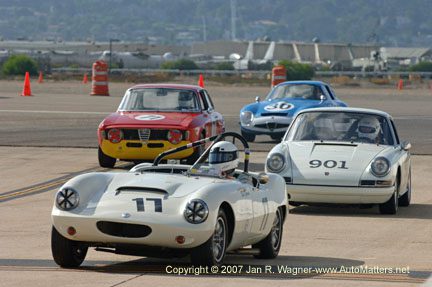 A Look Back and a Look Ahead: 2006 SRT Coronado Speed Festival & my New Year's Resolutions
I saved some racing coverage to get us through the dry spell between seasons. This week the focus will be on the historic automobile races held this past October at the 2006 SRT Coronado Speed Festival. I'll wrap up with committing some New Year's resolutions to print.
San Diego's weather was beautiful for the tenth anniversary of the historic car races at Coronado's Naval Air Station North Island. While the estimated 225 classic (1913 – 1974) racecars on the 1.6-mile, 11-turn road course certainly provided an automotive feast for the senses, there was much more to see even before entering the racetrack.
The venue being what it was – an active naval air station, meant we got to see, touch and explore a variety of naval air and other vehicles. This event helped celebrate "San Diego Fleet Week," and a portion of the revenue was to be used for the benefit of the active duty military community and their families.
Chrysler returned once again to support the festivities, and brought along a few of their adrenaline-stimulating SRT vehicles to tempt us.
In addition to racecars, other classic cars were on display too.
The Car Club Corral, a regular feature of the Coronado Speed Festival, attracted more than 66 car clubs and 1,800 cars – from Mustangs to Ferraris and everything in between.
This year there was a hydrogen exhibit, where we could see vehicles and learn how they are refueled.
One thing that is especially nice about this event is how close spectators can get to the cars, drivers and crews in the pits.
Of course the highlight of the event is the racing. The cars are appropriately grouped, with the emphasis being on sporting driving. Contact between vehicles is strongly discouraged.
The glorious sounds of these cars are like music to auto enthusiasts' ears.
Now for my New Year's resolutions: I predict that if I follow through on these resolutions, 2007 will be the biggest and best year to date for AutoMatters. My plan is to combine everything you've come to expect from this column with a few new features. Nowhere will this be more visible than on the www.AutoMatters.net Web site since space there is, for all intents and purposes, virtually unlimited.
One improvement, in response to popular demand, will be to add an Event Calendar to the Web site. With that in mind, please accept my invitation now to start sending me notices of events for that calendar to AutoMatters@gmail.com. As soon as I get enough material I will put it online.
Another new feature, which should make AutoMatters more useful to you and which will help support this column going forward, is the addition of (relevant) advertising to the www.AutoMatters.net Web site. These brief advertising messages will each include a link, directing you to their advertiser's Web site for more complete information. If you'd like to advertise your business on the AutoMatters Web site, please send an email to AutoMatters@gmail.com.
I also plan to follow through on a couple of previous goals: to make some of my photos available to you, and also to more actively seek out publications in additional locations, to bring AutoMatters to more readers.
Well, I'd better not resolve to do much else. This will take more than enough time and effort. Wish me luck. I think I'll need it.
Drive safely and do join me again next time.
Copyright © 2007 & 2021 by Jan Wagner — AutoMatters & More #222