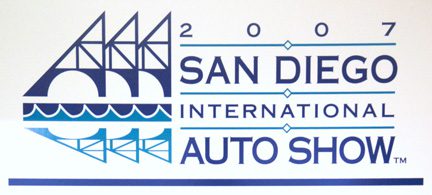 2007 San Diego International Auto Show
An auto enthusiast at an auto show is like a kid in a candy store, all wide-eyed and eager to look around. This year's San Diego International Auto Show was an especially sweet treat, thanks to a healthy dose of excitement administered by its brand new team of show organizers.
This could be seen everywhere, including the sprawling main show floor which provided plenty of space to enjoy over 400 new vehicle models and concepts, upstairs at the "Ultimate Ridez Expo" and outside at the Toyota Trucks "Off Road On Site Adventure."
Landing the Toyota adventure was a major coup for the San Diego show. To put things in perspective, consider this: at the recent, revamped, heavily hyped Los Angeles International Auto Show, Toyota did not even hold a Press conference. People from LA missed something special from Toyota if they did not visit our show this year.
The off road adventure (free with admission to the show) was a blast. Show-goers could actually drive Toyota vehicles in a variety of challenging off road tests. Set against a backdrop of San Diego's beautiful waterfront, the 10,000 square foot outdoor course was constructed using 1,000 tons of dirt (wet on the day I attended, thanks to the pre-show rain) and 20 tons of gravel.
My favorite skill elements, which I tackled in a Toyota FJ Cruiser, were the massive hill climb, where from the driver's point-of-view it seemed like one was driving into the sky; and the teeter totter, where the objective was to try to balance your vehicle. You can see photos of Toyota's Tundra, Tacoma and FJ Cruiser, and find out more about this adventure, which will be touring a dozen U.S. cities, at www.toyotaoffroadonsite.com.
Inside, on the main show floor, despite the large quantity of vehicles on display the sight was not intimidating or overwhelming. Some car shows can make you feel tired just walking in the door, with crowds of people and little room to comfortably move around. Not so in San Diego this year.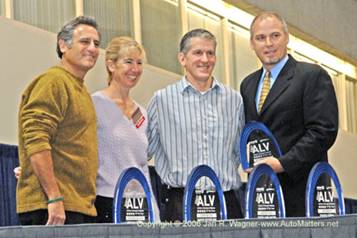 Thanks to a huge amount of floor space, the vehicles were nicely spread apart, making it easy to get around on the thankfully soft carpeting.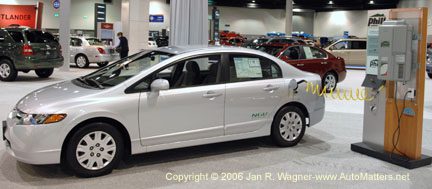 The displays varied from simple and straightforward to a full-on engine dynamometer – which included an informative presentation by a spokesperson representing Chevrolet.
A futuristic, talking robot from Ford captivated kids and grownups alike.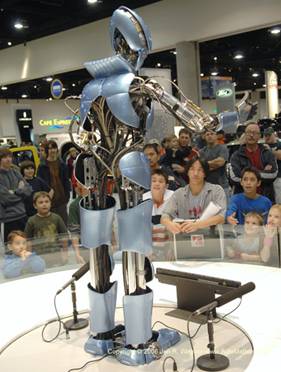 At one exhibit I saw some conversions that had been done to the Dodge Sprinter. The Sprinter is known as a Mercedes in Europe, and some people here actually buy the Mercedes badges to apply to their vehicle. Interestingly, because Mercedes vehicles are so common in Europe some people do the opposite, buying and installing the Dodge badges. However they are labeled, they have loads of room inside and get incredibly good gas mileage for such roomy vehicles. They are ideally suited for all sorts of conversions. Up until now the Sprinter has been a pretty well kept secret, since the production couldn't keep up with demand. It didn't help the supply situation when Federal Express and UPS decided to order large numbers of them. It is a sure bet that as production of these increases, you will see significant increases in the numbers on the road.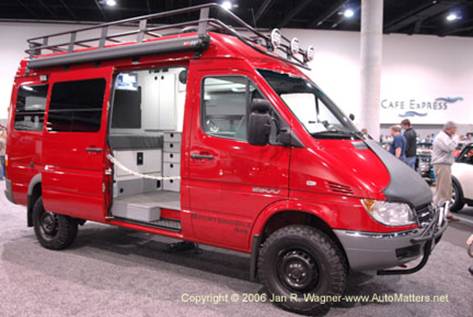 I spoke to the people from Sportsmobile (www.Sportsmobile.com) about their Sprinter and 4×4 van conversions. They entertained me with a tale about how they showed up at an off road driving event driving in one of their 4×4 vans. Many of the other people there arrived with dedicated 4x4s on trailers, since they were not street legal. Their drivers expressed serious doubts as to whether or not the van conversion was up to the task. Suffice to say, by the end of the off road adventure the multi-purpose van – and its female driver, had more than proven their abilities. Together they had successfully negotiated terrain that defeated some of the purpose-built off road vehicles.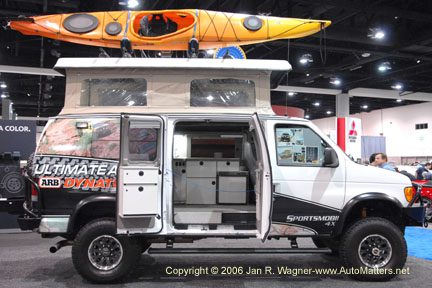 Yet another fun part of this year's San Diego International Auto Show was the "Ultimate Ridez Expo" upstairs in the convention center. For starters, unlike the LA show which keeps its lifestyle expo in the basement, the San Diego show makes good use of the constantly changing outdoor light and the convention center's spectacular, bright white "sails" to help create a dramatic, open-air experience.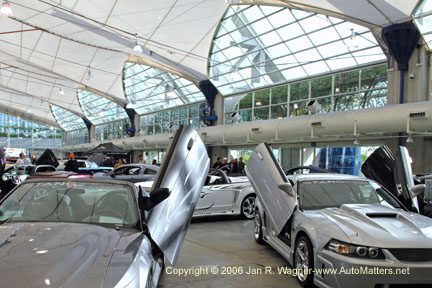 This complemented the variety of things to see and do at the expo, which – as Lee Thomas told me, rounded out the 2006 series of Extreme Autofest events and will be followed by more great events in 2007 (check out www.extremeautofest.com). The schedule for this expo included tricked-out vehicles, live music on-stage, hot bikini contest, pro-DJ battle, live fashion show, guest appearances by mixed martial artists, breakdancing, racecars, vendor booths and more.
A few of the things that particularly caught my attention were the street legal, two-seat, Indy racecar-style car (www.usaindystreetcar.com), ZAP! electric vehicles available locally at Electra-City Motors (www.electracitymotors.com), a two million dollar set of Asanti wheels (with over 26,100 diamonds and 1,200 Princess Cut rubies) and upbeat music. This event alone was worth the price of admission to the auto show. I spent several hours there and thoroughly enjoyed myself.

Back on the main show floor, other things to check out included a golf driving range, driving simulators, and health and beauty exhibits.
When it returns in a year from now, be sure to add the San Diego International Auto Show (www.sdautoshow.com) – "Where the Cars are the Stars," to your list of must-see places to go.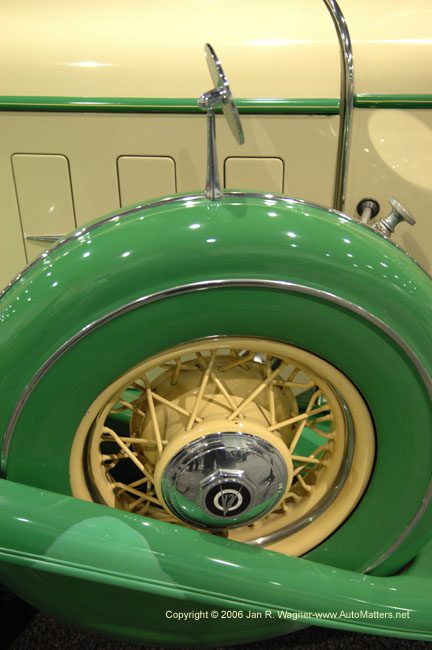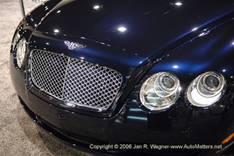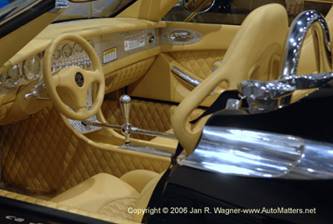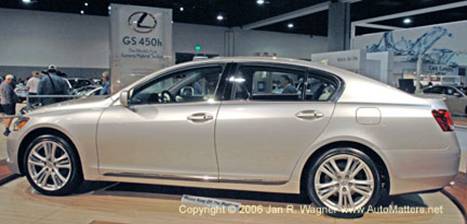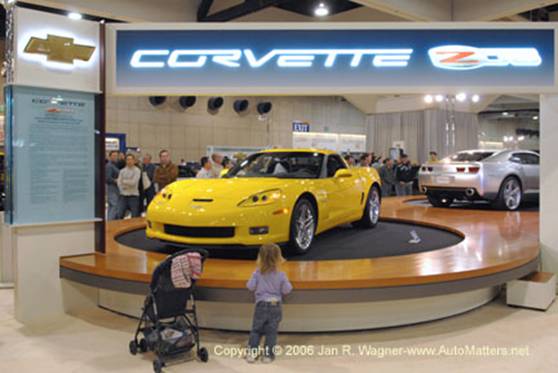 Drive safely and do join me again next time.
Copyright © 2006 & 2021 by Jan Wagner – AutoMatters & More #221