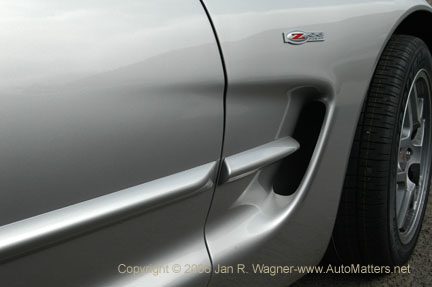 An Open Letter to Mr. Mossy (re. Corvette Z06)
Dear Mr. Mossy:
How could you tempt me like you did? There I was, all set to borrow one of your cars from Mossy Chevrolet for yet another in a series of "Real World Road Tests." This time the car was to be a Chevrolet Corvette. Other than my Miata, the last sports car I had driven was a 350Z from Mossy Nissan. It was going to be interesting going from four and six cylinder engined-cars to one with a V8. I had built up a certain level of expectation, based on what I knew of the current generation Corvette. Little did I know that you were about to throw me a major curve. I would be smitten by a car that – but no, wait, I'm getting a little bit ahead of myself.
It all started innocently enough. Our arrangement was for me to pick up a 2004 Corvette at 11 AM at Mossy Chevrolet in Encinitas. I assumed that it would probably be a convertible, equipped with an automatic transmission. The car would be at my disposal for three days. Everything was confirmed and good to go.
There was just one problem – and it was on my end. I got busy that morning and couldn't pick up the car until early afternoon.
I arrived at Mossy Chevrolet shortly after lunch and there it was (or so I thought), waiting right in front of the dealership: a beautiful, red Corvette convertible. How could anyone not be attracted to this sports car? Styling aside, it was also a great color for the photographs I was set to take. I was looking forward to this and walked into the dealership.
I knew the routine and asked for my contact person. I expected to sign the paperwork and then be on my way, but that was not to be. Instead, my contact person broke this news to me: during the time that the car enticingly sat out front waiting for me to arrive, someone else saw it, fell in love with it and bought it! I was disappointed but I shouldn't have been surprised. After all, this is a car dealership and that's what the car was there for. It was all shined up and ready to go, and so it did.
My contact person then broke some more news to me. The only other available 2004 Corvette with some miles on it that I could take was silver. Furthermore, it needed to be washed. I thought I had blown it big time. After all, this was to be a sports car photo shoot and – well, no offense but after seeing the shiny clean red car outside, silver did not seem like as good a choice for a sports car that I was going to photograph. Oh well, I had no one to blame but myself for arriving late.
Soon my car was ready and was driven out to me, all washed and set to go with a full tank of gas.
As I approached it I noticed that not only was it not red, but it was not a convertible either. This was definitely unlike the Corvette that I had expected to photograph. However, as I got closer to the car I noticed something else – something that put a huge, ear-to-ear grin on my face.
Attached to the side of the car, just in front of the door, was a little nameplate that read: "Z06 405 HP." Oh joy, I had hit the jackpot. This was the Corvette of Corvettes. I knew then and there that this would be a road test unlike any other I had taken.
In the next few days I got to put the car through its paces. Much to my surprise I learned that, when driven with a light foot on the accelerator, the 2004 Corvette Z06 is really quite docile and benign. It is an easy car to drive, accelerating gently when asked to do so. No doubt for economy, under light acceleration the transmission automatically finds fourth when shifted out of first, and in sixth gear it only shows 1,600 RPM at 65 MPH. No wonder it is rated at up to 28 MPG on the highway. That is about what my economical Ford Focus station wagon is rated at. Had the body of my test car not been that of a Corvette, its driving manners would easily have let it pass for an ordinary, everyday (albeit somewhat space-limited) car – certainly unworthy of a second look from the CHP.
I used the Z06 to run errands, including a shopping trip for groceries. After all, this was to be a "Real World Road Test" and I needed to go grocery shopping. This is a street car and I wanted to see how well suited it is for running errands. It passed the test. Its trunk was big enough and versatile enough – thanks to several recessed wells, to swallow a lot of grocery bags, although large boxes proved somewhat difficult to fit into the shallow opening. It didn't take me long to realize that the way to load such items was to recline the luxurious, supportive, leather-upholstered front passenger seat and slip them in that way.
Of course the next part of the test included adding a little bit of lead to my right foot. My readers would not expect me to let what is arguably America's favorite sports car go without pushing the performance envelope. The tricky part was going to be pushing the envelope without breaking any laws or exceeding the speed limits. It was a tough assignment but I had to try. The Z06 really needs a race track to properly stretch its very athletic legs.
The temptation to exceed the speed limit was almost too great. This car's acceleration, handling and braking is flat-out awesome. It is a beast when the gas pedal is mashed, complete with a very deep roar. Freeway onramps were truly exciting. First, second and third gears came almost immediately, one after another and it was time to back off. The car reminded me of something I recall from old movies. I think drivers used to tape a $50 bill to the dash and challenge their passengers to reach forward and remove it while their cars were under hard acceleration – the idea being that they were thrown so hard into their seatbacks that they were not physically able to claim the money. The 2004 Chevrolet Corvette Z06 is surely such a car.
I've only driven a few cars with higher performance that the Corvette Z06 and none of them were stock cars. They were all highly modified and were not at all well suited to normal driving around town. This car is available right off of the showroom floor, for goodness sake, and it comes complete with a factory warranty. Unbelievable.
My teenagers had comments like "this is a VERY cool car." Neighbors came over to look at it. I gave several rides, including a very long one to my daughter who is normally too busy with her friends after school to spend that much time with me.
Although expensive, with a list price starting at $51,000 plus destination charge, the car's specs are nevertheless impressive, including: 405-HP 5.7 liter LS6 V8 engine, six-speed manual transmission, switchable active handling system, adjustable head-up display of essential information, unique-to-Z06 titanium exhaust mufflers and tailpipes, Z06-specific front grilles and functional, race car-inspired rear brake cooling ducts. This car even looks fast sitting still.
Closing comments? I can't remember the last time I borrowed a car that I didn't want to return. This was such a car. I truly looked forward to every drive I took in it. It was like going to an amusement park and riding the best rides – over and over again. Thank you, thank you, thank you. Oh, and about my disappointment over getting a silver car, I've changed my mind. With the extremely high level of performance that this car is easily capable of, silver is a great color for it. Certainly it makes more sense than 'arrest me red.'
Sincerely,
Jan Wagner
AutoMatters & More
Drive safely and do join me again next time.
Copyright © 2004, 2006 & 2021 by Jan Wagner — AutoMatters & More #94r2