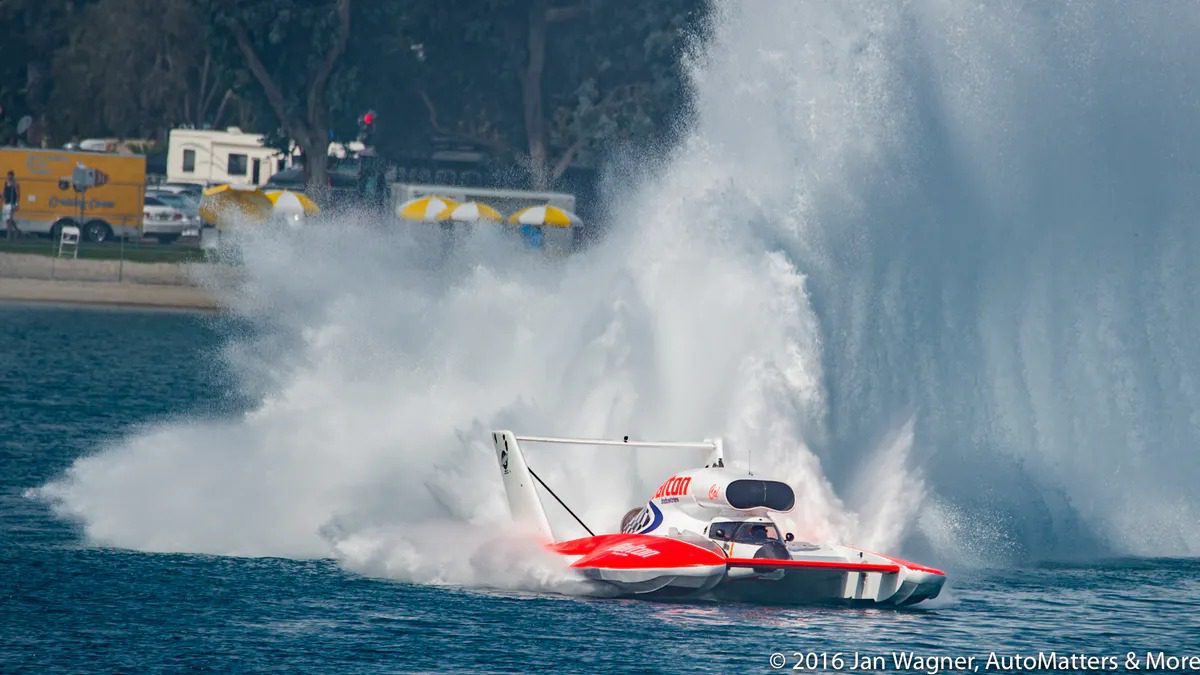 BOAT RACING ON SAN DIEGO'S MISSION BAY
SAN DIEGO BAYFAIR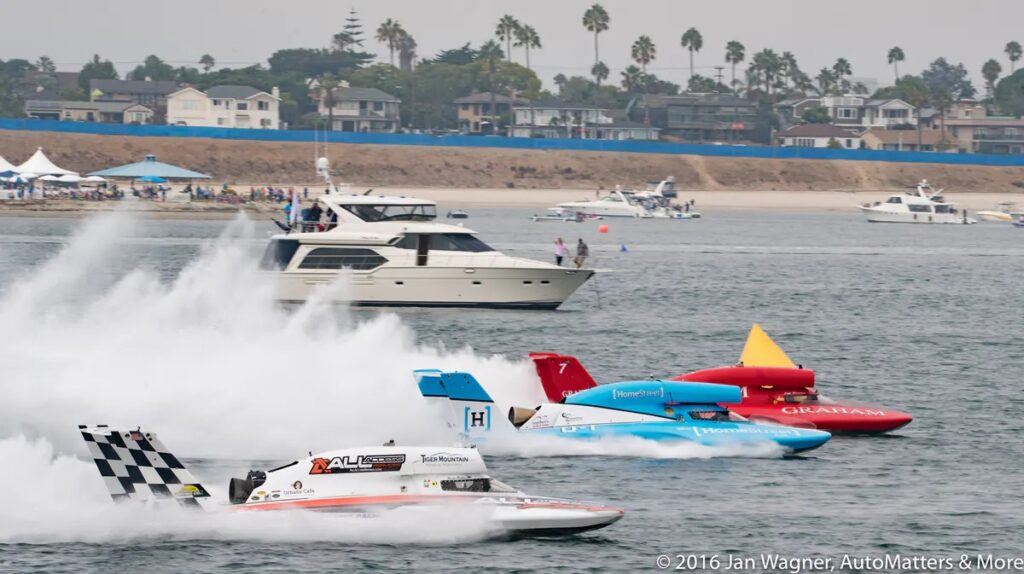 As 2016 draws to a close and much of the northern hemisphere is in the icy cold grip of winter, let's turn our thoughts back to warmer weather and the boat racing of San Diego Bayfair.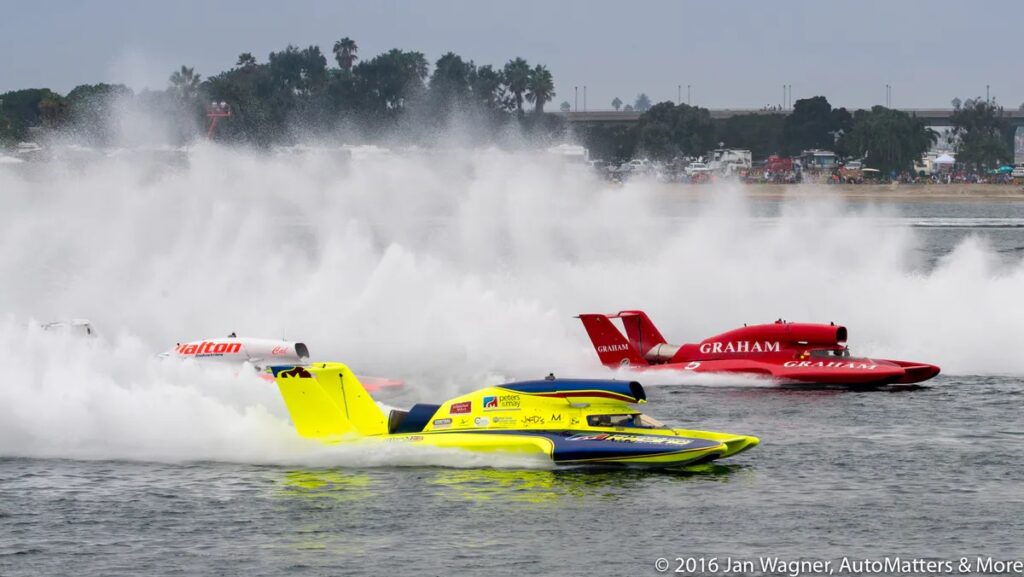 San Diego Bayfair was the brainchild of Unlimited Hydroplane racer Bill Muncey, and made possible thanks to the cooperation and foresight of the City of San Diego in 1958. Incorporated in its Master Plan was "a boat race in the course of which unmuffled engines may be used by the contestants… for a period of time not exceeding ten days in all… In addition to the aforementioned 10 day permit, the Director may issue a permit for unlimited hydroplane racing, provided such permit shall be for a period of time not exceeding four additional days in any calendar year."
An almost inconceivable project today, given how it is so difficult to even get spending approval for badly needed investments in infrastructure, this massive endeavor required dredging San Diego's Mission Bay – in the process creating East Vacation Island and Fiesta Island. A 2.5-mile racecourse was nestled in between, and the beaches were sloped to dissipate the waves from high-speed racing boats. These efforts produced the longest and fastest racecourse on the H1 Unlimited Hydroplane circuit. East Vacation Island's parking lots and boat ramps served as the pits.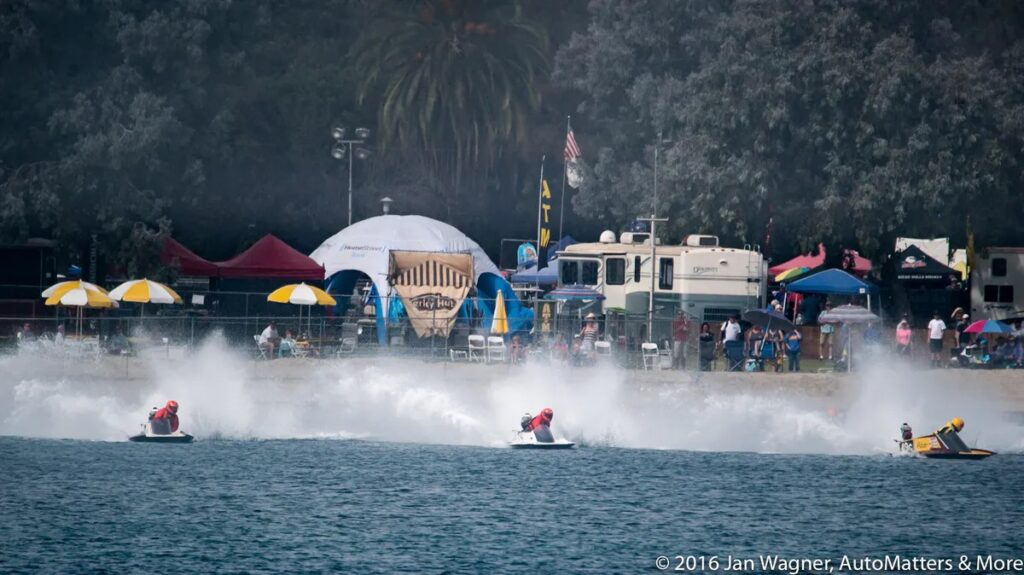 The first boat race here was a hydroplane race. It was held back in 1964. Since then more than 5 million people have enjoyed watching thrilling competition that has grown to include drag boats and others in several different racing series.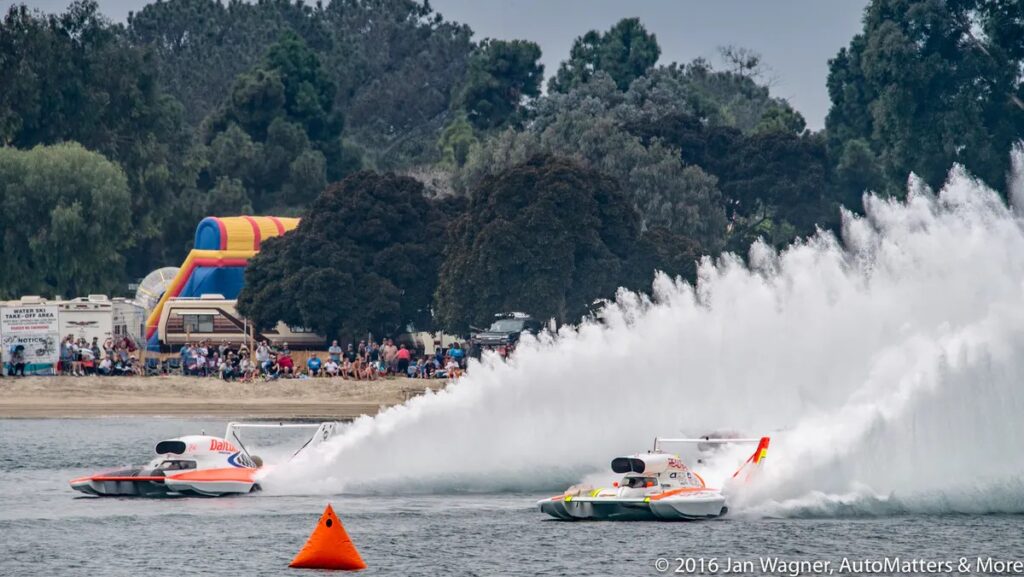 San Diego Bayfair has a festive atmosphere, with live entertainment, great San Diego weather and a well-stocked vendor village that complements and enhances the racing. San Diego Bayfair provides a wonderful opportunity for family and friends to celebrate the end of summer.

This weekend in September is the only time that RVers may legally spend the night in Mission Bay Park. Each year an entire community springs up on the shores of Mission Bay, as hundreds of motorhomes occupy spaces on East Vacation Island, Crown Point and Fiesta Island. There is a reservation system for spaces and, for those without a motorhome, convenient on-site rentals are available.View gallery image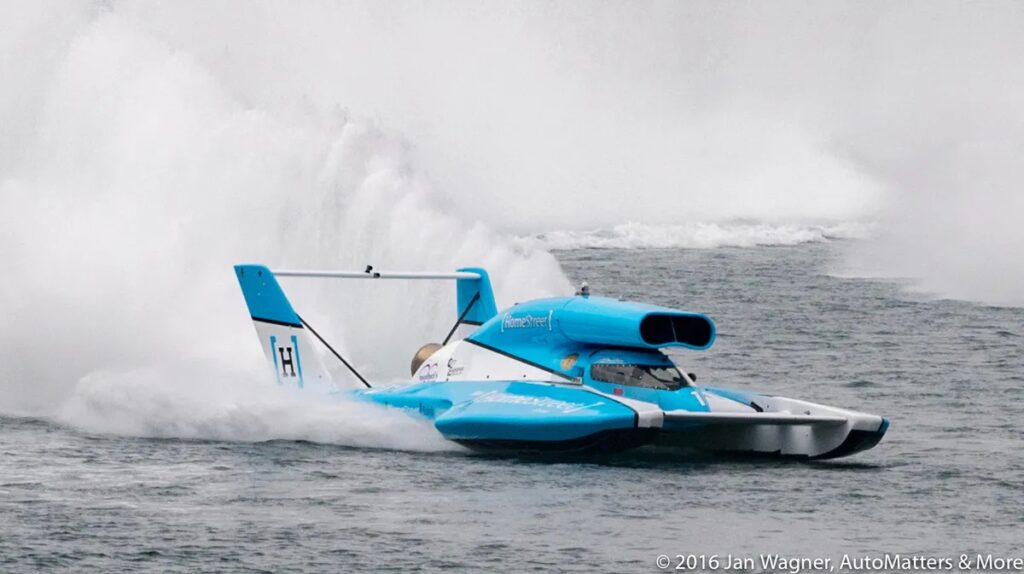 In past years, sometimes I have joined the fans within the main event compound. In addition to being a good place to watch the racing, eat and hear useful information from the P/A announcer, this location provides access to the pits where they work on the boats.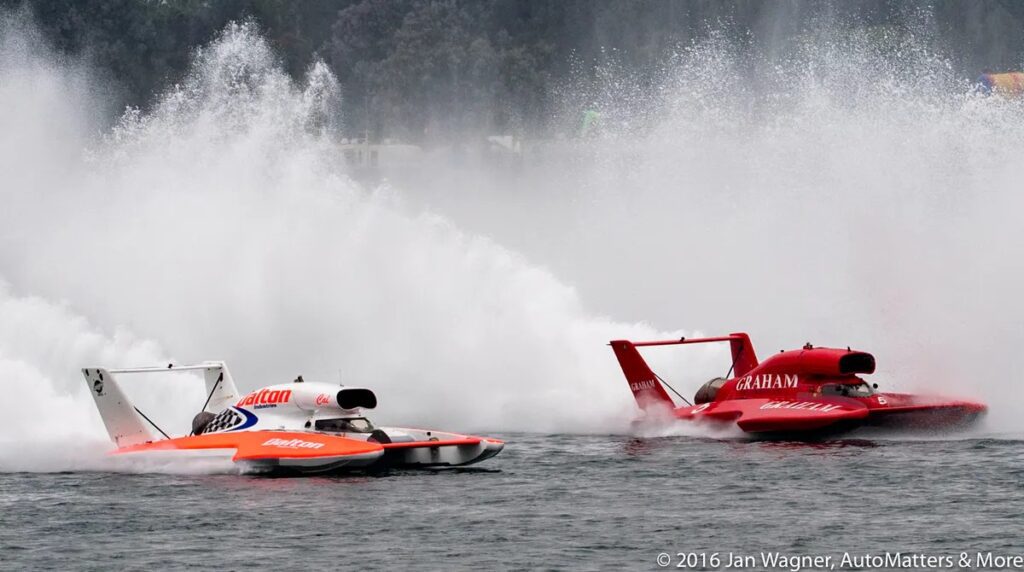 Other times I've watched from atop a nearby bridge, but this past September a friend and I rode our bicycles to watch the racing from across the bay, on Fiesta Island. Even though we were well beyond the entertainment and earshot of the public address system, we nevertheless enjoyed our day at the races.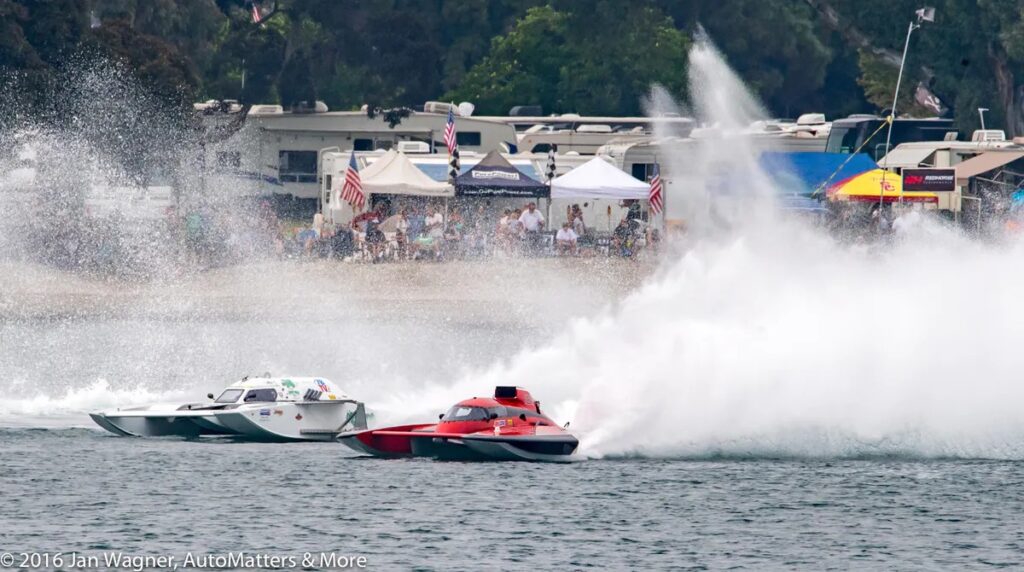 Since the boats are well out on the water, binoculars and a long telephoto lens for your camera are highly recommended. My favorite lens for situations like this is Tamron's 150-600mm zoom. Its incredible vibration reduction system enables hand-held, sharp photos. On an overcast day, the colors of the boats looked especially vivid and glare was reduced on the water.
In addition to the racing, it was interesting to watch as mammoth, towering cranes lowered the Unlimited Hydroplanes into the water each time that it was their turn to compete, and afterwards they were raised back out.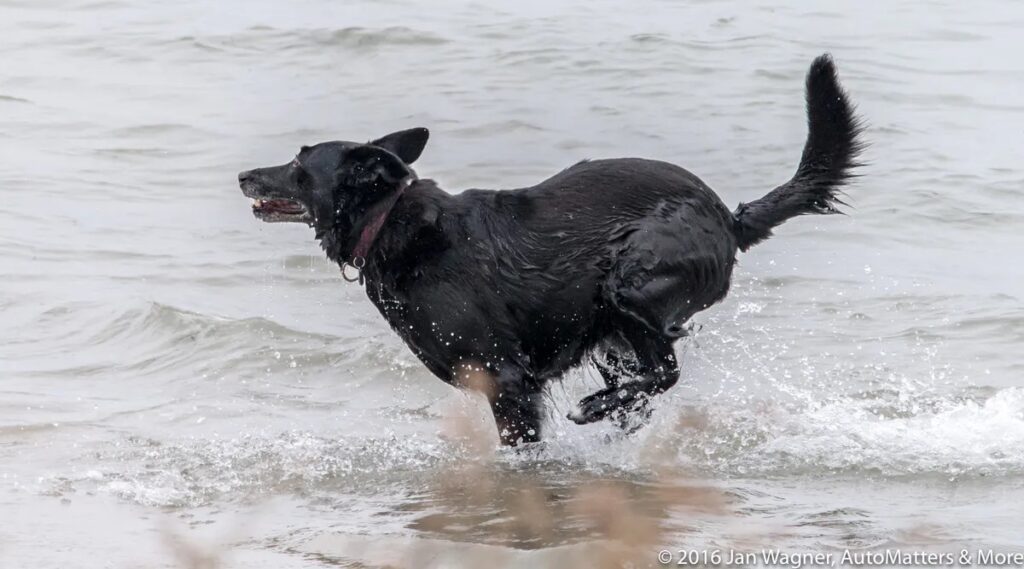 Many people just came here to walk their dogs and let them play in the bay.
Over 75,000 spectators were present over the three days, and in excess of 80 boats competed in several different series.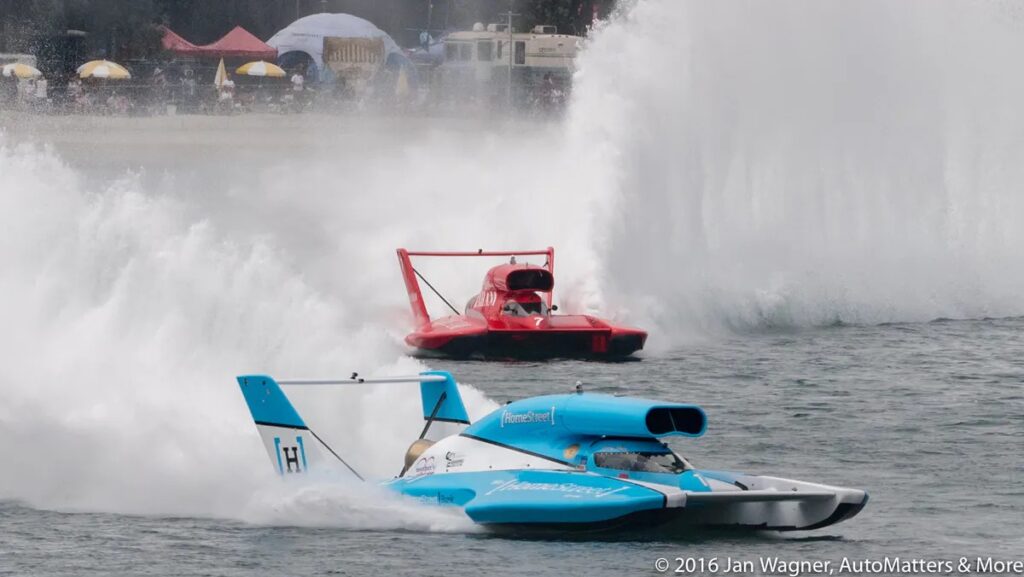 The feature race, of course, was for the H1 Unlimited Hydroplanes. For the second year in a row its Bill Muncey Cup was won by Jimmy Shane, driving the HomeStreet Bank-sponsored, U-1 Miss Madison Racing hydroplane. Rookie Andrew Tate finished in second place driving the Delta/Realtrac, U-9 Jones Racing hydroplane and, with a speed of 152.062 mph, he set the fastest lap of the race.
For tickets, RV parking arrangements and more information about the 2017 event, visit www.SanDiegoBayfair.org. You can also learn about H1 Unlimited Hydroplane racing at www.H1Unlimited.com.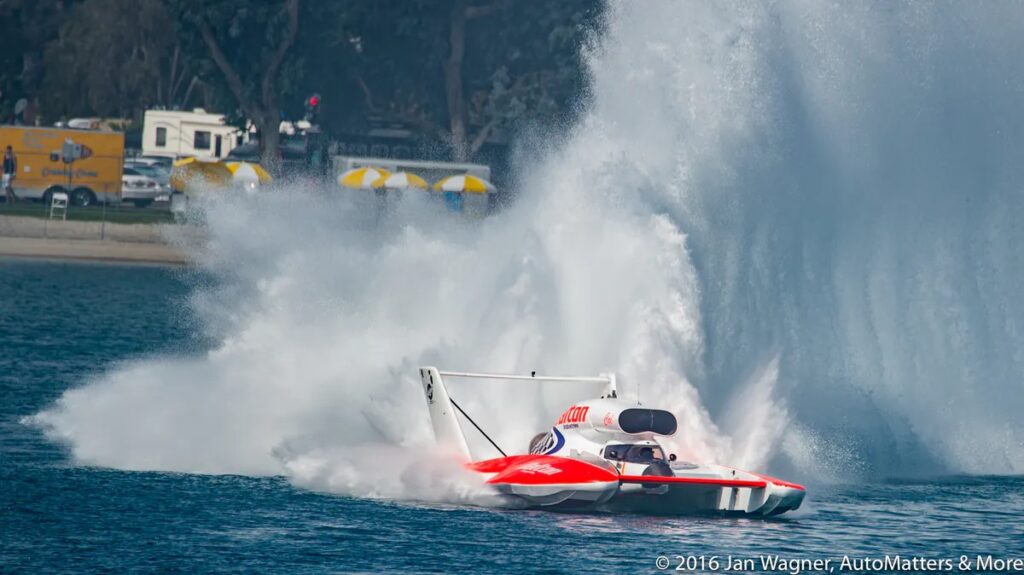 Copyright © 2016 by Jan Wagner – AutoMatters & More #468