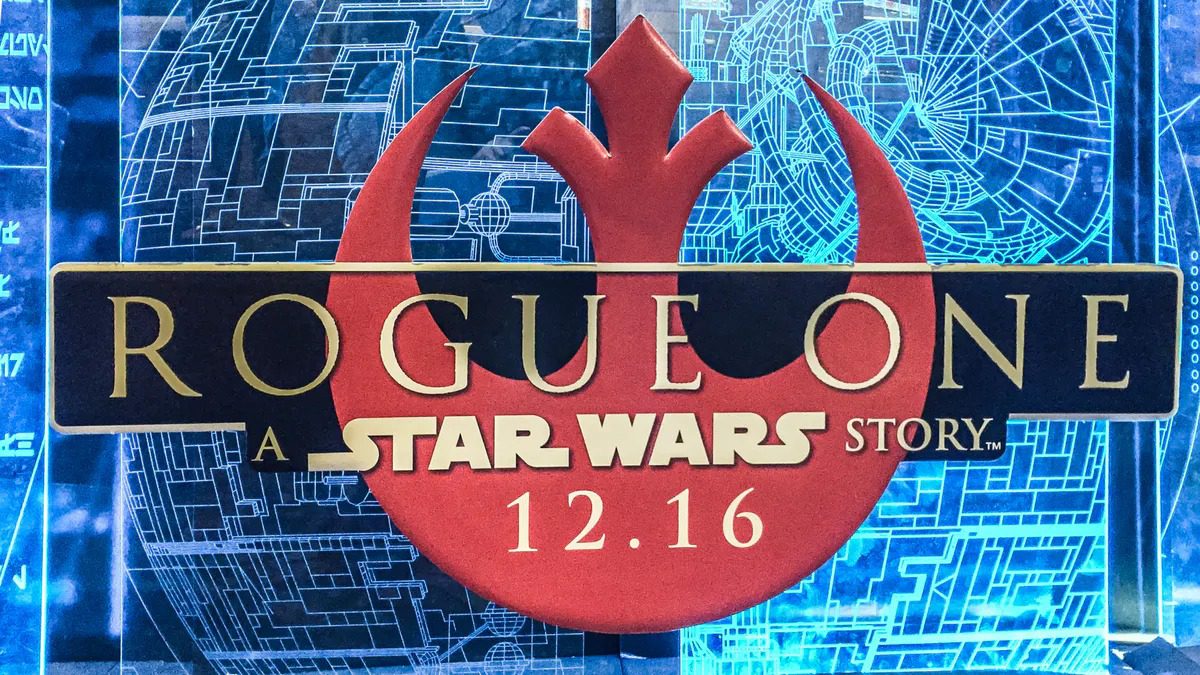 "ROGUE ONE: A STAR WARS STORY"
FINALLY, THE FILM THAT "STAR WARS" FANS AROUND THE WORLD HAVE BEEN WAITING SO LONG FOR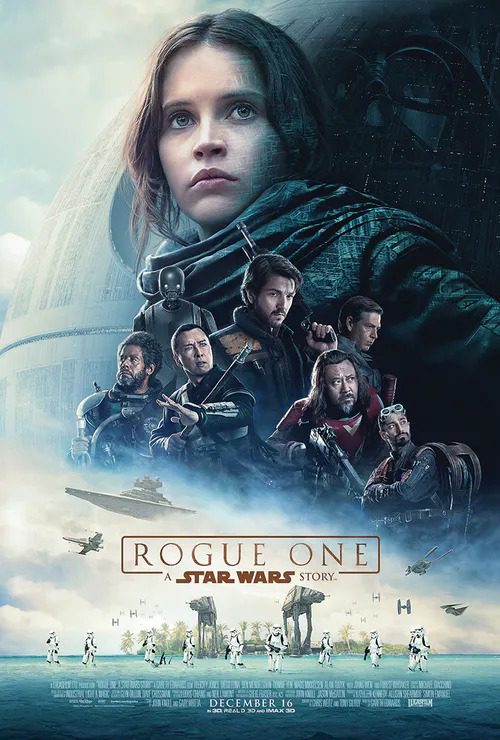 All too rarely does a new film come along that is clearly destined to become a classic: a cinematic masterpiece that will withstand the test of time; an enduring film so well crafted that you will watch it again and again, each time to more fully explore its nuances and better appreciate its complex, intricately woven tapestry. Even more rarely is such a film an addition to an existing movie franchise. "Star Wars" fans rejoice! "Rogue One: A STAR WARS Story" is such a film.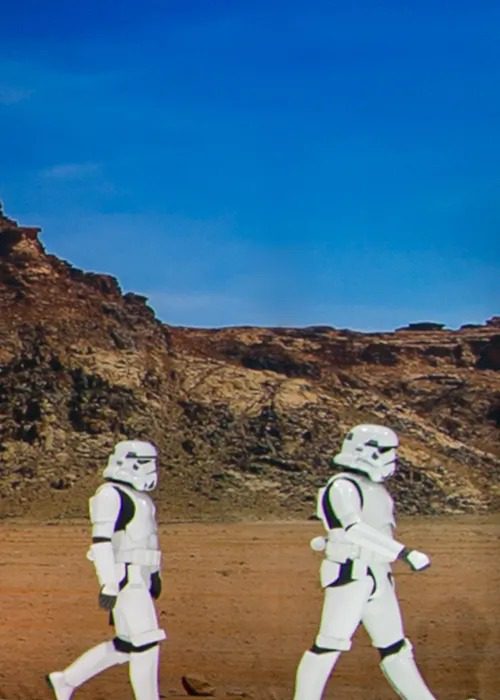 This is the "Star Wars" film that audiences everywhere have been waiting for, hoping for and clamoring for. It is the first installment of what will hopefully become more new "Star Wars" films that George Lucas envisioned, as producer Kathleen Kennedy explained: "The standalone movies, which can occur anyplace on the timeline, will introduce new characters and explore a wide variety of genres."
With particular reference to director and mega-"Star Wars" fan Gareth Edwards, she said "the great thing about the filmmakers we're bringing in, is they're all fans. They all have a deep emotional connection to Star Wars. … We're looking for caretakers – people who genuinely care and accept a responsibility around the franchise."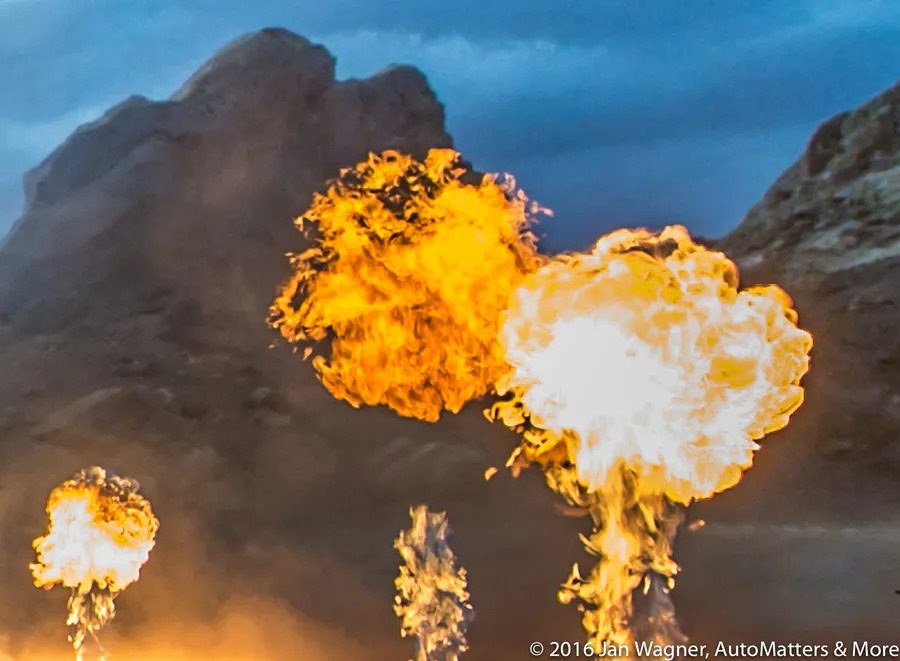 At long last here is a new "Star Wars" film that brings back the wonder, awe, excitement, music, action and adventure of the original, enhanced with decades-newer visual effects – some brand new and introduced by technological wizard John Knoll. A new process known as "SolidTrak" enables visual effects to be previewed in real time during production, thereby enhancing the interaction of the actors as they are being shot, in a way that was not possible with traditional green screen technology.
Likewise, whereas spacecraft interiors with exterior views used to be shot against green screens so that exterior scenics could be added later, for this film a gigantic, wraparound LED screen was created, upon which exterior scenics were projected in real time. This subtly adds to the realism by enabling such things as reflections of laser bursts on the reflective surfaces of a pilot's helmet.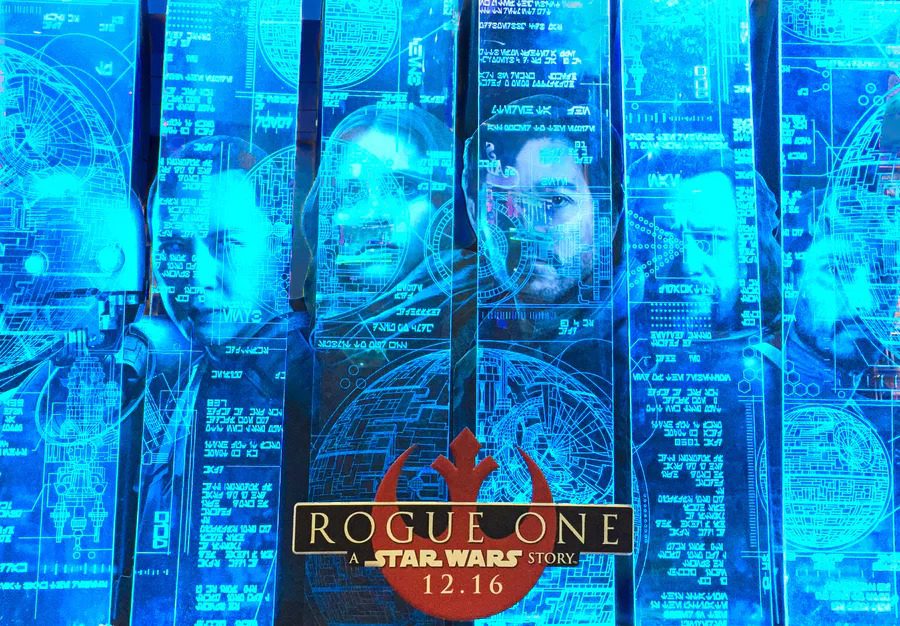 "Rogue One: A STAR WARS Story" takes us back long ago, to a time before the first "Star Wars" film. It pays homage to George Lucas' original as it weaves together the story of the creation of the evil Galactic Empire's Death Star – the ultimate weapon – and of heroic rebels who struggle against overwhelming odds as they seek its destruction.
A new cast of characters is introduced, and several of the original characters return. One new droid – named K2SO, and masterfully portrayed by Alan Tudyk – conveys an endearing sense of wry humor.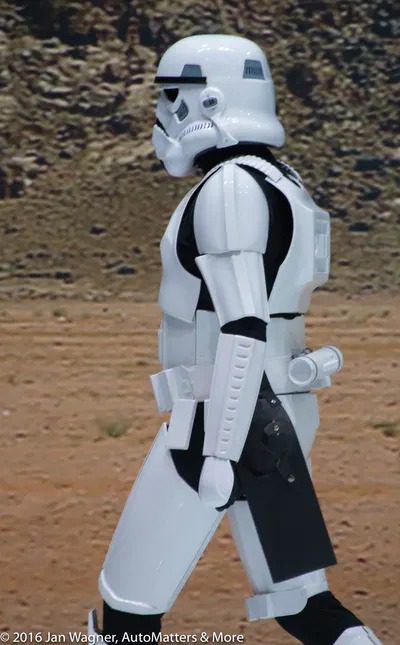 Costumes have been updated to withstand the scrutiny made possible by today's high-resolution display technologies, and yet they appear to be as you will remember them. For example, the original Imperial Stormtroopers' uniforms used to use stickers to show details, whereas now the detail on the Stormtroopers' uniforms is realistically three-dimensional.X-wing starfighter (from Nissan's 2016 LA Auto Show press conference)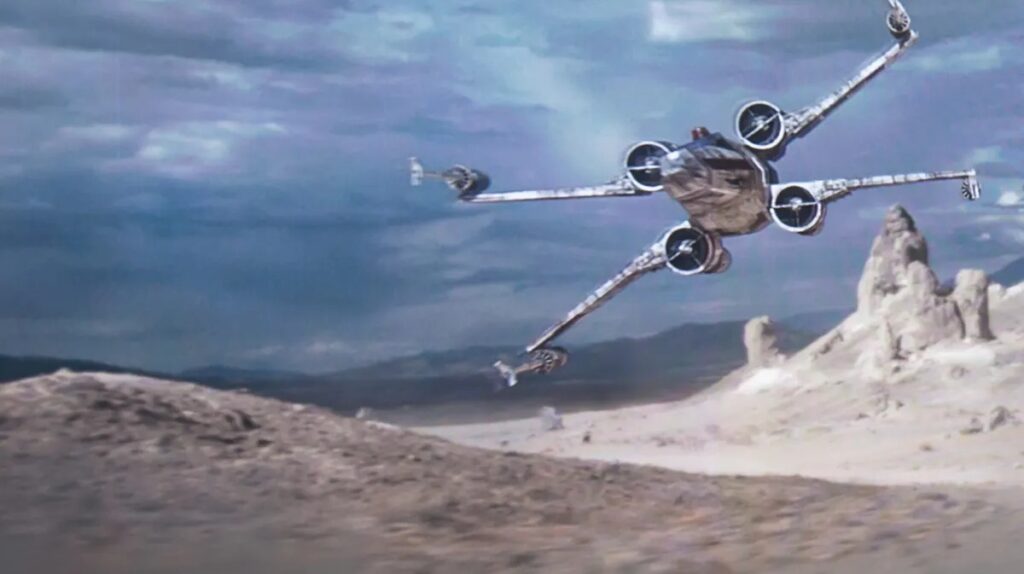 Futuristic spacecraft have long been the realm of science fiction, stimulating our collective imaginations and buoying our hopes for the future. Back in 1977, when the original "Star Wars" was released, it seemed at least possible, if not likely, that such spacecraft might actually come to exist within our lifetimes, as have many other amazing technological visions of future tech: hand-held communication and computational devices; autonomous (self-driving) and fuel cell vehicles; artificial limbs; rudimentary artificial intelligence; extreme miniaturization of complex electronic devices – the list goes on and on.
Space tourism and manned missions to Mars are on our horizon. In the meantime, not too long from now guests will be able to pilot the "Star Wars" Millennium Falcon at Disneyland. Construction is already well underway.
Finely detailed models – both miniature and life-sized – in conjunction with sophisticated computer special effects, bring these wondrous spacecraft to life on the screen.
The U-wing is a new ship created for "Rogue One." It is described as "a Huey helicopter version of an X-wing that can carry 12 people."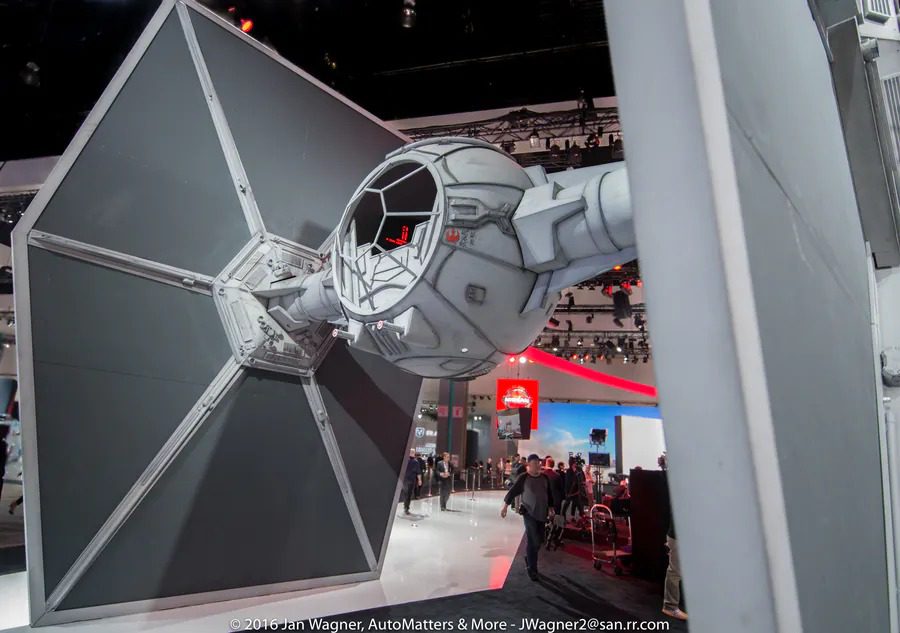 Life-sized "Star Wars" models have recently been spotted in public places: from a towering TIE fighter in the Nissan exhibit at the 2017 Los Angeles Auto Show to an X-wing starfighter on Hollywood Boulevard for the Hollywood premiere of "ROGUE ONE: A STAR WARS Story."
Audiences cheered right up to and including the very last, wonderful scene. For more information visit www.starwars.com/films/rogue-one.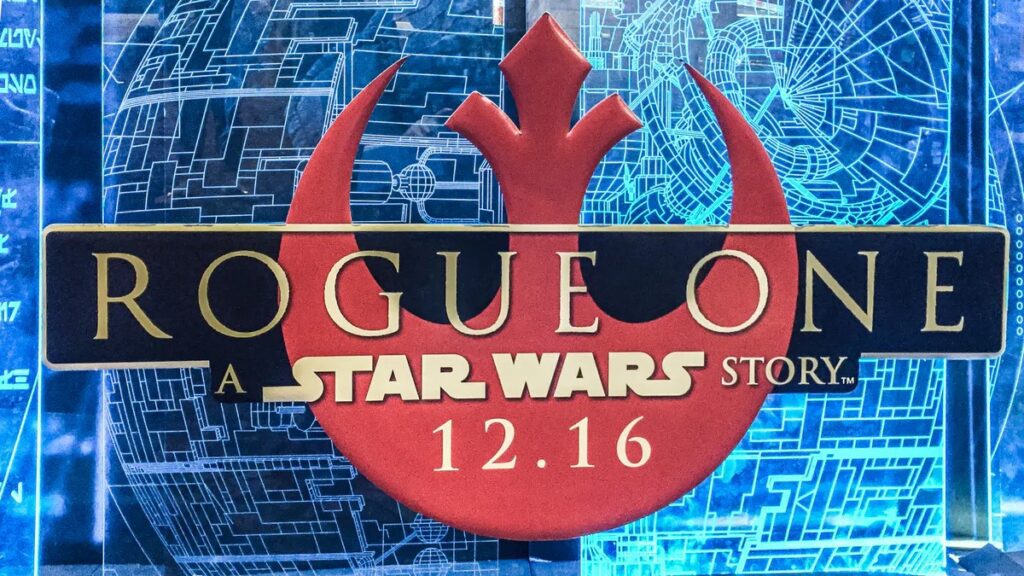 Copyright © 2016 by Jan Wagner – AutoMatters & More #467r1