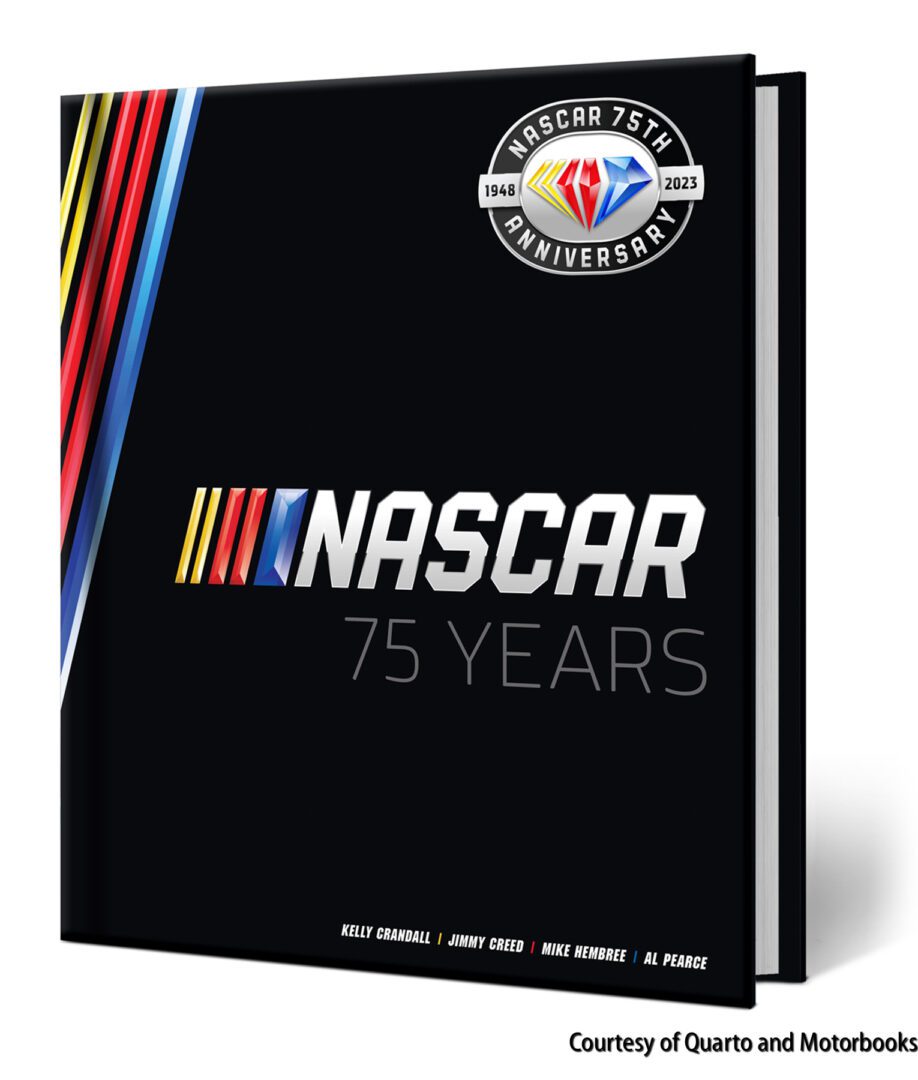 Book Review of "NASCAR 75 Years"
NASCAR 75 Years, by Kelly Crandall, Jimmy Creed, Mike Hembree and Al Pearce is the official history of the first 75 years of NASCAR stock car racing.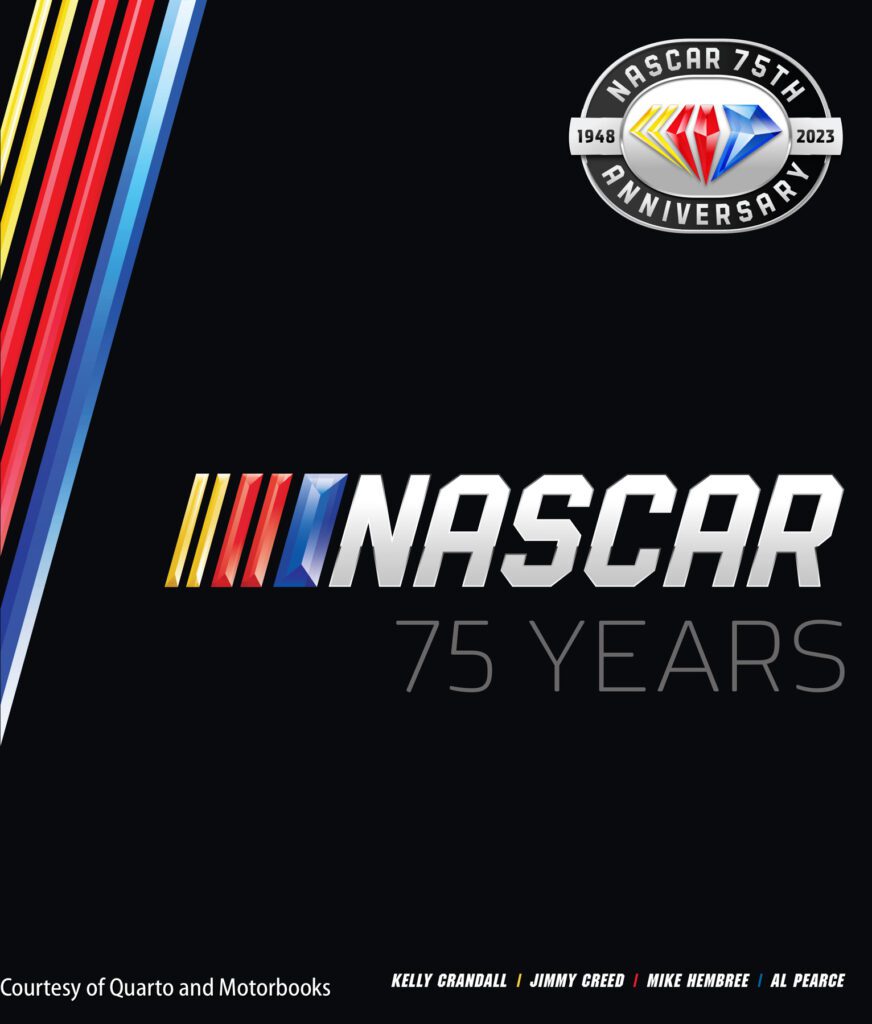 Throughout its 224 fully illustrated pages, an intricately woven story will guide you through the history of NASCAR (the National Association for Stock Car Auto Racing), beginning with the 1940s and 1950s, and continuing all the way to 2022.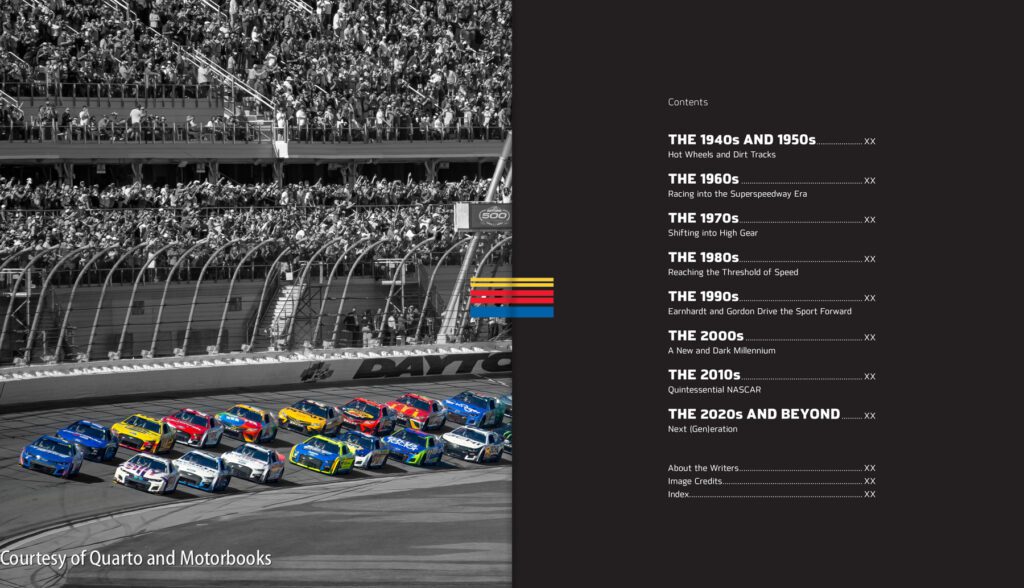 The illustrated narrative will quickly draw you in, bringing the story of NASCAR to life and compelling you to read, comprehend and appreciate it.
This story begins with an eleven-year-old kid by the name of Richard Petty, long before he would be known as The King of NASCAR. Back then, as he wandered around Charlotte Speedway, his father, Lee, and brother Maurice, were racing in a 200-lap, 150-mile event on what was, at that time, a three-quarter-mile dirt track — a far cry from what today is a 1.5-mile superspeedway.
Those were the good old days. As we were are told: "Lee, a thirty-five-year-old truck driver who had worked numerous jobs (including occasional transportation of illegal moonshine), was sailing around the dirt track like a madman, his 1948 Buick Roadmaster bouncing over the holes and banging into cars driven by others."
"'I remember getting in the car and riding to Charlotte,' Richard Petty said, more than 70 years later. 'Daddy pulled it up to a Texaco station and put it up on the rack and changed the oil and greased it up, checked the air in the tires and took the muffler off.' It was ready to race."
Can you imagine that? These were true stock cars, with little more pre-race preparation then you might do at your local gas station before your family's vacation road trip.
"It wasn't a grand start for Lee Petty. His tank of a race car broke a panhard bar and crashed hard. He finished seventeenth. 'I don't know how Daddy explained it to the guys who owned the car,' Richard said. Lee had 'borrowed' the car to run the race.'"
"Images from the NASCAR archives and the sport's top photographers bring it all to life alongside a retrospective written by a roster of veteran NASCAR journalists and historians. Follow NASCAR's explosion from a small, innovative family business to a leader in sports entertainment enjoyed each week by millions in person and on television. Witness the evolution of the vehicles—from modified family sedans to 700-horsepower race-built machines, all the way through the "Next Gen" cars that debuted in 2022—and celebrate the drivers who have piloted them around tracks like Daytona, Talladega, Darlington, Martinsville, and more, battling wheel to wheel, week after week, across the United States."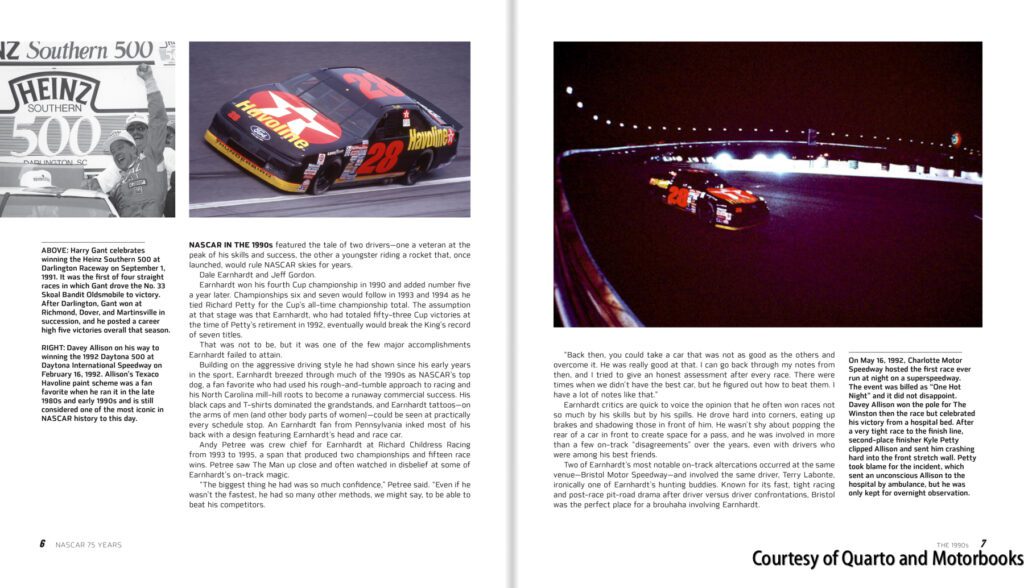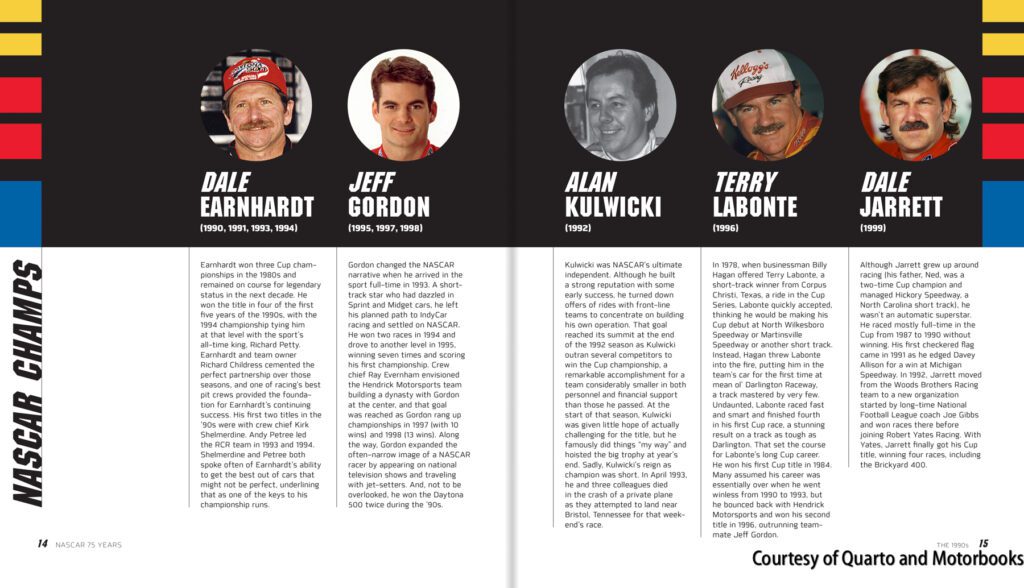 Is it a coincidence that the section entitled "The 1990s" begins with a photo — on page 124 — that features Jeff Gordon (and the legendary Dale Earnhardt), multi-time NASCAR Champion and long-time driver of the Number 24 car? I think not.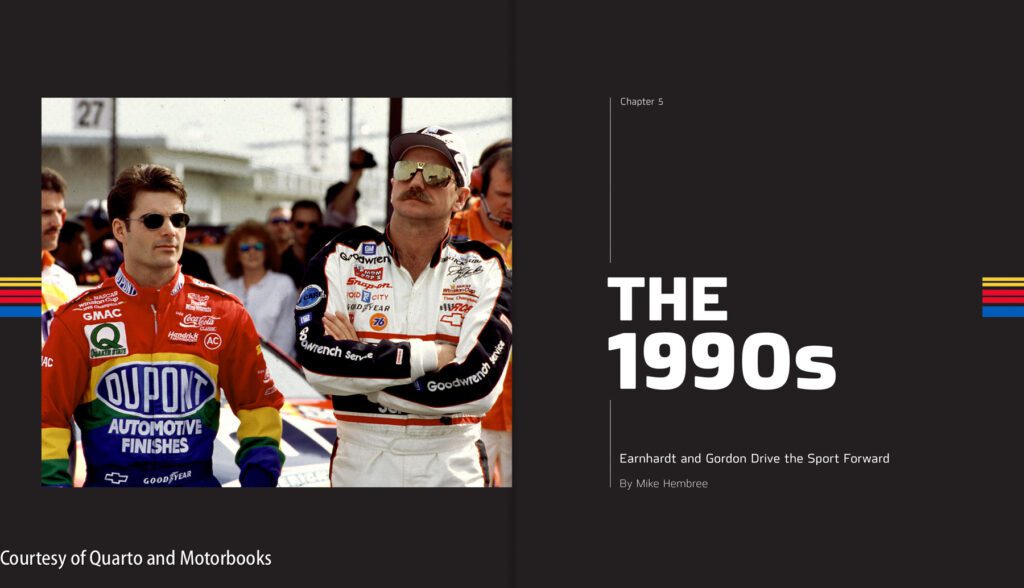 One of my most memorable NASCAR moments happened when, near the end of an especially important race, Cup Series driver and watermelon farmer Ross Chastain — who celebrates his victories by smashing a watermelon on the track — floored the gas pedal and rode around on the outside wall of the Martinsville track, all but destroying the passenger-side of his car, to pass Denny Hamlin and secure a place in the final Championship Four of the 2022 playoffs — an absolutely unbelievable move that he had learned by playing video games: https://youtu.be/Q8iegEovAt0?si=4o1gQXV-OSGL-dr7 NASCAR changed the rules afterwards to try to prevent that from ever happening again.
"NASCAR 75 Years" should delight everyone from diehard NASCAR fans to more casual followers of the sport. Not only that, but it will enable family members — who put up with their loved ones as they are glued to their comfy chairs to watch the near-weekly races unfold — to better understand and appreciate what it is about NASCAR stock car — and truck — racing that has engendered such a loyal fan base.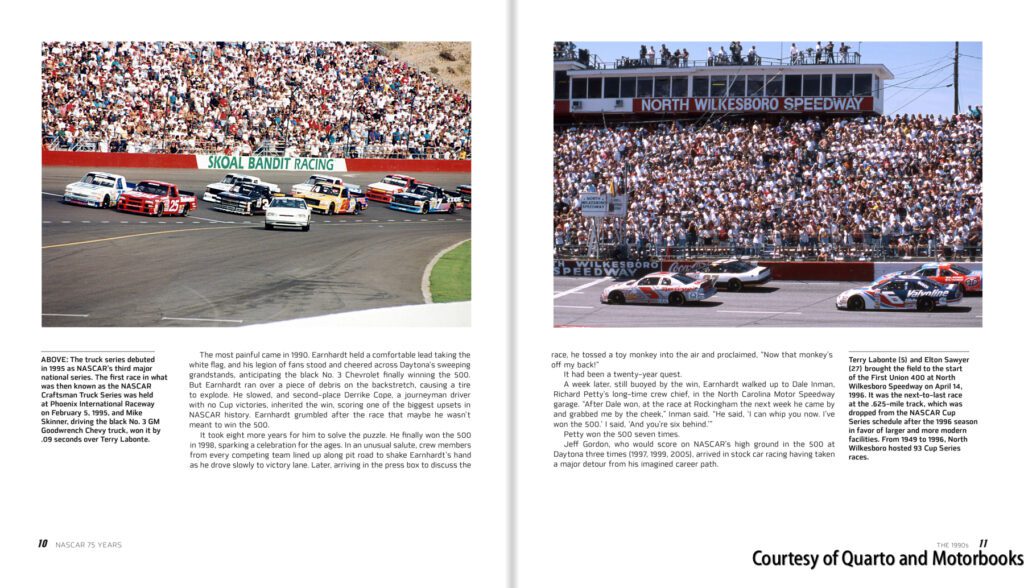 "NASCAR 75 Years," by Kelly Crandall, Jimmy Creed, Mike Hembree and Al Pearce, is available from Barnes and Noble, and Amazon.
To explore a wide variety of content dating back to 2002, with the most photos and the latest text, visit "AutoMatters & More" at https://automatters.net. Search by title or topic in the Search Bar in the middle of the Home Page, or click on the blue 'years' boxes and browse.
Copyright © 2023 by Jan Wagner – AutoMatters & More #808