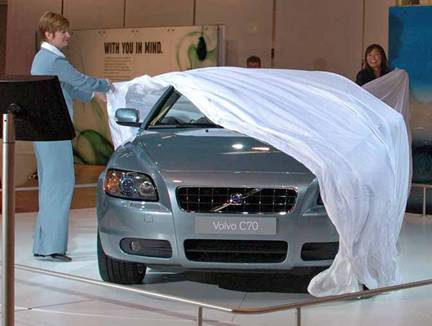 California International Auto Show
It's major auto show time of year again. First up in Southern California was the 2006 California International Auto Show (CIAS), at the Anaheim Convention Center.
I tend to go to auto shows on Media Days, when the crowds are a little lighter. We get briefs from auto manufacturers on their newest vehicles, for me to share with you, and there are usually ample opportunities to take unobstructed photographs.
This year marked a major expansion in terms of space and, as the photos will show, the major domestic and import auto manufacturers were well represented.
General Motors had an especially large presence at this year's show. Media Day began next to a construction site, as the General sponsored Habitat for Humanity of Orange County's first "Home in a Box." Throughout the show people worked to build a home in the nearby Anaheim Marriott Hotel's parking lot, to be shipped when completed to the Gulf Coast for a family who lost their home to Hurricane Katrina. You can learn more about Habitat for Humanity, including links to local affiliates, at www.habitat.org.
In other news, General Motors took this opportunity to unveil their new 2007 GMC Yukon full-size SUVs. These vehicles offer fresh styling, as well as more power and better fuel economy than the vehicles that they replace. Available features include articulated running boards (midyear) and a power liftgate. The Yukon Denali model, equipped with a high performance 6.2L, all-aluminum small-block V-8 engine with variable valve timing and a new, 6-speed automatic transmission, is the flagship of the line, and will be available in the first quarter of 2006.
Flanked by several of the vehicles, spokespeople at the South Coast Air Quality Management District's Press Conference told us that "Thirty hydrogen-fueled hybrid cars will be demonstrated in five cities across the Southland … in a major step towards expanding the region's hydrogen fueling infrastructure and commercializing fuel cell vehicles." We are moving towards a hydrogen-fueled future.
At lunch we saw the Dodge Caliber concept vehicle. First shown at the Geneva International Motor Show, this is sort of a cross between a small coupe and an SUV. I like its styling a lot. It really is an attention grabber and with lots of usable, hatchback-accessible interior space, it is practical, too.
I couldn't help but notice the beautiful Saleen S7, built to do over 200 mph and zero-to-60 in less than three seconds.
Next up will be the San Diego International Auto Show at the San Diego Convention Center, from Wednesday, Dec. 28, 2005 through Sunday, Jan. 1, 2006. Something new to the show this year will be the "Street Performance Pavilion," featuring celebrity rides, exotic and tuner cars, hot rods, parts and accessories. You can get more information, including a $2 off weekdays adult admission coupon and information on additional parking options, at www.sdautoshow.com.
Drive safely and do join me again next time.
Copyright © 2005, 2006 & 2021 by Jan Wagner — AutoMatters & More #167r2