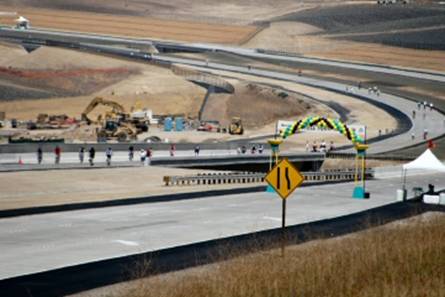 California's State Route 56 Freeway Opens — At Last!
They called it a "Grand Opening Festival." It certainly was that, judging by the number of men, women and children riding bicycles on the new freeway or enjoying the many booths and activities. Yet I'm sure that to some it must have seemed like this day would never come.
At the official opening ceremonies on July 17th, San Diego Mayor Dick Murphy told us that "this project has been delayed for years. It's called the State Route 56 because that's the year it began…" That got laughs from the assembled crowd – because it was not too far from the truth. Mayor Murphy has told us that "this project has been on the books for decades."
Perhaps this saga was best summed up by Councilmember Brian Maienschein, a tireless advocate for SR 56. He said "I remember being told in Elementary School that by the time I was in High School I'd be taking State Route 56 to the beach." I suspect that it has been quite some time since he was in High School. According to Maienschein, "when I began my first term as a councilmember in 2000, many of the properties necessary to complete SR 56 had not been purchased."
Other dignitaries who spoke at the Grand Opening ceremony included State Senator Dede Alpert, Assemblymember George Plescia and Councilmember Scott Peters.
The completion of the middle section of SR 56 finished a nine-mile stretch that connects Interstate 15 with Interstate 5. The plan is for SR 56 to become the road of choice between the two freeways, and thus reduce traffic on Black Mountain Road, Mira Mesa Boulevard, Miramar Road and Carmel Valley Road, as well as on the Del Dios Highway between Del Mar, Rancho Santa Fe and Escondido. It should also help alleviate some of the heavy traffic on I-15 by facilitating a balancing of traffic between that freeway and I-5. To meet that objective, initially SR 56 will accommodate 20,000 vehicles per day, eventually adding two more lanes and increasing in volume to between 84,000 to 120,000 vehicles per day by the year 2020. Hopefully well before then some currently missing connectors will have been completed – including a northbound connector between SR 56 West and I-5 North. In the meantime it will continue to be necessary to use surface streets to make that transition.
The coastal communities of Del Mar, Torrey Pines and Carmel Valley are now connected by freeway with the eastern neighborhoods of Rancho Penasquitos, Carmel Mountain Ranch, Rancho Bernardo and Poway. People now have a much more direct route to travel, which should decrease commute times. For recreation, there is also a bikeway along the route.
Cost for the entire SR 56 project was $220 million dollars. That not only includes engineering and construction costs, but also right-of-way acquisition and storm water pollution prevention. This project has been saddled with expensive burdens to mitigate environmental concerns.
Funding came from state, city, county and San Diego Association of Governments (SANDAG) sources. A June 2004 estimate published by the California Department of Transportation (CALTRANS) broke that down as follows: $113 million in state funds (of which $19 million is Traffic Congestion Relief Program funds) and $107 million in local funds. As was pointed out in a Building Industry Association of San Diego County (BIA) handout that I was given while I was photographing the opening ceremonies, a large chunk of the local tab was paid by area home builders. According to Paul Tryon, CEO of the BIA, "local builders have paid at least $45 million for this overdue middle section of SR 56." I have no doubt that is part of the reason for high home prices in the area. "More than $62 million already has been contributed from the existing half-penny transportation sales tax, known as TransNet," according to Poway Mayor Cafagna, the Vice Chair of SANDAG.
So, was it worth it? Time will tell but I'm sure it was. We badly need new freeway construction. I just hope that I-5 does not become as clogged with traffic as I-15 has been.
Work seemed to proceed very quickly, at least towards the end of this project. I live in Carmel Valley so I was able to monitor the progress. Everything from the roadway construction to the building of the wall separating my neighborhood from part of the freeway seemed to move right along.
I've never been to a freeway grand opening before. It was interesting.
Drive safely and do join me again next time.
Copyright © 2004, 2006 & 2021 by Jan Wagner — AutoMatters & More #109r2