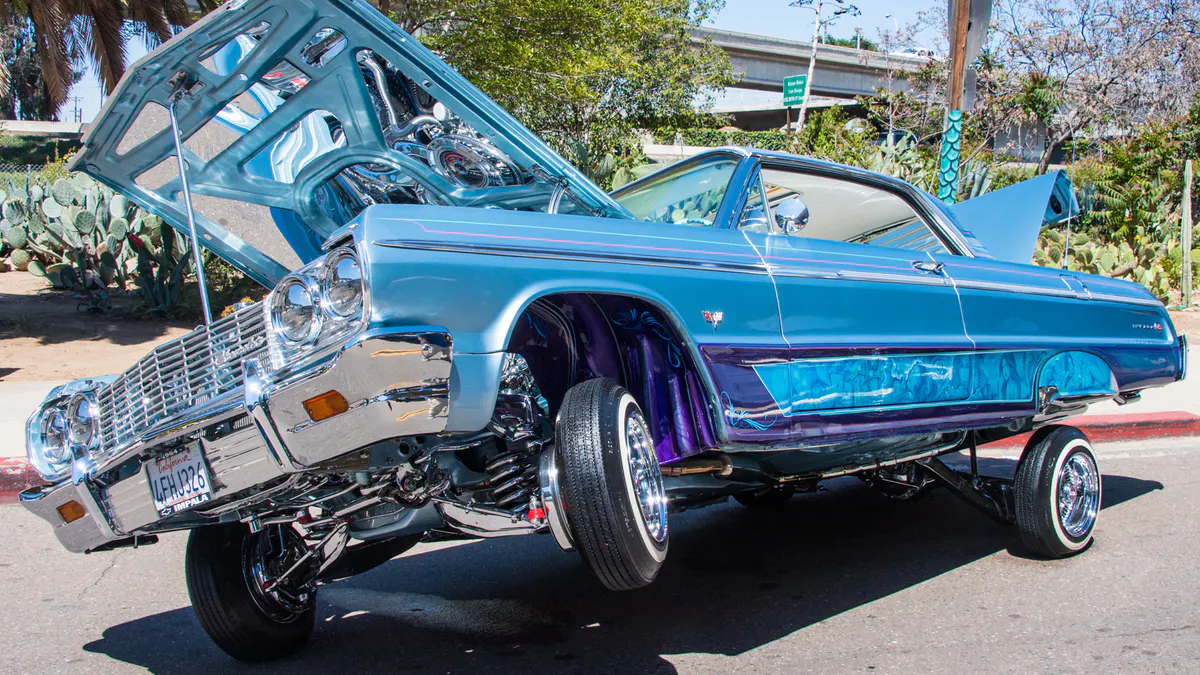 CELEBRATING CINCO DE MAYO AT A CAR SHOW WITH LOWRIDERS & AT BALBOA PARK
Mexican-American culture & history is a vital part of San Diego
WHAT IS CINCO DE MAYO?
Cinco de Mayo celebrates the May 5, 1862 victory by Mexico over France in the Battle of Puebla, fought during the Franco-Mexican War. It is not a celebration of Mexico's Independence Day. Rather, especially just north of the Mexican border in San Diego, it has evolved into a popular celebration of Mexican culture and heritage among Mexican-Americans (see www.history.com/topics/holidays/cinco-de-mayo).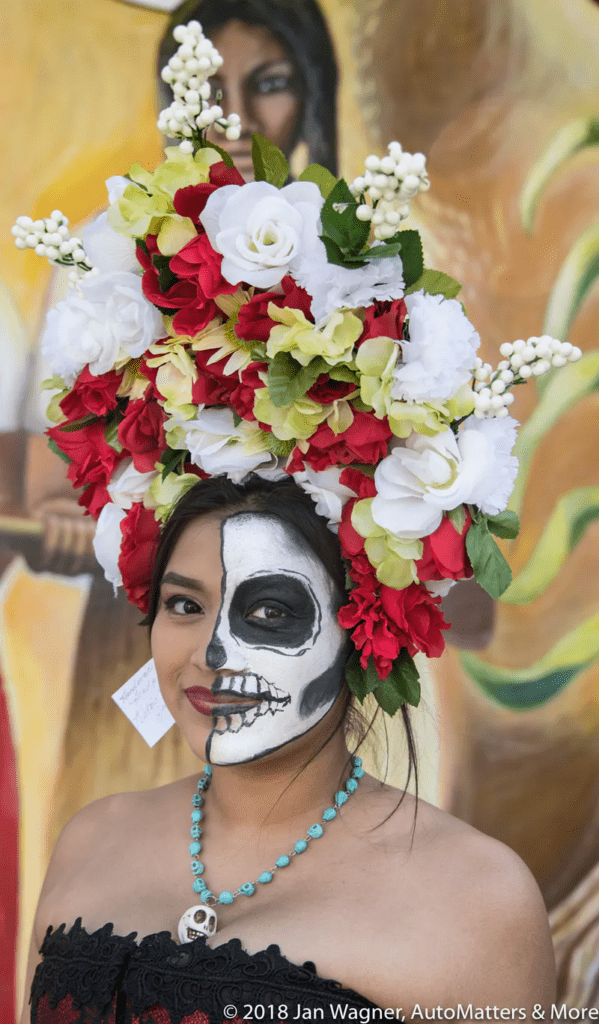 CINCO DE MAYO CON ORGULLO FESTIVAL & IMPALAS CAR CLUB CLASSIC CAR SHOW
"Con orgullo" means "with pride" in Spanish. That is appropriate, given that the owners of the cars in the car show take great pride in their vehicles.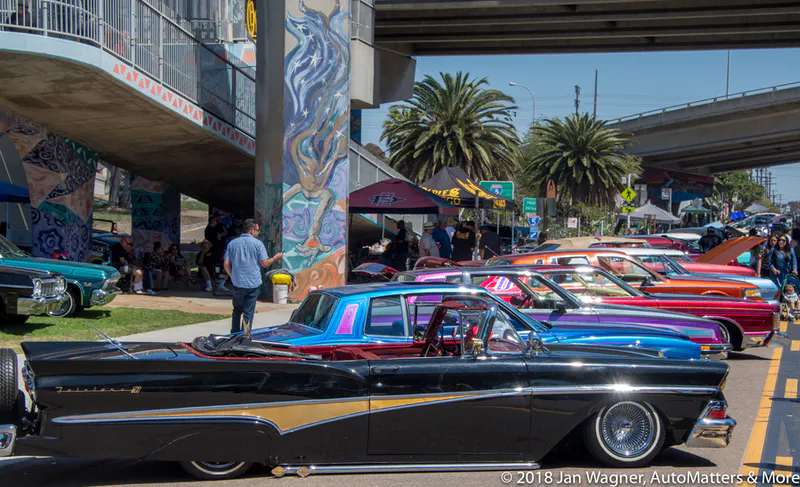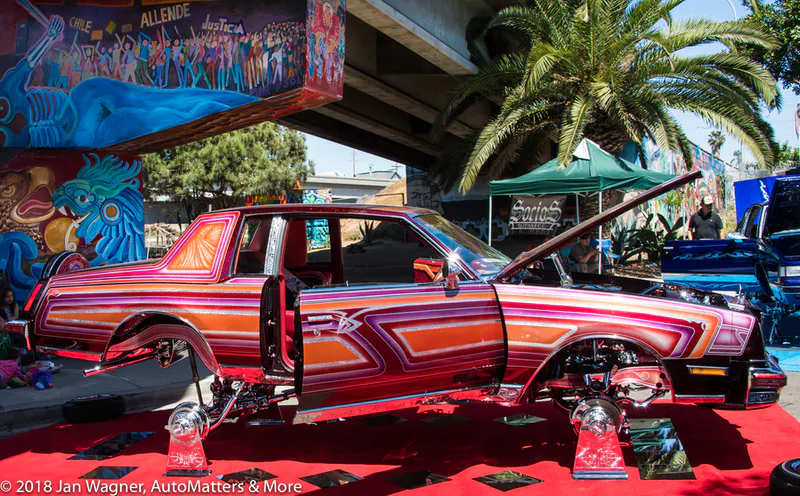 The show was held on Saturday, May 5th in San Diego's Chicano Park. Located at the foot of the iconic Coronado Bridge, Chicano Park has long been a popular gathering place for members of San Diego's Mexican-American community. Born out of protest, this National Historical Landmark is recognized for its many cultural and historical murals painted on the concrete support structures for the Coronado Bridge's ramps (see en.wikipedia.org/wiki/Chicano_Park and chicano-park.com/cpmap.html).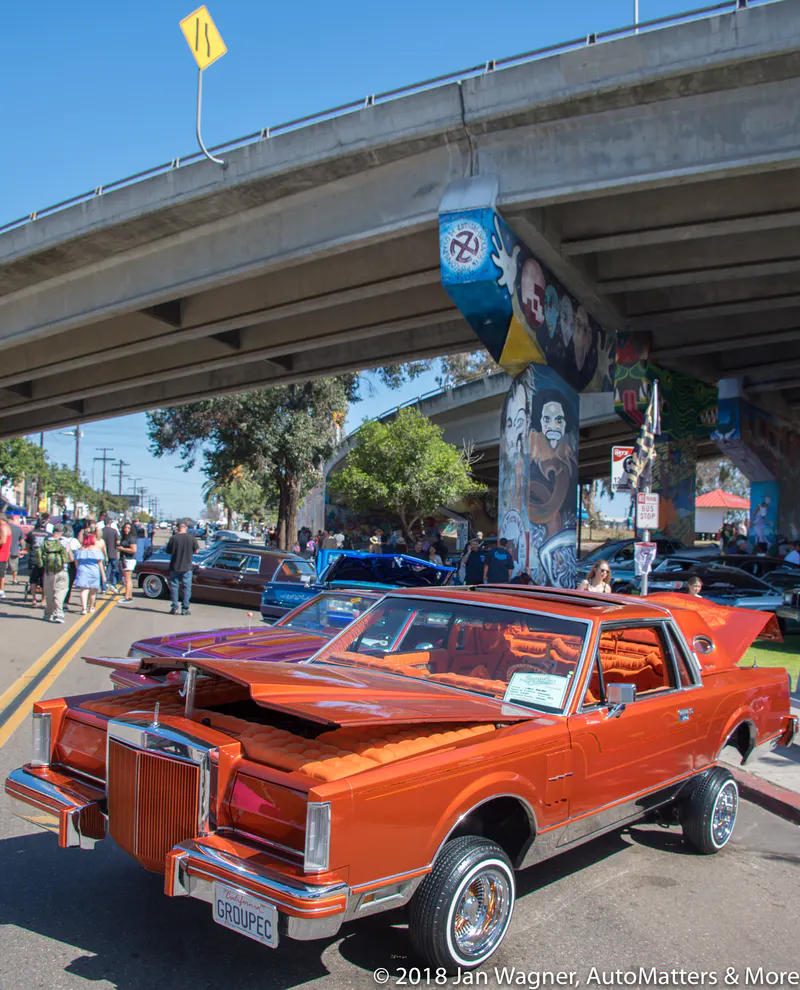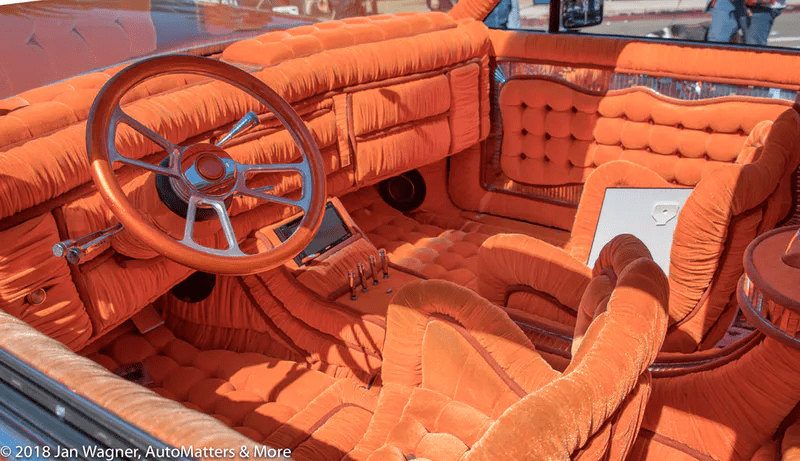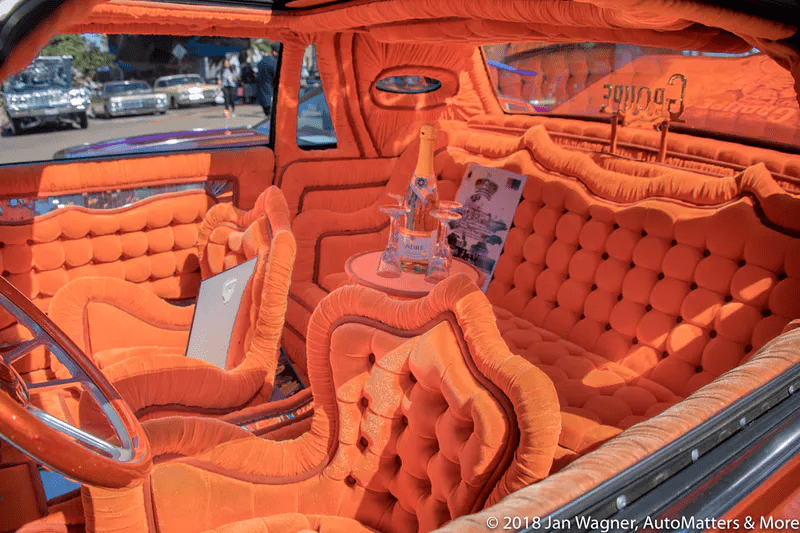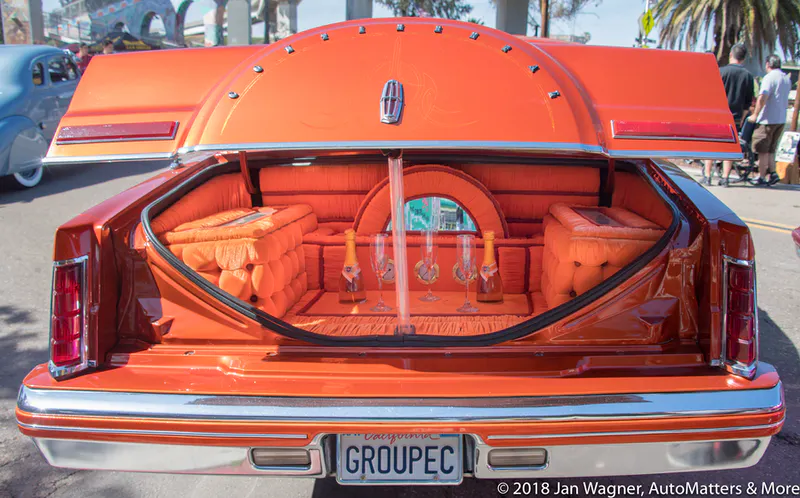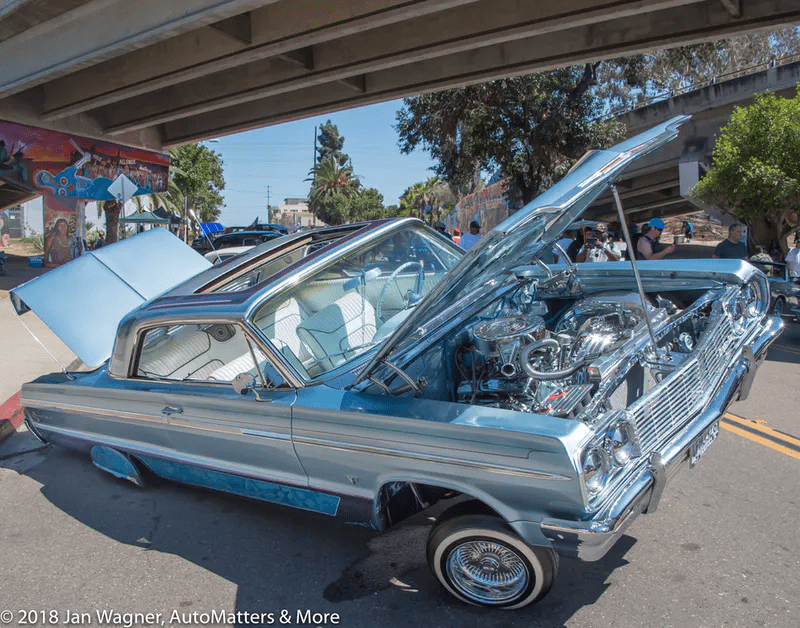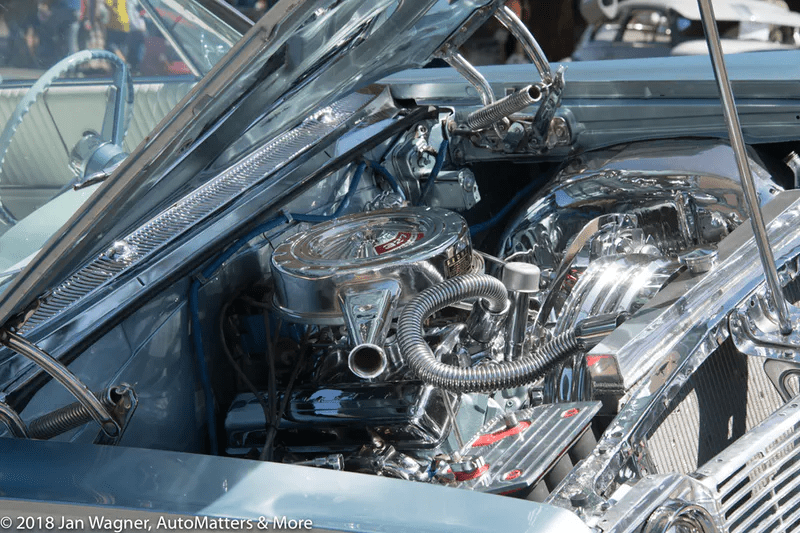 The cars – many of them beautiful lowriders with their characteristically small whitewall tires mounted on knock-off wire wheels, held on by a central spinner instead of by several lug nuts – were displayed on and beside the roadways on either side of the park.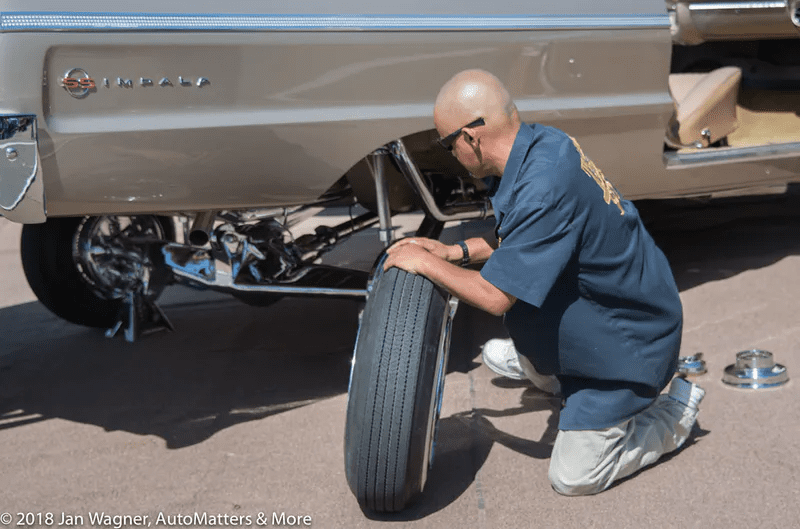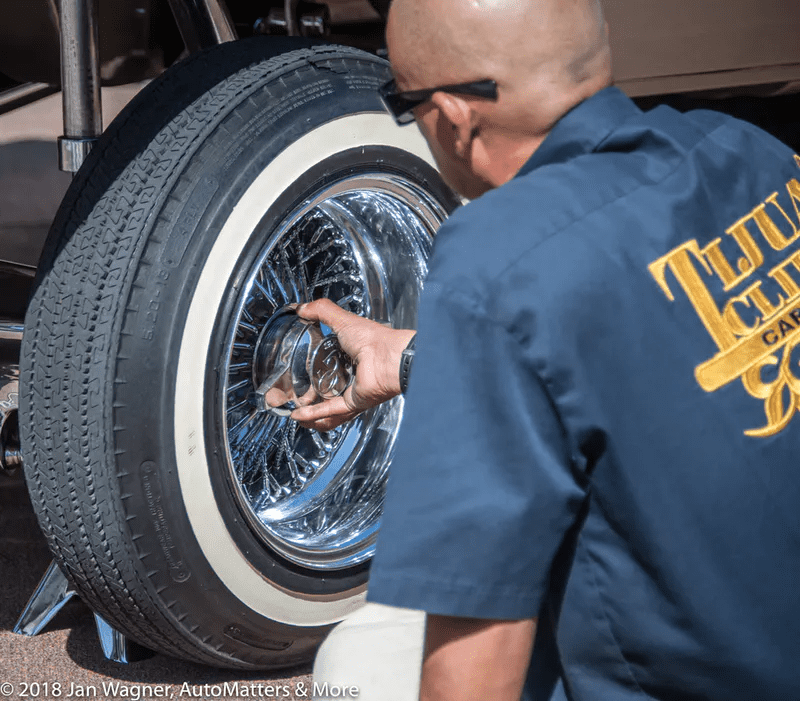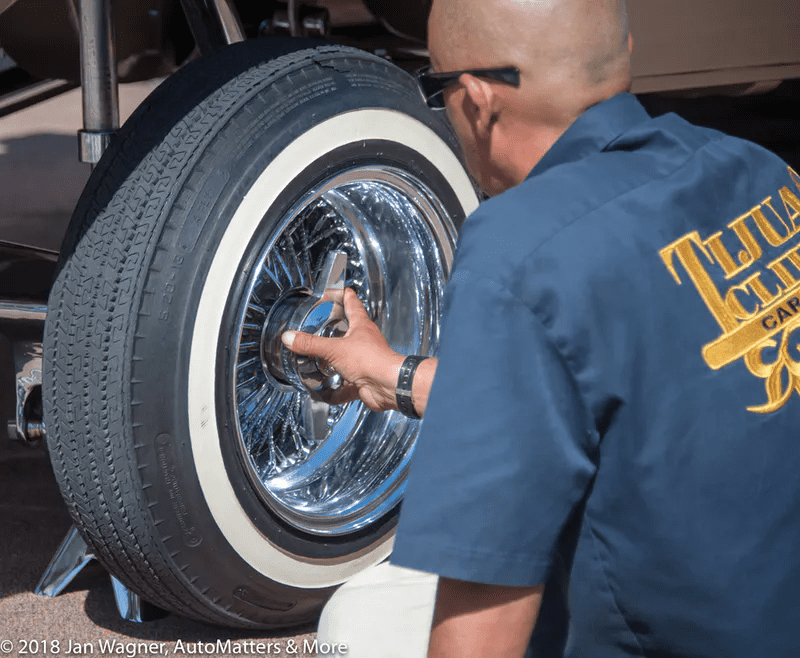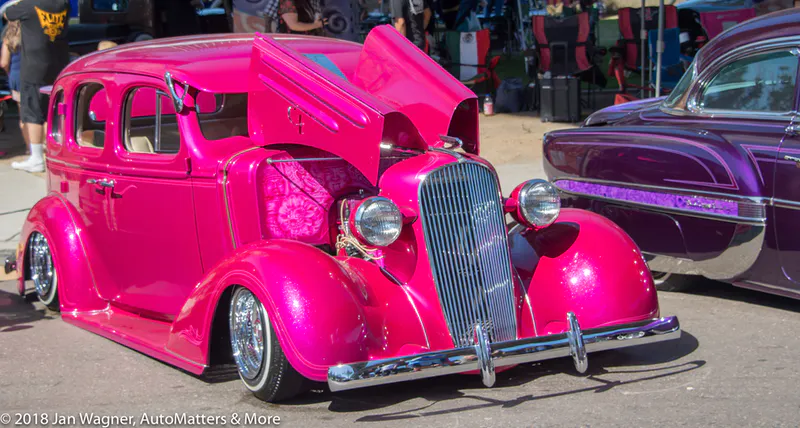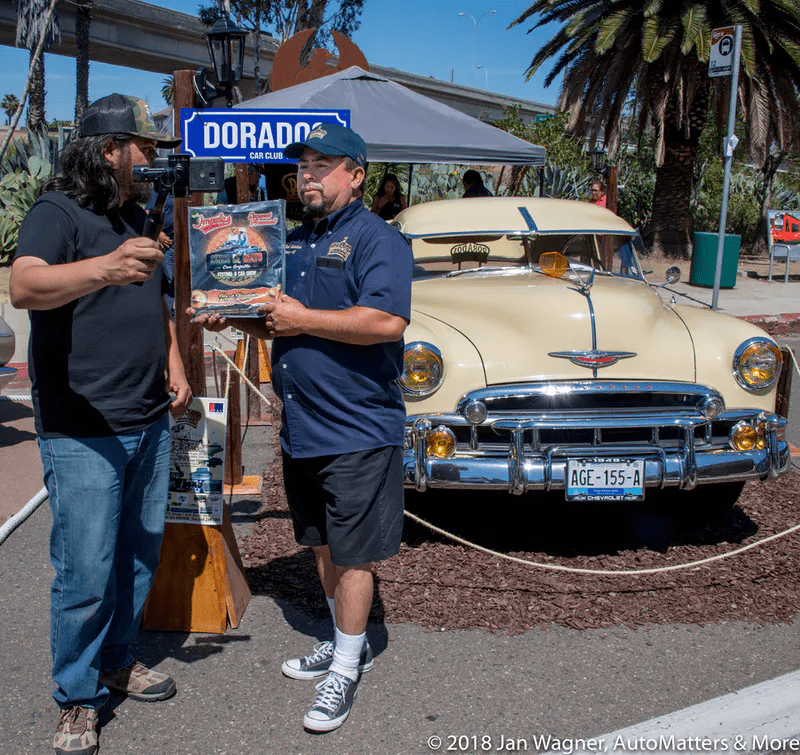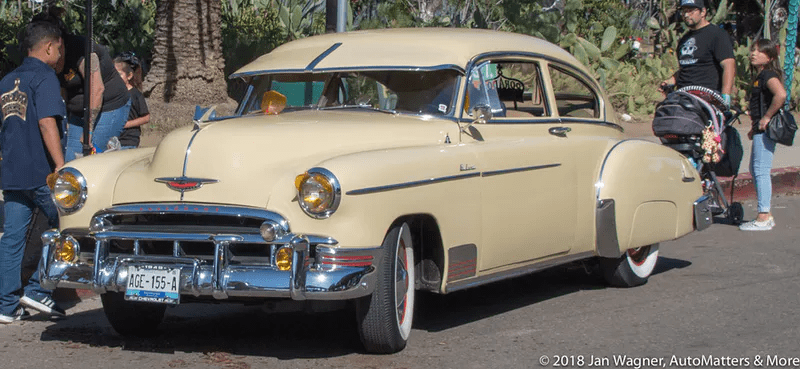 Many of these were highly customized, extremely lowered vehicles with their remotely-controlled ride height independently adjustable at each of the four corners of the vehicle. Other modifications included spectacular, multi-colored paint jobs, chromed engine parts; tufted, brightly colored upholstery; and intricately engraved chrome mirrors and trim.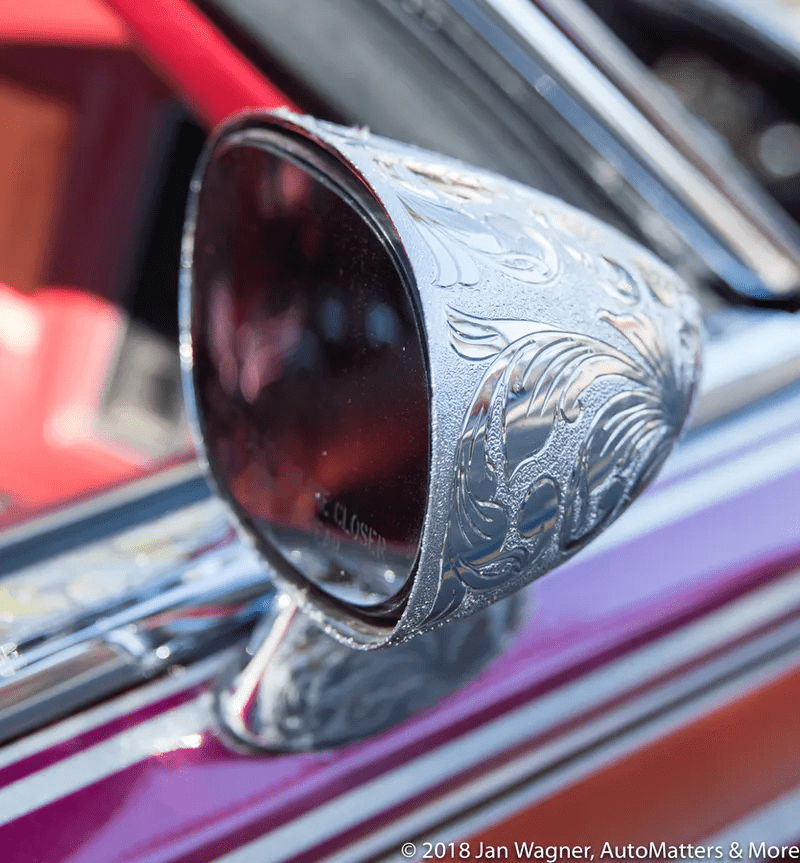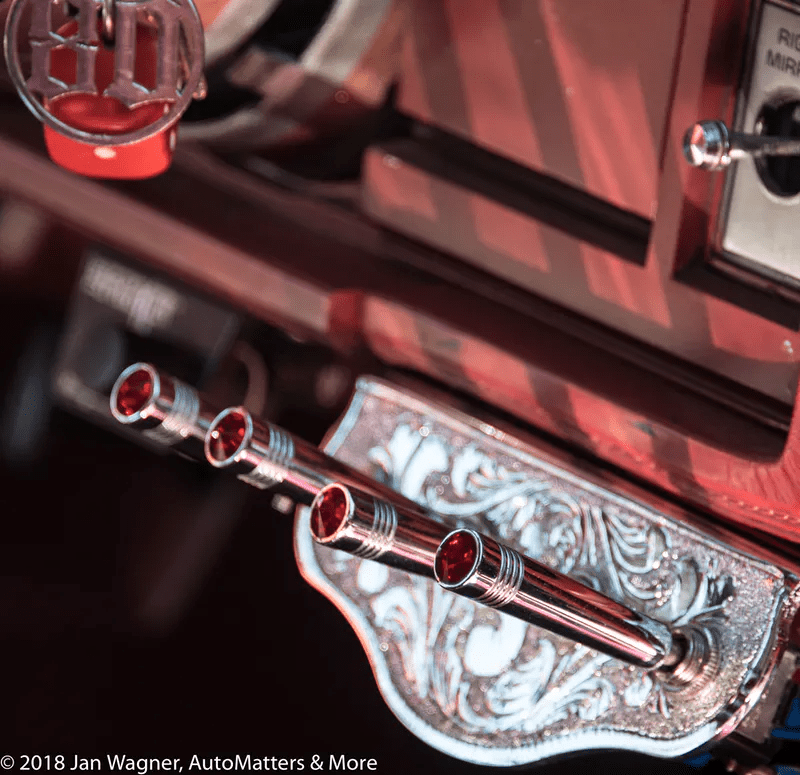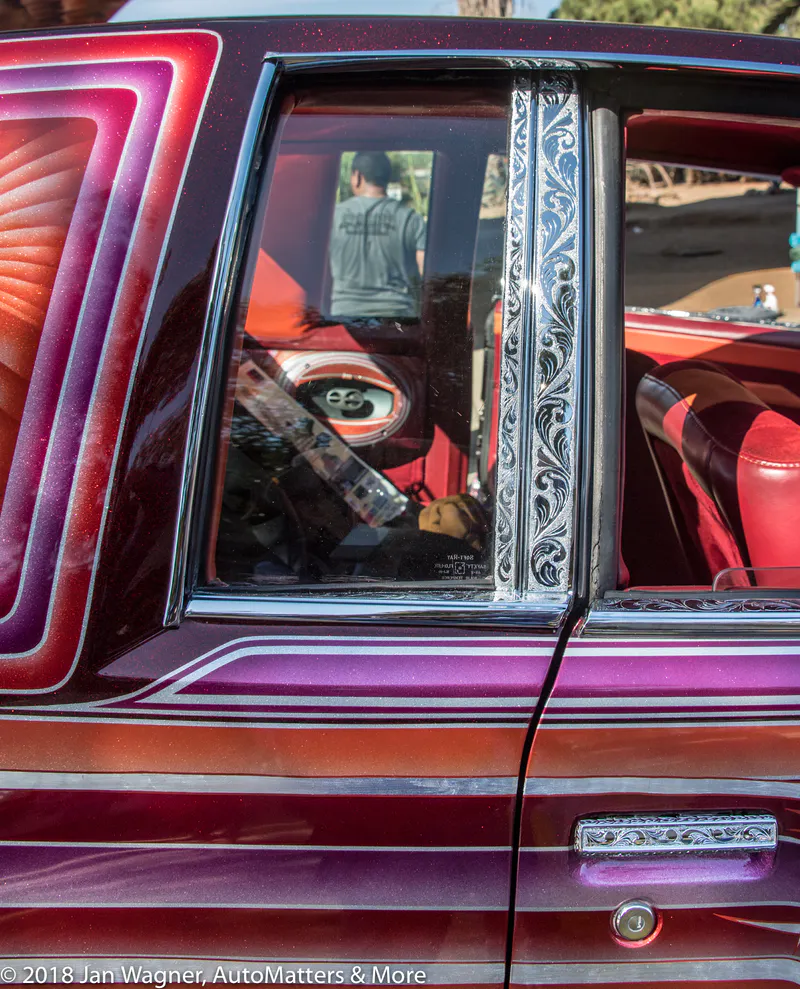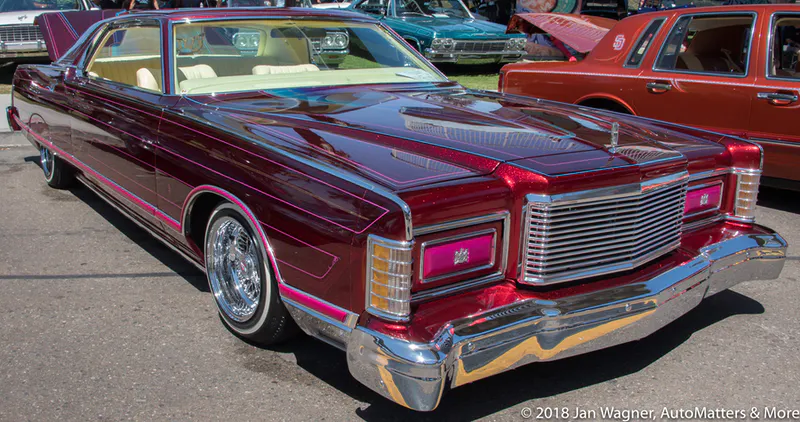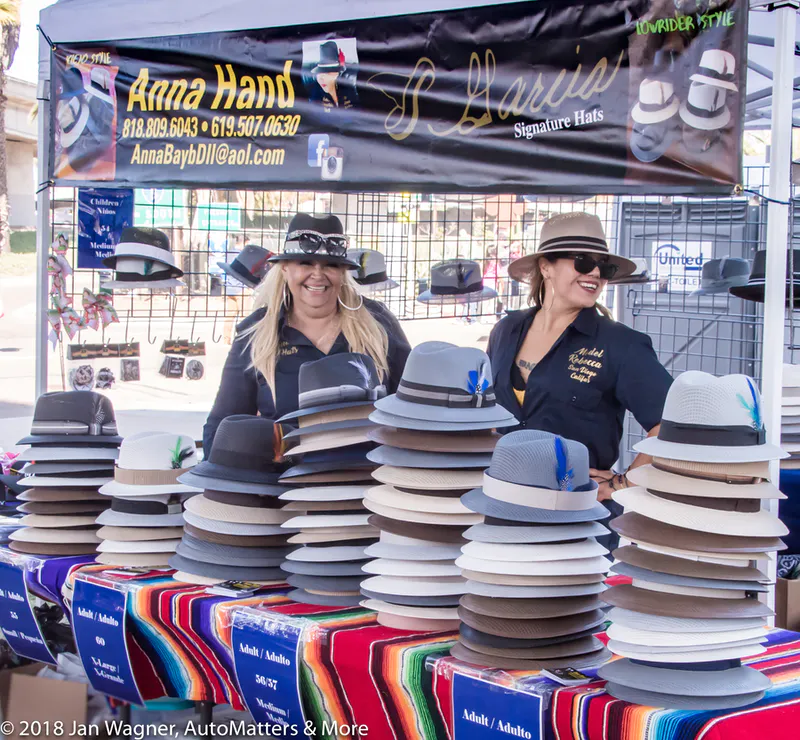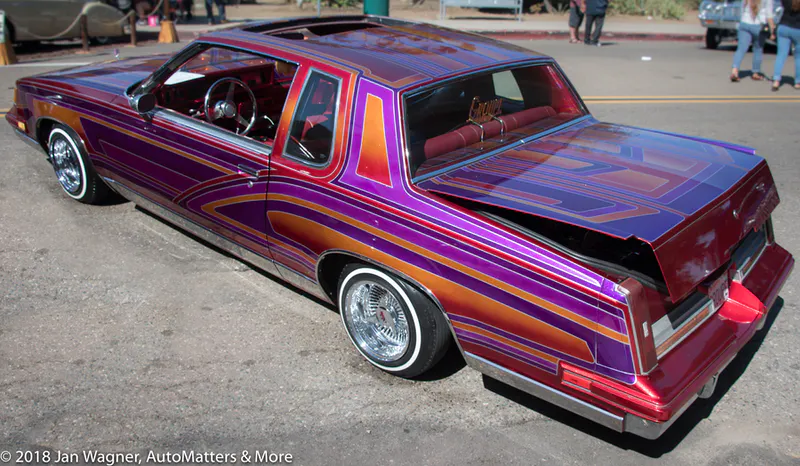 Favorite cars for the conversion to lowriders are Lincolns, Cadillacs, Monte Carlos and other large American cars, but other vehicles get the lowrider treatment too. They are immediately recognizable by how low they are to the ground, and how they rise up on command. Each of the four corners of these vehicles can be lifted independently, either by hydraulics or air. A small percentage of vehicles so-equipped compete with each other by "hopping," where the vehicles literally jump up and down: front first, rear first, all four tires off the ground at once, and even to the point of standing up on the rear bumper (do a Google search for hopping lowriders). This extreme, violent movement is very hard on a car. Parts large and small can and do go flying off.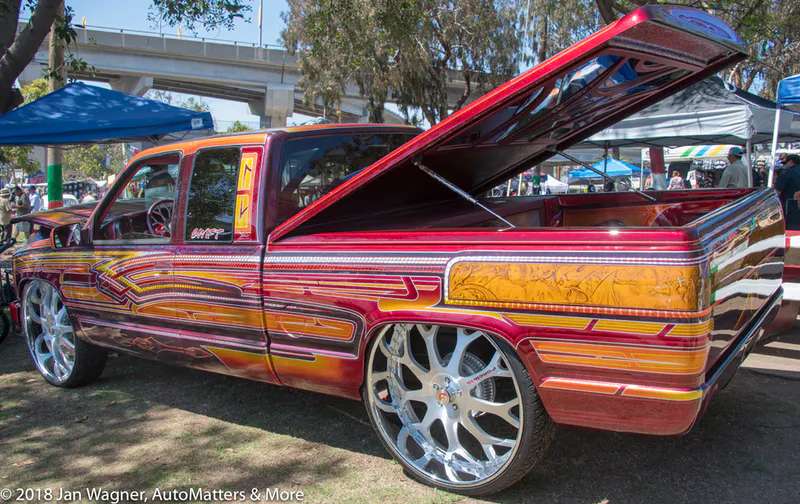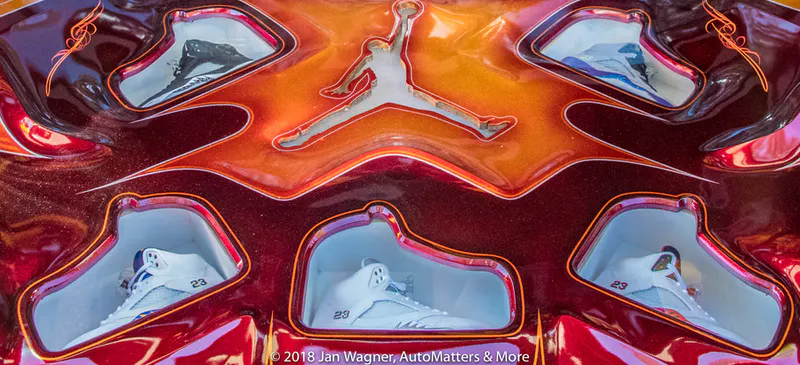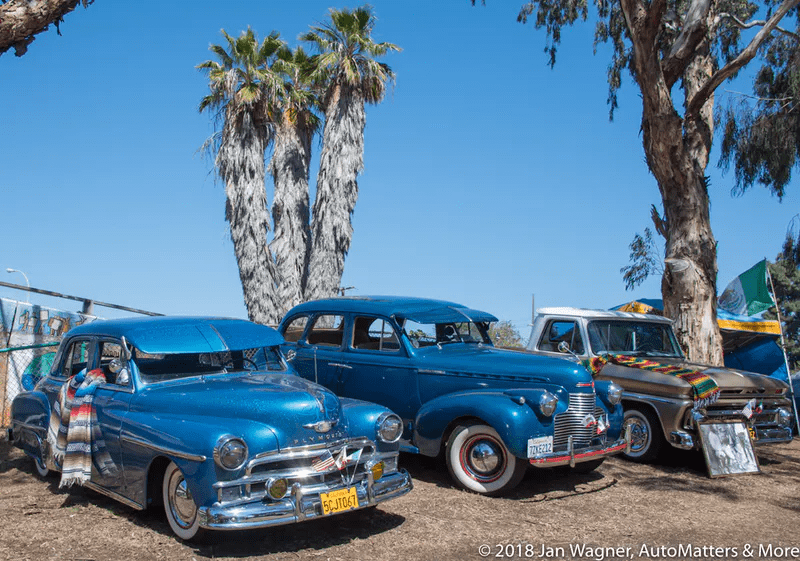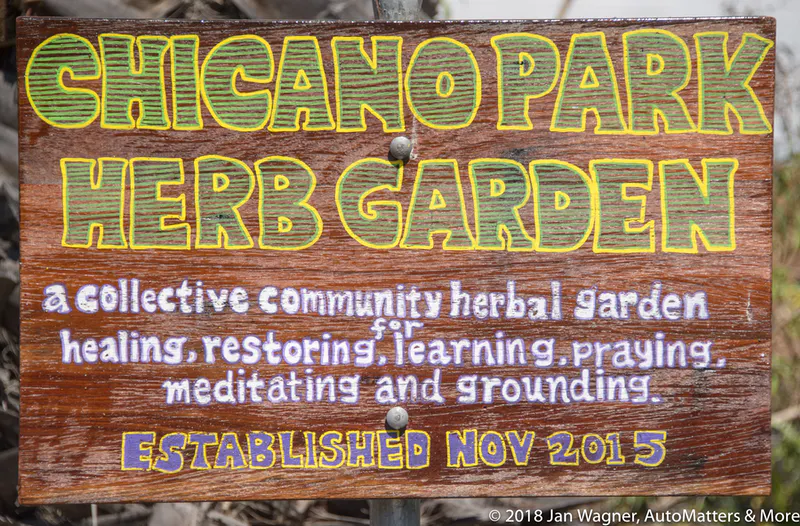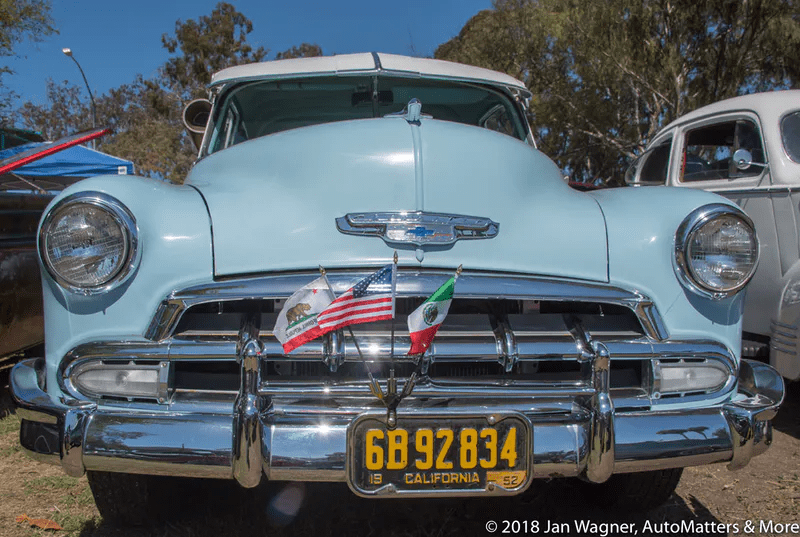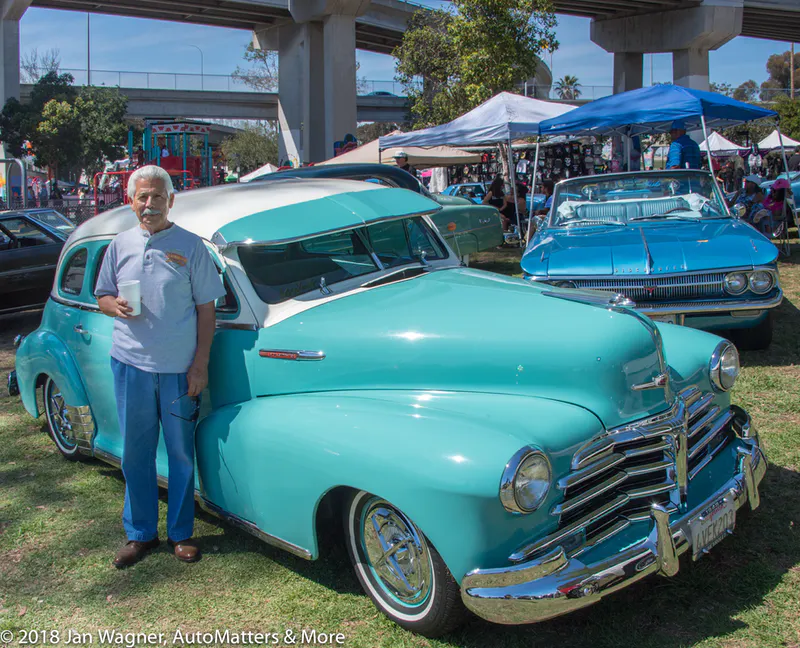 In front of Chicano Park's show stage, people danced to the musical stylings of "Rumba y Soul."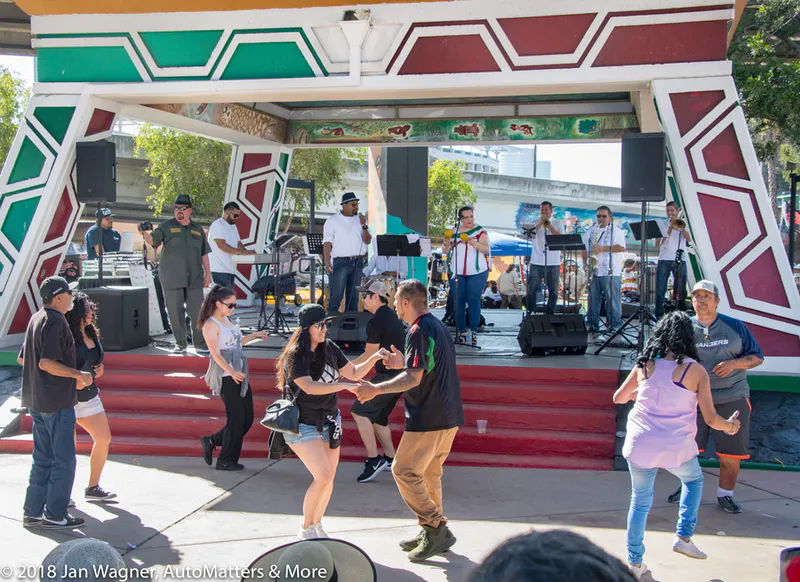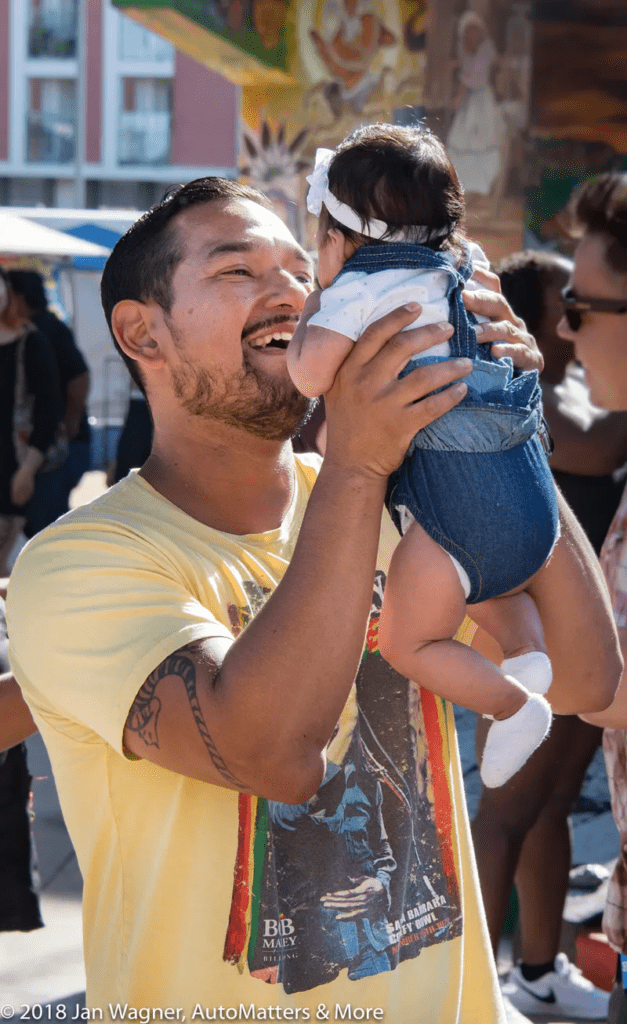 Odalys Dominguez's rendition – sung in Spanish – of "Cu Cu Rru Cu Cu Paloma" was absolutely out of this world (listen to it sung by Trini Lopez on YouTube).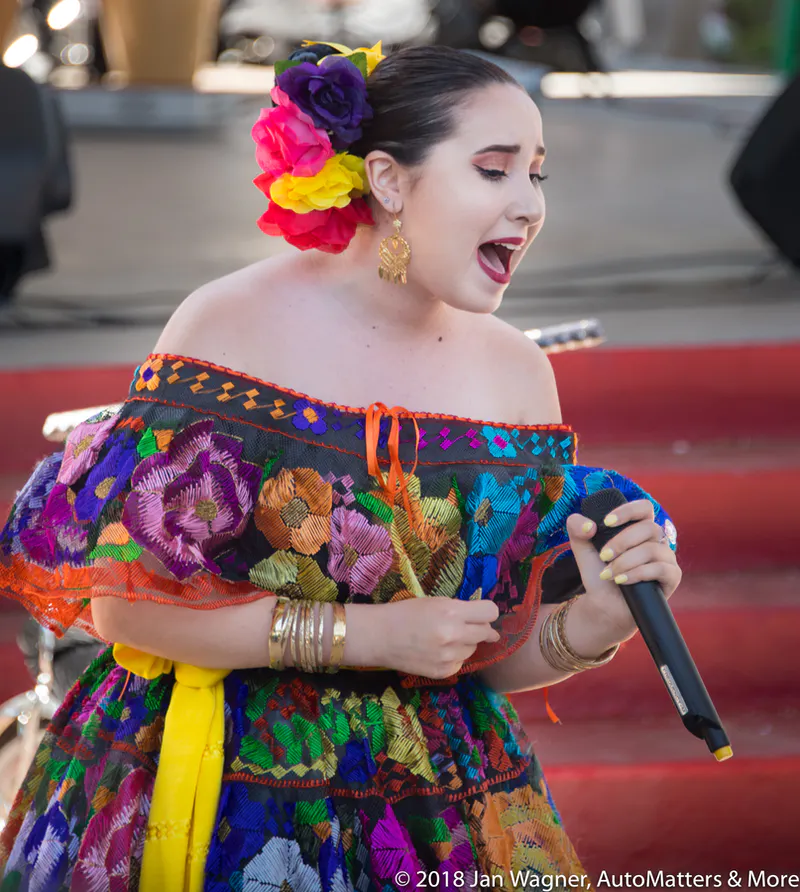 Mr. G Entertainment sponsored the Kids' Zone and gave away stuffed animals.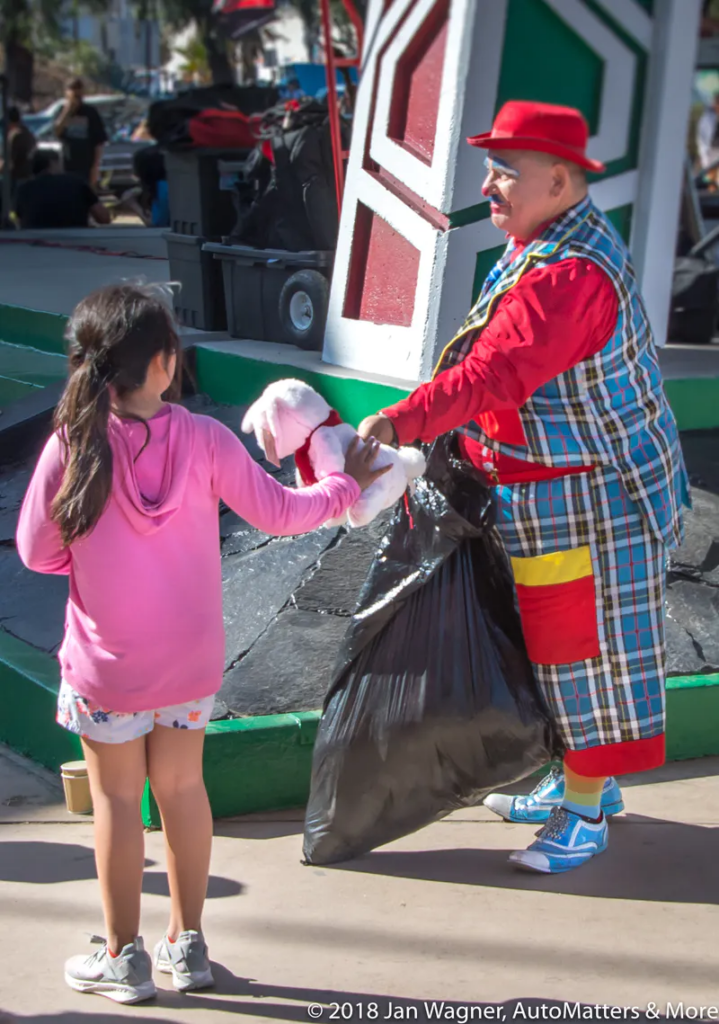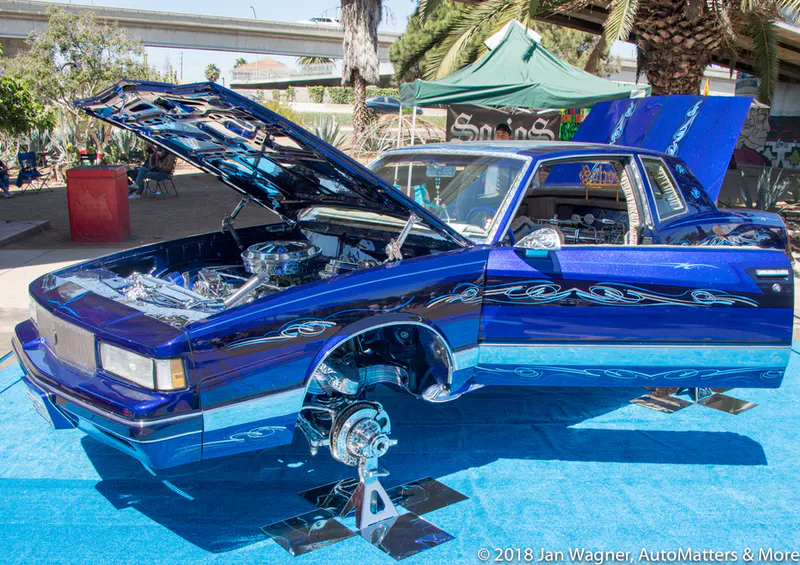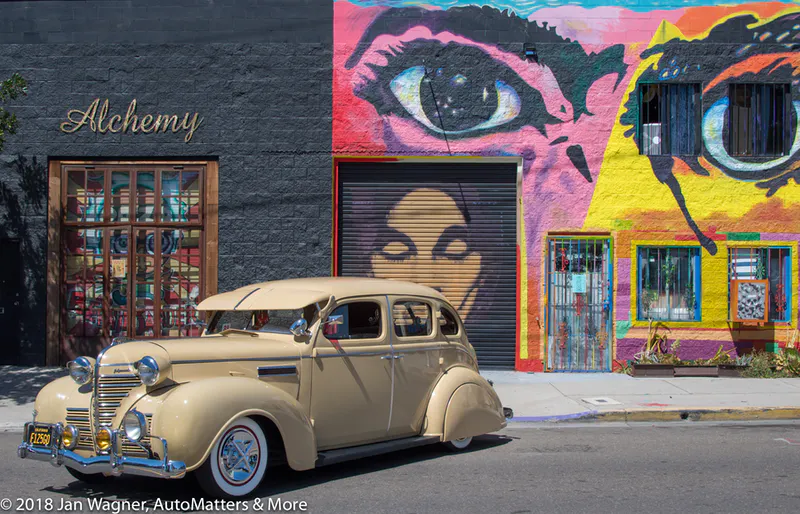 BALBOA PARK CINCO DE MAYO CELEBRATION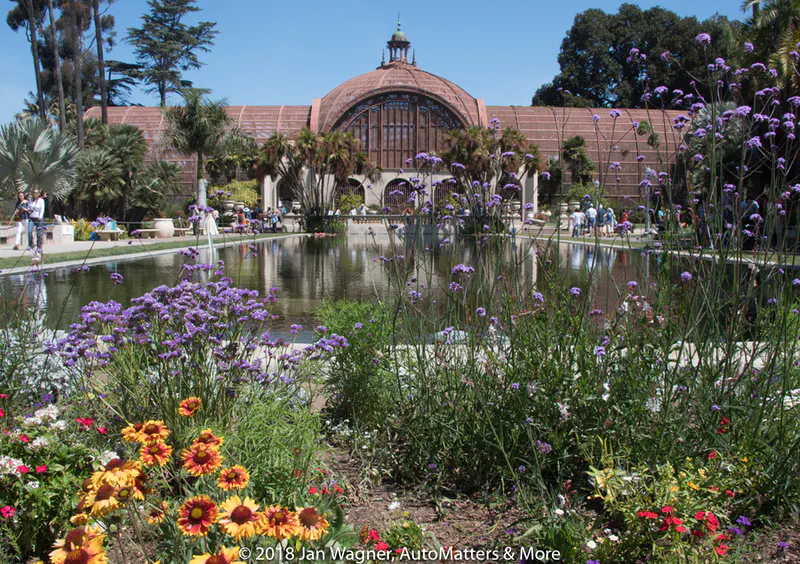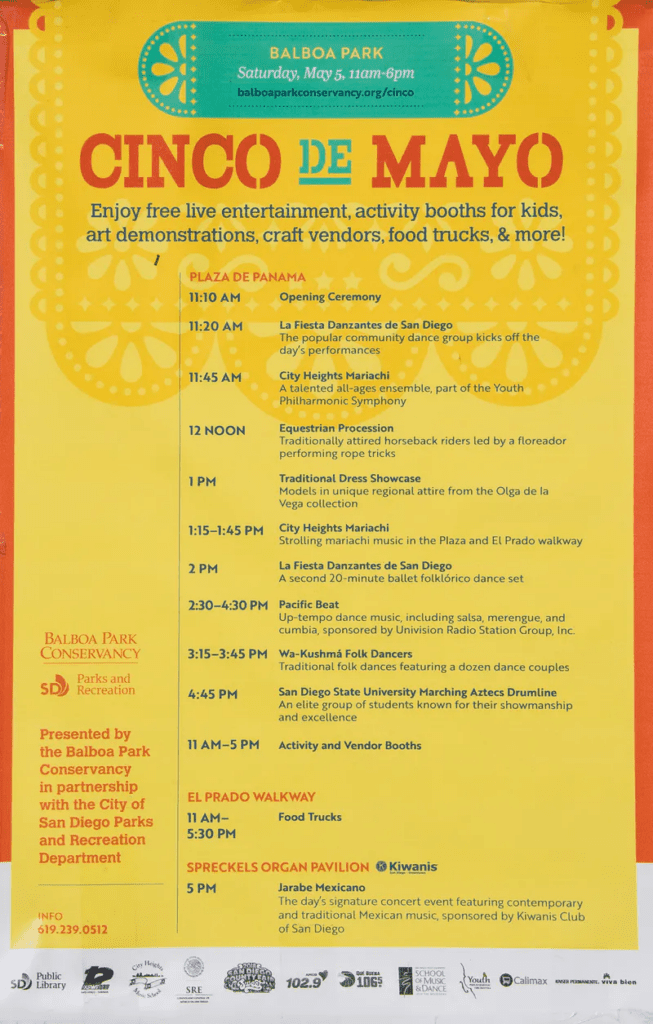 Horsepower of a different kind was featured at the First Annual Cinco de Mayo celebration in Balboa Park (balboaparkconservancy.org/project/cinco-de-mayo-concert/). A parade, featuring four riders on horseback from the Escaramuza Charra las Golondrinas, led the way to where a full slate of free, Mexican-themed entertainment was presented in the Plaza de Panama.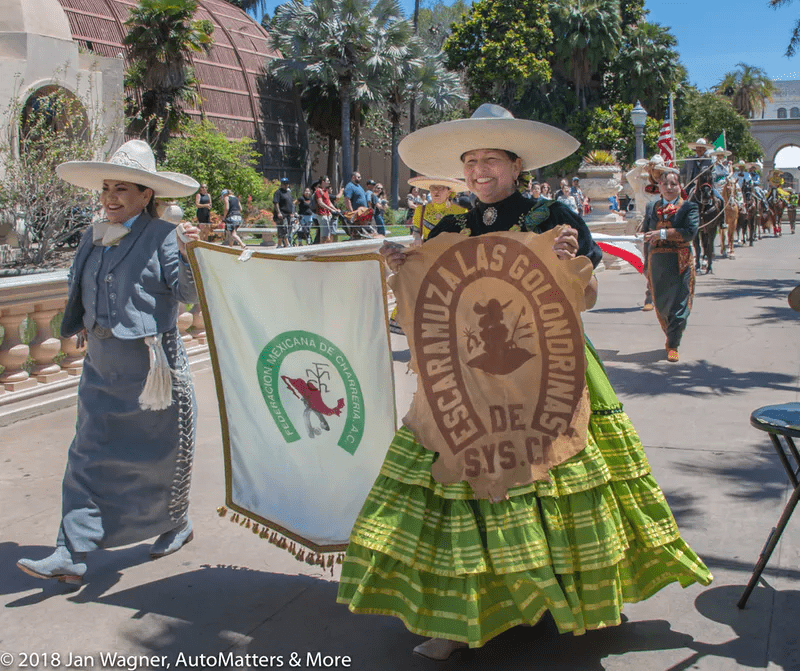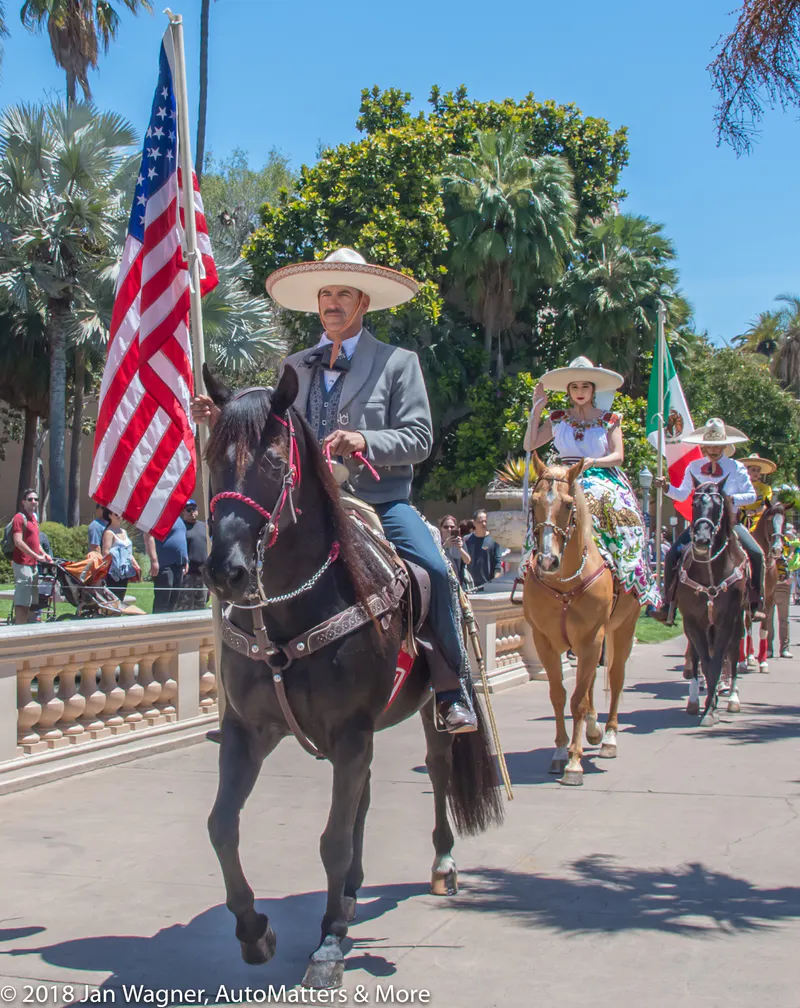 Food trucks on the El Prado walkway offered a wide variety of cuisines.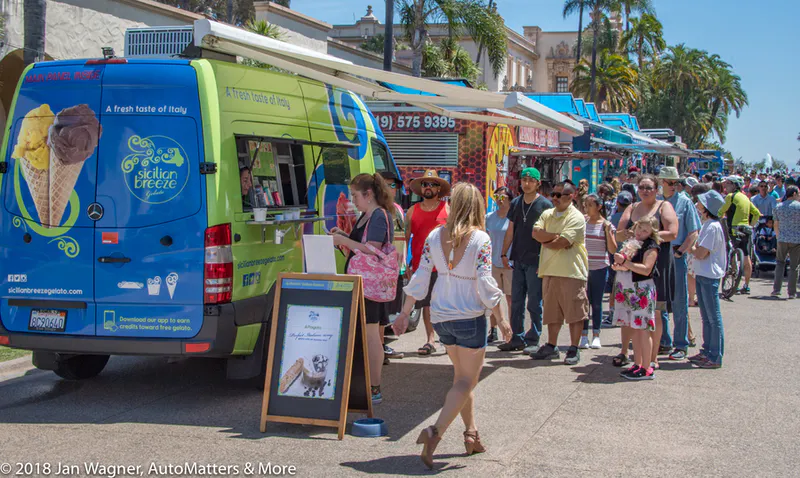 Scheduled entertainment included rope tricks (some performed on horseback!);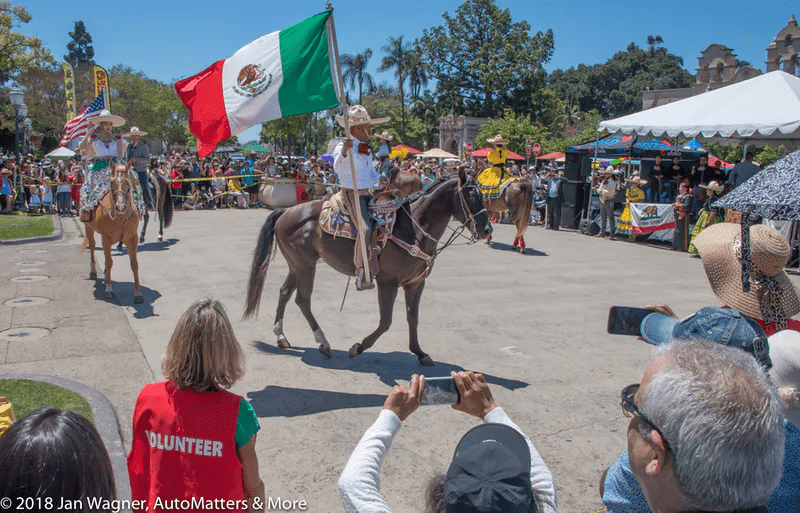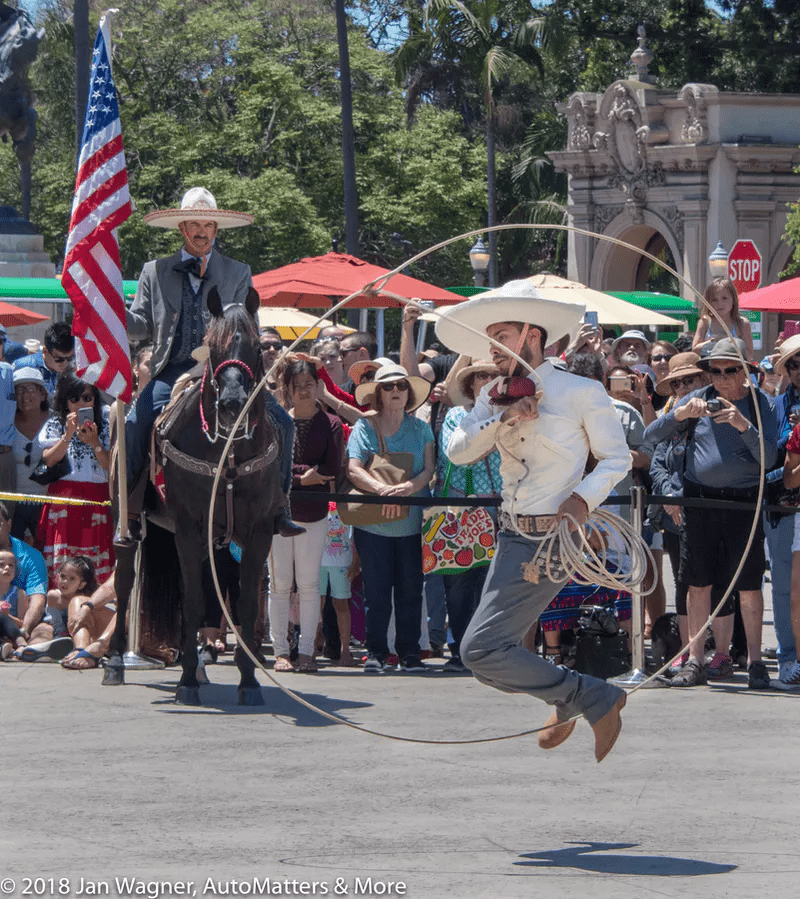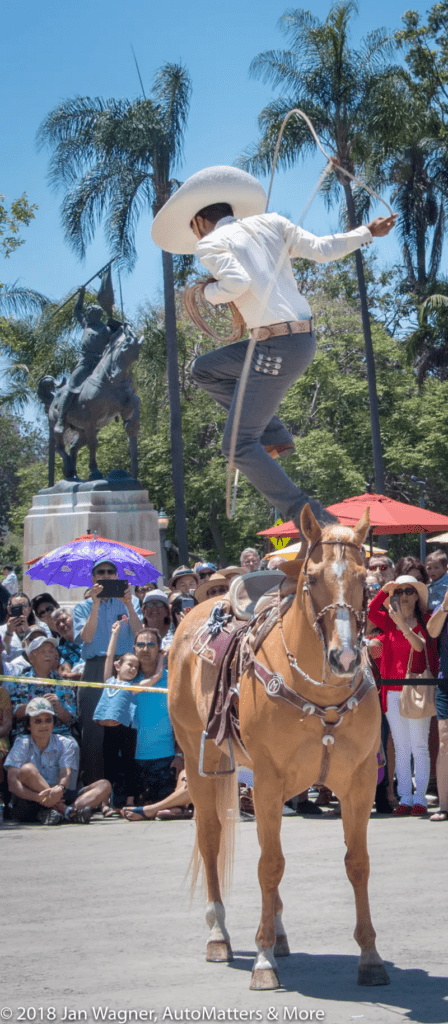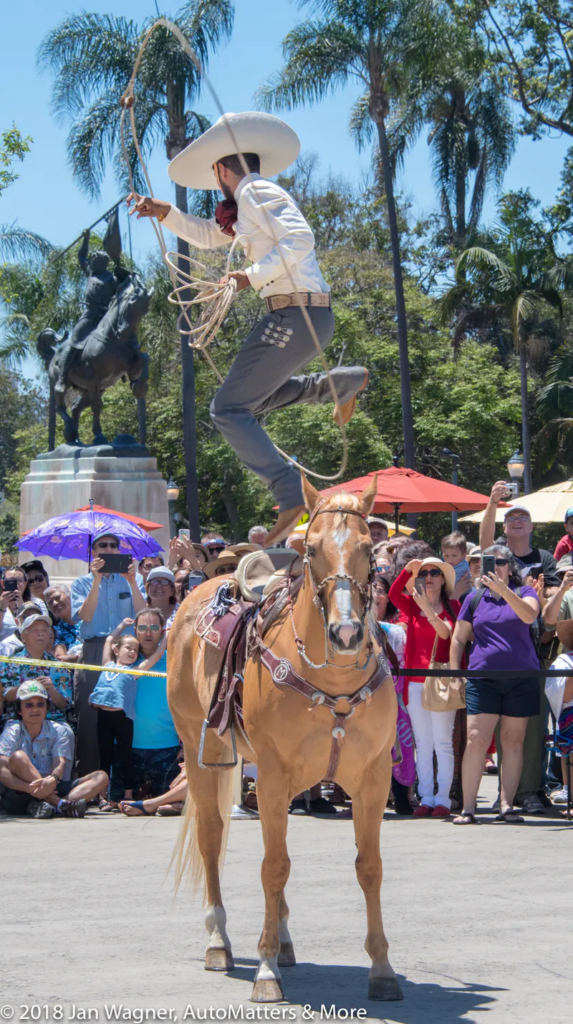 ballet folklórico;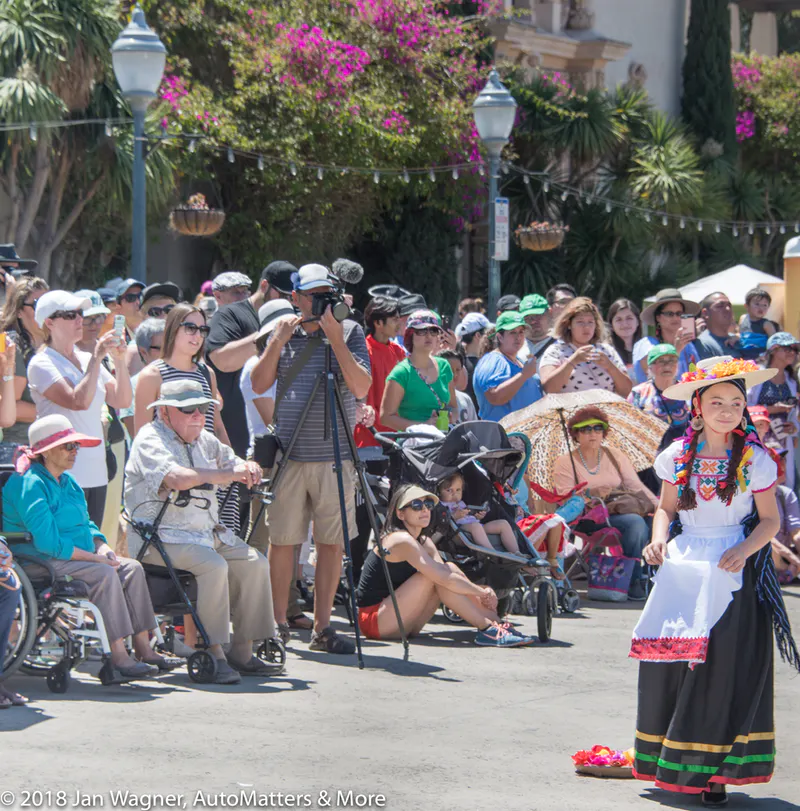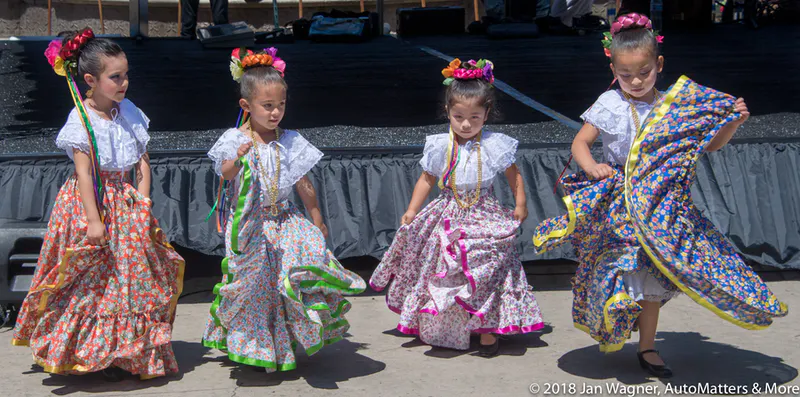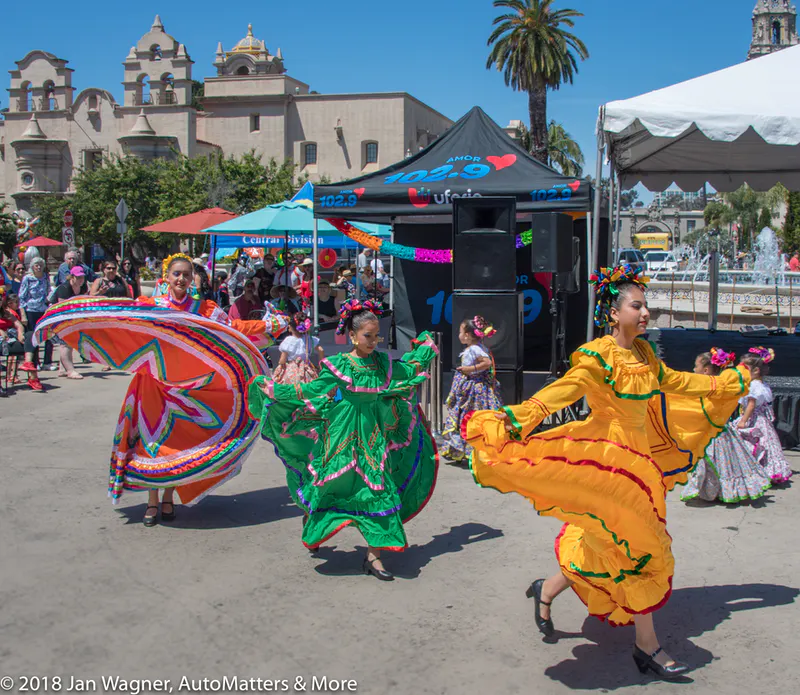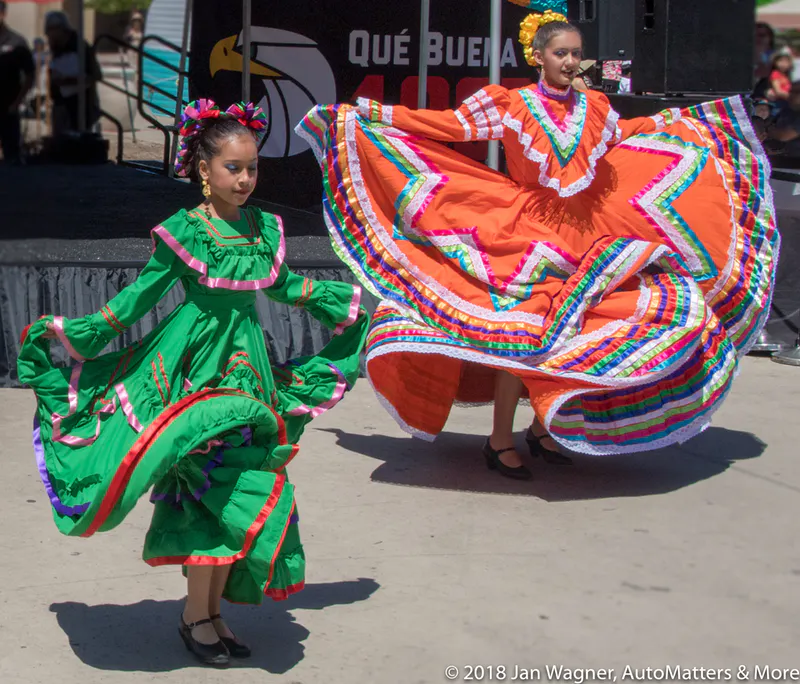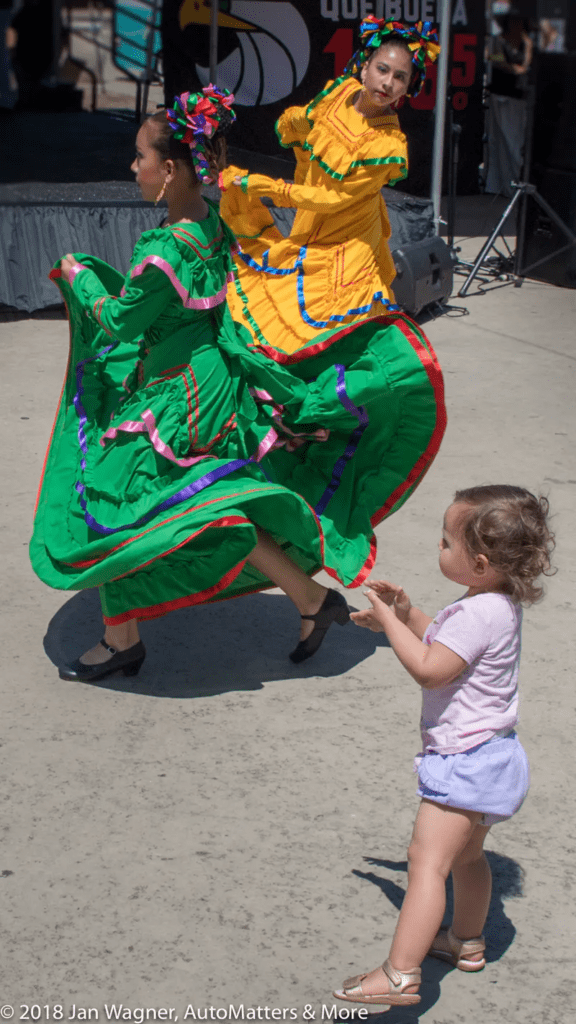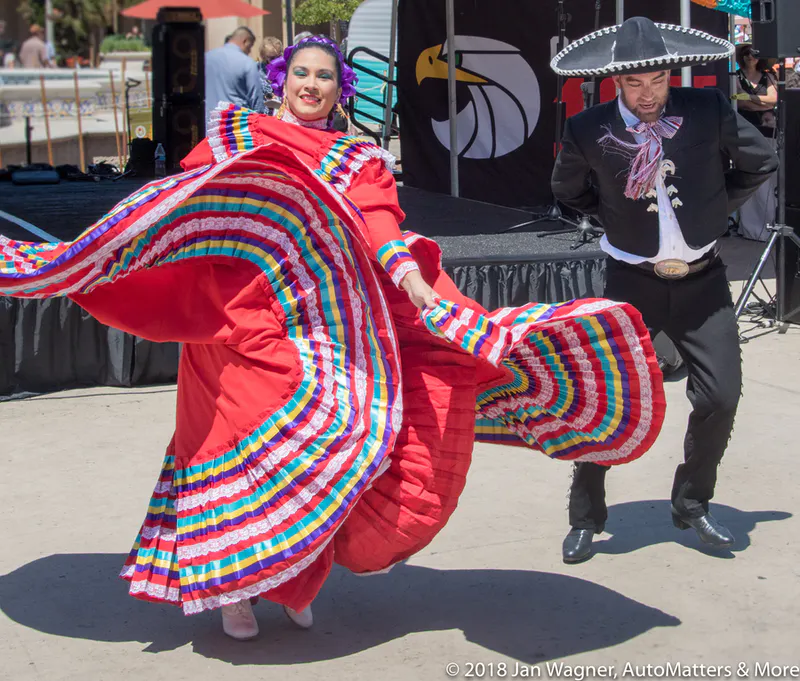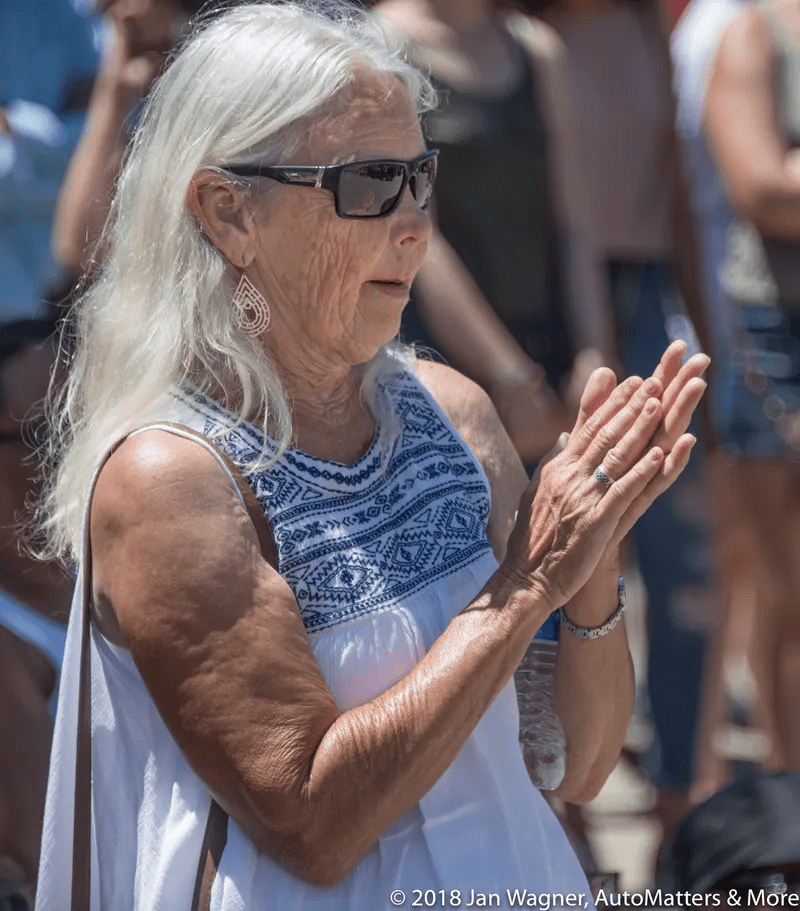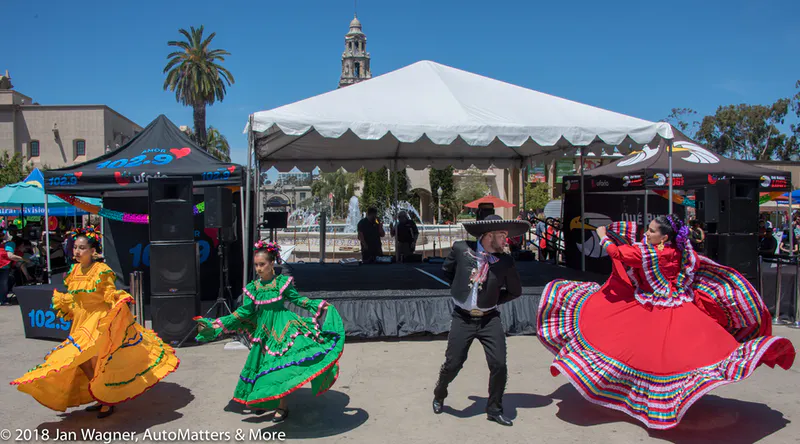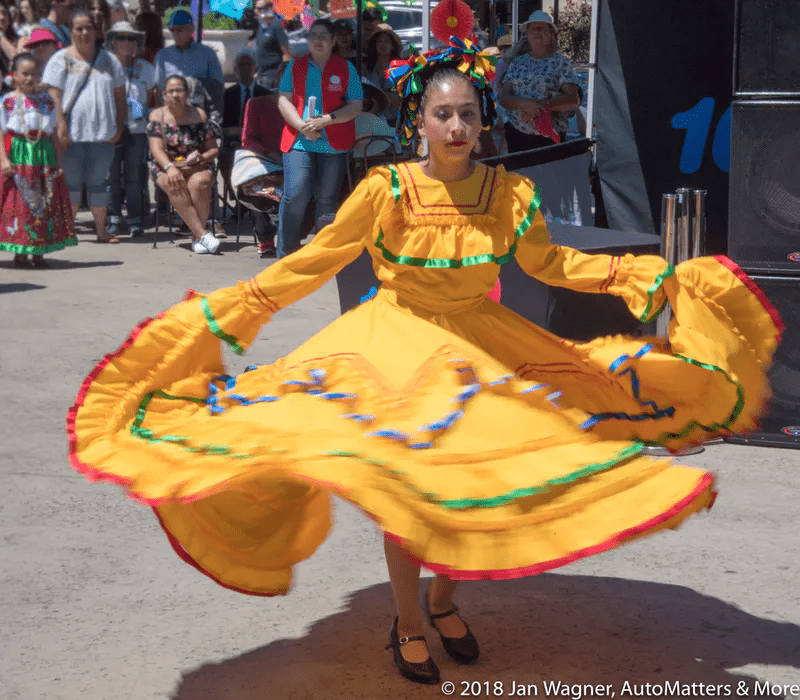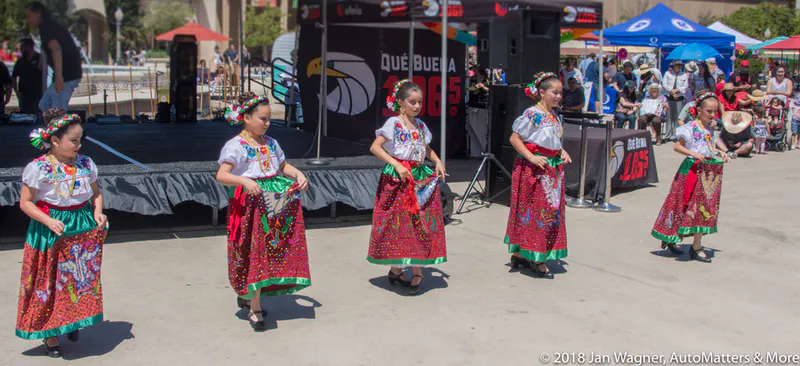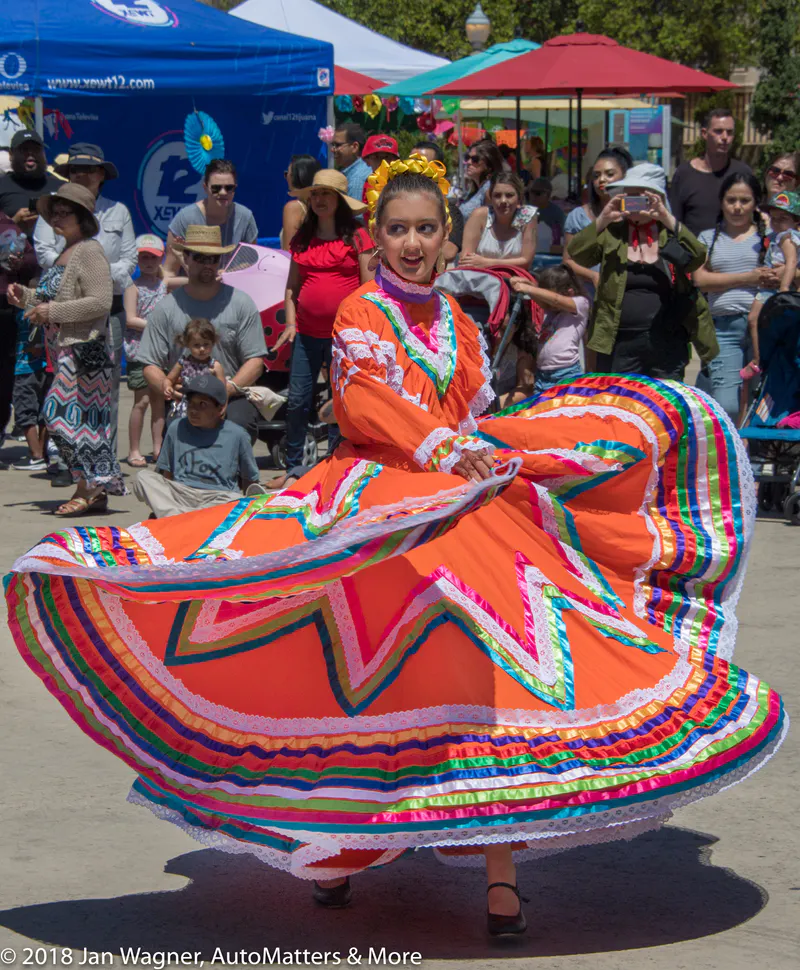 a narrated fashion showcase of traditional Mexican regional clothing;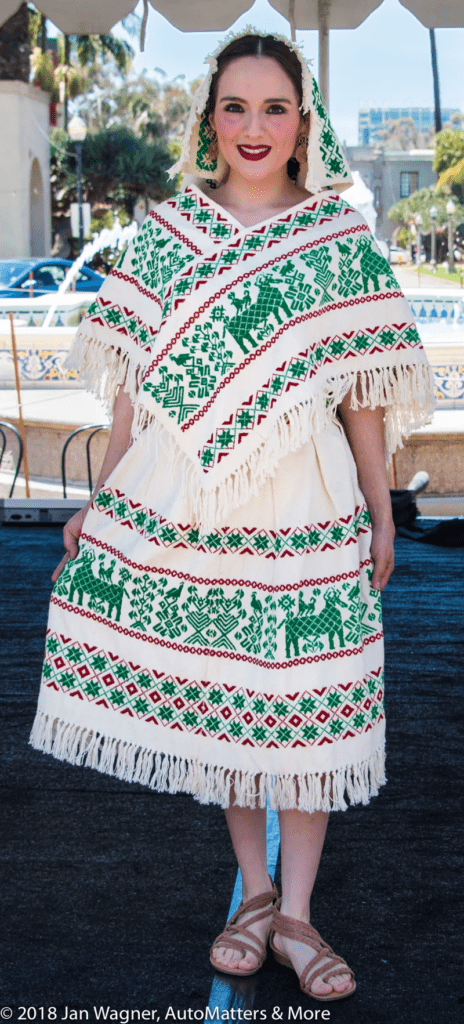 strolling Mariachis; danceable salsa, merengue and cumbia music; traditional Wa-Kushmá folk dancing; and, at day's end, the San Diego State University Marching Aztecs drumline and a Cinco de Mayo concert in the famous Spreckels Organ Pavilion.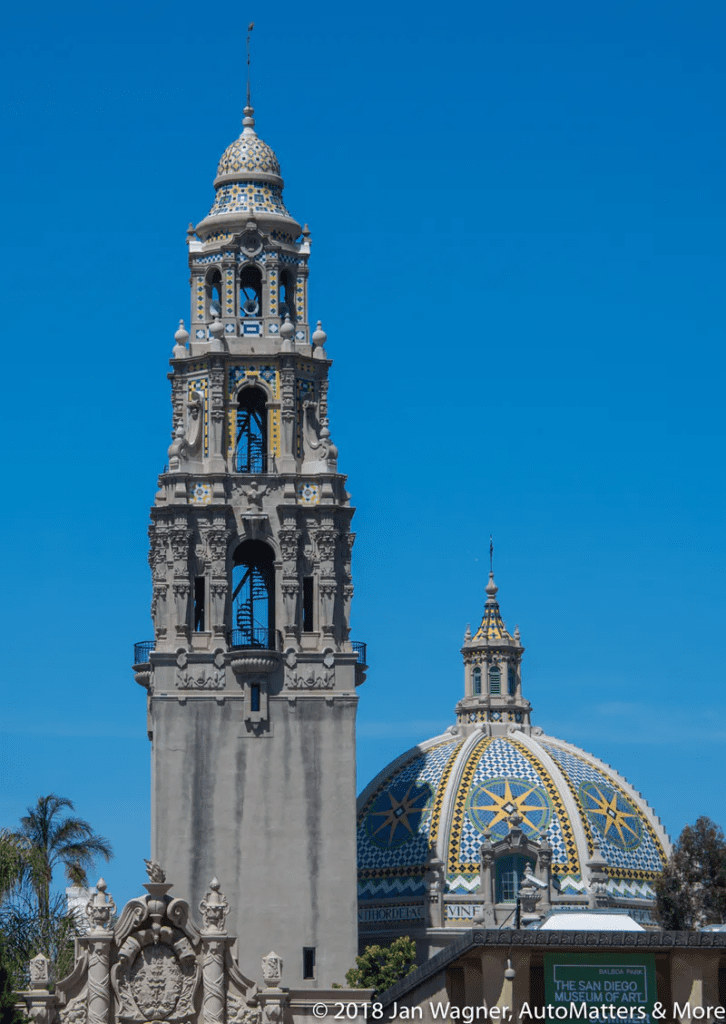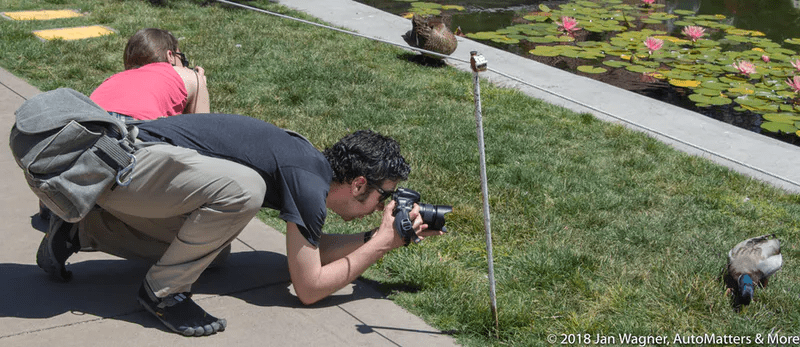 Occupying one of the many booths in the Plaza de Panama, The Balboa Park Conservancy provided Mexican-themed coloring sheets, and Lucha Libre and Frida Kahlo mask-making.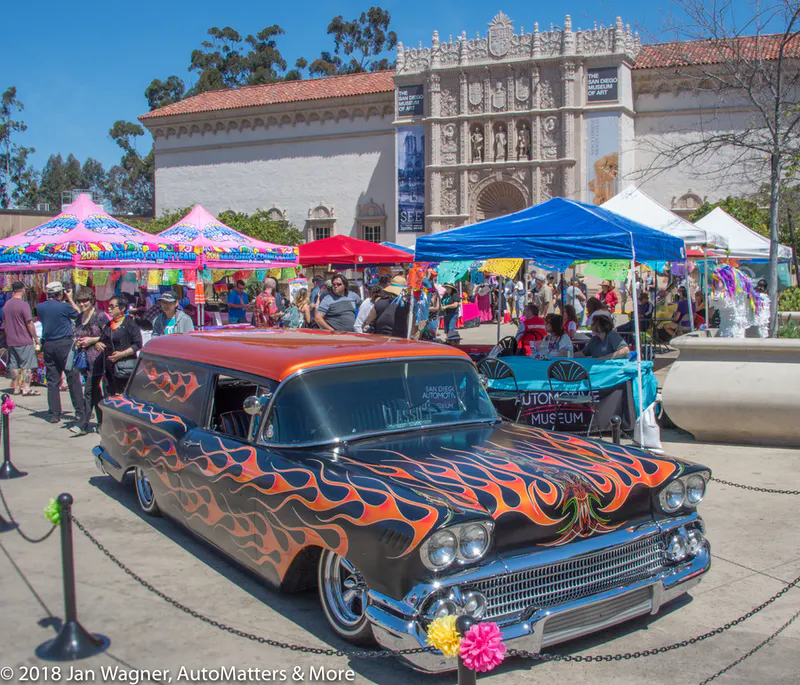 Among the beautiful, traditional art pieces for sale were 'Day of the Dead' catrinas from San Diego's Balgonte Galeria.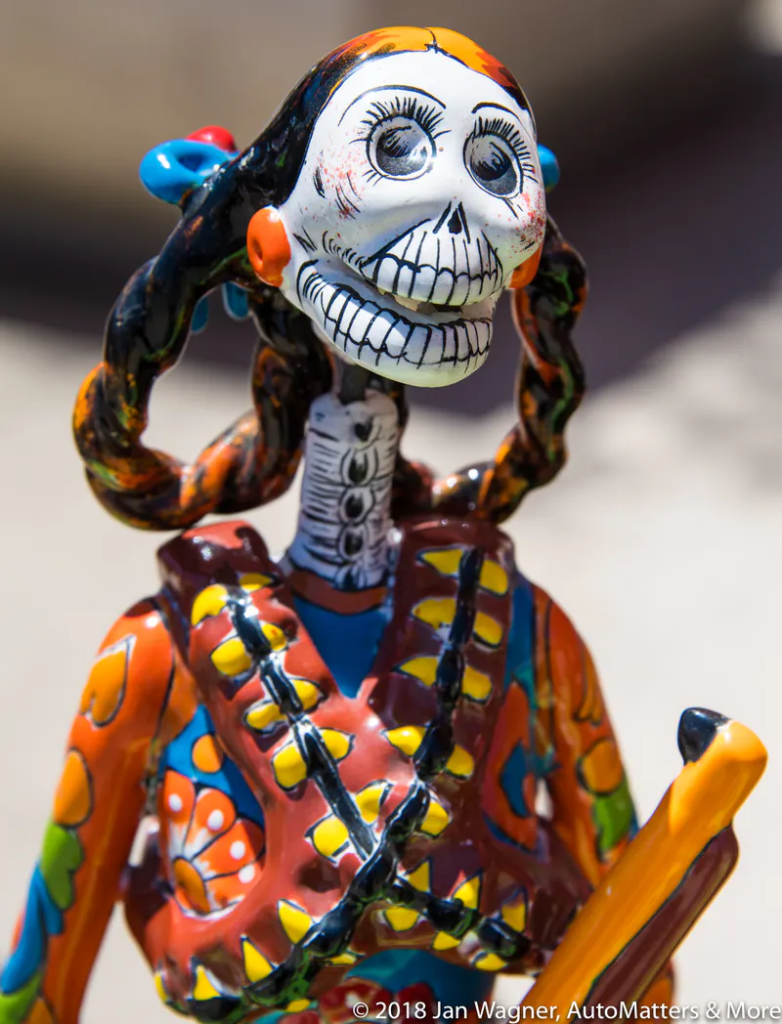 In advance of the San Diego County Fair (running selected dates from June 1 to July 4 – see sdfair.com) were booths featuring a few of the hand-made crafts from Mexico that will be available, along with entertainment, in the Fair's Fiesta Village.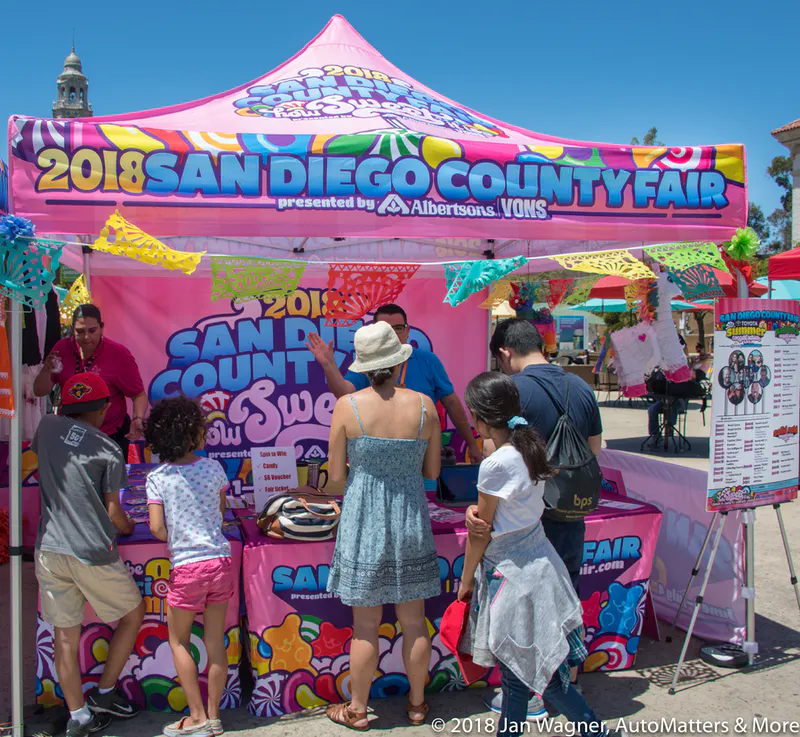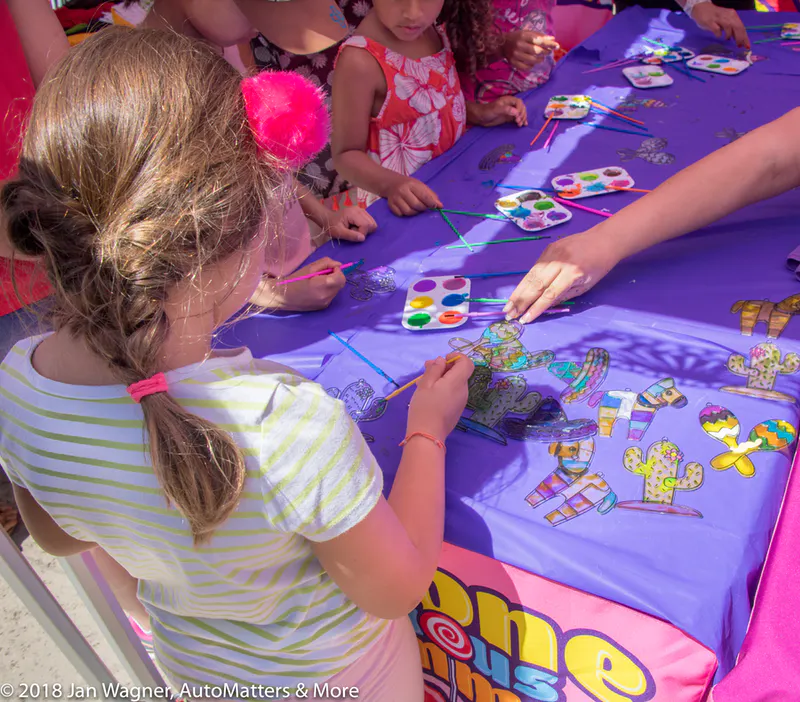 Other booths included the Centro Cultural de la Raza, City Heights Music School, the Mexican Consulate, park museums and the park's House of Mexico international cottage.
COPYRIGHT © 2018 BY JAN WAGNER – AUTOMATTERS & MORE #540R3