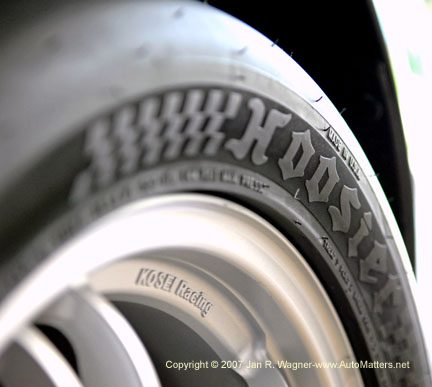 Competition Tires in Motorsports
I've said many times that autocrossing – an affordable form of grassroots motorsports, can make people safer drivers by teaching them what their cars can and cannot do, in a safe, controlled, legal environment. That, and the fact that it is great fun, is why I've been autocrossing since the late 1970s. It has also taught me the importance of having the right equipment.
There is a basic truth about driving in competition. In order to go fast on the track, more than anything else you first need to stick to the road. All the power in the world will not do you much good if your car lacks traction for acceleration, braking and turning. There is one common factor in all of these three elements: tires.
Think about how quick your laps could be if you could somehow manage to not only maximize your application of power and brakes, but also cornering – where the secret is maintaining as much of the speed that you built up as possible, instead of having to slow way down and tippy-toe around the turns. The same is true whether the track is dry or wet. You need to have the right tires and use a smooth driving style to maximize traction.
I have experienced these truths many times since I began driving in Alberta, Canada, almost 40 years ago. Of course the best tires for driving in snow are not the same tires that you would select for dry pavement. Also, driving on snow and gravel-covered roads has a way of forcing you to be smooth and maintain your speed. You must drive within your limits and those of your car. Flooring the gas pedal and jamming on the brakes just does not produce the desired results, especially in slippery conditions.
When I began driving competitively this seat-of-the-pants experience came in handy. In the 70s, in addition to autocrosses (slaloms) I tried rallies and even hill climbs, drifting around corners on dirt and gravel roads, where the penalty for making a mistake was going over a cliff or crashing into trees.
In the early 80s I autocrossed in the winter on a frozen lake. We called that ice dicing. My Mazda Rx-7 ran in the rubber-to-ice class, so it did not even have the benefit of studded tires. Smoothness and maximizing traction were of paramount importance. Think of it as motorized ballet.
In the early 90s my autocross car was an old, 100,000 miles plus, Porsche 911. This car lacked power compared to my competitors' cars, but rather than throwing gobs of money into the engine compartment, I focused on tires, suspension and a smooth driving technique. I learned that the secret to driving an old 911, with its weight in the rear and a strong tendency to oversteer (it wanted to spin out), was to give it gas once it started to turn. That planted the rear and let it speed through the curves. Lifting off of the throttle or applying the brakes in turns would have caused it to spin out. I combined that technique with the use of wide, super-sticky tires and some relatively straightforward, durable modifications to the suspension. That car was reliable and especially quick in the rain, where my competitors' power advantages didn't really matter.
In this decade I've autocrossed three different Mazda Miatas (note my strong preference for rear wheel drive cars). All three cars had significantly different handling characteristics from each other, in large part because of their competition tires.
My 2003 Miata Club Sport came from Mazda stripped down to the basic essentials, which made it light to give it a good power-to-weight ratio. It did not even have a radio or air conditioning (which, in retrospect, was crazy for a street-driven car in Southern California). Another important factor was that Mazda chose to equip it with 16-inch wheels. That was especially important because in SCCA autocross competition, you must run with the stock wheel size if you want to stay in the car's stock class, which I did, and the stickiest autocross tires were available in that size. Consequently, that car was quite competitive.
After mid-summer trips to Las Vegas and Solvang, I realized that I needed a car with air conditioning, so I changed to a 2004 MAZDASPEED Miata. That car had air conditioning, a nice Bose audio system and a factory turbo. I thought it would be an ideal road and track car, but it had one serious drawback that I had not taken into account. It came stock with 17-inch wheels, which meant that was the wheel and tire size that I had to use to stay in stock class. The problem is that the stickiest tires were not available in a 17-inch size that would fit within that car's relatively narrow wheel wells. So, I went from being very competitive in my class to consistently bringing up the rear, despite having more power to play with. The balky six-speed transmission did not help.
This past December, after experiencing two frustrating years, I traded in that car on a 2006 Miata. It makes about as much power as the MAZDASPEED did – but without a turbo. It has air conditioning and a radio, and its wheel wells are big enough to fit wider tires than was possible on my previous car with its 17-inch wheels. That means that at least some of the stickiest tires made in 17-inch sizes will fit it. I bought a new set of wide Hoosier autocross tires and a new set of Kosei wheels, so that I could install them myself at home prior to autocrosses.
My first autocross in this new car took place last Sunday. Even though I was driving a still-unfamiliar car on slick tires in the rain, I went from bringing up the rear for the past two years to scoring a trophy position (second out of eight) in my very first event.
Seeing how well it does on a dry track will be the most important test, but this first outing was very encouraging.
Your choice of tires is important but so is where you get those tires, and who installs them on your expensive wheels. I have had consistently positive experiences by shopping online at The Tire Rack (www.TireRack.com). Like a multitude of other shops, they sell tires and wheels at competitive prices, but what really sets them apart is their excellent customer service. The real test of a company's customer service is seeing how well they respond to problems, and I had a big one.
As you now know, last year I was in a serious competitive bind because I could not find sticky autocross tires to fit my MAZDASPEED Miata. The Tire Rack supports autocrossing at the national level, so they understood my dilemma. Instead of playing it safe and telling me that no sticky tires were available for my car's stock wheel size, they went out on a limb and tried to help me by selling me the stickiest tires that came in the next closest size up. On paper it looked like they would work, so they shipped a set to me, care of a local tire and wheel shop in San Diego, for installation on my car.
Unfortunately these tires proved to be a little bit too big. They did not clear the fender wells. However The Tire Rack accepted responsibility for their recommendation, readily agreed to take them back and did not charge me any restocking fee or even for the return shipping. Keep in mind that that these tires had now been mounted and dismounted by a business independent of The Tire Rack.
As it turned out, that was only part of what they ended up doing to keep me as a satisfied customer. Upon receiving the tires back at their facility, they discovered that in the mounting or dismounting process the local shop had ruined the bead on one of the tires. Despite this irreparable damage, The Tire Rack kept their word and gave me a full refund for the tires. I was impressed. That level of customer service is rare.
I bought my current wheels and tires from them, and their installation was perfect. I cannot see any scratches or marks on the wheels – something I cannot say about some of the other shops that I have used in the past.
Drive safely and do join me again next time.
Copyright © 2007 & 2021 by Jan Wagner — AutoMatters & More #226