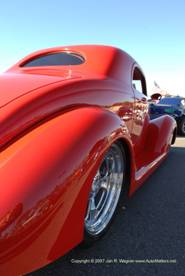 Dalton's Charity Classic Car Show
Today's story begins with a car show and ends with an hour-and-a-half of absolute car joy.
The sun was shining brightly on one of the warmest days we've had in what has been a cold winter. I, along with several other members of the San Diego Miata Club and many other automobile enthusiasts, gathered to participate in Dalton's monthly "Charity Classic Car Show."
The purpose of this car show is to help the kids at Rancho Damacitas – a community consisting of several group homes for abused and neglected children (www.thessalonika.org/index.php/welcome and www.thessalonika.org/index.php/about_rancho). Supporting this worthy cause by enjoying a car show is a great way to spend a Sunday, even if this particular one was Super Bowl Sunday.
There was something on display for everyone, including hot rods, muscle cars, plenty of Miatas, cool pickup trucks and a few three-wheeled motorcycles.
The PT Cruisers were as clever as ever.
Just about anything on four wheels is eligible to win an award, although I don't think the John Deere tractor parked in the middle of the lot was entered (but I'll bet it would have gotten some People's Choice Award votes if it had been).
Creativity ran wild.
I decorated my new Miata in its autocross trim, complete with "sticker" Hoosier racing tires and competition identification. Even though my entry did not win a trophy, it was certainly fun setting it up and then chatting with people about autocrossing. I will enter this car in its first autocross next Sunday.
This car show is held on the first Sunday of every month, from noon until four, in the parking lot outside of Dalton's RoadHouse (www.DaltonsRoadHouse.com) (775 Center Drive, in San Marcos, CA – just north of Highway 78 off of the Nordahl exit, on the way to the Costco). If you're near this area on a show day, I encourage you to attend. There is no admission charge for spectators or participants. Funds for the kids at Rancho Damacitas are raised through the sale of Dalton's tasty BBQ, as well as raffle tickets.
Speaking of raffle tickets, I bought quite a few and was rewarded with a new, 6-disc CD changer. After returning home, I made room for it in my two-car garage. Then I just had to check it out.
Since it is a changer, I loaded several of my favorite CDs into it. Roger Whittaker, Toto, John Denver, Elton John and others were all set to entertain me.
At first I stood in front of the changer and experimented with the various controls and audio settings. Standing on the concrete floor of my garage wasn't particularly relaxing so I put batteries in the remote control and looked around for somewhere to sit down for a moment while I checked things out.
I opened the door of my Prius and attempted to make myself comfortable there. I tried playing a CD but something was missing from the experience.
Then I tried moving over and sitting in the passenger seat of my Miata, which was parked next to the Prius. It was then that I discovered that the passenger-side footwell in a Miata is a little too short for me so, in a final attempt to get comfortable, I got out of the car and moved over to the driver's side.
That was the right move, as I learned that there seems to be significantly more legroom on the driver's side of the third generation Miata than on the passenger's side of the same car. Whatever, I was finally comfortable.
I lowered the windows and the convertible top, raised the volume of the CD changer via the remote and drifted off into automotive nirvana where, for the next hour-and-a-half, I enjoyed a music concert. I can only imagine what my neighbors might have thought if they walked by my house and heard music (and singing) coming from my closed garage.
That impromptu concert was one great car experience – and I didn't even use any gas!
One thing is for sure. You never know who you'll see or what treats await you at a car show. This one was lots of fun and winning a CD player was a nice bonus.
Drive safely and do join me again next time.
Copyright © 2007 & 2021 by Jan Wagner — AutoMatters & More #225