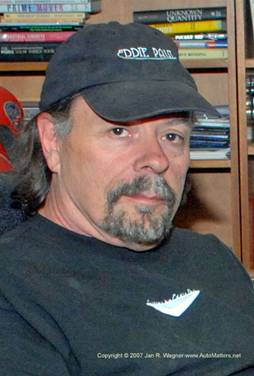 From the Creative Mind of Eddie Paul
You are in for a real treat today. This is a behind-the-scenes visit with Eddie Paul. You might not recognize his name but you most certainly will recognize his work.
Like so many almost magical businesses in the entertainment capitol of the world, Eddie Paul's shop is hidden in an out-of-the-way industrial park in the greater Los Angeles area. I say somewhere because to get there I followed a complex, convoluted set of driving instructions given to me by Dicken Wear (another very well-connected person who works behind the scenes). I could probably never manage to find my way back there without help.
Eddie Paul has had what many in the automotive world would consider a dream career. Among other creations, his company built over 200 stunt and picture cars for the movie "2Fast 2Furious," the GTOs used in the Vin Diesel action picture "xXx," 86 stunt cars used in "The Fast and the Furious," "48 vintage cars for "Grease," all of the motorcycles used in the movie "Mask," stunt cars for the movie "Walking Tall" and time-traveling DeLoreans used in the movie "Back to the Future." They also brought Sally Carrera (the svelte Porsche) and Lightning McQueen to life from the movie "Cars." Do you remember the movie "Soylent Green?" Eddie designed and built two stunt cars for that, and rigged a large truck to lose a wheel and crash.
Eddie seems to have a fascination with unusual craft, such as the gliders pioneered by Otto Lilienthal (whose work in aviation predated that of the Wright brothers). Lilienthal designed and built gliders to carry humans aloft. I spotted an Eddie Paul reproduction of one such glider suspended from the ceiling of his shop. Eddie has actually flown these fragile-looking contraptions.
He designed and built 60-foot battle-craft for the movie "Ice Pirates," an eight-foot-high robot for "Remo Williams" and a 14-foot-long mechanical Great White Shark submarine which enabled Fabien Cousteau to safely swim with sharks.
Eddie is a skilled stunt driver, too, having done some truly scary, death defying flips, slides, explosions and chases; as well as bike-to-car, car-to-bike, car-to-helicopter and helicopter-to-bike transfers. For one movie alone ("Gone in 60 Seconds") he performed over 300 stunt crashes.
Eddie has also served as a movie stunt coordinator and Second Unit Director.
He's built pipe ramps for the General Lee (Dodge Charger) jump scenes in the TV show "Dukes of Hazzard," built a shark cage on a pontoon boat for use by Jesse James on "Monster Garage" and even painted Mindy's Jeep for "Mork and Mindy."
Believe it or not, this just begins to scratch the surface when it comes to learning what Eddie has done, and what he is capable of. Not surprisingly, he is a prolific author. He is also an inventor. He patented a process called "Circlescan 4D," which enhanced the video for scenes in Saban's "Power Rangers," designed and built an underwater housing for the 70mm W-4 IMAX camera (as well as an underwater lighting system), designed award-winning tools for the Eastwood Company, and designed and built a "Scuba Muffler" for silent diving with Hammerhead sharks. One can only guess what he's done for the U.S. government (he has "Secret" clearance with the DoD).
Eddie is by no means resting on his well-earned laurels. When I visited with him he showed me an incredibly small engine that he designed and built. He has essentially reinvented the internal combustion engine.
This engine is a further development of an efficient pump that Eddie designed, built and has presented to fire departments.
This pump has significantly fewer moving parts than a conventional pump – a feature which greatly enhances its reliability and makes it possible for it to be quite small.
As with a typical pump, "the primary disadvantage with a multi-cylinder engine is the mechanical complexity involved in the simple process of converting fuel to power." Eddie's "Cylindrical Energy Module" (CEM) reduces this mechanical complexity to little more than combustion chambers (cylinders) and air compressing devices (uniquely-shaped pistons). This simplified, optimized engine design features a two-piece cylinder block with six bores and a driveshaft passage. "There is no down stroke, as with a standard crank-driven piston." "The continuous motion of the CEM piston's stroke increases the rpm ceiling substantially." His new engine is very efficient and reliable, and can be very small.
One part MacGyver and one part James Bond, Eddie Paul is the real deal. Oh, and did I mention that he's a nice, humble guy, too?
To learn more about Eddie's many accomplishments – including his truly revolutionary engine, and to see his shop in El Segundo, visit E.P. Industries on the Web at www.epindustries.com. While you're there, be sure to check out the "Current Projects."
Drive safely and do join me again next time.
Copyright © 2007 & 2021 by Jan Wagner — AutoMatters & More #224